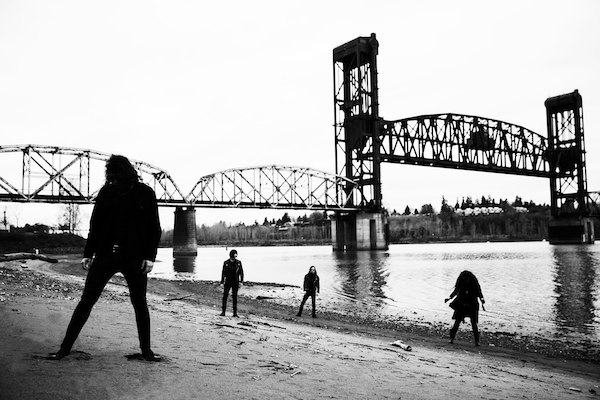 4 July 2019
Founded in June 2017, Portland's Idle Hands are one of the newest bands scheduled to perform at this year's Psycho Las Vegas. But with an enviable amount of critical buzz in their sails and impressive billing on the August 15 pre-party lineup, their performance could be one of the most memorable Psycho debuts.
With their finger on the pulse of a sound that blends goth-rock and traditional heavy metal with post-punk, Idle Hands will give other pre-party performers — including Danava, ASG, Yakuza, Motorbabe, Howling Giant, Johanna Sadonis and others — a run for their money.
They say idle hands are the devil's workshop. However, the band led by vocalist/guitarist Gabriel Franco hardly rests on its laurels. After the June 2018 release of their Don't Waste Your Time EP, Franco and his bandmates — guitarists Sebastian Silva and Cory Boyd, bassist/backing vocalist Brandon Hill and drummer/backing vocalist Colin Vranizan — spent eight months toiling away at their inaugural full-length. The hard work paid off: Mana, which dropped in May on Eisenwald, stands as one of the best albums of the year.
The Big Takeover recently caught up with Franco via email to chat about their much-anticipated performance, his plans to rely on a diet of milk and pasta for the show (?!), and what he plans to do with the band's earnings in Vegas (take a wild guess …).
[Note: This interview took place before Megadeth canceled their headlining appearance at the festival and were replaced by Misfits.]
Why are Idle Hands particularly excited to play Psycho? From your point of view, what makes the festival special — both from a performance perspective and as a personal experience?
FRANCO: I'm going to ignore the fact that you're assuming I'm excited to do anything. I have never been to Psycho Las Vegas, so I can't answer the question properly. However, we are playing a pool party at the Mandalay Bay [Resort and] Casino to 1,500 drunk metal heads in Las Vegas. I think that says it. The drive from Oregon isn't bad either.


This is your first time playing the festival. What are your expectations? Will this likely be your biggest crowd to date? Will you be nervous playing for devoted fans of good music — not to mention other musicians, some of whom you probably admire?

FRANCO: No expectations, and I don't think we will be any more nervous than any other show. Who is there is up to them.

Have any members of Idle Hands gone as fans or played with other bands at Psycho? If so, what was that like?
FRANCO: No, unfortunately no one has.


Do you have any surprises planned for your Psycho set, whether they be songs you wouldn't normally play, collaborations, etc.?
FRANCO: If I told you, it wouldn't be a surprise.


You're presumably playing outside, since you're pegged for the pool party on Thursday, yeah? How do you do performing in temps over 100 degrees?
FRANCO: You're correct. I'm going to load up on pasta right before the set, and keep some milk on stage to stay hydrated during the performance.


What other bands are you most excited to see perform at Psycho?
FRANCO: I think we have to pay if we want to see the rest of the festival, I'm not sure. It would be nice to see Megadeth again and also check out Opeth, but I think we will have to bail to play some shows out of state. Will probably be there Thursday and Friday, so will catch as many bands as we can.


What friends of yours are also playing at the festival? (Perhaps Soft Kill, since they're from PDX too?) Who are you planning or hoping to hang with in your downtime?
FRANCO: I don't know Soft Kill personally, but they are a great band. When I'm at a festival, I generally just wander around in a banana shirt with shades and a refreshing drink, I try not to get too hyped on hypotheticals, probably make dumb jokes with my band dudes and gamble all our earnings away.


Tell me something that happened to you in Vegas that was supposed to stay in Vegas.
FRANCO: It literally must stay in Vegas, so I can't.


What can fans and newcomers expect from your performance(s) at the festival?
FRANCO: Going to play all the songs we can as tight as humanly possible, and do our best to stay authentic and real. Drinks to follow.
For previous installments of the Big Takeover's Psycho Las Vegas preview series, check out our interviews with:
• Colin H. Van Eeckhout, vocalist for Belgian post-metal purveyors Amenra
• Jason Shi and Scott Key, singer/guitarist and drummer, respectively, for melodic hard-rock masters ASG
• Stephen McBean, singer/guitarist of long-running psychedelic-rock project Black Mountain
• Greg Meleney, vocalist/guitarist for Portland psych-rock mainstays Danava
• George Clarke, vocalist for shoegaze/black-metal powerhouses Deafheaven
• Victor Vicart of Scottish progressive-metal quintet Dvne
• Zack Simmons, drummer of blackened death-metal demigods Goatwhore
• Emil Amos, drummer of experimental post-rock band Grails
• Julien Chanut, guitarist of French sludge-doom band Hangman's Chair
• Tony Campos, guitarist and founder of thrash revivalists Hell Fire
• Nashville cosmic-riff connoisseurs Howling Giant
• Joshy, drummer for crusty death/doom-metal outfit Ilsa
• Johanna Sadonis, vocalist for "heavy magic rock" band Lucifer
• Stuart Braithwaite, founding guitarist/vocalist for beloved post-rock legends Mogwai
• Thomas Eriksen, centrifugal force behind true Norwegian black-metallers Mork
• All-female Motörhead tribute band Motorbabe
• Tobias Grave, frontman of shimmering post-rock trio Soft Kill
• Derrick Vella, guitarist of death-metal arsonists Tomb Mold
• Niklas Källgren, guitarist of Swedish fuzz fanatics Truckfighters
• Los Angeles Satanic doo-wop duo Twin Temple
• Sean Killian, vocalist for cult-favorite Bay Area thrash band Vio-lence
• Bruce Lamont, frontman of experimental heavy-jazz project Yakuza and Led Zeppelin tribute band Led Zeppelin 2
• Aaron Rieseberg, bassist of Oregon doom-metal dealers Yob
Also, don't miss our special feature in which Deafheaven's Clarke and Mogwai's Braithwaite discuss their mutual affection for each other's bands, whether Deafheaven should play their Mogwai cover at Psycho Las Vegas — and the possibility of a collaboration between the two projects.