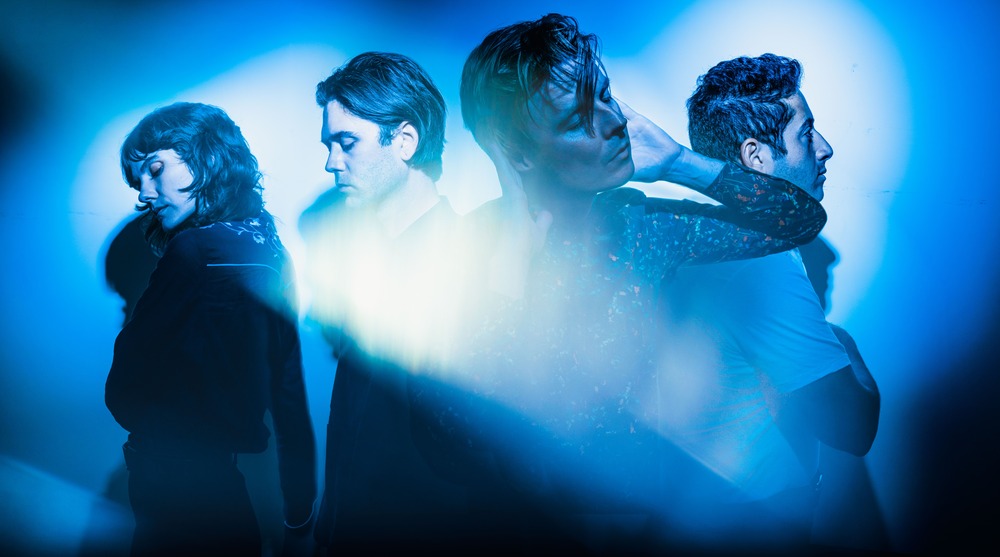 14 September 2022
Photo by Casey Curry
With a sound straight out of a 1994 episode of MTV's 120 Minutes, LA's Dear Boy isn't shy about wearing Brit Pop influences on its sleeve. For the last decade, the band's been releasing EPs, playing regular local shows and occasionally hitting the road with the likes of Rogue Wave, Kitten, The Psychedelic Furs, James, and Pete Yorn. In early 2020, Ben Grey (vocals/guitar), Austin Hayman (guitar), Lucy Lawrence (bass/vocals) and Keith Cooper (drums) began work on their debut, Forever Sometimes, and, despite the setback caused by a global pandemic, Dear Boy wrapped up the album later that year, signed with Last Gang Records in 2021 and are finally ready to share their new music with the world.
Ben Grey spent the better part of a recent afternoon sharing stories about recording the album, touring, growing up with famous people in LA and having an unlikely pen pal as a kid.
Looking at the Dear Boy Instagram account, in March 2020 you posted about being happy to announce that you were working on your debut album. A week later, you posted a photo of yourself sitting on a plane wearing a mask. Do you remember what you were thinking when that second photo was taken? Did you think this was going to last as long as it has?
BEN: I have been a mask-on-a-plane guy for like 5 years. That picture on the plane was taken right before everything happened with Covid, it's a picture from a trip where we were playing a show in Mexico City. It was strange because we had embarked on recording this album in late February, early March and we were doing it in the studio with each other. The last thing we did on March 10 is we did a session for KCRW's Morning Becomes Eclectic and we were the last band to be in that room before things shut down. I just remember that that was when the temperature changed. We had this really happy announcement that we had been recording and then it ended up being just making the album in the most private, quiet way. It was no longer confetti, it was more like work.
You started recording in February 2020 and finished the thing up by December of that year. What happened after you were done with the whole thing?
BEN: After we had finished, we started shopping the record in January 2021 and that's when we first discussed with Last Gang about signing with them. After that, it became real. We were like, "This album WILL exist in the public" so we more formally announced it in May 2021.
So nothing on this record was recorded in 2021?
BEN: Right, not on this record. But, we completed writing our second record last year.
You recorded everything on your own. Because of the pandemic and all of this new found free time, you didn't have to meet any label deadlines. Does that make it hard to know when a song is finished? It seems like you could tinker on a song for years if you had the time.
BEN: Honestly, it's the eternal question. And I think the skill you develop as a maker of things is knowing when it's done. You can never really be sure. You have to make peace with it being done when you want it to be done. A lot of people have difficulty taking the key out of the ignition. I spent all my teen years and early twenties making so many mistakes, like releasing something before it was finished and also spending way too long on something to where I can't trace the cord to the wall anymore. The tricky part with this is was the hope that our lives would come back to normal and we'd be able to recontextualize our band and our songs but it kept getting further and further away. You have to temper those impulses to work on it just because you can and you have time. We were really just exploring. Because we were mixing while we were making it, we knew what the record was missing and as it was taking shape, it became clear what needed to happen to finish it.
If you're mixing it as you're recording, do you completely finish one song before moving on to the next one or are you working on multiple songs at the same time?
BEN: We produce everything ourselves but we never really handle the mixing on our own because that is a totally different discipline and spiritual journey. We were working with a friend of ours, Tony Hoffer, who did some incredible Air records and Beck's early records and Phoenix. He's just an incredible talent. He knew what we were doing so we would send him sessions and he would send us mixes unexpectedly. They would drop into whatever thing we were doing and we would just have to halt everything to assess what he had done.
We had a smattering of songs that we were recording and once we started to assemble them, we could figure out, "Okay, we don't have something for the top of the record that makes sense" or "We don't have something for the top of Side B." It was educating ourselves by excavation.
Sequencing an album is an art and probably time consuming as you try to figure out what song fits where in the track order.
BEN: Absolutely. That's always been so important to me, just as a listener, and even at a young age you understand, especially a lot of the stuff I was influenced by, you can hear the care. You know when you're being taken care of by someone or by an artist or by a band. Everything has intention. For us, we've had such a weird career because we're deep into the career but this is our debut record. Part of that is because we only had money to make EPs and tour. We didn't have a lot of time or money to do that stuff. But, also I think as much as we're afraid to admit it, we had so much respect for the form that we were cagey about taking that on before we were ready to do it whether or not that's a good or bad thing, it's a confusing thing for a lot of people. When we sat down to make this and we decided we were going to do it, we pooled from 60 songs and then we whittled them down to record 20 and then we recorded 5 more during the pandemic and then we turned in 13, it was just a very long and involved process and every moment matters. You're giving yourself clues along the way that you don't even know you're doing. We'll put a song somewhere and the way we arbitrarily decide to end something is a clue to the thing that it needs. We think long and hard about that stuff.
If you could pick how and where someone listens to the record, what would the perfect situation be?
BEN: It's a great question. It's an extension with the artwork and kind of everything that we've done, there's a lot of midnight blue in this and there's a lot of nighttime motifs and hereafter thematic elements. I think if you could listen to it with studio headphones with a full moon and the windows open, on the eve of Fall, that would be ideal.
What's a song, album or artist that, when you hear, it takes you back to a very specific moment in your life?
BEN: My friend's older brother insisted that I listen to The Smiths when I was 13. He gave me Hatful of Hollow on a burned CD. I remember wandering off my junior high campus into a pumpkin patch with my headphones on and listening to "Please Please Let Me Get What I Want" and I was just rolling the pumpkins around. I really remember that. But, the thing I was just talking with my wife about, that's a little stranger, but I think about the band Sponge. I realized that I have been chasing that guitar tone from "Molly" my entire life. When I was younger, we were driving to a thing and it came on the radio and I just froze in my seat. The album had been out for a while before I heard it but I remember hearing that tone. There's a solo section at the end of the song where the guitar is the most beautiful jangly chorus guitar. It gets zero credit for how beautiful that sound is but it makes me feel like I'm 13 with my dad's amp and trying to understand how I can figure out this thing. I spent weeks going to Guitar Center and asking people, "How do I get that sound?" It's a chapter of my life that I have closed off until I heard the song the other night and I was like, "Oh my God. The tone!" And now the challenge begins again.
You've toured with The Psychedelic Furs, who I know are idols of yours. Have you met other idols either by sharing bills or just randomly as a fan?
BEN: Many. I've been very fortunate to meet many an idol. Both the Psychedelic Furs and James were idols and, this word is so played out, but it is so surreal that we toured with them and I'm in a group text with Richard Butler and Tim Booth and it's just the three of us. Whenever my phone will buzz and I'll see that Richard Butler has used an emoji, it's just so crazy to me because they're the greatest. I just saw Richard the other night when they played LA and we hung for half an hour. It's just so crazy to sit there and to have him know something about me. He started singing one of our songs to me and he's like, "We're thinking of covering it." When those things happen, it turns you back into that kid. It's something that is very special to be reminded that that can happen.
The one I'm really nervous to meet, if this ever happens, would be Jarvis Cocker. I think that I would combust. I'm pretty good at keeping it cool but I would be so freaked out if I met him because I do love him.
I've met a lot of people. My interaction with Rivers Cuomo was the craziest thing ever. My old band was touring and we were playing a festival in Milwaukee. I was 19-years-old and our friend who we were touring with, they have the same production manager as Weezer. I was standing side stage about to go out and sing with my friend's band in front of 10,000 people. I'm really nervous and waiting. My friend Narci, who is the production manager, comes over and is like, "Hey Ben, you have to come meet Rivers." I was like, "Can you give me two minutes? I have to go sing this thing." He's like, "He's alone now, you should meet him, it's going to be great." He started pulling me down this corridor and my cue is getting quieter and quieter from the stage. I turn the corner and I see Rivers is kicking a soccer ball very aggressively against a brick wall. It's a strange image because the fury in which he's kicking is concerning. So, as I walk up, Narci says, "Hey Rivers, I want you to meet my friend, Ben." Rivers ignores it and Narci says, "Rivers, this is my friend, Ben" and Rivers looks at me and does a full chest scream at me, like a banshee. Then he hides in a catering cart and takes a cup and starts rubbing it against the bars as if he's in prison. I'm staring at this and Narci is like, "I don't know that now is a good time." I walked away from that situation and I heard my cue to jump on stage. I did a light jog onto the stage in front of 10,000 people, did my thing, and then got off stage and everything was quiet. I had to process the last two minutes of my life which was crazy.
You also toured with Pete Yorn. Do you approach playing in front of Pete's audience differently than you approach playing in front of The Psychedelic Fur's audience?
BEN: It's pretty much the same because I think we're trying to cultivate an experience. Luckily, both of those acts, the people who go see them are into a songwriting approach and that's something we do. That's an ethos we're comfortable with, like a melodic, lush arrangement. Those fans are into what we're doing. If you put us with Mastodon, those fans might have a problem. There are things that I don't think would work but we don't think, "We're playing for the Furs fans so let's get a saxophone." We've been lucky because we were doing those tours as an unsigned band. It was very meaningful to me that artists that we respect picked us, especially at a time where it didn't benefit them for any reason. I think that was something we appreciated too as music fans that that still exists, that an artist will say, "Oh, I like them. They're unsigned and they don't have a massive following but I want to hear that music for 30 nights." It says a lot about them as artists that they aren't asking us for our TikTok metrics. The best thing we can do for them when we play in front of their audiences is to just do our best.
I've talked to a lot of bands in your situation who are touring with more established artists who say, "We barely get the chance to talk with the headliner or even hang out with them."
BEN: I think that's so unfortunate. I really appreciated how both the Furs and James think. On a side note, James is outrageous. They never played the same set twice. They would learn songs and soundcheck from albums that are 20 years old. They wouldn't play the hits. They kept their whole thing vital and interesting and kind of at the edge of failure. We learned a lot from both those bands, they do things totally differently. James was fascinating. We stand to benefit from being out with them because we're learning how to play a room of 5,000 people. For us, to go from playing clubs and theaters and then to immediately play at the Greek Theater in LA, you learn to play those rooms by watching bands like the Furs and James. You see how they do things, how they can still be themselves and still translate it to 7,000 people.
You're too young to have been listening to the bands that influence your sound when those bands were active. How did you discover those bands after the fact?
BEN: My way into music was the sacred tradition of your friend's older brother playing you things. My way in was with punk. I was in a band with these kids who were older than me when I was 12. They were listening to Bad Religion and Minor Threat and Buzzcocks and Ramones.
My band, when I was 12, opened up for Fear at the Whiskey. So, in case you had any questions about my street cred (laughs). From there, my tastes changed with my friend's older brother's tastes. Then it became The Cure and Siouxie and the Banshees and The Chameleons. I got really into gothic music and then I got into post-punk and then I got into Wire. I was pulling at the thread. I was ahead of the curve because I was 5 or 6 years younger than my friend's older brother so what they were finding, I was finding right when I turned 15 or 16. I missed the genius of Brit Pop and Stone Roses and that's because I was so into The Cure and new wave but what is so weird is that they almost co-existed at the same time. I didn't find Pulp and Blur and House of Love until my 20s and then everything fused into one thing and now I make this kind of music.
You grew up in LA. Did you grow up with anyone whose names we might recognize?
BEN: Yeah, I knew a lot of people. One of the first bands I was ever in was with John Carpenter's son, Cody. And Danny Hutton from Three Dog Night, his kids are still friends of ours. I'm friends with Trent Olsen who is the Olsen twins' brother. I knew John David Washington. There's countless stories and you become used to that. When you're here, you forget this stuff is weird.
When we were talking about meeting your idols, I was going to add this. I remember I was obsessed with Gene Wilder when I was 10. I wrote him, somehow we were able to find his address. I believe he lived on the east coast and he wrote me back. I have it framed in our kitchen. He and I became pen pals. My brain was like, "You can talk to anyone." We never met in real life but I have very strong memories of coming home from school and my parents being like, "Oh, you got a letter from Gene Wilder in the mail today." It seems crazy now but it didn't feel that way back then.