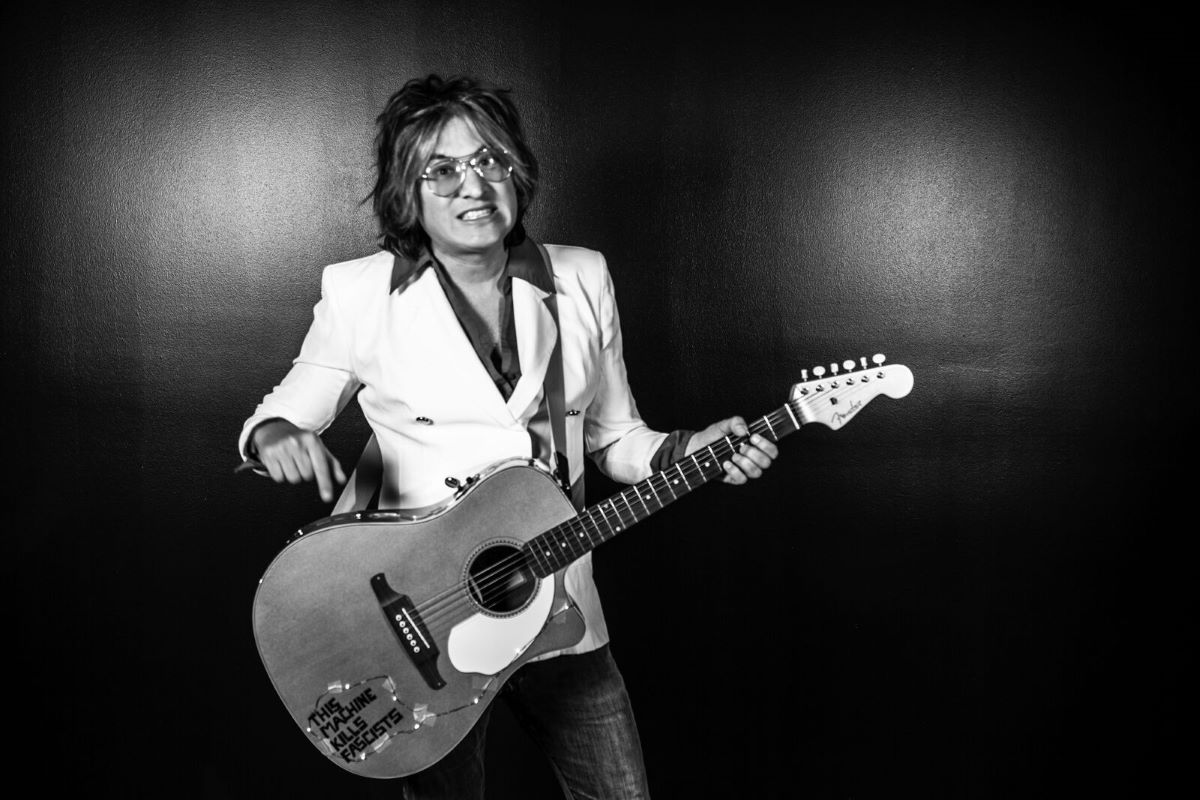 19 November 2019
Photo by Sean Yseult
On a cold and dreary mid-November day, Chris Lee is relaxing at Café Katja, a laid-back Lower East Side bar and restaurant. He's there with his wife, Sean Yseult (photographer and ex-White Zombie bassist), and a group of their friends. It's a Sunday afternoon, so there aren't many other people here, but Lee's gregarious group seems to fill the entire place with their laughter and buoyant mood. We may technically be in an ultra-trendy New York City neighborhood, but their outgoing friendliness gives the scene more of a New Orleans party vibe – which makes sense, as that city has been Lee's main residence since he first moved there (from his native Alaska) to attend college. Lee is in New York to play a show on November 22 with his latest group, The Chris Lee Band (along with Witch Taint, the parody black metal band led by his good friends, the comedians Dave Hill and Phil Costello). Although many fans may come to see Lee play because they like his previous band, the raucous Supagroup, they will likely find that The Chris Lee Band is just as rollicking. It's not all carefree good times, though, as Lee's pointed political lyrics make clear. The band's appropriately titled debut album, Protest Songs and Party Anthems, has earned praise from the likes of Kristin Hersh (who described the album as "raw, sweet, loud, literate and even fun") and John Stirrat of Wilco (who praised the songs' "great energy and joie de vivre, and…great candor"). Lee grabs a beer and settles in at a table away from his group, though their happy chatter provides an upbeat backdrop as he explains his decision to form this new band, why he wrote these songs, and how he doesn't let anyone else's expectations rule him.
Why did you do this album as "The Chris Lee Band" as opposed to doing it as another Supagroup release, or as a solo debut?
CHRIS LEE: Well, Supagroup is half my brother's band, so if I did something with him, that would be the only way it would be a Supagroup record. And it is a solo record, in that I wrote all the songs and produced it and sang it. And there's something about having your name on the marquee, but there's like a hundred Chris Lees, so the only URL I could find was "The Chris Lee Band" – and I have to put the "The." That's the honest truth. I tried a bunch of names. I've been thinking about this for a year, and it's the worst game ever to play, to come up with a band name. I hate it. The best band names are the funniest ones, and even those, you look them up, they're taken. You want to hear some of the rejected titles? I was gonna call it "Yellow Soul," which became a song title. And then, "Five Star Hustlers" was one I thought would be fun. [laughs] But it was too long, and stupid.
Now you're opening for Witch Taint. That's an interesting combination with your band. How did that pairing come to be?
CHRIS LEE: I've been friends with Dave Hill and Phil Costello for years – we actually worked on [comedy web show] Metal Grasshopper together. Dave was the star, he and I wrote it, I produced it, and Phil edited it. I met those guys when Supagroup came up and played in Manhattan. We became friends after that. They're very cool and funny. I was lucky enough to sing backup vocals on three or four songs. I love those guys and can't wait to play with them.
It's great that so many of your peers are praising your work, but does that make you feel under pressure when you're working on new material?
CHRIS LEE: Pressure, no. I'm appreciative. "Peers" is a good word. My peers respect what I do, and I definitely am fans of theirs. And remember, we all got into this because we like music, so it's nice. It's a small community. I'm making the people who I respect say that it's a good record – I know it's a good record, but it's still nice [to hear].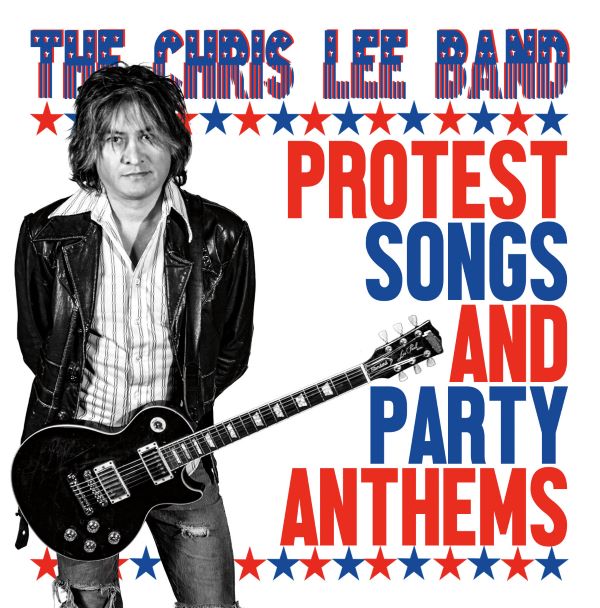 You discuss serious political subject matter with your lyrics, but the overall vibe is so upbeat and fun. Was that on purpose?
CHRIS LEE: When I was writing this record, I had another five or six songs that didn't make it [onto the final album] because they were too dour and sad. You write depressing music, you depress people – I never want to do that. I don't mind having one or two sad songs on a record, but I want it to be fun overall. Because I don't want my shows to be depressing and sad and serious. So no matter how serious I get, I will always cut the tension with a joke. That's just my personality, in real life as well as in writing. Some people, maybe they're more naturally inclined to be that way, and that works for them. Me, I'm more naturally inclined to kid around.
And there's a lot of optimism on this album.
CHRIS LEE: Yeah, absolutely! I'm very optimistic. That was sort of the impetus for the record – I didn't just want to be bitching from the sidelines. And I'm not a politician. My wife was like, "You want to be a politician? Just imagine your opponent pulling up any lyric from any Supagroup song and reading it to you in a debate!" I'm like, "OK, you're probably right." But in my own way, I'm going to make my opinions known. You've almost got to treat it like an art project. It's not really for other people, it's for yourself. And if people respond to it, great, but that's not why you did it.
But then there's the song "Yellow Soul," which seems very serious.
CHRIS LEE: So that one's about, I don't get to see my folks very often because they live in Anchorage, Alaska. My dad is a very strong-willed Chinese man, an engineer and contractor, and he's the disciplinarian in our family. So he's the one who's telling me, "What are you doing with your life?" Always. Which I respect. But when I don't see him that much, when I go back, I realize he's been watching Fox News, and his personality changes, he gets filled with all this anger and fear. It was very shocking to me to see. So I wrote that about that: he's a Chinese man who's totally swallowed the propaganda line that he's an aggrieved white man. That's how good the propaganda is. I'm like, "Dad, you realize, you'll be the first person they kick out of the country when they can." He's like, "No, they won't, because I'm their boss – I'm doing well, they have to respect me." I'm like, "No, you're Chinese, you can't change that!" Anyway, luckily, we have a great relationship, and we talk about stuff all the time – I'm not afraid to tell him that stuff. So I wrote that song and sent it to him on his birthday. He answered, "It's pretty good. It could be better." [laughs] Of course.
So what does he make of the fact that both you and your brother became musicians?
CHRIS LEE: Oh, he's been appalled that I wasn't a doctor and my brother wasn't a lawyer or engineer. [laughs] And my mom was a Pentecostal preacher, and what I realized is, she wanted me to be an Assemblies of God preacher. Looking back now, I realize the skill set is almost exactly the same – you've got to be able to sing, get a crowd on their feet and emotional – it's almost the same job. So I'm not surprised we got into rock and roll.
The Chris Lee Band will play with Witch Taint on November 22 at Mercury Lounge in New York City.