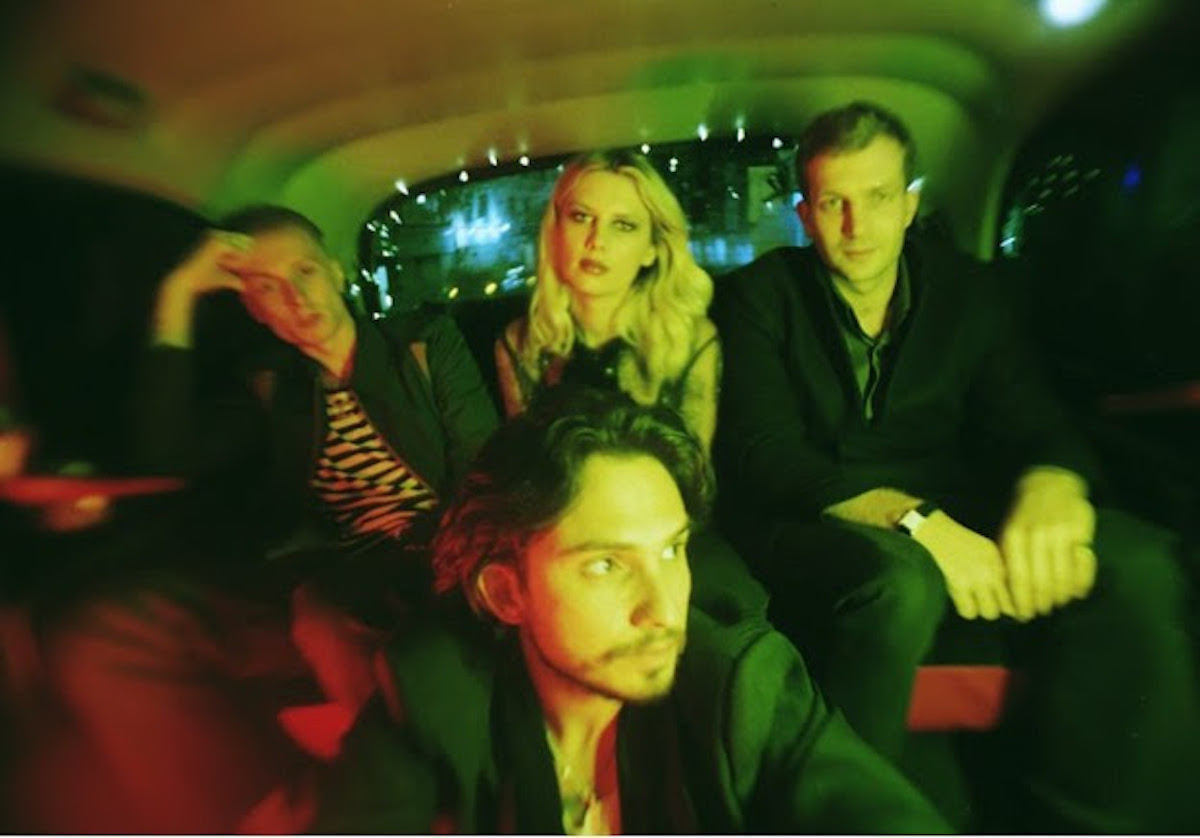 21 March 2022
Photo by Jordan Hemingway
In the dozen years since Wolf Alice first formed in London, England, the quartet has become one of the most beloved bands in the alternative rock scene. Known for their fearless live performances and intense, emotive, and highly melodic songs, they've earned rave reviews for their three EPs and three studio albums. Along the way, they've won some of the most prestigious music awards (Mercury Prize, Brit Awards, NME Awards), and been nominated for many more. Their successful streak continued when their latest album, 2021's Blue Weekend, hit the top spot on the U.K. Albums Chart and landed on many year-end "best of" lists. With pandemic restrictions easing, the band is kicking off an extensive North American tour this month (full list of dates below). Calling from England, frontwoman Ellie Rowsell discusses what it's like to hit the road again, how she feels about receiving so many accolades, and her theories about why Wolf Alice inspires such fervent fandom.
How are you feeling as you're about to set off on such an extensive run of tour dates?
ELLIE ROWSELL: I feel like it's exciting every time. It will be nice to travel after so long being in one place, and to see different places and different people and play lots of shows. I think we're going to a lot of places that we've not been before. I mean, we don't get to see the places that much – you get there and you play a show and you leave – but you do what you can, and it's quite a nice way of doing it. We're playing a set at the moment which feels really good. It's mostly Blue Weekend, but it's got stuff from the other two albums, as well. I think we're having a lot of fun performing. In England, we've got a really good light show, but I don't think we can afford to bring that over to America. That's a shame, but I think it will be a real performance-based show, which I actually think is better, in a way.
You seem to have an especially enthusiastic fan base. Why do you think that is?
ELLIE ROWSELL: I think one of the things is that we've never tried to be too cool. In the sense of, if you were to see us play absolutely awfully – it's there on YouTube. We didn't wait until we were really good to start playing shows – we just went out and did it. You can see us with all our awful haircuts and making fools of ourselves. And in a way, that makes people know we're pretty normal. Maybe it's that we've played a lot of shows. That's the best way to connect with people. If you are lucky enough to be able to do that, then it's a good way of building a fan base. It's quite an organic way.
You've gotten a lot of big awards– what did you think when that started happening?
ELLIE ROWSELL: I think life goes on as normal, no matter how successful you are or what your job is. We all have these main concerns, like, "Are my family okay? Do my friends like me? Do I look okay?" We all have the same concerns, and life goes on as normal. When [awards first] happened I didn't really understand what it meant. I still don't really understand, but I think when you're in a band it's different than when you're a solo artist because you're four egos, and you ground each other. I think when the music takes precedence over everything else, that is mainly what grounds you.
How'd you know you should be a musician in the first place?
ELLIE ROWSELL: Well, I enjoyed it, is the main thing. I just went to gigs. I enjoyed watching music, and when I tried my own hand at it, it felt good. You can only go on that, really. And hopefully have people around you that can encourage you.
Wolf Alice has a pretty distinctive sound – how did you create that?
ELLIE ROWSELL: That's very nice of you to say. I don't know if it's true. I feel like a lot of people will tell you that we sound like this, we sound like that. But I think we are steered by songwriting rather than what kind of band we want to be in. I don't know if that was intentional. But if I am feeling inspired by metal, I will try my hand at metal. And if I am feeling inspired by anti-folk, I will try my hand at anti-folk, even though I am not in an anti-folk band, nor am I in a metal band. I think you let yourself be inspired by whatever. You don't fall into a pigeonhole, which can be hard to get out of. It doesn't make us unique, necessarily. But it allows you the freedom to explore, which is fun and good for an artist. If I make a demo of a song, and I want to listen to it a lot after it's made, then that is a sign that I should proceed with the song. Because if I'm not obsessed with it, why would anyone else be? That's it, really. That's the only rule that I abide by consistently. There are always things that confuse me and make me feel some type of way that isn't black and white – those things you write about because you can't make sense of something. The process of making sense of it is interesting.
Wolf Alice North America 2022 Tour Dates:
Mon-Mar-21 Atlanta, GA – The Buckhead
Tue-Mar-22 Chapel Hill, NC – Cat's Cradle
Thu-Mar-24 Asbury Park, NJ – The Stone Pony
Fri-Mar-25 Hamden, CT – Space Ballroom
Sat-Mar-26 Harrisburg, PA – Harrisburg University XL Live
Mon-Mar-28 Montreal, QB – Corona Theatre
Tue-Mar-29 Toronto, ON – Opera House
Wed-Mar-30 Cleveland, OH – Beachland Ballroom
Fri-Apr-1 Pittsburgh, PA – Stage AE
Sat-Apr-2 Grand Rapids, MI – Elevation
Tue-Apr-5 Indianapolis, IN – Deluxe
Wed-Apr-6 Madison, WI – Majestic
Fri-Apr-8 Des Moines, IA – Wooly's
Mon-Apr-11 Lincoln, NE – Bourbon Theatre
Tue-Apr-12 St. Louis, MO – Delmar Hall
Thu-Apr-14 Austin, TX – Emos'
Fri-Apr-15 Dallas, TX – The Echo Lounge & Music Hall
Sat-Apr-16 Houston, TX – House of Blues
Mon-Jun-20 Morrison, CO – Red Rocks Amphitheatre
Tue-Jun-21 Los Angeles, CA – Hollywood Bowl
Sat-Sep-24 Dover, DE – Firefly Music Festival
Tue-Sep-27 New York, NY – Terminal 5
Thu-Sep-29 Burlington, VT – Higher Ground
Fri-Sep-30 Boston, MA – Big Night Live
Sat-Oct-1 Albany, NY – Empire Live
Mon-Oct-3 Columbus, OH – Newport Music Hall
Tue-Oct-4 Detroit, MI – St. Andrews Hall
Thu-Oct-6 Chicago, IL – The Riviera Theatre
Fri-Oct-7 Minneapolis, MN – The Fillmore
Sat-Oct-8 Kansas City, MO – The Truman
Mon-Oct-10 Denver, CO – Ogden Theatre
Tue-Oct-11 Salt Lake City, UT – Complex – Grand
Thu-Oct-13 Seattle, WA – Showbox SODO
Fri-Oct-14 Vancouver, BC – Commodore
Sat-Oct-15 Portland, OR – Crystal Ballroom
Mon-Oct-17 San Francisco, CA – The Fillmore