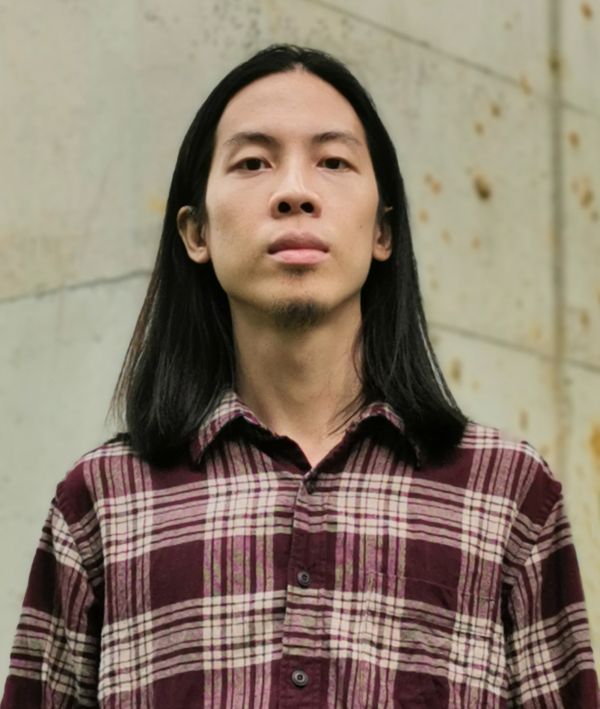 31 July 2022
Eugene San of Go With Strangers, exclusive to Big Takeover – Photo Credit: Freya Pang
A few months ago I had the opportunity to conduct the following interview with Eugene San, the mastermind behind dynamic and dreamy alternative rock music project Go With Strangers. The Malaysian musician, songwriter, and singer has a long history in the music field, previously founding the outfits Kojira, Gene Shanzo, and Mint Cherry.
Now as Go With Strangers, San brings in sweeping, scintillating, and expansive guitars, rich and miasmic electronic textures, and placidly contemplative vocals for a captivating sonic experience. His debut record as Go With Strangers, Finding Ikigai EP, is self-released and out now.
Parts of this interview can be found exclusively in the latest print edition of Big Takeover magazine, issue #90 with Billy Bragg on the cover.
Hello Eugene! It's so exciting to find out more about you and your music. Before we go into all that, where are you based now, and how has the pandemic been treating you?
Hi Jen! Thank you so much. I'm based in Kuala Lumpur, Malaysia. Been here all my life. The pandemic hit us hard, especially for the service and entertainment industry, due to the lockdowns.
Even now, many live venues over here are having a hard time (and also given a hard time), due to restrictions for live shows. But personally, I work mostly from home, so I'm grateful for still being able to do what I usually do.
I'm swooning over your new Finding Ikigai EP as the music project Go With Strangers. But you're actually no stranger to the music realm. I don't know the details about your past output, so can you go a bit into the previous bands you've been in and projects you're associated with?
I've been in a few bands and projects over the time, but the most significant ones for me started with a band named Kojira (alternative-metal/grunge), we managed to get an album out before it ended.
I then wandered into mellower music, and made a simple album for a modern classical/ambient project called Gene Shanzo; before letting that one go and venturing into electronic/indie-pop music with a group called Mint Cherry.
What compelled you to start up your new project Go With Strangers?
It all started with a cover that I did on Mogwai's "Ritchie Sacramento", last year, during one of the lockdowns. I was still new to post-rock and shoegaze music then. Before that, I had been itching to make heavier music again.
And coincidentally, somewhere around that time, Mint Cherry was also evolving from 'synthesizer-laden' electro-pop, to more 'band-oriented' indie-pop type of music. I think everything sort of fell into place at the right time…
I believe I have Mogwai to thank for releasing "Ritchie Sacramento" at such a good timing too. Haha!
How did the pandemic influence the creation of your new EP? Under what conditions did you record the EP (home studio or…?)?
Finding Ikigai EP was recorded in my home "studio" (Well, home office). I am definitely not a professional mixing sound-engineer at all by any means, and I think if a professional sound-engineer were to analyze this EP, it may probably be a mess. Haha! … But if it is really a mess, may it be a sonic mess… I am just grateful to be able to make it all work for the EP, and the sound I wanted to achieve in this EP.
Finding Ikigai is breathtaking in its rich and propulsive sound, and also its carefully crafted song structures. You call the songs "alternative rock," but I would call them dream-rock, or maybe the dynamic side of shoegaze. Do you agree that maybe your music could be described that way too?
All I could think of my music was just rock. It's not hard rock, nor metal. And, hmm.. Shoegaze… I'm still on the fence about that. I do know the dedicated shoegaze community has a certain concept of what proper shoegaze should sound like, and I understand that.
I have absolutely nothing but love, respect and appreciation for the shoegaze community listeners and supporters; but even then, I still do not think my music is shoegaze.
There are better modern bands out there doing the proper shoegaze work, bands like Whimsical, Quietly Into The Night, etc. I also heard of another term for modern/newer shoegaze called 'nu-gaze', but even then, there are some die-hard shoegazers who despise this term 'nu-gaze', and my music isn't exactly 'nu-gaze' either.
So I still believe that 'alternative'-rock should be the closest to it. 'Dream-rock' could also be a good one. Haha!
Speaking of which, tell us why you got into this alternative rock sound, which is different from what you've released in the past.
About why it is different – I think the past music projects, and also some things that happened along the way in my life, were the main turning points that shaped the music I needed to create and express now, at this point of my life, in Go With Strangers.
The EP recently came out, and before that you'd released two sublime singles with dreamy accompanying music videos. What has the reception been like?
The reception has been really heart-warming and humbling so far. Seeing and feeling the love and support from listeners, and people I've never even met before, from around the world and across the other ends of this earth.. It's surreal. Almost like a dream.
I also really need to thank Mark Anderson from Static Sounds Club for being super-cool and supportive from the start, and propelling the premiere of my first music video "Further". The awesome DJs at DKFM Shoegaze Radio, one of the main radio stations that is actually actively supporting the shoegaze music scene across the world. (I also have them to thank for confusing me about the type of music I'm making. Haha!). And your good self for the support all the way since I started this project.
The Little Prince -inspired video is especially poignant for "Slow Down, Wild One." Did you envision the video, or was that the work of the director or…?
I'm actually quite surprised that you mentioned Little Prince' As I've actually never seen this comic/cartoon before, only after a friend told me that the boy looked like the character from the Chinese version of Little Prince (apparently there's a Chinese version of Little Prince too). only did I start Googling and finding illustrations/photos of the boy with the scarf, sitting on the globe.
When I was exploring different ideas on the best approach to create the video for "Slow Down, Wild One," I came across a director, and his video work.
One of his works [was] footage of a boy, protecting a rose, until it grew into a large rose, in a outer-space sort of environment. The original footage was quite raw, and did not have the 'sand-storm' effect yet. I really liked the metaphor of this boy watching over, and protecting his rose (little one), until it grew up.
With permission, I got the footage, shot my own footage, and edited them all together into a story-flow. Am really happy with how the video turned out.
What's next up your sleeve? Any more videos? Are there plans for a full length album? I dearly hope so!
Initially the plan was to gig after the EP release, with the support of a few friends as my live bandmates. But due to the current on-going restrictions for live shows over here, and also the rising Covid cases, I'm not sure when that would be happening.
An album is definitely on my list, but at the moment, I'm just taking some time off writing.
I've actually picked up skateboarding again! Picking up where I left off 20 years ago, relearning even the most basic tricks again. The body is not taking it as well as before though. Haha! But it feels great to be doing it again, even though not as gnarly as before.
Bandcamp
Spotify
Facebook
Instagram