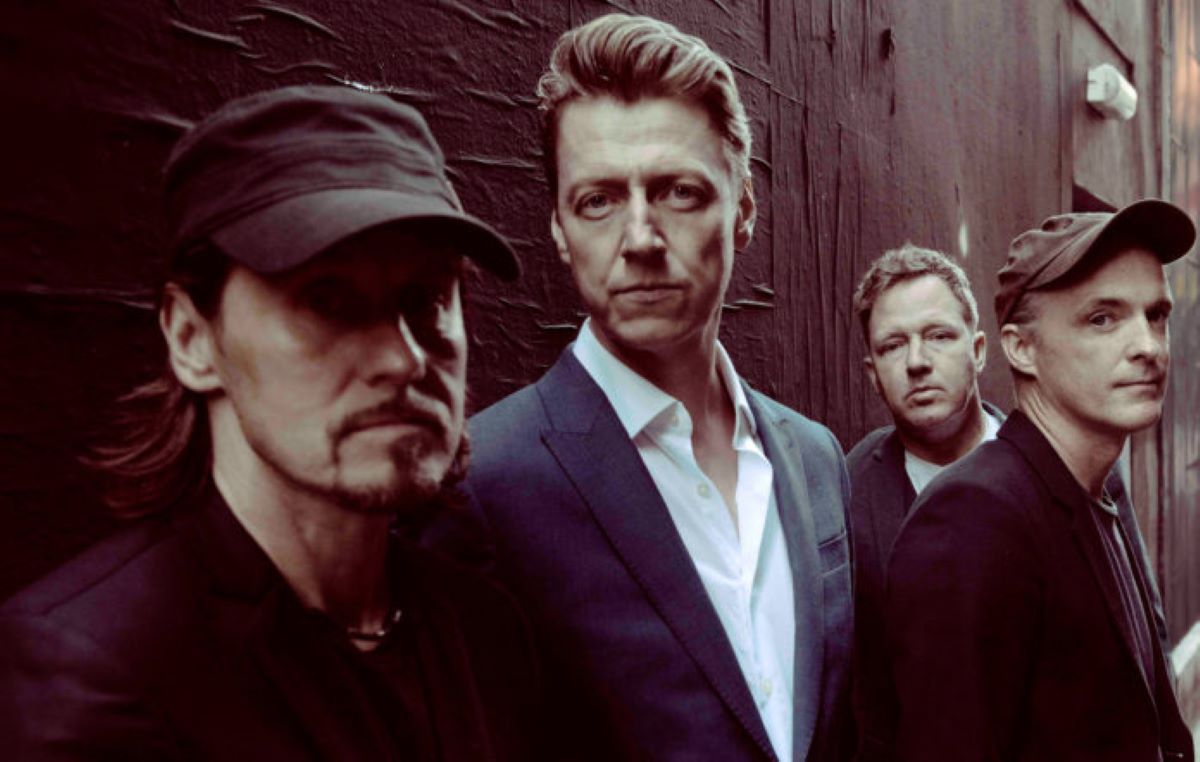 9 October 2020
Photo by Ryan Johnston
In 1999, the post-Britpop band Travis exploded out of Glasgow, Scotland with their breakthrough second album, The Man Who, then followed that up with the equally successful The Invisible Band (2001). Rapturous critical praise and fan enthusiasm propelled the band to chart success in both the U.K. and the U.S. with singles such as "Driftwood," "Turn," "Why Does It Always Rain On Me?," "Sing," "Side," and "Flowers in the Window." Even Paul McCartney publicly declared his admiration for frontman Fran Healy's songwriting skills. Since then, Travis have remained one of the most beloved bands ever to emerge from Glasgow – which is where Healy is for this Skype interview, even though he's long since relocated to Los Angeles. Although this chat is meant to discuss the latest Travis album, 10 Songs (out on BMG on October 9), quarantining in his former hometown seems to have put Healy in a reflective and inquisitive frame of mind: he's just as likely to ask questions as he is to answer them, which leads to a deeper interview discussion than usual. Perhaps that's unsurprising, though, given Healy's insightful and introspective lyrics. As he sings on "A Ghost" off the new album, "All my past is shoring up / Beating on my door won't stop."
What made you decide to do another album now?
FRAN HEALY: I have a confession to make. What's the phrase that they use in America? I kind of "dialed it in" for 14 years, because I was being a dad: I wanted to be there and present. I'm quite a laser focus. I can't split my laser; I can do only one thing. So it was either be a good parent and be the dad that I never had, or do my band. But luckily for us [in Travis], we did have this amazing amount of success that has allowed us to take the time off to do that. But really, for the last 14 years, we've been doing records but I haven't done them fully, like I've done this one. The reason I'm allowed to [now] is, finally, my son said about a year ago, "Papa, I think you should do the band now. I really want you to." So cool. I'm really happy with the record. I think it's a really strong, good work and I'm glad to have my son granting me permission to go back to my band.
It's great that you take being a father that seriously…
FRAN HEALY: I'm not so proud of it, but part of my personality is envy, and I get very envious of two things in particular. One is people who have dads – nice dads. I really get so envious of that because I didn't ever have that. And in a strange way, I've lived almost vicariously through my own parenthood. Being a dad to my son almost was like being a dad to my inner little Francis. And then the other thing I get envious of is people who have been lucky enough to have had parents that read books and were cultured. I didn't get that and I craved it. Did you have that?
Yes, my dad was a professor.
FRAN HEALY: Envy! Envy, envy.
On the anniversary of his passing, I went to Scotland because I thought it would be healing to be there then, and it was. So I appreciate your country for that.
FRAN HEALY: It's an amazing place. It's magical. It's like a poultice. Do you know what a poultice is? In the old days before they had medicine, they would crush soap up and they would put sugar and make this thing [out of it] and they would put it on your chest. They thought – and it seemed to work – that it would draw out the sickness. There are certain places that just take all of your [bad] stuff out of you.
So why did you leave it? Why move to Los Angeles?
FRAN HEALY: Well, because I was poor. Your father was a professor, you probably had a decent wage. But if you're poor in Scotland, you can't even afford nice food. You don't live in a nice place. You can't afford to ever leave. You're just stuck. I can't ever shake that mentality. I might make money and I might live in a nice house and I might drive a car now – but my brain is poor. It's quite a good driver because it tells you that you never want to go back there, you never want to slide back down. So I couldn't wait to get away. Everything I've done in my life has been powered by the revulsion of being poor. So my experience of Scotland was not wonderful at all. For crying out loud, if you look up the statistics, in Glasgow, the percentage of the population of the city that are living in poverty is off the scale. That's the reality. And people don't often get a chance to get out of it. It's like being a wee spider stuck in the bath and you can't get up the side of the bath. And life on the other side of that is like culture and art and all this stuff. I was lucky – my mum got us from the poorest drug capital in Europe at one point when we lived there, and took us over to the south side of Glasgow, which was much more aspirational. And took me to a really great school with a couple of teachers, they were like, "Who is this wee thing?" They took me under their wing. And from that, it's like we threw a rope over the side of the bath and I climbed out. So I couldn't wait to get out of here – I'm in Glasgow right now, talking to you. We came here because I'm here to do promo next week in London. I thought because my mum is here, I would come to quarantine in Glasgow.
Now that so many people are dealing with quarantines and lockdowns, maybe it's a good time to release new music, when people might need it most.
FRAN HEALY: I would say, now more than ever, just go and get the record. And not just our record. The thing is, I can't say that because everyone's losing their jobs. So you know what? I'm just going to say, by hook or by crook, just get this record. If you can't afford to get it, then get your friend to get it and go to their house and listen to it. Enjoy it and try and support your favorite bands. And if everybody supports bands, then bands will continue to make more music. It's a bit of a weird time to be a band right now because the whole idea of entertainment is people coming together, and that's not happening. So we're hitting a little bit of an existential crisis in the music business. I think music is medicine. As a songwriter, that's all I'm interested in. That's all I've ever been interested in. When you hear a song and you get that little smile, everything's okay for a few minutes.
10 Songs by Travis will be released on October 9.