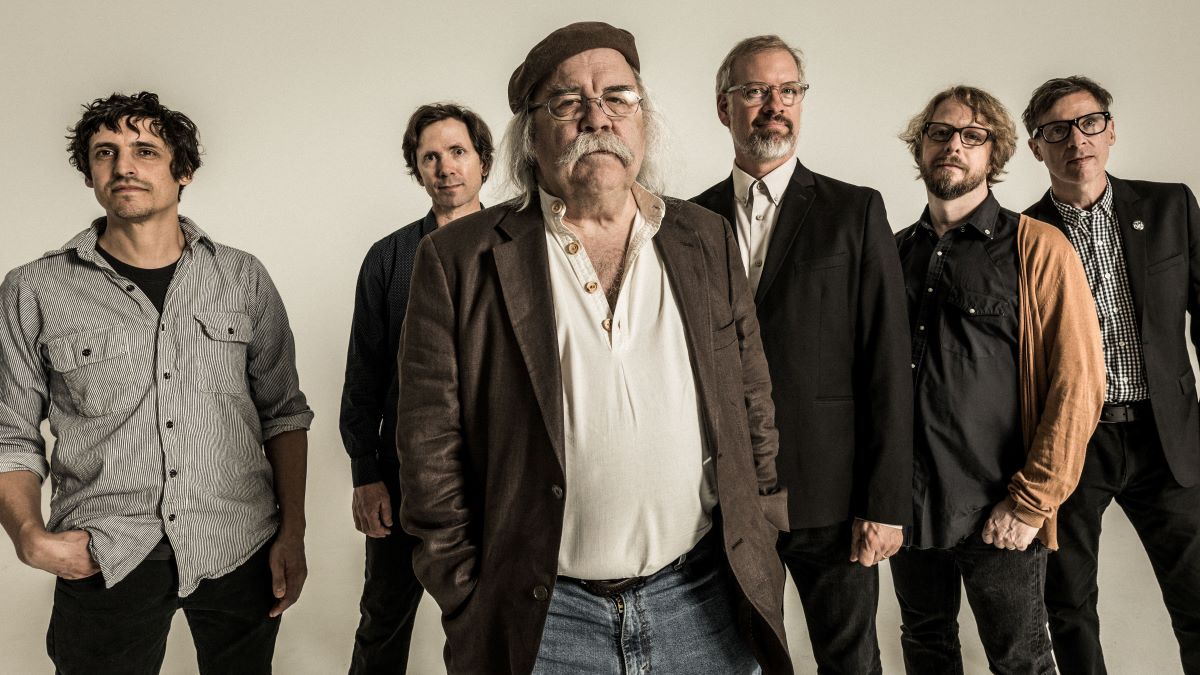 23 February 2020
Photo by John Clark
Portland, Oregon has long been famed for its innovative music scene, so it's no surprise that Eyelids, one of rock's most impressive "supergroups," calls that city home. The band's lineup – vocalists/guitarists Chris Slusarenko and John Moen, guitarist Jonathan Drews, bassist Jim Taltstra and drummer Paulie Pulvirenti – were or are members in, or collaborators with, some of the most prestigious indie acts from the past couple of decades, including Guided By Voices, The Decemberists, Elliott Smith, The Minus 5, and Stephen Malkmus. As if that pedigree wasn't enough, the band's sixth studio album, The Accidental Falls (released on February 14 by Jealous Butcher Records), was produced by former R.E.M. guitarist Peter Buck, who also calls Portland home now. And on top of all that, the band got their lyrics for this new album from Larry Beckett – best known as the lyricist for the legendary Tim Buckley. Calling from Portland, Moen and Slusarenko discuss just how this remarkable band first formed 15 years ago, and what it was like working with Buck and Beckett for this latest release.
You've all been in so many impressive bands – but how did you come to form Eyelids?
CHRIS SLUSARENKO: A lot of us have known each other since our late teens. Over the years, we've all played together in different bands, but all five of us have never been in a band at the same time. It's so funny. John and myself had been threatening to do a band together but because he was busy with The Decemberists and I was in Guided by Voices, we just never found the time. So I was playing some demos we had worked on, and John was like, "We should totally go do this, we should record." And Jonathan, who had played with John on his solo record, was standing there and was like, "Oh, I want to be in it, too." So we're like, "All right, let's all meet next week with a bunch of songs and we'll pick the best 13 or 14 and then we'll go make a record." And we basically did that, the three of us recorded the record [2014's 854]. And then in a totally Eyelids way we were like, "Oh, I guess we should play a record release show for the single. Let's ask Jim and Paulie to play." It was so fun, and they played a lot of the songs better than we did on the original recording. So we were like, "Let's re-record some of the songs with them. And then after that, we should tour." Then you blink, and then you're like, "Oh, we're a band!" So it was a really fun genesis, in terms of every year, it's been like a nice little surprise for us as we keep writing. But it seems really obvious that we would all work together. But at the same time, we're all pretty different and we bring different things musically – John pulls me in one direction and I pull in another and we all play pretty differently. I think that we all have different styles and tastes – that makes it interesting. I'm like, "Oh my gosh, this is the band that I always wanted to be in and never thought I would be!"
And now you have another new album coming out.
CHRIS SLUSARENKO: What was different this time is, all the other records John and myself did the songwriting – and this time, we had a lyricist, Larry Beckett, Tim Buckley's lyricist, write all of the lyrics. I think it added, initially, a different tension or nervousness that we hadn't really anticipated or experienced before. but it turned out really great and ended up being a really easy and freeing experience. Wouldn't you think, John?
JOHN MOEN: Yeah, I would say that, for sure. There was an element of wanting to honor ourselves in the collaboration but then also, I thought, "Oh, I hope this is good for Larry." I'm a fan of his. So there's that, too.
But how does it actually work with him? Did he just give you a stack of lyrics to choose from?
JOHN MOEN: Yeah, he had a whole book of lyrics and he said, "Just look through that and see if there's anything that catches your fancy." Then we sent him music that we had for him to write lyrics to that were fresh. That was really exciting, that he was still game, too. He's a current artist. He's not just a guy who had a bunch of neat stuff in the old days. But when I did look in his book, it had to resonate with me emotionally. With that in mind, there was plenty to choose from.
CHRIS SLUSARENKO: I think John and myself tried to find things that just sounded like they were complete extensions of us, and we found quite a bit. If we didn't say that Larry Beckett wrote the lyrics, I don't think anyone would know. I don't think they'd be like, "Oh, Eyelids really went into outer space this time." We still tried to find things that sounded like it was coming from our heart and our minds. I think that we initially thought maybe there would just be a couple songs, like maybe it'd be an EP.
JOHN MOEN: Yeah, at first, we thought, "We'll put out a single and if it's not happening, it'll be fun to have tried it." But then it got comfortable really quickly, I think. It's sort of like getting a commission and you're like, "We've got to see this through, this is a really unique opportunity." It's just kind of unbelievable that it happened.
Is it hard to connect with it as a singer when someone else writes the lyrics?
JOHN MOEN: I don't think so. but we didn't know that when we started, and that was a big concern: "Can I own this?" Which I think is pretty important. The kind of music we like needs to have some emotional weight, for us. So it was a challenge but I think that's what got me the most excited was, I realized that I wasn't having a problem identifying with a lot of the things he was writing. He's a talented guy and had a lot of different moods. It is quite a talent to be able to write something that someone else can own that way. Once he decided he was interested in working with us, it was "Go and do, I trust you." And it was remarkable.
CHRIS SLUSARENKO: He was a fan of Eyelids. He really got into our older records and had a lot of questions about the choices we made. He was friends with Buffalo Springfield and The Byrds, so we reminded him of that lineage a bit. He came to the recording session every day with Peter [Buck] and just cheered us on. He was just really excited and thrilled by it. It was really cool. The first time we met to talk about the project, he had the sheet music for a Tim Buckley song that he and Tim had written in 1966 that hadn't been recorded, and we were just laughing with him, we're like, "No, we're not like Tim Buckley, the legend's too big, we're not the kind of band that will take this." I mean, we've done tons of covers, but I think this was scary. But by the end of the process, with all the encouragement, we just decided, "Yeah, we're the band to do it." Do you remember your thinking on that, John?
JOHN MOEN: Just that we really shouldn't try that song. [laughs] "Found at the Scene of a Rendezvous That Failed" is the name of the song. It had too much history. Then, I don't know what happened, we started enjoying the process. I would record something on my phone and send it to Larry and he'd send back lyrics, and I'd be like, "This is really great!" And then I'd look through his book and read a couple of songs out of the already existing stuff. And I think we started feeling like we belonged there with him. That led to, "Let's try it. Let's get confident and just do a version of this song. We don't have to put it on the record if we don't like it in the end." It's a huge honor, really. I think that we were just a little awed by that idea for a while. And then we got comfortable.
And you also worked with Peter Buck on this album, so that seems like something else that might be intimidating for some artists.
CHRIS SLUSARENKO: Yeah, it was definitely a trip. For Peter, it was a really big deal to work with Larry. He was really honored to meet him and work on the record because of that. I think all of us really created a cool little thing together. There wasn't a lot of second guessing. It was beautifully charmed in that everybody wanted to be there and everyone was a little excited and a little respectful. It was cool. It felt right. There's a bit of a journey on this record, without sounding pretentious. I think we've always been good at writing really strong, catchy songs with interesting ideas in them, but this has a different kind of feel. It sounds like Eyelids, but we let our guard down a bit and took a few chances, and I think a lot of that was because we were working with Larry and Peter. It's still a trip to us. We'll be like, "Peter is in the other room, producing us. He's a friend!" He meant so much to us as an influence, and so many of our early bands were based on the way R.E.M. handled themselves. Like, they share the publishing and they're cryptic about who does what and it was very DIY. Peter hasn't changed that much. He loves music. And if he wants to be there, he'll be there. It's really flattering that he wanted to work on it and put so many of his great ideas into it.
And soon you'll be doing a bunch of shows to support this album release. What are you thinking as you head into those?
CHRIS SLUSARENKO: It's been cool that people are pretty excited. It's been really fun to see the reaction to this. There's this sense of, "Well, here we go – let's try it!" You hope it's not a big mess or something that's just like, "Aw, I think I'm gonna go look at the merch table during this song." [laughs] So there's always that nervous tension before you play new stuff for people. But I think it's coming together. I think the tour is going to be a lot of fun. We're not super precious about it. Even though we are very careful with what we want to do musically, we also are pretty fun and weird in terms of just letting go when we play live. It's rock music: might as well have fun!
Upcoming tour dates:
March 13th – San Francisco, CA – Ivy Room
March 14 -Los Angeles, CA – Alex's Bar
March 15 – Redlands, CA – Studio (Early show)
April 3rd – New York, NY – TV Eye
April 4th – Jersey City, NJ – Monty Hall
April 4th – New Haven, CT – Cafe 9
April 5th – Washington, DC – Comet Ping Pong
April 6th – Philadelphia, PA – Ortlieb's
April 8th – Raleigh, NC – The Pour House
April 9th – Nashville, TN – Soft Junk
April 10th – Atlanta, GA – Club 529
April 11th – Athens, GA – Caledonia
May 29th – Milwaukee, WI – Cactus Club
May 30th – Chicago, IL – Space
May 31st – Madison, WI – Kiki's House of Righteous Music
June 1st – Minneapolis, MN – 7th St. Entry