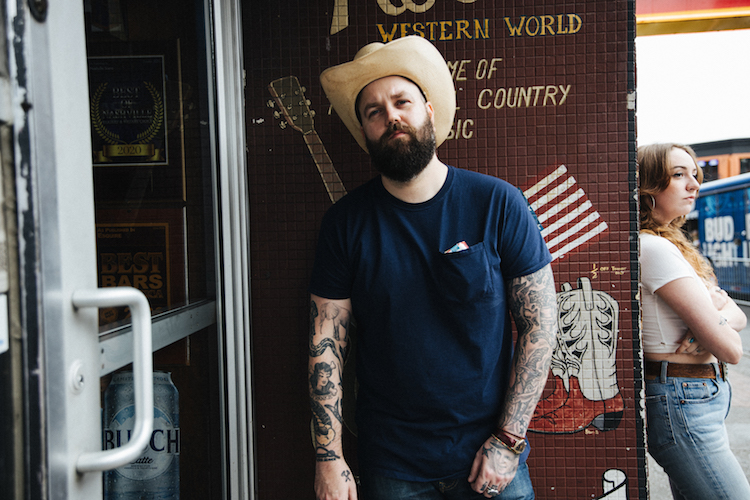 21 April 2022
Photo by Joshua Black Wilkins
After playing regular gigs at Robert's Western World, an old school-style honkey-tonk club in Nashville and serving as the fiddle-playing sideman for artists like Jonny Fritz and Justin Townes Earle for nearly 15 years, Joshua Hedley issued his debut solo album, Mr. Jukebox, in 2018 on Third Man Records. Not exactly an overnight sensation, Hedley put in many years of work after moving from Florida to Nashville when he was 19 to get to where he eventually landed. And, like a tragic country song, drugs and alcohol nearly derailed his professional recording career as quickly as it had started.
While Hedley sobered up, he discovered that songs didn't come as quickly as they did in the past so when it came time to record new material, the singer/songwriter collaborated with musicians who have worked with artists like Clint Black, Alan Jackson, and George Strait to co-write material for what would become his first album for New West Records, Neon Blue.
Hedley says the goal of the album was to pay homage to the country music he grew up listening to in the '90s, before the influx of the pop world made its Nashville and changed country's sound. The result is a twangy, no frills country-western album with the usual lyrical fodder (heartbreak, trucks, drinking, cowboy boots) that is a throwback to simpler times.
I caught up with Hedley on the eve of his album release.
Any big plans for release day?
JOSH: I'm going to be in Athens, Georgia playing a show on release day. I don't have anything planned. For me, especially thinking back to Mr. Jukebox, the moment it became real for me was when they gave me the test pressing, when I held the test pressing in my hand. I was like, "Holy shit, this is really it. This is my first record. This is the real thing." I made a record when I was 15 but it was a low-run, self-release Bob Wills tribute album for me to sell at local shows. Having a release on a label and them giving me the actual physical vinyl of it, that was a big deal. It was a wild sensation.
Will you be checking record stores to see if they've got Neon Blue in stock?
JOSH: I'll probably take a trip. The show's in Athens which is where New West is headquartered so I imagine there will be one or two record stores there that might have it so I'm going to go to try and find one and at least get my picture made with it.
Do you think that by being on labels like Third Man and New West have allowed you to reach people who may not regularly listen to country music?
JOSH: 100%. That was a relief, especially with Third Man. They have such a cult following because of Jack [White]. There are people that just get everything that Third Man puts out because they are a fan of the label. That's a very indie/punk/rock n' roll deal. There's nobody out there buying everything that Capital Records puts out. I played the Third Man plant in Detroit and I was sitting after the show at the merch table to do signings and stuff and there were people who came up that had everything that I put out on that label, different paint markers for all of it and they had me sign everything a special way and then take a photo with everything. There were people in line being like, "Oh, you have the root beer colored vinyl. I have this Jack White 7" from five years ago. Do you want to trade?" They were making deals in line. A lot of artists get bent out of shape over that, I guess, but I thought it was cool. It put worth on my product that I put out, I got to see the value of it, apart from just the artistic merit. It's crazy to me to think that I put out something that is worth enough that people are willing to trade it for other records that are worth money. It was surreal to see that first hand.
I think that's largely the same for New West. They have a diverse roster of all different genres. I'm on the same label as Los Lobos. That's pretty fucking cool. I think there's some Los Lobos fans who might not have heard of me who are getting to hear me now because I'm on the same label.
New West is a well-curated label. They put out good, quality stuff.
JOSH: I agree. They're a smaller label with a smaller roster so they are able to hand pick who they want to put out. It's not necessarily the marketing machine that big labels are. They're curating exactly what they want to be on their label. They're not just signing somebody because they don't want Sony to sign them. Or they're not signing somebody because somebody who manages a bigger artist is like, "Hey, this guy is going to sell a bunch of records for you." It's very much, "We like your music and we want to put it out," which is rare in the country music industry, at least.
Country music of the late '80s and early '90s influenced this record. Do you feel like there are other artists out there that are your peers and creating the same kind of throwback sound?
JOSH: I'm a student of the game. I've been playing music since I was 8 years old. I've always been fascinated by country music and the history of it and the stylistic differences of different eras of country. You can listen to a Carter Family song and you can listen to a Ronnie Milsap song and it sounds like completely different kinds of music but they're both country music. For this record, I was heavily influenced by a rabbit hole that I went down after Joe Diffie died. I got on YouTube and started listening to Joe Diffie songs and then that morphed into revisiting the whole genre of '90s country which was what was on the radio when I was a kid. As much as I grew up listening to George Jones and Tammy Wynette, I also grew up listening to Mark Chestnut and Patty Loveless. I thought, "Well, most of the people that listen to my music are roughly the same age as me. This sound brings a lot of good memories to mind and I bet it would work well with the people who bought my last record." I decided to run with this whole '90s thing.
There are other artists out there doing similar things. Midland comes to mind first. They were kind of the first to do it, to bring that '90s flavor back to country. I don't think there's many of us doing it. I would like to see more because I do think that was the last truly great era of country music, at least the last era that you could discernibly tell that you were listening to a country song when you turned the radio on.
Were you only listening to country music in the early '90s?
JOSH: I listened to all kinds of stuff. When I was a kid, where I grew up, it was not cool to listen to country music so I spent a lot of my childhood hiding the fact that I listened to country music and hiding the fact that I played country music.
This was in Florida, right?
JOSH: Yeah. It was pop-punk, hip-hop, metal. The jocks listened to whatever was on the radio. I remember going to Target the day it came out and buying Pinkerton by Weezer on CD because I had loved the Blue album so much. I have an appreciation for it now but I remember being real disappointed because it didn't sound anything like the Blue album which I, later found out, was produced by Ric Ocasek which makes a whole lot of sense as to why it sounded like that. I remember trading my Green Day Nimrod CD for a burned copy of Juvenile 400 Degrees and a burned copy of the second disc of Wu-Tang Forever. It was a mixed bag. I would play at these country clubs, as a band we would be up there playing country music and everybody would be out line dancing or two stepping and then when we took set breaks, the DJ would come out and throw on the 69 Boyz or something and all the same people that were line dancing and two stepping were just grinding it out on the dance floor. Florida is such a weird place. Hip-hop and country were very much intertwined back then.
Speaking of hip-hop and country, you collaborated with Yelawolf.
JOSH: He hit me up a bunch of years ago. He was looking for a fiddle player to play on something and his manager or somebody reached out via Facebook Messenger and was like, "Hey, I heard you play fiddle and I heard you like hip-hop. I'm working with an artist and want to get you two together. Maybe you can put some fiddle down on this track." I came out and we did it. I don't think anything ever happened with those particular tracks but we became friends from that and just started collaborating. I've got that song and a song called "Like Father, Like Son," with Struggle Jennings, that came out of those sessions. He just said, "I heard you were the guy" and I was like, "If you're looking for a fiddle player that likes hip-hop music, yeah, I think I'm the only guy." (laughs)
I think about how Big Takeover was born in the '80s punk scene centered around places like CBGB and how an artist like yourself probably would not have been covered early on. But, the C in CBGB is for "Country" so there is this bond between country and punk.
JOSH: I think there is too. I think all American music is blues at heart. It all comes from the same struggle and it's all very dependent on socio-political struggle. Obviously, punk rock has its root in that and the blues as well. Country music is very rural in its roots. CBGB stands for Country, Bluegrass and Blues. There definitely has been country artists that played CBGB and then you have the Palomino out in L.A. where you'd have Black Flag one week and then Merle Haggard the next week. I know a lot of people who listen to punk rock music and they love Johnny Cash and Hank Williams because the emotion is the same, the thread that runs through it is all the same. It's all American music. It's all the blues.
You've been in Nashville for almost two decades. Has Nashville changed the same way that country music has changed?
JOSH: Oh man, it's nothing like the Nashville that I moved to. It's completely different. I moved here in '04 but I used to visit here in the summers. I'd been coming to Nashville since 1996. Nashville in 2004 was not too much different than Nashville in 1996 but downtown was a little cleaner, east Nashville was a little more gentrified. I remember when I moved here in '04, I used to like to drive around and get intentionally lost and try to find my way back to my house so I could learn the area and learn how to get around. This was pre-iPhone. I remember getting lost in east Nashville and driving around there and realizing pretty quickly that this was not an area I was supposed to be in. I remember driving by this dude on his porch. He lifted up his shirt and showed me the pistol stuck in the front of his pants and I was like, "Okay, I'm going to get out of here right now." That Nashville is gone.
When I moved here, there's an area called The Gulch and there's this place there called The Station Inn. It's been there for a long time, it's a bluegrass joint. When I moved here, The Gulch was The Station Inn and that was it. It was all industrial around there and when you got out of the show at 11:30, you fucking ran to your car. Now, The Gulch looks like Rodeo Drive. It looks insane. High-rise hotels, condos, a quaint shopping district with a Lucchese store. It's unrecognizable. The Station Inn is still there but everything around it is built up. That architectural monstrosity of weird, crazy-shaped buildings and glass and exposed steel, very modern architecture and fancy, shiny new is just spreading throughout Nashville and has been for about a decade now. It's crazy how much it's changed from 2004 to 2022. It looks like a totally different city.
When I started playing downtown, there was one block of bars on the 400 block on Broadway, between 4th Ave and 5th Ave. That's where the honky-tonks were. Now, it stretches from 5th Ave down to the river, 1st Ave. All the hip bars are down by the river and all the old bars that nobody gives a shit about are on the 400 block. It's just wild to see the evolution. People used to come here to see the music on Broadway and no people just come here because there's 50 bars on one street and they can go get shit-faced in all of them. There could be a DJ playing and they don't give a shit.
Is Broadway for Nashville regulars who love live music or is it intended for tourists?
JOSH: It's always been for tourists. It used to be more of a mix. When it was just that one block, you used to get locals that came out. Now, it's entirely tourists. The place where I play, Robert's Western World, it looks pretty much the same as it did when it opened in '92 and it's only traditional country. You won't hear blink-182 or Nirvana. It's just traditional country, that's it. That place still gets locals. That's the only place downtown where you'll still find locals coming to see the music. It's a testament to that place. It is the 7th circle of fucking hell down there. The fact that people will brave the party busses and the Bird scooters and the bachelorette parties to come down to Robert's and hear music is a testament to how great that place is.
Did you have a regular gig at Robert's?
JOSH: Oh yeah, still do. I've been playing down there 17 years now. I pretty much started playing downtown as soon as I moved here and started playing at Robert's pretty close to that time. I'll keep doing it as long as they let me.
I had no plans of leaving Broadway. Back when I was 25, it was a different time down there, I was playing 14 shifts a week down there. A shift is 4 hours. There were some days where I'd play 11am – 2pm, which is a short shift, then I'd play 2pm – 6pm and then I'd have four hours off and then I'd play 10pm – 2am. That's a triple. Some people do quads. I don't know how people do quads. I would play 14 of those a week and made a good living. That was back when a good day at the bar was like $80. Now you have to play less gigs. I played 8 last week and made about $1,500. You can make a living, you have to be playing a lot and it's grueling. It's like tour, but at home. There's a lot of people where that's their priority, it's like, "I want to play music as a job."
Is touring an extra benefit for you or is it something you hope to be able to do more as a full-time thing?
JOSH: I definitely want to tour. I've been touring for a long time. I was touring as a sideman before I was touring as an artist. But, it was always that you do however long your tour is, could be two weeks, could be six weeks, then you come home and it's back to the bar rooms. I'm not cut out for a 9-to-5. I've tried it and I've failed every time. It is what it is. I do it to keep the lights on.
There has to be a tremendous amount of talent on Broadway that will never leave Broadway and be heard by the world.
JOSH: The best singers, the best guitarists, the best drummers, you've never heard of them because they are there. Yngwie Malmsteen doesn't have shit on a kid named William Bagby who is 23-years-old. Nobody's ever heard of William. He had a couple touring gigs with Joe Diffie and Daryl Singletary but other than that, he just plays in Nashville. He's 23-years-old and he's the best guitarist you've ever heard. He doesn't give a shit. He's just there to play music and make money. That's what he likes.
Having a steady income rather than hoping in a van and maybe playing Columbus, Ohio on a Tuesday night in front of 4 people might not be a bad thing.
JOSH: It's probably the only reason I still live here, to be honest. This is not the Nashville that I moved to. It's the only place where I can do what I do. There's no other place on Earth where, if I wanted to, I could work 7 days a week from 11am to 2am. I can do that here. I don't want to because that sounds like a fucking nightmare. You can't do that anywhere else and I can still sleep in my bed at night.
The country artists you grew up listening to were relatively clean cut, nobody had tattoos. In 2022, they are way more acceptable. Do your tattoos tell a story, are they all related or have some kind of theme?
JOSH: Nothing common. Some of them have meaning. Some of them I was just bored. I'm sure you have friends who are tattoo artists who are like, "Hey, can I tattoo this on you?" That's what legs are for. I have a severed cow skull that says "Carnivore" on it. I don't know why, I just thought it was funny. I played a cruise recently. The median age of a cruise ship is about 80. It was me and people like T. Graham Brown and Neal McCoy and Lacy J. Dalton and just these old school country artists. I don't really dress like a cowboy any more. I feel like I've put my time in with the country cosplay because I'm not a cowboy so I don't want to pretend to be one any more. I just got up on stage looking like me, with a ball cap and a t-shirt and my tattoos on full display. I think a lot of those people were confused, like, "What is this guy doing here?" but as soon as I started singing my songs, they were like, "Oh, shit." I enjoy throwing people for a loop looking the way I do and then sounding the way I do. I've been doing this my whole life. I didn't discover country music from a Gram Parsons record and transition to it. I think I've sort of earned the privilege to look however I look because the music speaks for itself.
You've released a few videos for Neon Blue. Do you enjoy making videos or is that part of the job?
JOSH: Both. I do kind of enjoy doing it. I guess I like acting a little bit. I've never really done it but the little bit I've done in videos I've enjoyed. I do kind of think videos are a weird thing especially now that there really isn't an MTV any more or a CMT, they just play regular TV shows now. I don't entirely understand the continued need for music videos. I guess it's cool to have a visual representation of the song but it's not entirely necessary to me especially since I'm not writing "Visions of Johanna" over here. They are pretty cut-and-dry, they're fairly obvious what they're about. But I do enjoy making them.
I can't end without asking, any tour plans?
JOSH: I don't have a lot on the books. I'm sort of in a rebuilding phase right now. I did a pretty bang-up job of tearing my whole career down with drugs and alcohol after Mr. Jukebox. I'm two years clean and starting to right the ship again. I've got to get a new manager. I've got to get a new booking agent. I'm hoping to get some dates filled in soon because I've been in town for 3 years now and I'm dying to get out.