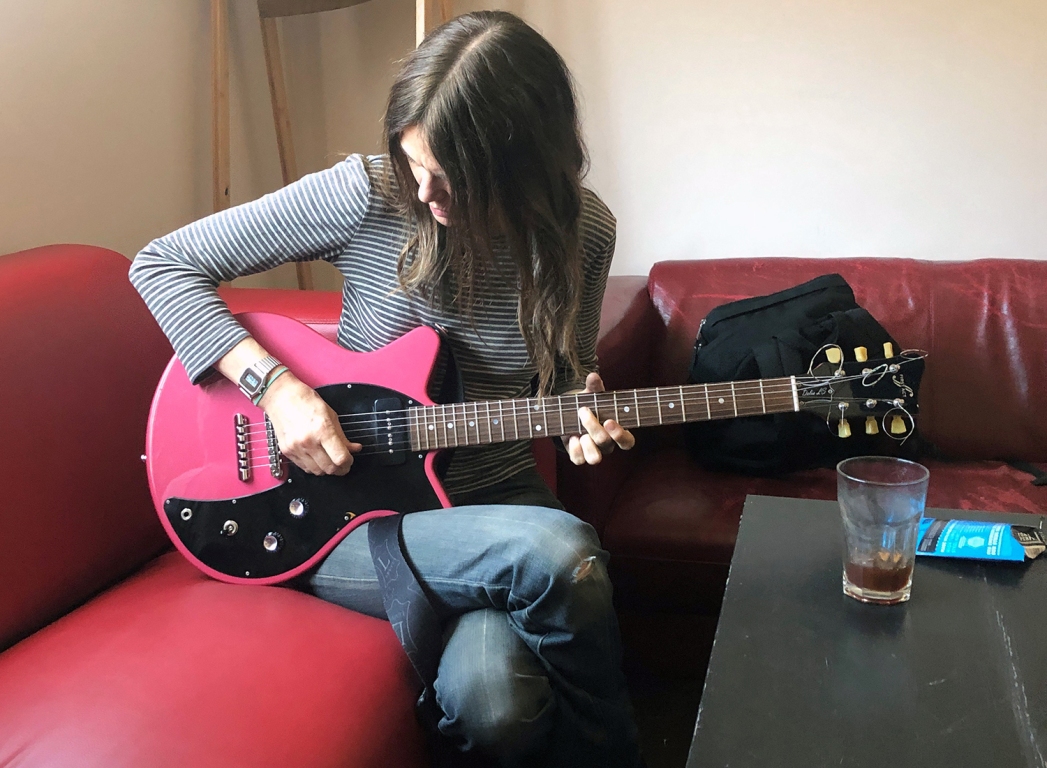 9 November 2019
Photo by Stacee Sledge
Juliana Hatfield first gained fame as a songwriter when she was a member of Blake Babies, the Boston-based band that became alternative rock darlings when they released their 1987 debut album, Nicely, Nicely. Her status as an icon in the indie scene didn't diminish when that band broke up in 1991 – she went on to join The Lemonheads, then fronted The Juliana Hatfield Three, where she continued to display her talent for writing clever, catchy songs. That band's biggest single, 1993's "My Sister," topped the Billboard Modern Rock Tracks chart and received widespread adoration (even Kurt Cobain, in a letter to Juliana that she has made public, singled that song out for praise). So it may be surprising, given her proven songwriting chops, that Hatfield has recently devoted two albums to covering other artists: in 2018, she released Juliana Hatfield Sings Olivia Newton-John, and on November 15, 2019, she will release Juliana Hatfield Sings The Police (both on American Laundromat Records). She's still releasing her own songs, too – her most recent album of original material, Weird, was released this past January) – but as she explains during a call from her home in Cambridge, Massachusetts, doing these cover albums has helped her revive her creative spark, so she plans to continue releasing them for the foreseeable future.
How do you decide whose work you're going to cover?
JULIANA HATFIELD: I'm interested in covering music that is maybe not "cool." When I was in my first band playing in the indie rock world, it was understood that there are certain bands and albums you were obligated to love and cite as influences, and I always felt like that was such a load of nonsense. My first band, Blake Babies, broke up pretty much over the fact that I really liked Wilson-Phillips and they didn't. I mean, that wasn't the only thing that broke us up. But I don't know what's cool anymore. I like to choose artists that are a little bit questionable or controversial in terms of their coolness, like maybe the hipsters wouldn't even give the time of day to Olivia Newton-John. I think "cool" and "hip," they're words for "closed-minded." Or too proud or too insecure to admit what they really like. For me, there are no guilty pleasures – just pleasures.
It seems like some things become uncool if they get really popular.
JULIANA HATFIELD: Yeah, that definitely turns people off sometimes – mass popularity. And also, I think The Police are kind of controversial because of what Sting did after he left the band – the general consensus is that he has a pretentious streak, or that he got kind of haughty after he left and went solo. So I think Sting is a really divisive figure, but I think The Police are purely separate from Sting solo. I mean, that was part of their whole thing, that they kind of hated each other, but they also loved each other. You can feel the tension in the music, and that's what makes the music great. You can tell that they were butting heads a lot. They also had a solid brotherhood.
Where did you get the idea to do an entire album covering just one artist, instead of various songs by various artists like what's usually done?
JULIANA HATFIELD: A few years ago, I saw that Olivia Newton-John was touring, and a friend of mine bought tickets for us to see her at the closest venue – it was in another state; she wasn't even coming to Massachusetts. So we were going to make a little trip of it. But that was when she got sick again, she had a recurrence of the cancer, and she cancelled the shows. But her songs were circulating in my brain. That's when I thought of the idea, "Why don't I just express my love for the songs and for her in an album?" Then she rescheduled a bunch of dates, so my friend and I got tickets again. And the closest gig she was doing was near Pittsburgh. So we flew to Pittsburgh and I saw her for the first and only time, and I'm so glad I did, because it seems now like she's pretty much quit touring. When I finally did see her in concert, I think it was after I had just finished making the album [covering her songs], so it seemed like perfect timing that I was able to go and see her play then.
Does Olivia know that you did that album?
JULIANA HATFIELD: Yeah, my people were in touch with her people because we wanted to donate a dollar from the sale of every album to the Olivia Newton-John Cancer Wellness & Research Centre in Australia. We put their logo on my album, and that was really cool. Then she tweeted a couple of times about it, she was very kind and gracious to say thanks to me. And there was news about the album on her website. It was just so cool of her to even acknowledge it, and acknowledge that some of the profit was going for her foundation. It felt really good, not just to share my love for her, but to actually give something tangible to her charity that she cares a lot about.
How do you know when it's time to do a covers album versus an album of your own songs?
JULIANA HATFIELD: After I did the Olivia Newton-John album, I felt the urge to write more songs. And when the album Weird was done, I wanted to do more covers because the Olivia Newton-John project was so fulfilling to me. And now, having completed The Police record, I'm feeling the urge to write songs again. So I think my plan, for now and however long it lasts, is that I want to do a covers album every other album. So the covers thing is going to become a series. It definitely helps me to get away from my own songwriting habits. I definitely have techniques that I repeat over and over again. Having to learn other people's songs forces me to get out of my own comfort zone, which is helpful to me.
So you've already started working on your next album of originals?
JULIANA HATFIELD: Well, I am actually taking a little break. I'm writing other stuff, I'm working on a longer form prose thing. I wanted to step away from making music for a couple months, just to write this other stuff, and then I'll get back to songwriting in the beginning of the new year. I have to be creative: I also draw and paint. I have to be doing something all the time or I just go crazy.
Are you going to do any tour dates for this Police covers album?
JULIANA HATFIELD: Yeah, we're going to tour in January and February, about a month in the States. It's going to start in Chicago and go down and West and all around and end up in New York around Valentine's Day. We're still finalizing the dates, but we'll put them out there as soon as they're all fixed.
Do you already know who you'll cover next?
JULIANA HATFIELD: I do. I don't want to say who it is yet, in case I change my mind. I did an Australian, and then I did an English band, so I think next I should do an American band.
You produced this album and played a lot of the instruments yourself. When you have that much control over the process, how do you know when to stop working on a song?
JULIANA HATFIELD: I'm really good at ending things. I've always been good at it. Actually, there was a moment in the studio where I got off on this tangent working on something. And I stepped outside of myself and I could see myself going farther and farther into this infinite hole and losing my mind. It was this one part I was working on, the end of a song that became this outro that went on and on. Right there, that was an example, to me, of how creative people go crazy when they're working on something. I'm aware of the infinite possibilities, and if I let myself go out into that infinite universe of ideas, I will lose my mind. So I'm good at reining myself back in and putting limits on things. I choose to stop after a certain point and work with what I have. My mantra in the studio is, "That's good enough, let's move on." I stop, because I realize there's no such thing as perfection, and if I try to aim for perfection, I'll never get there and I'll go crazy.
What made you want to become a musician in the first place?
JULIANA HATFIELD: I always had music in me, from as far back as I can remember. I was always making up songs, singing about my environment. When I was in my mom's car, I would be singing about what was going past the windows. And I took piano lessons from a very young age. Both my parents played piano in the house. So it was just always a thing that I was drawn to, I guess. My mom was going to be a concert pianist – she studied classical piano, and then she became a journalism major because she realized that the life of a concert pianist was going to be too difficult and competitive. So she got a more practical profession. I think it's fun for her to see me go for the thing that she didn't go for. But I think my parents also always worried about me because there's no security in this line of work. They never told me not to do it, because they knew I was going to do it anyway, I didn't care what they said. But I'm sure they worried. My mom probably still does; my dad's not around anymore. But she likes to tell her friends about it, her friends come to see [my shows] sometimes. She's proud, but I think she does worry still about my future.
You also act, as well as doing music and painting and writing. How are you able to excel in all of these fields?
JULIANA HATFIELD: I don't know if I excel in all of the fields. I think I'm just restless. I just feel like I don't want to be limited to just making music, because I feel that it's a trap to do one thing. I have more energy that I need to burn. You know, historically, there's the archetype of the Renaissance Man? I think of myself as a Renaissance Woman. I think there are lots of people who can do lots of things, but people are trained to really narrow their focus. But I like to experiment with different art forms, as I think a lot of people do. There's a lot of musicians who draw and paint, you just don't always see their artwork.
How do you have such a high work ethic? A lot of people take two or three years between releasing projects, but you don't do that.
JULIANA HATFIELD: Well, partly I think it's because I work faster than some people. Some people need longer amounts of time to write and record, and I can work pretty fast compared to some other people. Also, I can't afford to take a lot of time off because this is my job, so I literally can't afford to stop for too long. I don't have the luxury, financially – but if I did, I'd still always be writing or painting or drawing or something, because I just have to for my own mental health.
Tour Dates:
1/16 Evanston, IL at S.P.A.C.E.
1/17 Indianapolis, IN at Hi-Fi
1/18 Nashville, TN at The Basement East
1/19 Birmingham, AL at Workplay Theater
1/21 Dallas, TX at Granada Theatre
1/22 Austin, TX at 3Ten at ACL Live
1/24 Phoenix, AZ at Crescent Ballroom
1/25 Pioneertown, CA at Pappy + Harriet's
1/27 Los Angeles, CA at The Echoplex
1/28 San Francisco, CA at Slim's
1/30 Portland, OR at Doug Fir Lounge
2/1 Seattle, WA at Tractor Tavern
More dates TBA