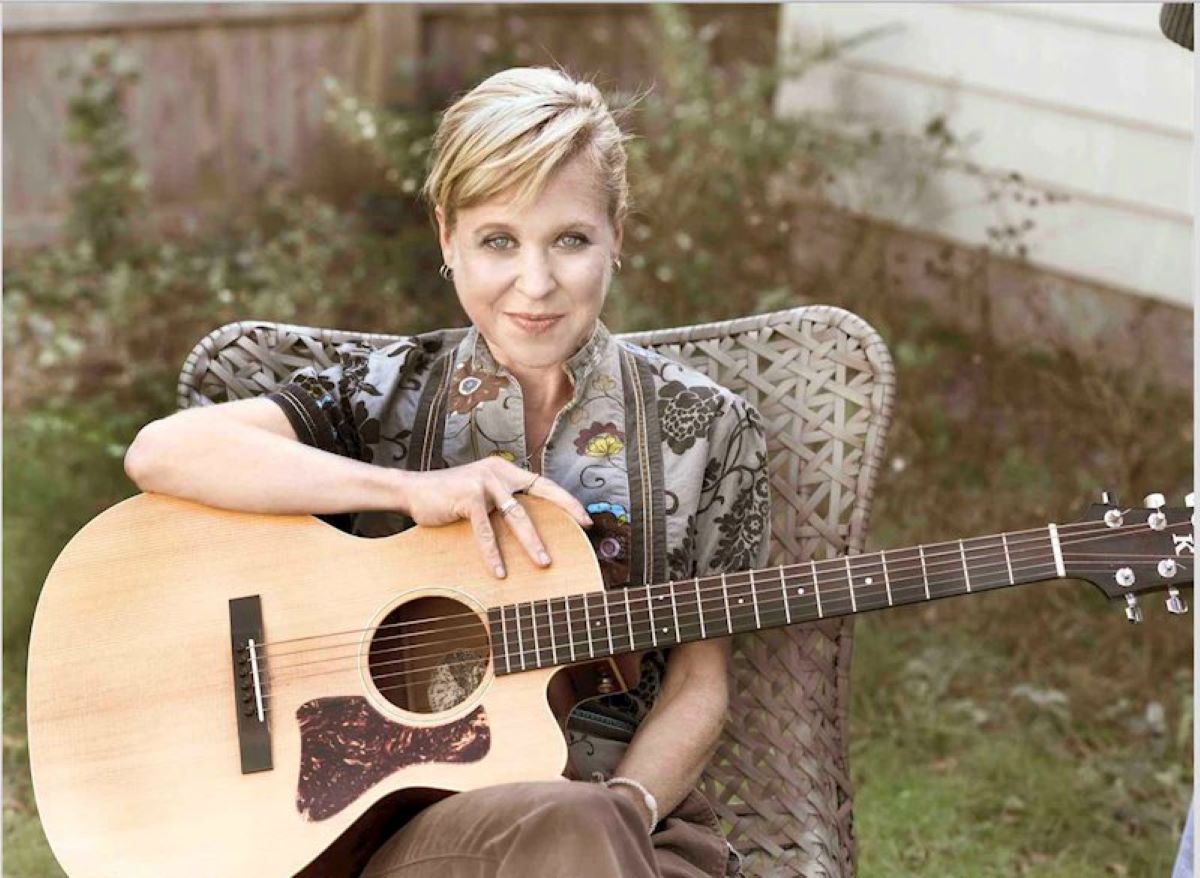 4 September 2020
Photo by Peter Mellekas
Immediately after getting on this interview call, Kristin Hersh apologizes and says she must step away for a moment – there's a knock at the door of her Los Angeles home. After a few moments, she returns to the phone and exclaims: "It's my birthday and I just got flowers!" She is in a sunny mood – not only because of that gift, but also because her band, Throwing Muses, will release Sun Racket on September 4 (via Fire Records). It is the band's tenth studio album since they released their self-titled debut in 1986. But the band goes back even earlier: Hersh formed Throwing Muses in 1981, then led them on to become one of the most legendary groups in the alternative rock genre. Her complex, poetic songwriting and emotive vocals have helped the band earn rave reviews and a zealous fan base (who have been waiting impatiently for this new album, as the last Muses release was seven years ago). Hersh has also established a successful career as a solo artist and as a writer, but she's always returned to Throwing Muses. Here, she discusses the new album, her unconventional songwriting style, and her belief in music as prayer.
Your fans seem especially excited about this album, as it's been a while since your last Throwing Muses album…
KRISTIN HERSH: I have to assume that no one will hear what I do. Otherwise, I'd be self-conscious and it would interfere with the focus that you need to not lie, really. As soon as you find yourself asking, 'Will this play well?,' you're lying. That's not what the song wants. It's what your ego wants. The gift that music should be has very little to do with how well it will play in the world. It's a different sort of gift. You honor it and then you step away. Not unlike children, actually. If I told my children what to say, how would I be fascinated by them? And how would they be as they were meant to be? From the beginning, the song is the one telling you what it needs to come to fruition. When that is over, you've got to be kind of laissez-faire about it.
What made you decide it was time to do another Throwing Muses album?
KRISTIN HERSH: The songs – when I have a series of publishable Throwing Muses songs that may make a record. Of course, the last one came out seven years ago and we toured for two years, and this one took four years [to make]. So there's not that much time in between, really. And in the meantime, I put out a couple of solo records [2016's Wyatt at the Coyote Palace and 2018's Possible Dust Clouds]. So it is timed around real life, too. But these songs were so very "Muse songs." It was time again.
How did you learn to write lyrics in such and evocative and poetic way?
KRISTIN HERSH: The songs were not conscious for me, literally. I had no memory of having written them or performing them for many, many years. When I was treated for PTSD, a dissociative aspect of that PTSD was revealed. Every traumatic event in my life was experienced by another personality that was expressed in music – so I would have to switch personalities in order to write a song or perform a song. When I spoke about this, and I did very honestly, journalists assumed I meant metaphorically. But my bandmates knew I was disappearing. We just didn't know what it was until a few years ago. So I suppose what that means is, there is no conscious effort, on the one hand, and also no censorship, on the other. The poetry that music is was allowed to be because no part of me was saying, 'Can I get famous? Can I make money? Will this impress anyone?' There was nothing but viscera. So that's not real pretty, but it's honest, and it can be beautiful and it can be ugly. And we need ugly, too. So that's how I learned, and that's what I have continued to do, even though I don't disappear anymore.
Do you remember when you first started writing music, though?
KRISTIN HERSH: Yeah, I was nine. I was taking classical guitar and I had a hippie dad who taught me the chords he knew. My family is from Chattanooga and I'm from Georgia, so Appalachian folk songs plus Woodstock was kind of my childhood. So I knew how to play songs when I was nine. But I didn't really know magic yet – the creepy magic that music is. The first song I wrote was called "22," and it foreshadowed every event that happened when I was 22 that triggered all my PTSD. Music is creepy. I was a biology and immunology major [in college] – I like it when things make sense. But I have to admit, not everything is measurable on this plane, and music is one of those things. Songs don't always engage in linear time. Any real songwriter will tell you that. I'm not a performer or an entertainer. I'm actually a musician. We're dorks! We're shy, we don't like being looked at. We are not on a stage because we want a spotlight. We're on a stage because it facilitates the listening process. It's a completely different orientation.
How did you know you wanted to play music professionally in the first place?
KRISTIN HERSH: Because it is prayer – not televangelism. So you think, 'I'm fully engaged with this prayer even if I have to live in a cave.' Our cave just turned out to be always going out and doing the work. I just never, ever stopped working. Even in the studio, it takes me three years to make each record and make sure that they're perfect. Even if I'm starving, which I have been, I don't think, 'Well, music is something I can let go of.' I never will. All of my projects are always playing, but we don't always record what we do or play it live. No one hears it, in other words. So it's kind of like the "Southern front porch" music. It's every night. You go out and you play for heaven. That's what music really is.
Sun Racket by Throwing Muses is being released on September 4.