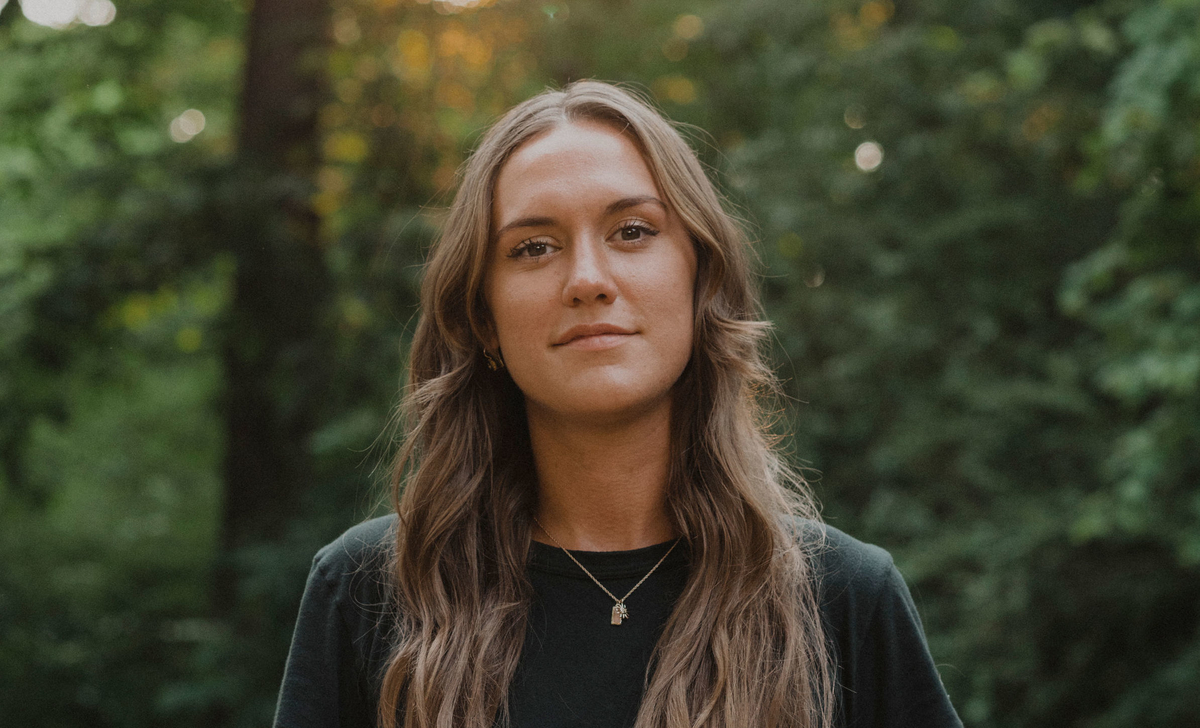 28 January 2021
We'll get this out of the way at the start and then not reference it again – yes, Lilly Winwood is Steve's daughter and while she recorded a cover of "Higher Love" with her dad for a Hershey's commercial in 2016 and has opened for him on tour, she hasn't taken any shortcuts to get where she is today. She's logged countless road miles, honing her craft by performing live and perfecting songs that have eventually made it to her long-awaited debut album, Time Well Spent. Filled with coming-of-age confessional lyrics, Winwood's honest portrayal of everyday life is reminiscent of peers such as Lilly Hiatt (another Lilly with a well-known musician father) and Lydia Loveless and it makes sense that when she decided to leave England, she settled in the city where her mom was from, Nashville, Tennessee.
Do you find it a cruel twist of fate that you spent all this time touring in the past before you had an album out and now that you're releasing something, you're not able to tour?
LILLY: It may be a blessing and a curse. Obviously, I would definitely like to be touring right now, especially with the new record coming out. I miss it and I want to so bad but not touring has given me the chance to really focus on the release of this record. It's given me a chance to write a lot more too.
I watched a performance you did on a Chicago morning show in February 2019 and you said that the album was coming out in August. Were you talking about this record?
LILLY: Yes
Have you found the music biz to be a big waiting game?
LILLY: Honestly, there's been a lot of trial and error with this record. I've had some of the songs written for this record for at least 3 years now. I think you'll find multiple videos of me on the internet being like, "It's going to be this September" or whenever. I think with it being my debut album, I wanted to make sure I was for sure going the right path and doing what I needed to do with it. I think there was a lot of fear with it, I was definitely scared I wasn't doing the right thing. I didn't know if I should release it independently or shop it around to labels. And then I think after sitting on it for as long as I did, I was just so sick of listening to all of the songs. I was ready to get it out in the world so I just released it through CD Baby, a distribution company, and I could not be more excited with all the feedback I've gotten so far. I'm ready to get it out.
When was the album finished? When did you say, "That's it. I'm done. I'm not touching it again"?
LILLY: July 2019 is when I was finally like, "Okay, everything is done. I don't want to mess with it anymore. Let's start getting this out to people and see what they say."
Did you plan on releasing it in 2020 or were you looking to release it in January 2021?
LILLY: I never really had a specific plan. The only other set date I'd written down on paper is 29th of January, 2021.
From a fan perspective, the fact that you've been releasing live, acoustic videos has been a great way to lead up to the release. When were those videos recorded?
LILLY: Either end of September or early October. Recording those were part of my release strategy, to kind of give listeners a more in-depth view of my songs without having the full band behind them, the full production. I wanted to focus in a bit more on the lyrics. And having stripped-down versions of the songs helped with that.
Did you record them all on the same day?
LILLY: Yeah, all on the same day. We just did it in my backyard and we didn't really know what it was going to turn out like. There was definitely a few moments where we didn't know if we were going to get it all done, or if my phone was going to run out of storage. Just little things like that. We definitely did not get them all done in one take. To be fair, it didn't take more than 2 or 3 songs on each take. The most annoying thing about it was planes going overhead. In a couple of these songs, I was like, "Screw it. We're just going to have to let it be, there's truly nothing I can do to stop it. We're going to be here all day recording."
Do you find the lyrics to your songs or do the lyrics find you? I was reading about the song "Indiana" and where those lyrics came from and it seems like given the circumstances, if you hadn't gone through a bad breakup, it you hadn't been driving through Indiana, maybe you wouldn't have written that song. So, in a way, the lyrics found you.
LILLY: I think a lot of these songs on this record in particular are about past experiences. That isn't always the case with my writing. In fact, 90% of the time, it's just a made up story or gibberish that came into my head that had a cool hook that I kept. I think, in the instance of "Indiana," 100% those lyrics found me although that song in particular was almost like a therapeutic song to write for me. It was really hard getting those emotions on to paper.
Do you have certain inspirational sources for your lyrics?
LILLY: I write a lot of my songs when I travel, on planes, trains or car rides. That seems to be where I do a majority of my songwriting. I'd say one place I do connect with, that draws inspiration to me, is nature and different scenery. It really holds a special place in my heart.
Do you write all your lyrics at once or do you do them when inspired, maybe a line or two at a time? Or, maybe you jot down a bunch of different ideas and then pick and chose and build something out of them?
LILLY: With me, there is no specific way. Sometimes, if I'm on a roll, I'll write 3 songs in 10 minutes. Well, that's a bit ridiculous but you know what I mean. I'll write 3 songs in a day. Lately, what I've been doing is writing a verse and then maybe a cool hook, then I'll leave it because I'm lazy, and then I'll come back to it. I'll think about how I can place this verse with a verse that I wrote before. Lately, I've been having trouble with that because it hasn't had much meaning to me. It varies. I don't really have a specific writing process.
When you're on tour or on a road trip, do you plan your soundtrack? Do you put together special playlists?
LILLY: No. It's whatever. I'm more of an Apple Music gal than I am a Spotify gal, though that being said, I have just within the last six months or so, I've been listening to those playlists that Spotify curates specifically for you. And that's been keeping my music interests pretty updated and fresh. I'm one of those people who will listen to an album or a song just so much until I'm sick of it. And then maybe I'll think about going onto something else.
What song has been that for you recently?
LILLY: There is a band called the War on Drugs, I'm just so obsessed, just any of their albums. I constantly have them on repeat. They just released a live record so I've been playing that a lot. Not any one particular song, just all of them. It's my go-to.
Have you had the chance to see them live?
LILLY: It's so funny, I've had a few friends who live down in Mobile Alabama. One year, I think I was supposed to go down and see them there. I was supposed to see them here in Nashville and I ended up getting sick or something. It's always been a little reason or I've always just missed them. They are on my bucket list for sure.
What type of live performer are you? Are you all business or do you take breaks between songs and tell stories or talk with the audience?
LILLY: Both. I think being a songwriter and having such stripped down songs has sort of forced me to perform in writer's songwriting rounds where it's faux pas if you don't talk between songs. I've learned to love it. I think when I first started out, I never knew what to say in between songs and I just used to embarrass myself a lot. But, now, it depends. If I'm with my band, I don't do a lot of talking. If it's just me on my own, I'll probably stop between every song and say a little bit about it.
Can you remember the last show you played in front of an audience?
LILLY: I actually did a little show back in September. Oh gosh, it was probably even before then last year. It was out in Franklin, Tennessee and I think rules were a little bit looser. One of my friends was like, "Hey, wanna come play a show?" I was like, "Okay, why not?" And I went and it made me feel really uncomfortable. I think it was one of those shows where people weren't paying attention to the music and I think they were taking advantage of there not being any rules. That was the last show I played.
What about before lockdown?
LILLY: Before that was Valentine's Day 2020 at Acme Feed and Seed in downtown Nashville. From what I can remember, that was really a fun show.
Have you thought about touring in 2021 or are you waiting to see what happens?
LILLY: There's talks, I won't say where, I won't say what, I won't speak it out into existence, because I just don't know yet. There's talk of shows this summer.
Have you been actively writing during the pandemic?
LILLY: I've been, honestly, quite lazy about it. With the release of this record, I've been focusing on that. Because there isn't the pressure of being out in front of people and playing songs, that's normally where I tend to showcase my songs any way. I've been lazy about it.
Did being stuck at home change the way you listened to music?
LILLY: I do most – if not all – of my listening when I go on hikes every day. As I said earlier, those Spotify playlists that they curate for you, they really have been a majority of what I listen to. I'd love to be able to say that I'm into vinyl and that I collect vinyl and stuff like that but I just don't, I never have.
Besides Spotify, how else are you turned onto music?
LILLY: There's a really neat radio station that I listen to in Nashville all the time, Lightning 100. They have some pretty cool local artists. Musician friends that I know, if they post something on Instagram that's like "Go check out this person," then I'm always going to trust their opinion and maybe check out people that way.
Where do you hope you are a year from now?
LILLY: I hope that this record is successful. I hope that I will have gotten a few shows under my belt. I hope that we have progressed in terms of this virus.