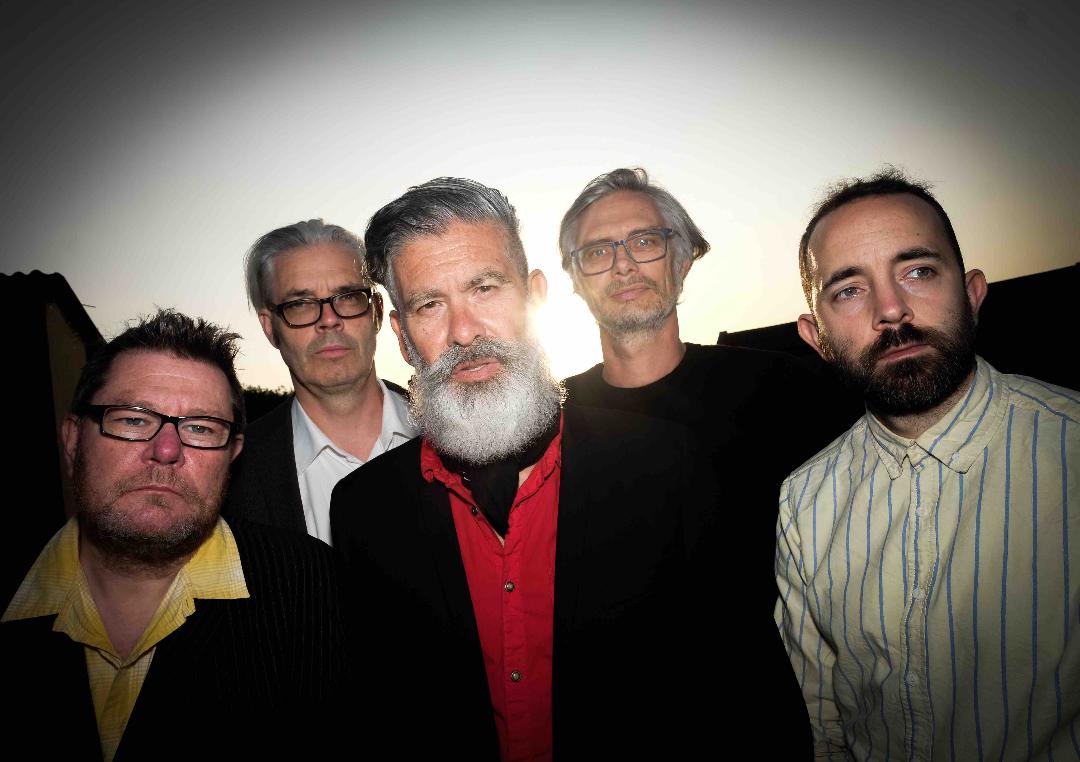 27 January 2021
Love and Optimism would seem to be a love letter to Bristol, in part. Was this ever a conscious move or is it just something in your musical DNA?
Davey Woodward: I live in Bristol so it's often the backdrop to songs I write. It's unconscious. A song like 'Clara's Ghost' is critical of Bristol's history of slave trading so it's not all love. I'm always influenced by the environment. I remember touring in Scandinavia, then finding myself writing about snowstorms and forests.
It's also an album which covers a lot of ground musically from understated folk to indie to more punchy alt-rock. Did you ever set out with a sound in mind or do the songs sort of chose their own vibe?
Davey Woodward: In recent times I've been searching for simplicity and emotion. I guess that's where the folk elements come in. I always have a sound in mind, I don't always achieve it. I'd like to get better at capturing what I hear in my head. I'm not technically minded, I don't have home recording equipment, I don't do demos. I learn a song then go in a studio, so a lot is left to chance and what the vibe is like at the recording session.
As well as being an album about a place it is certainly an album which talks about these times. Again, do you consciously plan the subjects of the songs or wait for sparks of inspirations to suggest themes?
Davey Woodward: I've never consciously planned a song, it just happens, certain songs might link to one another lyrically because I wrote three on a Tuesday night and they had a similar mood. I might go a month and not write anything as I've been more obsessed with how I get a basketball in a hoop, then I decide to sit and write, and it just happens.
Although the album was written by the time last year's twin waves of pandemic and activism hit us, it seems to reflect both to some degree. How do you think this happened, a crystal ball or a happy accident?
Davey Woodward: Maybe I was in a lockdown mood before it all happened and that's why the album seems to resonate now? Maybe listeners are hearing something in the words and music, the way I'm singing that fits their mood right now? I don't really know. Activism- well there's a thing, I've been on marches, been arrested, don't know if I've written about though.
I see you're working with European/ UK label A Turntable Friend Records for this album – quite a blossoming label and spot-on rich go-to source for music that is much needed by genuine indie music connoisseurs but may have otherwise taken too long to reach our ears (if it reached it at all). What can you tell us about that?
Davey Woodward: Ulrich who runs the label heard the album and offered to put it out. Seemed like a good idea. It's very DIY and alternative, a label doing their own thing outside the mainstream. Because Ulrich wants the best for all his bands, he's working with Shameless Promotion PR to get the word out to the world. It's down to*Ulrich*'s and Shauna's (Shameless) enthusiasm and hard work that anyone even gets to hear about me!
Where do you find inspiration or is it a case of you just know it when it arrives?
Davey Woodward: I always know when I've written a great song- usually because it's taken me 5 minutes to write. It just flows, happens, no inspiration needed. If I labour over anything it usually ends up being a song I'm not happy with.
And how was lockdown for you, how did you stay creative in the face of being isolated from the live space?
Davey Woodward: I grew a big beard. I read more books. I wrote a novel, I painted fences, I cooked spinach and feta pie, I tamed a ferocious dog, I taught my kids about the Romans, I drank less, I took up boxing, I listened to foxes fucking in my back yard, I watched my country slide into oblivion, I might learn to play the Lyre.
And are there any plans for 2021, both musical and otherwise?
Davey Woodward: Well I have a double album's worth of songs that need rehearsing and recording. I would love to play live again. Maybe I should find an agent for the story I wrote? Maybe I will get the opportunity for a beer in a pub again? I'm worried that I have forgotten how to speak to people. If that worry escalates, I can always stay in.
Thanks for a great chat and best of luck with whatever 2021 throws at you