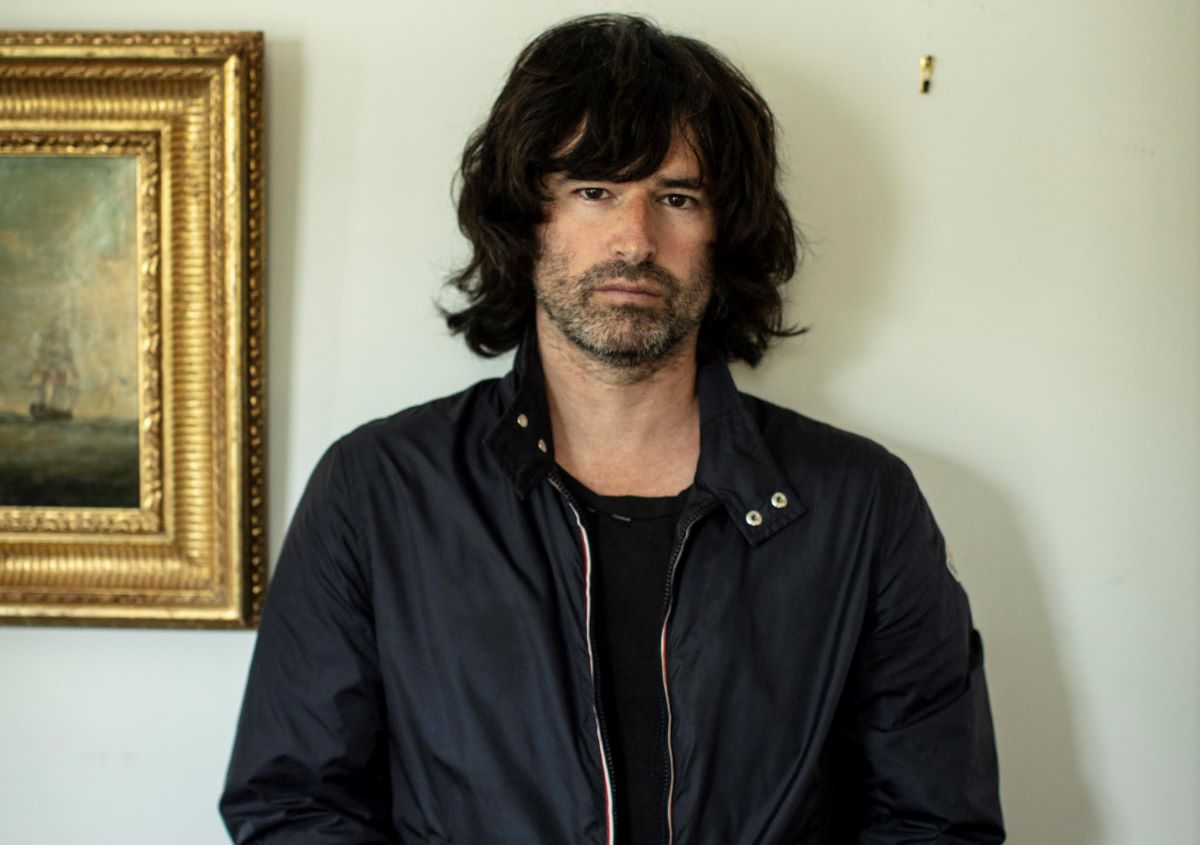 29 November 2019
Photo by Jim Wright
Pete Yorn, calling from his home in Santa Monica, California, is offering up an apology because he has twice rescheduled this interview before this attempt was successful. "I wasn't trying to be a diva!" he says with a laugh. He has, in fact, been grappling with illness that he picked up during the first leg of his tour for Caretakers, his latest album. "But I think I'm in the clear now," he says. And just in time, too: he's due to hit the road again in a week. Sickness aside, Yorn says he's been enjoying the shows so far. His tour mates, the indie dream pop band Day Wave, are not only his opening act, but also his backing band. It makes sense, as Day Wave frontman Jackson Phillips helped Yorn write and record Caretakers. This album is something of a relief for Yorn's fans, who had begun to wonder when, or even if, he was going to release another album – after being quite prolific since his breakthrough debut musicforthemorningafter (2001), then releasing 6 more albums and 7 EPs (all critically acclaimed), Yorn let it be known that he was content to take time off from the music business to enjoy being a father. Here, Yorn talks about how he found inspiration again, fatherhood, and how music saved him from becoming a tax lawyer.
How has the tour been going?
PETE YORN: Great, so far. I'm really happy with the way the shows have been. I'm playing with a new band, so that was a little bit of a wild card for me, going into it. I was a little nervous about that, but everything seems to be going good, people seem to be responding well to the songs.
And it's great you can tour with Day Wave this time out.
PETE YORN: That's a special thing, yeah. I'm very respectful of Jackson's time and his project. I've been doing just acoustic shows for the past few years. Someone said, "You should play with a band." Jackson was like, "We'll back you up!" I was like, "Really?" I didn't want to ask him – he threw it out there, and I was like, "Sure, it'd be fun!" So we started doing it.
How did you come to work with Jackson Phillips in the first place? It sounds like he was instrumental to this album's creation.
PETE YORN: Absolutely. We met at a birthday party, in October 2017. I knew about his stuff, and he apparently had known my stuff growing up. And we just hit it off. I remember, that night, he was like, "Yeah, I've got a studio out in Echo Park – come down." But by the next morning, I just forgot about it. I remembered meeting him, but it wasn't on my radar to make any music or anything like that. So cut to January, who pops back up but Jackson Phillips. I get an email [asking] if I wanted to go see him in the studio, and I was like, "Oh, yeah, I should go – I liked that guy!" So I went out to his house, and we just hit it off right away. We decided, let's try and make an EP – we were going to do five songs for fun. We ended up recording songs over a period of maybe eight, nine months – I'd go over once every week or two, and we'd record a whole song in a day. At first, I had a few songs that I had written before, so we started off with that as a jumping off point. Then we started writing songs together in the studio. I was still writing the lyrics, but the music and arrangements, we were coming up with together, and it sounded so inspiring. It was just easy. We spoke a language that we both really understood, and we were both able to bring out interesting things from each other.
You've worked with a lot of collaborators over the years [Scarlett Johansson, R.E.M. guitarist Peter Buck, and Guided By Voices, among many others]. How do you know when someone's work will mesh well with yours?
PETE YORN: Ultimately, it's trial and error. At the end of the day, it's about the music. When they send you an MP3, does it sound interesting to you, or does it make you cringe? And then does it stay interesting over repeated listenings? I'm not one to listen to my music that much – when I'm working on it, obviously I do a lot. But I remember that when I was working with Jackson, it had a listenability – I kept going back to it, and it really made me feel good. As a record as a whole, I'm really proud of it. "I Want to Be the One," I remember that was the third song we did, and that was Jackson's favorite early on, he really loved that, he was so excited about the way it made him feel. And me, too – it gave me this cinematic feeling. I have a four-year-old daughter, and when I put out my last record [2016's] Arranging Time, I had written all those songs before she was born, but I was doing the promotion of it after she was born. So people were like, "Has this affected your songwriting?" And I was like, "I don't know, I haven't written anything since she was born!" So "I Want to Be the One," of all the songs, I remember sitting on the floor with her when she was really little and thinking, "I just want to be the best dad. I want to be there. I want to rise to the occasion here." So a lot of that [song] comes from being inspired by her, for sure.
When she gets older, that will be a gift to her from this time.
PETE YORN: Yeah, right? She won't even let me play guitar now! I go to play guitar, she's like, "No guitar!" I've got to go hide in the bathroom and play. [laughs]
This album's overall theme seems to be about being kind, to yourself and to others. Is that accurate?
PETE YORN: The record's called Caretakers, which means a lot of different things to me, but it definitely comes from our responsibility to people that we love and people around us – everybody. Then the other side of it is, you want to be able to help the people that you love, and when you can't, when your hands are tied or you can't save someone from themselves, then you feel very frustrated, so there's a lot of dealing with that on certain songs, as well. Trying to make sense of that so you don't lose your own mind.
You got a lot of attention right away with your debut album. Is it ever hard living up to people's expectations since then?
PETE YORN: I'm always in the mindset of, I don't feel like anyone's paying attention to me! [laughs] Just alone in my room making music and nobody's listening. I think years ago, I felt more pressure, but I'm 45 now, I'm an old man. [laughs] I know where my priorities are, and music's very important to me, but I know that people are going to take what they want from my music and I hope that people get inspired and enjoy it and live life to it – but at the end of the day, I make music for me, and I'm my own biggest critic, for sure.
Has being a professional musician turned out to be the way you thought it would be?
PETE YORN: No. Because I thought I would turn out to be nothing. And I can't believe I'm still doing it after 20-something years. I remember, as a younger person, I had so many friends who would get this huge record deal – then they'd put the record out, and nothing happened and they'd get dropped. So to protect myself, I really lowered my expectations. I remember being like, "Dude, you're nothing – nobody owes you anything, and you're lucky to get any attention at all." When I put my first record out, I was pretty grounded. Then I got lucky, where people paid attention pretty quickly. But I just keep grinding it out. I'm hanging in there.
What made you want to be a musician in the first place, even knowing that it was that risky?
PETE YORN: My dad wanted me to go to law school to become a tax lawyer, which is the worst idea of all time. I mean, maybe I could've been a different kind of lawyer, but not a tax lawyer – I'm so bad at math. But I went to Syracuse [University] and I graduated, and up until the end there, [I was] playing with maybe going to law school. But I was writing a lot of songs. I remember thinking very clearly, "Oh, I could always go to law school, but if I don't try music now, then maybe I'll get too old and never do it." So I figured I'd try music for a little bit, then if it didn't work, I'd go to law school. I still joke, "I haven't gone to law school yet!" I've got to say though, my parents took some convincing, they were really nervous.
What if your daughter wants to become a musician – would you support that? Maybe she's inherited your musical talent.
PETE YORN: Yeah, we'll see! I'd love to support her to be whoever she aspires to be. But if she's really terrible, I'll tell her not to do it! [laughs] She's cool. She's going to be fine. As a human, she's pretty rad.
Your music touches on a wide variety of styles. How did you come to be so adaptable like that?
PETE YORN: I love a lot of different things. When I grew up, I was such a big fan of Britpop, The Smiths, and The Cure. But I also loved R.E.M. and Neil Young. I feel like it all falls somewhere within those places. I'm not jumping out doing any rapping or anything like that. But I like my records to have these kind of folky, quiet moments, and then I like to rock out, too.
After you finish touring for this album, what will be next for you?
PETE YORN: Jackson and I have a lot more songs that we've already recorded, so I do feel like there could be a sequel to this record fairly soon. But I also don't want to step on this record at all, I want people to be able to live with it and give it some time to breathe.
Upcoming tour dates:
12/1 – Charleston, SC at Music Farm
12/2 – Atlanta, GA at Variety Playhouse
12/4 – Nashville, TN at The Basement East
12/5 – Birmingham, AL at Iron City
12/6 – Mobile, AL at Soul Kitchen Music Hall
12/8 – Tempe, AZ at Marquee Theatre
12/10 – Solana Beach, CA at Belly Up
12/12 – Los Angeles, CA at El Rey Theatre
12/13 – Ventura, CA at Majestic Ventura Theater
12/15 – Sacramento, CA at Holy Diver
12/16 – San Francisco, CA at Great American Music Hall