6 November 2022
Photo by Emma Swift
Beloved English singer-songwriter Robyn Hitchcock is calling from Greece, where he and his wife, fellow musician Emma Swift, are enjoying a vacation. Soon, though, he'll get back on the road, playing shows across the U.S., the U.K., Ireland, and Norway in support of Shufflemania!, his 22nd studio album (released on October 21 via Tiny Ghost Records, the label he and Swift created). Featuring guest appearances from Johnny Marr, Brendan Benson, and Sean Ono Lennon, Shufflemania! shows that Hitchcock is still a master of surreal, witty songwriting.
How do you feel as you come up on the release date for this album?
ROBYN HITCHCOCK: I'm pleased with the record; I think it's good. I think post-pandemic, it's very exciting to be able to do anything, really! It's exciting to be able to put records out and it's amazing to be onstage. When I recorded the record – most of it was recorded at home in Nashville – I had no idea quite where it would end up. Everything was very isolated, and at the same time, very bizarrely in touch. You couldn't see anybody physically, but you could be in touch with everybody around the world. It gave us another nudge forward into the virtual life. I liked the opportunity to work at home. Because I had spent so much time touring, for me it was a chance to do some painting, which I hadn't done in years, and some more songs. It was an amazing lurch from one pole of existence to the other, because I'd already been to sixteen major cities around the world in the first two and a half months of 2020. I was staggered at how much ground I was covering. Far too much, I thought. And then suddenly it was the opposite.
Do you think that will affect the way you will work from now on?
ROBYN HITCHCOCK: I don't know, but it's quite possible. It's proved that it can be done. So much is moving us away from the monolithic corporate existence that the record industry was about when I got going 45 years ago. I mean, the world's become more monolithic and more corporate, massively, but in terms of actually making records, it's rather like the artisanal coffee world or the farm-to-table world or something. Even as things get bigger, a lot of tiny offshoots begin to appear. And I suppose Tiny Ghost Records is one of them. [My wife and I] are lucky because of the combination of people we are. Emma is not only a fantastic singer, she's also an entrepreneur and likes the business of conjuring up a record company and making it work in a classy way – which is not something that everybody can do. It takes a lot of work. And I have a long history now, and a big back catalog, so there's quite a lot of old stuff that can be re-released. So we are very lucky in that respect.
How do you stay so inspired and prolific?
ROBYN HITCHCOCK: Ideas don't always turn into songs. Sometimes it turns into pictures, drawings. Or it turns into prose. I had a bit of a gap with songs. Then, just before the beginning of 2020, I started heavily writing songs again, but the song tap had kind of been turned off for a few years prior to that. I don't really know how things decide what medium they're coming out in. But I think as long as life is difficult in some way, challenging, whatever it is that makes people dream, is also kind of the same thing that makes us write songs or paint pictures. I'm lucky enough to have found a medium that I can make a living out of. To me, writing songs or painting pictures or writing prose or poems is far easier than trying to fill in a tax form or book an airline ticket. I can't even drive. There's so many things that people who consider themselves normal would be able to do, and I just totally can't. So I've colonized this bit of the field, probably at the expense of a lot of other areas that other people can function in. I was born in my own world. Like it or not, I'm over here while everyone else is over there. But having said that, here and there aren't that far apart. We are all subject to the same laws, whether we think we are or not. So it doesn't exempt me from anything.
How did you learn to incorporate a surrealist quality in your lyrics in the first place?
ROBYN HITCHCOCK: My father was an artist and a writer, so he really liked words and pictures. Words and pictures were big in our house. And then I grew up when all those magnificent records were coming out: the psychedelic era. The Doors and Jimi Hendrix and Captain Beefheart and The Beatles – that was what was happening when I was a teenager. So a lot of that was very vivid. Rock lyrics suddenly took off. They had a vocabulary of about twenty words when The Beatles got going – what people call "moon in June" lyrics. That was it. Then Bob Dylan came in and injected a brain into the whole thing. Suddenly, all kinds of words were able to appear in songs. It was just open season for words, and I was fourteen years old, so it went straight into my hypothalamus. All that surrealism became fashionable. I think of surrealism as basically very similar to dreams. Things and people pop up in places that they wouldn't normally.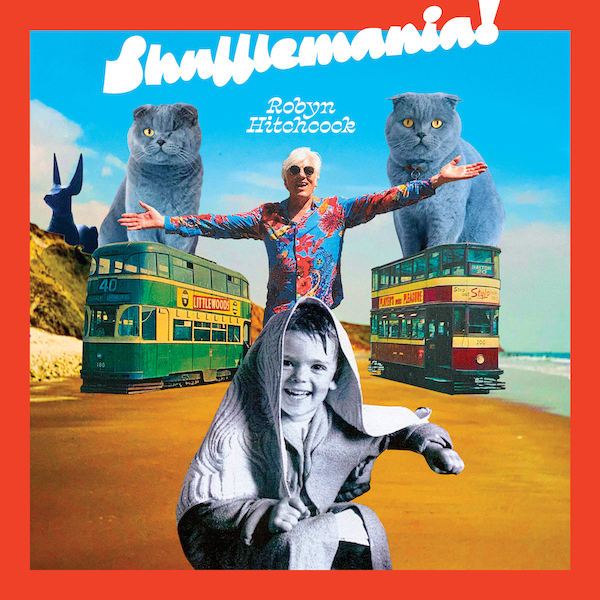 What about this batch of songs on your new album – was there anything in particular you were trying to convey this time?
ROBYN HITCHCOCK: I think all the songs on this one are all subpersonalities, actually. That's my theory. I don't usually know much about my songs until about ten years after I've written them. I begin to get an idea of what my unconscious was putting through to me. Occasionally, I'll write a very present day song about something that's happening in my life or the outside world, but most of my songs are pretty reflective, and they're extremely inward-looking. This album title Shufflemania! – I mean, I'm shuffling like a maniac. That's pretty much the truth. I'm about to turn seventy; I've reached the shuffling years. I seem to be kind of dementedly moving from place to place. Whether I am physically or not, my mind is. But in the record, a lot of [the characters] seem to be kind of somewhere between archetypes and subpersonalities, which sounds a bit pretentious, and maybe it is, I don't know. But that seems to be what was on my mind. Or that's what was coming through me. It all came through pretty much at the same time, in about the first seven months of 2020.
"The Shuffle Man" is obviously a particularly important track on this album, as it's the first single. What's that one about?
ROBYN HITCHCOCK: The Shuffle Man is like a trickster or a card shark. He moves very fast. He sits on both sides of the table at once, and throws the cards up in the air, and you have to make them work when you pick them up.
What can people expect when they come to one of your upcoming shows?
ROBYN HITCHCOCK: Live, I tend to play a lot of old songs for people who have been following me for hundreds of years now. You know, the comfort of time. Not that time is particularly comforting. The comfort of age? Age isn't really comforting, either. Okay, let's get it right this time: the comfort of the familiar. I try and do my older songs like I [originally] did them. I don't change them much, so people can go, "Oh my God, I heard him do that when I was seventeen and now look!" I keep it interesting for myself by trying to get better at doing a show. I can always put in a few songs that I don't do very often, but obviously, the more often I play a song, the better I play it. The fact that I've been doing this now for like 45 years means that there's ways in which I think I've gotten very good at it. I think I handle an audience better, I think I'm playing better, and I can still hit most of the notes, so I think I'm singing better.
Robyn Hitchcock 2022-23 tour dates:
NOVEMBER
10 – Athens, GA – 40 Watt Club
11 – Decatur, GA – Eddie's Attic
12 – Decatur, GA – Eddie's Attic
16 – Nashville, TN – The Basement
25 – Tromsø, Norway – The North Country Fest 2022
FEBRUARY 2023
22 – Brighton, United Kingdom – Komedia
25 – London, United Kingdom – Alexandra Palace Theatre
MARCH 2023
1 – Glasgow, United Kingdom – Mono
3 – Dublin, Ireland – Whelan's
5 – Bangor, United Kingdom – The Court House