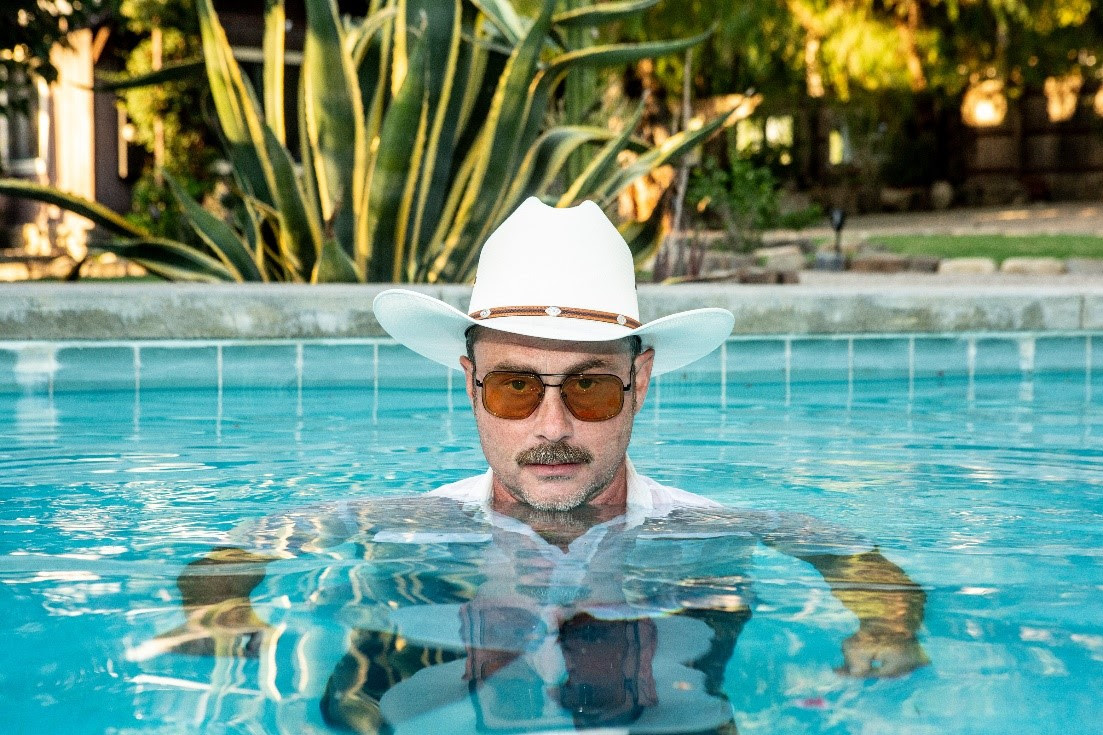 18 October 2021
Photo by Harmony Gerber
Royston Langdon first rose to fame with alternative / glam rock band Spacehog, scoring an international hit in 1995 with the soaring single "In the Meantime." That band have released four studio albums (their most recent, As It Is on Earth, came out in 2011). Langdon has also pursued a successful career on his own: in 2018, under the moniker LEEDS (a reference to his hometown in England), he released Everything's Dandy. On October 29, he'll add to his solo discography – this time under his own name – with his Chains, a six-song EP (released via BFD/The Orchard) that explores a more esoteric side of his songwriting. Throughout October and November, he's undertaking an extensive tour with The Psychedelic Furs – his first shows in front of live audiences since the COVID-19 pandemic began. Calling from his California home, Langdon discusses using music to be present in the moment, how his family and the church inspired him to start songwriting when he was a pre-teen, and what he thinks his first post-pandemic shows will be like.
What made you decide to put out this EP now?
ROYSTON LANGDON: I wanted to reflect in a slightly more upbeat way than my Everything's Dandy record. That was quite down. I wanted to do something with a bit more energy. I definitely wanted to reflect moving forward. The plan was to do it and put it out straightaway. I did it in New York, in Brooklyn, prior to COVID. It sat on the shelf, sadly, for about a year while everybody was on hold. I guess it would have been out relatively early in 2020, but that wasn't to be. The universe had other plans. So now is the time where it feels like the door is getting a little more ajar. And we need that. Human beings need that. To be a small part, even, of coming together in that way is an immense joy for me.
Did you have any particular themes in mind as you wrote these new songs?
ROYSTON LANGDON: This was a way of getting to be in this moment, now, and getting to be present with it. I wanted to reflect this cultural and social lifestyle that I was finding myself subject to, like social media and these sorts of things, but express it in a metaphorical sense. This music is a lot less literal, actually, than the last record I did, which was consciously very literal. This is much more metaphoric.
How did you learn to write lyrics like that?
ROYSTON LANGDON: I was always fascinated by the American Beat writers when I was in England, before I ever came to the U.S. I still am, in some ways. They were like the original hippies, before hippies got a bad name because of Charlie Manson or whatever. To me, that was, and still is, a really positive philosophy, in many ways. So the idea of being able to write from one's own authentic self became apparent to me. And prior to that, I was brought up in the church. Like a lot of singers. There's a lot of metaphor going on there. I didn't understand that at the time, but that's the idea, I think. It's supposed to be mysterious. And mystery is really quite a wonderful thing, in terms of literature or writing a song.
What made you want to become a musician?
ROYSTON LANGDON: I loved music. I was introduced to it from the age of six. My grandmother sang old songs from the 1940s when she was doing the ironing. That had a big effect on me. My mother was in this thing called an Amateur Operatic Society, where they get together and do Mame and things like this. I remember going with her and being backstage and the smell of women's perfume and alcohol. I loved that stuff. And of the church is very theatrical, too. Then I started doing bands when I was twelve [years old]. From there I just kept doing it. I put my ten thousand hours into that, so by the time I got to New York, I wound up working in a recording studio. I was around the Ramones, Dinosaur Jr., all these bands of that time. I just kept following it, really. I was always writing. From the age of twelve, I was writing.
Do you remember the first song you ever wrote?
ROYSTON LANGDON: Yeah, it was called "Transcendent Past."
That sounds pretty sophisticated for a twelve-year-old!
ROYSTON LANGDON: I know! I was in this band with my friend Paul. We did one gig and that was in his bedroom, to his parents. Everything was on a two-track tape recorder that was a reel-to-reel, and you could play it back through the speakers and play along to it. We'd make full records on tape. He was a bit older than me, and he was a bit more musically educated. Looking back on that, that was really important because he had an education that I didn't really have. I came with this song. He was like "Let me have a look at this," and he changed a lot of the words. But the tune was mine. I still remember the tune. [He hums a bit of melody.] And you know what? I've sort of lost track of Paul, but he's got all the tapes, still. So somewhere they all exist. I was singing this stuff and it was before my voice even broke. I'd be terribly embarrassed about that. I wanted to sound like David Bowie or something, and I didn't. I couldn't help it. I was just a boy. Embarrassing! [laughs]
How did you go on to develop a distinctive sound of your own?
ROYSTON LANGDON: Some of it is the physicality of my body and my voice, I suppose. Like anybody, you learn from listening to records and copying them and then seeing what works for you. That's all very unconscious, I think, going through all that. One goes toward what one feels is right.
Now you've had a long career. What keeps you doing this?
ROYSTON
LANGDON
: I just do it because if I make something, even if it's just for an hour in the day, I just feel better. And maybe there's something of that that comes through [in my music] and other people identify with that. We're not very different, really, human beings. For me, making a song actually helps me, in a weird way. It stops me being so self-centered! [laughs]
Now you're going to be on the road this fall, for the first time in quite a while. What do you think that's going to be like?
ROYSTON LANGDON: I can't wait to experience what that is, because music is another language, in a way, and it's one that you don't even have to understand to understand it, you know? So I'm hoping that that will be a strong currency within the shows. And I think it will.