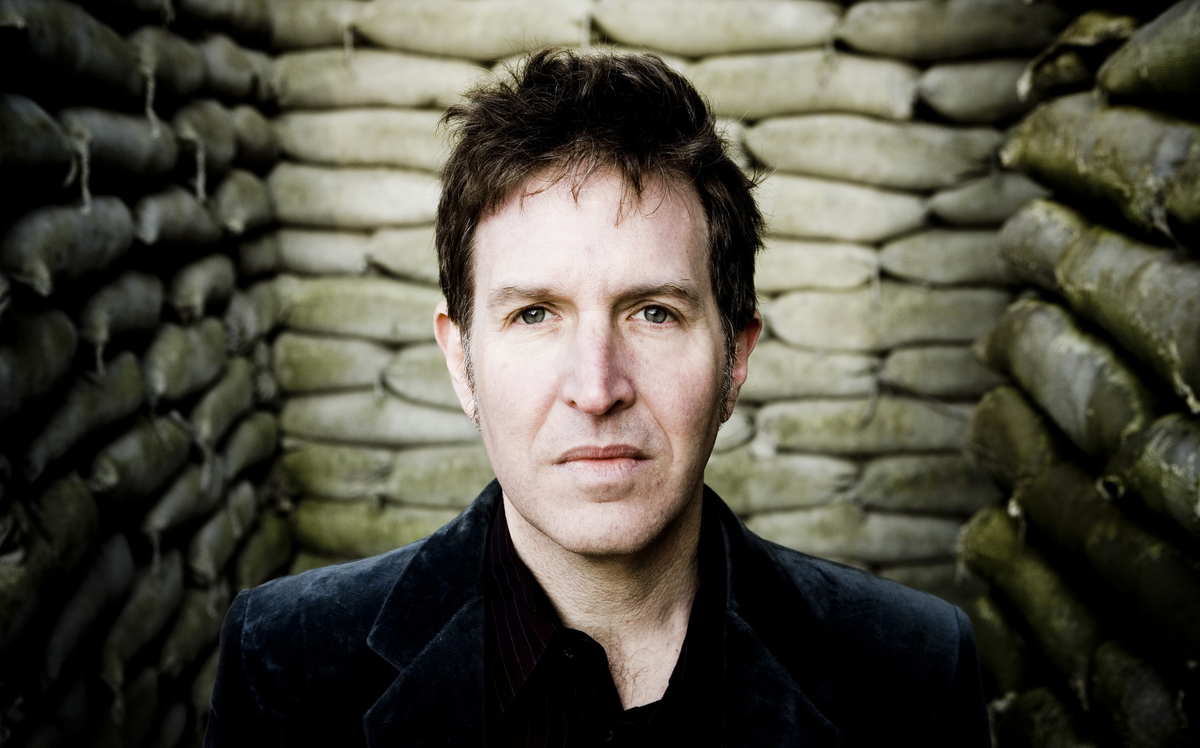 2 September 2021
Photo by Guy Kokken
With four decades of touring under his belt, there are very few things Steve Wynn hasn't experienced. From opening for R.E.M. and U2 in 1982 as a member of The Dream Syndicate to being the house band at the Rock and Roll Hall of Fame in the 3 days leading up to the 2019 Major League Baseball All Star Game as a member of the supergroup The Baseball Project (also featuring Scott McCaughey, Peter Buck, Mike Mills and Linda Pitmon), Wynn's got stories to tell for days. With his upcoming first ever U.S. house tour, perhaps the singer/songwriter will share these stories and more while playing from his 400-song-deep catalog.
Before jumping in the car to play 16 shows in 17 days, Wynn gave me a call to talk about this upcoming new experience.
Tell me a little bit about the upcoming tour. Are you literally traveling solo? Is your wife coming along? Do you have a buddy coming along? Or, is it just you in a car?
STEVE: I am literally solo. This is something that I have never done in my car. I did a solo tour in Europe on a train once, years ago, and I enjoyed it. But, this is a new thing for me. I'm a one-man everything. I'm traveling with my guitar, with a little quasi-amp PA sort of thing, the whole deal. I think it's good way to kind of bust out of everything that's happened the last year and a half, like testing out my wings.
Outside of the rock and roll lifestyle, are you a traveler? Is this going to be unusual for you to be in a car by yourself for hours at a stretch or is this something you do in your spare time when you're not out on tour?
STEVE: It's funny, I do like traveling, driving on my own. Being an L.A. native, the idea of being in your car for hours at a time is nothing that unusual. I do drive often when I rent a car but I don't drive a lot in New York. That part of it will be new and touring alone is pretty new as well. I'm looking forward to the whole thing. None of the drives are that long, they are all kind of 3 hours or under so kind of a good length to go out and clear my head, choose a favorite record to listen to each day on the road, you know, check out something that I haven't listened to before. Maybe listen to a baseball game if there's a day game. It'll be a good road trip.
Whenever I go on vacation, I always plan out what I'm going to listen to and I usually don't listen to any music, I end up catching up on podcasts.
STEVE: That's funny. I'm generally not, I listen to some podcasts, but I'm not really a podcast person. I'm not a books on tape or books on digital person. Music and ball games are my entertainment.
Are you a "get there in 3 hours" or do you mosey on, stop for snacks, stop for lunch? Or, is it like "I need to get to that town as quick as I can"?
STEVE: That's a good question. I'm going to figure that out. The fact that this is kind of a leisure trip and kind of not a leisure trip and I've got some place to be means I kind of will make a beeline. One of my things on tour, and, again, I've been touring my whole life, is that I like to get to where I'm staying before the show. It's part of a psychological survival instinct for me on tour. I like to know my home for the night. When you're on tour, you have a different home every night and I've always liked that. I kind of still get a kick out of going to a new hotel, figuring out where my room is and what kind of stuff they have. What kind of coffee do they have in the machine? It's always a little surprise every day but I like to know before I get to the gig. Then when I'm at the gig playing a show and talking to people and hanging out, I have this idea in my mind what home looks like. It's kind of one of those weird little things. On this trip, yeah, I'll kind of make sure I get home every day before the gig.
It's different than touring, right? When you're on tour with a band, you've got a tour manager, you've got to show up for soundcheck, you get there early and then the other band soundchecks and you go to dinner. It's going to be different. In addition to getting home and settling, are the dates that you've set up, do they have anything to do with places you know or people you know? Are you going to work in some visits or is it really going to be find your home base, go play your show, go back?
STEVE: No. Most places I'm playing, not Columbus though, but most places I'm playing I've been before and will have friends there so it'll be nice to see people that I know, especially after what's happened the last year and a half. It'll be great to see some people I haven't seen in a while. It's funny, when I tour solo these days, and I tour a lot in Europe, I've gotten to the point where the crew is twice as large as the artist on tour, which is to say I generally travel with two people, usually a tour manager and a merch seller. I'm not doing that on this trip, it just makes more sense. On those tours, it's very easy to say "Alright, you guys bring stuff back to the hotel and I'm going to go out to and hit some bars and talk to people." I may not do too much of that this time since I am also driving the artist around town. I have to be responsible for that guy. I think part of the thing about these kinds of tours, house concerts and things we're playing, the non-traditional venues, you're going to mix it up with people. I'm generally pretty social on tour and I'll hang at the merch afterwards and talk to people after the show and I enjoy that. You meet new people, see old friends, learn a lot about what's going on, get a feel for the city. You can ask somebody, "Hey, what's a good place to get my eggs and hash in the morning?" That's all pretty fun. When you're touring in clubs and you have a night where you're like, "I feel kind of tired" or "I feel kind of shy" or preoccupied with something, it's easy just to hang back stage after the show. Not like you're on autopilot, not like you're not digging it, but kind of give all you've got to the show. I think these will be more like a gathering, more like a social event, more of a hangout.
Do you know how the show is going to flow?
STEVE: When I play solo, like I have right in front of me, I've been practicing in my rehearsal space, each time I go on a tour like this I'll have 50 or 60 songs typed on one piece of paper. And that becomes my setlist. I change it up every night, whatever seems like it's going to fit for the evening. But, also, I take requests. I do things spontaneously, try out new ideas. It's a nightly, I hate to put it this way, it's a nightly learning experience for me. I kind of figure out new stuff every night, especially on the solo shows. The big difference between doing solo shows and band shows, which I kind of do 50/50 of each, is band shows, the audience is kind of a voyeur watching the people on stage. It's like the people on stage are sort of having their conversation and the audience gets to sneak in and see what's going on up there with this group of 2, 3, 4, 10 people on stage. Solo shows, it's like I'm jamming with the audience. The interaction, the conversation, is with me and the audience. I'm kind of picking up on what people are doing, what they're saying, what somebody says between the songs, the way the room looks. Everything plays into it moment by moment. The best solo shows for me are the ones where I'm really open to what's going on. And that means songs will change, that means I'll play a song that's normally fast, I'll play it slow. Anything like that. And I generally tend to, I tend to on most nights talk a lot on stage at solo shows which I don't do at band shows so much.
Not that you remember every song you ever wrote but I have to imagine playing solo, it's a lot easier when somebody requests the B-side to your second single from Europe, and you're like, "Oh yeah, I wrote that. I know it and I don't have to turn around and tell my band guys 'Here's how it goes'." You can probably pick from your catalog and play anything as opposed to when you're traveling with other people who may not know your entire catalog which is rather extensive.
STEVE: I'll tell you something though, the people I play with in all my bands, I've played with for so long, they know a lot of my stuff which is really nice. I've recorded about 400 songs so I don't know all of them. I always like to think I do, I always like to think that if somebody said, "Okay, this B-side from the European single, play it. You'll get a free cheeseburger if you get it right." It's like, "Damn, I want that cheeseburger but I'm not going to get through this, that second verse is going to throw me every time." I'll go out a lot and see people who have been around for a long time play on stage and they'll get the prompter in front of them. I've never done a show with a teleprompter. I think I few times I've had a music stand, I was doing a cover, but I don't like that at all. I'd rather make it up and get it wrong and be creative about it. I don't do that but a lot of people do, it's funny.
I don't know if I heard you say this or I read it somewhere recently but somebody recently said that, and I'm going to use the wrong term, but the ugliness of music is gone. Everything is perfect now. Bands don't have mess up on stage any more and that's what was great about '70s and '80s. You'd go see a show and somebody might start a song and forget the words and start it over. Things are more precise with newer bands now, that has sort of been lost a little bit.
STEVE: It's hard to make a blanket statement like that because I think there are still bands I'll see where I feel like something is happening right in front of me and that's exciting. But, you're right, in general, that's true. I've been think a lot since Charlie Watts died. I went back and watched a lot of Stones clips, a lot of things I've seen before. For the drummer in such a big band, he really kind of played off the cuff all the time. You can hear him movin' and groovin' with Keith and playing likes he's playing in some bar somewhere. That always struck me about him. He's responding to the moment. It's not even out of, "Oh, I'm so cool because I fucked up on stage and made a mistake." That can be fun but it's more like, "I'm so cool because something happened tonight that's never happened before. I found some way into that song, some way of approaching, some way of singing it" or, if you're with a band, "I took some solo while he did some rhythm." That happens a lot with the Dream Syndicate, for example, because we do a lot of improvisation on stage. There are nights where we walk off stage and say, "Well, that was functional" which is the worst thing I can say about a show. "Yeah, that was on point." The best thing is when we walk off stage and say, "What the hell happened up there? Can I bottle that?" That's what you look for.
September 2021 Tour Dates
Sept. 3 – Syracuse, NY
Sept. 4 – Buffalo, NY
Sept. 5 – Cleveland, OH
Sept. 6 – Detroit, MI
Sept. 7 – Holland, MI
Sept. 8 – Chicago, IL
Sept. 9 – Madison, WI
Sept. 10 – Green Bay, WI
Sept. 11 – Milwaukee, WI
Sept. 12 – Peoria, IL
Sept. 14 – Columbus, OH
Sept. 15 – Pittsburgh, PA
Sept. 16 – Harrisburg, PA
Sept. 17 – Baltimore, MD
Sept. 18 – Riverton, NJ
Sept. 19 – Mansfield, MA
Check out the extended interview with conversations about songwriting, baseball, Los Lobos, moving from L.A., Bob Forrest and more.