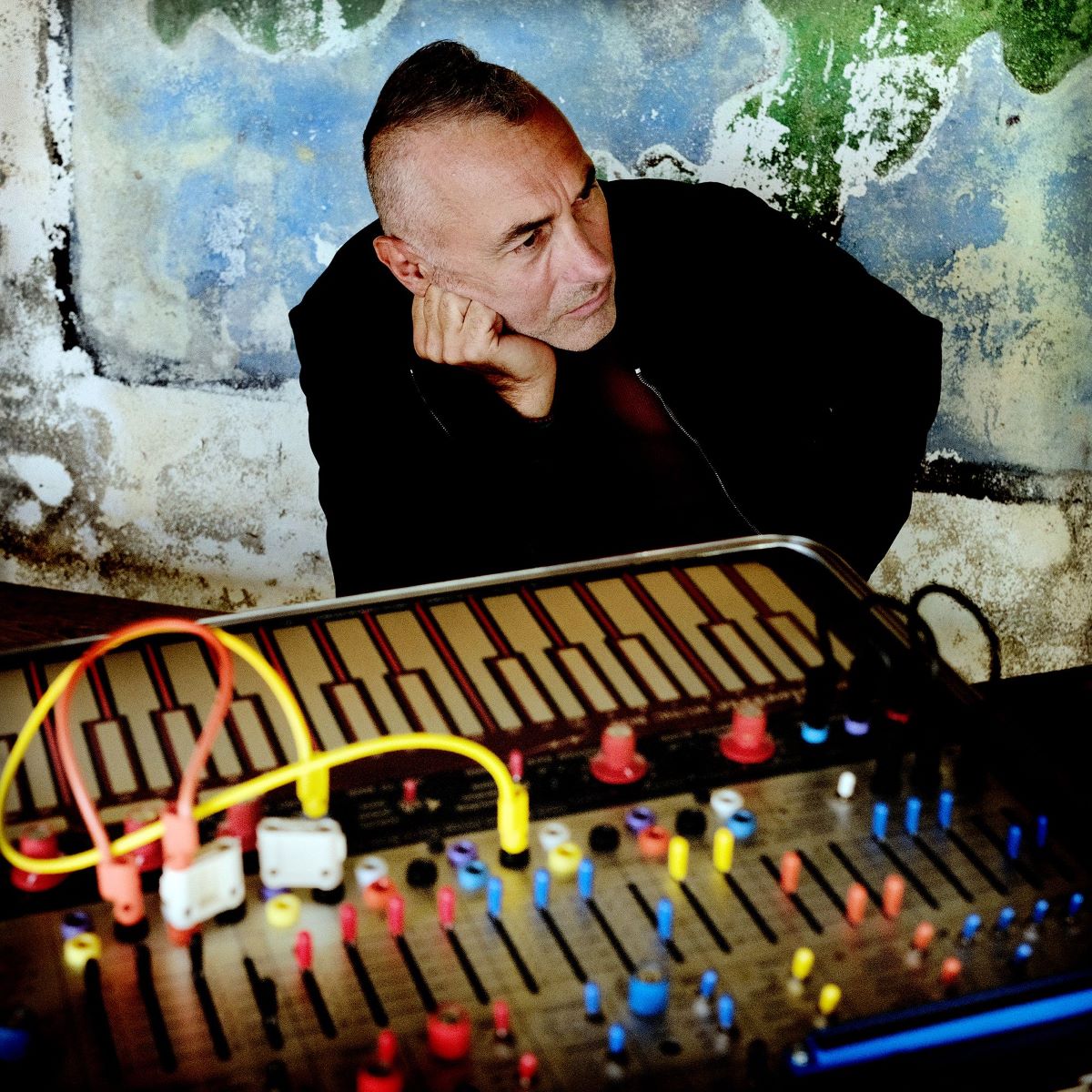 1 September 2021
Photo by Richard Dumas
Celebrated avant-garde musician and composer Yann Tiersen is calling from his home on Ushant, a tiny island in the Celtic Sea, just off the coast of mainland France. Ushant provided inspiration for his twelfth album, Kerber, which was released on August 27 via Mute Records. With a mesmerizing mix of piano patterns and swirling, atmospheric electronic elements, these songs mark a daring new chapter in his career. But Tiersen has always been highly adventurous with his work: since his 1995 debut album, _ La Valse des monstres_, Tiersen has been revered for blending a wide range of styles, incorporating everything from classical to post-rock influences. Kerber continues his innovative streak, blending minimalistic piano melodies and intertwining them with atmospheric electronic elements. Here, Tiersen tells The Big Takeover how this unique album was created, and looks back on his lengthy and innovative career.
Ushant seems like such an interesting place. How did you come to live there?
YANN TIERSEN: I was born in France on the mainland. A long time ago, with my parents, we spent lots of time here. My father died when I was really young, so it's the only recollection of him that I have, so it's always been an important place for me. Then in 1997, I rented a house here and I recorded my third album, The Lighthouse Le Phare, on this island. In early 2000, I moved here and bought a house.
How did you decide to connect your songs on this new album to places on Ushant?
YANN TIERSEN: Because of the state of the world, and nature, I think it's really important to reconnect to your environment and to know where you live. So I decided a long time ago, four or five albums ago, to focus on that, and then to juxtapose places with tracks, just to focus on the connection and on nature. And as I live on an island, I chose places near me. And especially on this album, because it was during lockdown, I chose names of villages really near by the place where I live. Here, a village is just two houses put together. and there are lots of villages on the island.
It seems like a good place to be during this pandemic.
YANN TIERSEN: It's good to be able to go outside and to have a normal life. It hasn't changed that much. Just the bars were closed, which was a big thing here. But apart from that, we had a social life with parents of the children at school and our friends. But I miss touring and cities, actually!
So it's good you're starting to tour again soon – what do you think that will be like, after being away from it for so long?
YANN TIERSEN: I did work a lot to be able to do what I do on the album live, so it's quite a big electronic set up. I'm constantly working on new versions and remixes from the album because I want to be able to play in big venues, but I want to do small clubs, as well. So it's a wide reinterpretation of the album. Ideally, I'd like to, according to the audience or the mood of the evening, be able to switch and do different versions every night. Maybe because I've been without touring for that long, as everybody on Earth unfortunately, I'm really excited and I don't want to go into any routine. I want every gig to be unique. I want it to be special. Lots of horrible things can happen because there are so many electronics involved, but that's life, we will deal with it. We know that there will be one gig where something will be horribly wrong. I played one gig at an electronic [music] festival here in Brittany, and everything was working fine – it was unbelievable [because] it was outside and it was raining – all the conditions to have the modular out of tune or whatever. And I was so excited that I just pushed the wrong button, and I transposed one of the parts as a semitone under. Then it was horribly wrong, and it was me! [laughs] It was fun, though.
What was your songwriting process for this album?
YANN TIERSEN: At the beginning, the plan was to do a piano album. After working for several weeks, I just thought it was a bit boring, so then I switched from doing piano tracks to building a sample bank. Really early in the process, I decided to use the piano as the base for tweaking the sounds and focus on electronics more than on the piano. It was completely liberating to me. From that starting point, I was working constantly. I spent three weeks working on the piano and three months working on the rest.
It seems like the piano is the basis for a lot of what you do.
YANN TIERSEN: No, it's kind of the opposite, actually. For me, it's the hardest instrument to work with. Most of the time, I don't start with piano, and that's why I was stuck on this [album], because it is the instrument that I am least comfortable with to start something. I've got a really simple and empirical way of working. Jamming, kind of. Sampling or working on sounds, more than working on melodies. So piano is quite hard.
How did you know you should become a professional musician in the first place?
YANN TIERSEN: Actually, I always pictured myself as doing music as my main activity, even when I was really, really young. When I was a teenager, I was playing guitar in a band. I was really into noise. And then I went back to electronic and more sampling. My bandmates, they took jobs and stopped music, so I carried on on my own. When I first started to make my own music in the 1990s, I was using samples, and I was really into more electronic music and not really into acoustic instruments. After a while I decided to use acoustic instruments. And now I am back to sampling.
What do you think it is about your music that makes it connect so strongly with listeners?
YANN TIERSEN: I have no idea and I don't want to know! I'm quite naive and I want to stay like that. I think I'm always doing a first album for every album. Of course, it's not completely new, but I'm trying hard not to repeat myself. The new album is a good example because I wanted to do a second piano album, and I wasn't able to do it because I already did it.
How do you feel as you're approaching this album's release date?
YANN TIERSEN: This one is really important. They're all important, but for me, this is a new cycle and a new beginning. And it was planned to be like that. I hope that people are listening to it genuinely and no preconceptions, and I hope they like it or hate it for what it is.
Yann Tiersen 2021-2022 Tour Dates:
November 9 – Los Angeles, CA – The Fonda Theatre
November 10 – Berkeley, CA – The UC Theatre
November 12 – Portland, OR – Crystal Ballroom
November 13 – Vancouver, BC – Vogue Theatre
November 14 – Seattle, WA – Neptune
November 17 – Chicago, IL – Metro
November 18 – Detroit, MI – Crofoot Ballroom
November 19 – Toronto, ON – Phoenix Concert Theatre
November 20 – Montreal, QC – MTelus
November 22 – Quebec City, QC – Le Capitole
November 23 – Boston, MA – Berklee Performance Center
November 26 – Brooklyn, NY – Brooklyn Steel
November 27 – Washington, DC – 930 Club
January 29 – Stockholm, Sweden – Filadelfia
January 30 – Gothenburg, Sweden – Tradgarn
January 31 – Copenhagen, Denmark – Opera House
February 1 – Malmo, Sweden – Concert House
February 2 – Hamburg, Germany – Laeiszhalle
February 4 – Berlin, Germany – Tempodrom
February 7 – Milan, Italy – Teatro degli Arcimboldi
February 9 – Dusseldorf, Germany – Tonhalle
February 10 – Brussels, Belgium – Cirque Royale
February 12 – London, England – Roundhouse
February 14 – Glasgow, Scotland – Royal Concert Hall
February 15 – Manchester, England – Bridgewater Hall
February 18 – Roubaix, France (near Lille) – Le Colisee
February 19 – Strasbourg, France – La Laiterie
February 20 – Dijon, France – La Vapeur
February 22 – Montpellier, France – Le Corum
February 23 – Toulouse, France – Le Bikini
February 24 – Biarritz, France – La Gare du Midi
February 25 – Bordeaux, France – Krakatoa
February 26 – La Rochelle, France – La Sirene
February 28 – Tours, France – Le Grand Theatre
March 1 – Clermont-Ferrand, France – Cooperative de Mai
March 2 – Rouen, France – Le 106