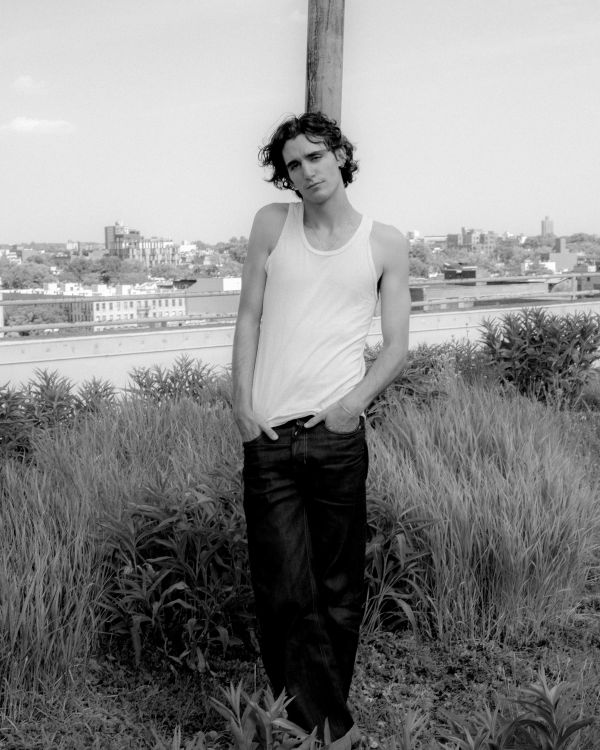 13 September 2022
Tamino in Brooklyn, NYC; July 2022 – Photo Credit: Jeton Bakalli
Tamino-Amir Moharam Fouad, who records under the moniker Tamino, is a talented young Belgian-Egyptian (and Lebanese) songwriter, musician, and singer who is taking the world by storm with his quietly contemplative to passionately compelling music that is as much influenced by Eastern culture as by Western styles.
The UK, Europe, and the Middle East are already under his captivating spell, and the US is now quickly following suit. The fast-rising artist is cementing his status as a premier storyteller and mesmerizing singer with his upcoming second album, Sahar, which will be unveiled on September 23rd.
Tamino is kicking off a solo North American TOUR on September 16, and will follow it with a European TOUR with full band on November 21. He recently performed at Pukkelpop in Belgium. Upcoming TOUR DATES are listed at the end of this interview.
Tamino just dropped the absorbing music video for his stark third single "You Don't Own Me," a potent ode to striving for and attaining freedom in the midst of oppressive forces. The song was inspired by Man's Search For Meaning by Viktor E. Frankl, and the video was directed by Bastiaan Lochs and Tamino's brother Ramy Moharam Fouad, and choreographed by Olivier-winning choreographer and Beyonce collaborator Sidi Larbi Cherkaoui.
A master of mood and meaning, the magnetic Tamino released his debut album, Amir, in October 2018 and had been touring and promoting it before the pandemic hit. While on lockdown and while away from life on the road Tamino was able to concentrate on creating his new album – and he was out 'n' about in NYC this past July promoting his recent singles in high anticipation of Sahar's arrival this fall.
More from Tamino that is not covered in the chat below will be exclusively featured in the next issue of Big Takeover magazine, #91, which will be published this fall season.
Hello Tamino! It's so wonderful to touch base with you about you and your music. I've been swooning over your songs ever since hearing "Habibi" in 2017. I reviewed your Habibi EP and debut album Amir in Big Takeover magazine, and have featured you at Big Takeover online with my Top 10 Songs playlists. Several years ago you even contributed a cool article to the site about your Top 5 Inventive Music Videos.
You've been off the (social network) grid for the past couple of years and now you've returned with two captivating singles and exciting news about your upcoming second album, titled Sahar, and fresh tour dates. You've also recently been playing some select live shows.
Where are you now while you're replying to this interview?
Tamino: Hi! Thank you for your compliments and support. I'm in Williamsburg, NYC as I'm writing this. Spending some time here to get to know the city better and to do some promo, etc.
Did the pandemic affect the creation and recording of Sahar? Did the lockdown/quarantine response delay the making of the album?
Tamino: I don't want to call it a lockdown album, even though most of the songs were written in the heart of the pandemic. It probably did affect the writing a bit though. I remember going through a bit of an existential crisis at first when I got home, since what I had been devoting my life to for all my adolescent and adult life suddenly felt like it had no place or importance in our society anymore. Of course, that's never been true, but it sure felt like that at some points.
Where was your home base during 2020/2021? Where did you compose the songs for Sahar, and where did you record them?
Tamino: Home was Antwerp, Belgium. I wrote most of it at home, recorded it in multiple places, the most important ones being my place, PJ's place (one of the producers of the album), and Studio ICP in Brussels.
You'll be roaming the globe in support of Sahar soon, with some festival shows, and then a US/Canada tour in September and October, followed by a European tour in November and December. What can Americans and Canadians expect for your solo performances? Will it be you and a guitar on stage or…?
Tamino: Since the venues we're playing in North America are still smaller than the ones we do in Europe or the Mena region it will indeed be a solo tour. We feel like the band becomes an added value the moment we play bigger places.
On stage it will be just me, my guitars, and my oud (I've been starting to play oud on stage only a couple of weeks ago and it feels great). I will be bringing my sound and lighting engineer though, so our approach is very much as serious as it would be in Europe. The main difference being that you'll just be seeing and hearing me on stage.
So for the European tour you'll have the full band. Who is currently in the line-up?
Tamino: Our live band currently consists of Ruben Vanhoutte on drums, Colin Greenwood [of Radiohead] on bass, and Vik Hardy on keyboards/guitar.
Does this line-up differ for the musicians who contributed on Sahar? Do you have any guest musicians/vocalists on the album?
Tamino: Ruben and Colin played on almost every track. During the recording of the album, I also made use of the opportunity to invite some musicians that I've always wanted to work with. Most of them I knew from seeing them at mutual friends' or parties in Antwerp.
Most notable musicians who contributed that you should check out: Simon Beeckaert, Hendrik Lasure, and James De Graef. They all have multiple projects, which I love. James' project Loverman is one in particular that I'm a huge fan of. His album isn't released yet, but will be one of my favorite releases of the year, I'm sure.
Angèle, another one of my favorite artists from Belgium, sang on "Sunflower," for which I am so grateful. We met each other some time ago and got along immediately, when I wrote the song, I had to think of her and her beautiful voice. So happy she's on it!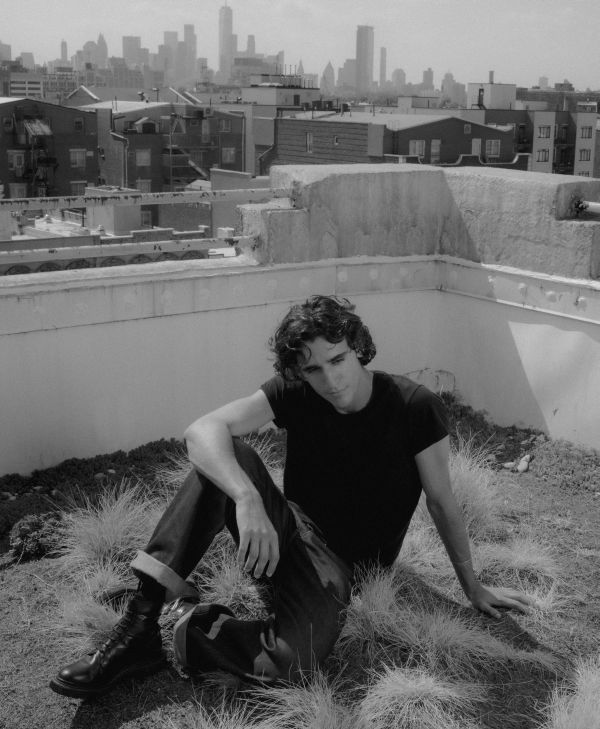 Tamino in Brooklyn, NYC; July 2022 – Photo Credit: Jeton Bakalli
Focusing on your upcoming album, Sahar, you've released the brooding and longing rumination "The First Disciple" and followed that up with the equally yearning, but flowing popper "Fascination." What are the other songs on Sahar like? Did you use different instruments, techniques, and/or song structures when recording in the studio?
Tamino: I learned how to play the oud quite well over the last few years and used it as a main instrument on this album a lot. I feel like the sound of the nylon strings of the classical guitar and the oud bouncing off each other sits at the heart of the key songs.
As for techniques, etc… we definitely had a different approach from the first album. There was more room [to] experiment and more time to mess around in the studio for the magic to happen.
Do you feel the need to be in control of every aspect of producing a song, or do you receive input from others, and possibly make changes as a result of their ideas?
Tamino: It's both. I'm a bit of a control freak, but I surround myself with good people whose taste I trust and value highly, so I'll always listen to their advice and ideas. I could never and would never want to do it on my own.
What about the subject matter of the songs on Sahar? Relationships with others and with the self have been at the forefront, lyrics-wise. Do you also bring in other themes to this collection of tracks?
Tamino: It's difficult to say as I'm only getting to know the songs as I'm playing them and I haven't been able to play these songs for an audience yet (except for "The First Disciple", "Fascination," and "A Drop of Blood"; that last one is unreleased, but I felt like playing it already).
Overall, I feel like there is a sense of in-betweenness present in all the songs. That's why I chose the name 'Sahar', which means 'just before dawn' and conjures up this in-between realm for me.
Another image that comes to mind is the aftermath of a storm (or a whirlwind), you don't know precisely what happened, but you feel something impactful took place and it puts you in a reflective state of being. The air in the album is not clear, like there are dust particles flying in the air (we interwove the songs with a lot of noise which represents the dust particles for me).
Are there specific Belgian, Egyptian, Lebanese (or other) musicians who have had a direct influence on your aesthetic/musical outlook (sound, style, subject matter)?
Tamino: So many. Here are a couple:
Egyptian: Oum Kalthoum, Abdel Halim Hafez, Moharam Fouad – I can't not include him [Tamino's grandfather, a renowned singer and actor]
Lebanese: Fairouz, Marcel Khalife
Belgian: dEUS, Balthazar, Zita Swoon, Kapitan Korsakov
What pearls of wisdom have you taken to heart from your 2017 to 2019 adventures on the road?
Tamino: Meditation is good for you. I do 10 minutes a day now and I'd recommend it to everybody. I wish I had done it in the beginning of my career as well.
And how do you prepare and/or stay in shape (vocally, physically, mentally) for a long tour?
Tamino: Amazing crew and band, yoga, meditation, vocal warm-ups, [and] grapefruit.
Do you find that audiences in different countries respond differently to your performances?
Tamino: I guess I notice some cultural differences for sure, but overall I feel like no matter where we play the people who come to our shows are able to open their hearts which often leads to a transcendental quality in the room.
Does your brother, Ramy Moharam Fouad, who is a filmmaker and photographer, or other family members accompany you on tour, or show up to your performances?
Tamino: [Ramy has] often joined us on tour and will keep on doing so where his schedule allows him to. He's working a lot these days and doing many beautiful projects.
Speaking of Ramy, he directed the music videos for your songs "Cigar" (at age 16!), "Persephone," and "Tummy," and has photographed you for Flaunt, among other visual/storytelling projects. Is he involved with the visual aspect of Sahar at all?
Tamino: He made pictures for the artwork and filmed us while we were working in the studio. The music videos so far have been directed by Bastiaan Lochs and Jonathan Van Hemelrijck, two dear friends of mine who I wanted to work with for a long time.
I think filming the music video for "Fascination" must have been a special time for you. Can you tell us what the shoot was like, and where you filmed?
Tamino: It was a lot of fun. That was the main goal, actually: to have fun. Making music videos can be quite stressful. You're usually doing something way too ambitious for way too small of a budget. So, this time around we wanted to have a good time.
We were very much inspired by the footage of Jim Morrison driving around Joshua Tree in a Ford Mustang. We shot in Spain, in the Navarro region, and rented a 1968 Dodge Charger.
For this song I thought it was important to, rather than make a video with much symbolism and mystery (like "The First Disciple"), set a mood and a feeling. That's why a road movie in this beautiful region seemed ideal.
I have great memories of the shoot. One being of course the drifting, which is actually me (I saw some people asking questions [about] whether I actually did those scenes).
What record label is releasing Sahar?
Tamino: It's going through Communion for Europe and through my own label Djinn in collaboration with Secretly Group in North America.
On a non-musical note, I wanted to posit some quick questions regarding some of your favorite things and experiences, so to kick it off, what was the last book you read? Mine is Michael Palin's New Europe from 2007 – Many of his observations still ring true, for better or worse.
Tamino: Last book I read was Karl Ove Knausgard's My Struggle, Book 3. I'm reading part 4 now. I am in awe with this series and find them deeply moving.
What is one of your most favorite books? One of mine is Wuthering Heights by Emily Bronte.
Tamino: One of my favorite books of all time is The Unbearable Lightness of Being by Milan Kundera.
What was the last vacation you took? I can't even remember mine, it was so long ago! I think it was Ocean City, New Jersey…
Tamino: I guess my time in New York [now] sort of counts as vacation.
What was your most fave vacation that you've been on?
Tamino: Before this I went to Essaouira in Morocco, which I loved. Difficult to pick a favorite.
What is the latest album you've played in full? Mine is Sweet and Savage by Los Indios Tabajaras, originally from 1958.
Tamino: The latest discovery probably: Mudanin Kata by David Darling & The Wulu Bunun.
What is one of your most fave albums to spin? Mine is Amir, of course!
Tamino: One of my favorites: Blue Maqams by Anouar Brahem.
What was the last show you attended as an audience-member? What was one of your most favorite shows as a fan?
Tamino: Last one I attended was Nick Mulvey [at] The Mercury Lounge in NYC. Beautiful show. One of my all-time favorite shows probably Nick Cave in Sportpaleis Antwerpen.
What was the latest instrument you played? What is one of your most fave instruments to play?
Tamino: Oud.
What is the last film you watched? Hmmm, for me can I say a season 4 binge of Stranger Things?
Tamino: Last film I watched was Synecdoche, New York.
What is one of your most fave films? One of mine is Maurice, directed by James Ivory and based on E.M. Forster's classic novel.
Tamino: One of my favorites: Phantom Thread.
What is the latest snack you've eaten? What is one of your most fave snacks to eat?
Tamino: New York Pizza. One of my favorites: Good olives.
Because it's summertime – well, in the Northern hemisphere at least, what is the latest ice cream flavor you've eaten? Mine is Coolhaus [amazing women-owned ice cream brand] Street Cart Churro Dough. Yum! [Update: Coolhaus recently reformulated their products and this flavor is not as good as before, IMO]
Tamino: The latest I ate was Thai Coconut ice cream (a bit spicy, [but it] was good!).
What is one of your most fave ice cream flavors? Mine is Coolhaus Chocolate Molten Cake. Delish!
Tamino: One of my favorites: Pistache.
TAMINO NORTH AMERICAN TOUR
​​9/16/22 – Camden, NJ – XPoNential Music Festival
9/19/22 – Boston, MA – The Sinclair
9/20/22 – Montreal, QC – Club Soda SOLD OUT
9/21/22 – Toronto, ON – Horseshoe Tavern SOLD OUT
9/24/22 – Chicago, IL – Lincoln Hall SOLD OUT
9/25/22 – Minneapolis, MN – Fine Line
9/28/22 – Seattle, WA – Neumos
9/29/22 – Portland, OR – Doug Fir Lounge
10/2/22 – San Francisco, CA – The Independent
10/3/22 – Los Angeles, CA – The Regent Theater
10/4/22 – Los Angeles, CA – The Regent Theater SOLD OUT
10/5/22 – Phoenix, AZ – Rebel Lounge
10/7/22 – 10/9/22 – Austin, TX – Austin City Limits Music Festival
10/9/22 – Atlanta, GA – Terminal West
10/11/22 – Washington, DC – Black Cat
10/12/22 – Brooklyn, NY – Music Hall of Williamsburg SOLD OUT
10/13/22 – Brooklyn, NY – Music Hall of Williamsburg *new date added
TAMINO EUROPEAN TOUR
[8/19/22 – Hasselt, Belgium – Pukkelpop Festival]
11/21/22 – Paris, FR, – Le Trianon SOLD OUT
11/22/22 – Paris, FR, – Le Trianon SOLD OUT
11/24/22 – UK, London – Koko SOLD OUT
11/25/22 – UK, London – Koko *new date added
11/29/22 – Cologne, DE – Gloria Theatre SOLD OUT
11/30/22 – Berlin, DE – Metropol SOLD OUT
12/02/22 – Amsterdam, NL – Paradiso SOLD OUT
12/03/22 – Amsterdam, NL – Paradiso SOLD OUT
12/05/22 – Brussels, BE – Cirque Royal SOLD OUT
12/06/22 – Brussels, BE – Cirque Royal SOLD OUT
12/07/22 – Brussels, BE – Cirque Royal SOLD OUT
Find out more about Tamino:
Website
Instagram
Facebook
Twitter
Order Sahar HERE