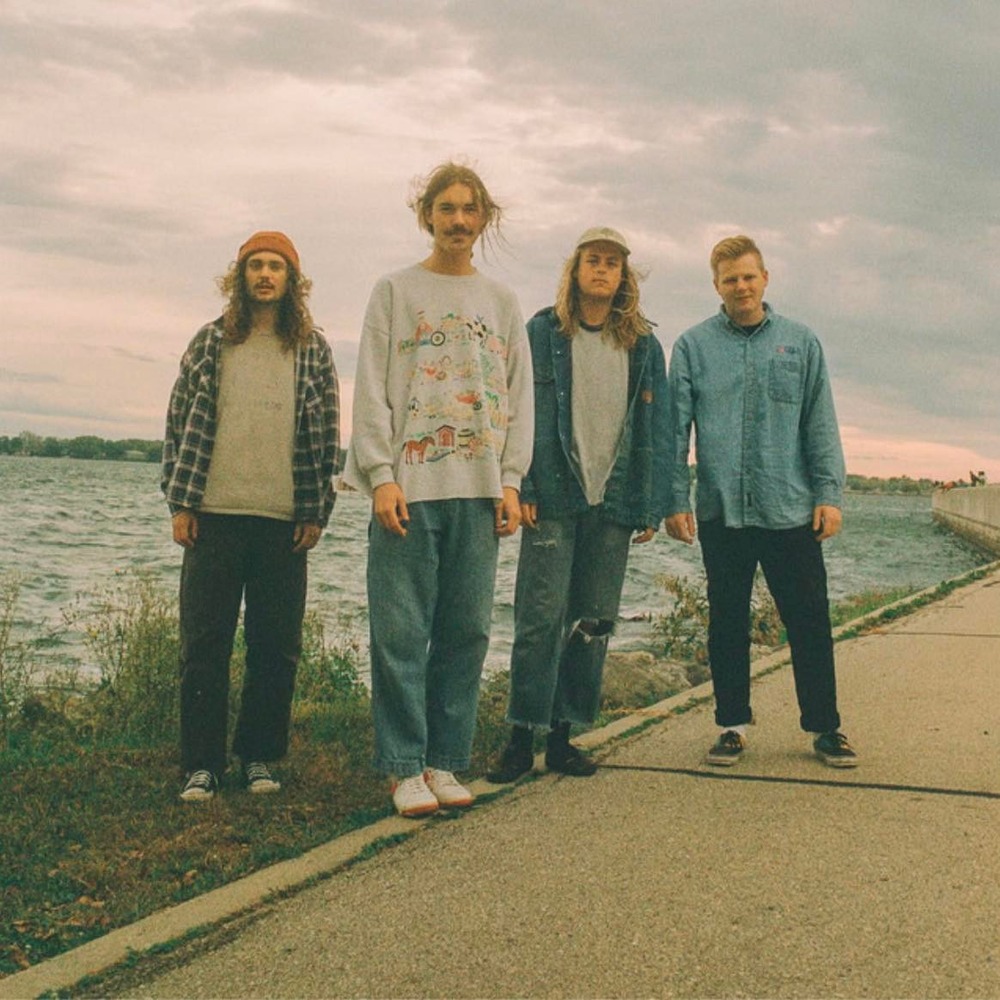 19 December 2022
The Backseat Lovers have built a lifetime of experiences since forming, mostly as teenagers, in Utah in 2018. With a massively successful streaming single ("Kilby Girls") spreading like wildfire on Spotify (currently at 195 million plays) and earning airplay on alternative radio stations, the young band has released two albums, toured the country, played major festivals (Lollapalooza, Newport Folk Festival), and gained exposure through live appearances on CBS This Morning and Jimmy Kimmel Live!. It's quite a list of accomplishments for a band whose members are not that far removed from high school.
When We Were Friends, featuring the aforementioned "Kilby Girl", dropped in early 2019 after which The Backseat Lovers did some touring to promote the independent release but, like every other band, all plans post-March 2020 were put on hold which gave Josh Harmon (vocals, guitar), Jonas Swanson (guitars), KJ Ward (bass) and Juice Welch (drums) the opportunity to concentrate on songwriting. Having spent their formative years listening to their parents' classic rock albums and discovering acts like Radiohead and Cage the Elephant, The Backseat Lovers' sophomore release, Waiting to Spill, released by Capitol Records in October 2022, shows evidence of growth and maturity, the songs have a laid back vibe that separates them from the "flavor of the month" bands that are here today, forgotten tomorrow.
As the year comes to an end, Josh, Jonas and KJ joined me to discuss the new album, the songwriting process, the unbelievable opportunities that have been presented, and share some of their favorite 2022 memories.
The new album signifies growth in your songwriting. The songs are more chill than 2019's When We Were Friends. Would you say that when you were writing the last album, life was brighter? And when you started writing this album, things were uncertain and maybe you had time to really reflect on your life?
JOSH: It's a combination of things, both personal growth for us as individuals and as a band and also being drawn more to that intimate side of our songwriting. Maybe that's a sign of us growing up. I think emotionally, when we were working on the very first album, a lot of those emotions behind the songs were literally all high school-driven angst. That stuff is not very chill, naturally, so when we were starting to write this new record, we were growing up as people. When we looked within ourselves to write something, it was more natural to write something that was a little more soft-spoken and intimate and had room for a much lower dynamic level.
There's an old adage that you have your whole life to write your first album and have a lot you can draw on but then the second album and every album after that moves in real time. Is that the case for Waiting to Spill? Is it reflective on things that have been going on in the last 3 years?
JOSH: In some ways, it's the opposite. As one of the songwriters, emotionally and lyrically I was digging pretty far back for a lot of early feelings and also stuff that's completely present. It was a combination of that. It seems to me that when I look at the overarching theme and things that I was trying to say when writing, it's much more encompassing of my entire life than the first album. The first one seems more singular.
I find it interesting when songwriters wait until their fifth or sixth album to write about major events that took place earlier in life, whether a happy memory of childhood or family or teenage years, or traumatic events that stick with them to this day. I would think that those kind of songs would appear on the first record while it's still fresh in your mind. Do you have a backlog of things you want to write about that you just haven't been able to work into a song yet?
JOSH: That's a really interesting question. I've never really thought about that. Jonas and I are the main songwriters and I feel like we share a common ground in that we want to look at every song differently and look at it from a lens that's something completely new. We just want to do it the way it needs to be. Because of that, I'm always wanting to write about the exact moment we're in and capture that in an honest way. That moment you're in can also be very reflective.
JONAS: When I write about something that's in the past, it helps me make sense of it now.
Are you ever at a loss for writing lyrics, where things just don't come to you?
JONAS: It's always good to not put too much pressure on yourself to write because that's when it feels like it's not art anymore. I think every artist has had moments like that, where you're feeling impatient about something. It feels best when it's flowing out of you and that's not always happening.
JOSH: Much more in the last year, we just write so much that sometimes it's refreshing to not have anything to say. It's like, "I'm not going to write a song today. I'm going to go be a human being." Sometimes it's quite frustrating, not trying to say it's always fun. Sometimes it's a really positive thing – when it stops flowing, that's totally fine.
I got to see the songwriting process in action last year when watching the Beatles documentary. I got to see how some songs came really easy while others they labored over. Are you the type of band that nails stuff in one or two takes or do you spend a lot of time working until you get something you're happy with?
JOSH: The range of process changes always, even the way we're writing songs now is so starkly different than the way we did even for this album we just put out. There are some songs on Waiting to Spill that, from the day they were started lyrically to the finished version, felt like years. On one song, there was this one part in the bridge that was mumbled for literally 2 or 3 years and then it finally all clicked together. The process of doing that and being so hard on myself and being obsessed with a song and chip at it, "What words can I fit in here that feel authentic?," I was doing that so much. It was really important for all of us to understand that you don't need to be putting that kind of pressure on yourself for songs. If it's going to be a song, it's going to be a song. The lyrics will come and as long as you keep your ear open, you'll hear it, it'll come back to you. It seems like the way we're doing this new album, some songs will come in a day and be totally done. I'm sure there will be more songs that take years and years.
Do you take bits and pieces from different ideas, different demos, and mix them together into one song?
JONAS: Totally. We've always done that since we started as a band, meshing different parts of songs together that initially started as different ideas.
JOSH: On the new album, I'd say there are quite a few that are pretty Frankenstein, they used to be multiple songs and now it's just one.
You mentioned that you're always writing. Are there any side projects that any of you are in that can serve as outlets for creativity that doesn't fit into the sound you're going for with The Backseat Lovers?
JOSH: Where we're at in our lives, our songwriting energy is probably the most aligned and focused on what we're doing as a band and how we work together to make music and albums. But, there are very niche parts about my songwriting interests and instrumentation interests that are very strange and very unique to me. I think we all have little things like that in our songwriting that we do on our own. We all love DIY recording and we've all got our own little spots in our houses where we can make music. We're all ambitious with solo projects of different natures.
You've done both late night and early morning TV show appearances. I'll admit, I was a little naïve and thought that the bands that play on CBS This Morning get up really early and are on the live set of the show. But, I learned that those performances are pre-recorded and presented as if they are live. What other little secrets don't we see when you're doing one of these types of appearances?
JONAS: There's a lot of hurry up and wait energy. It's a pretty rushed process. For TV, it seems like they have a tight schedule to stick to and it can be kind of stressful sometimes. It's a very interesting energy that we're trying to get used to.
JOSH: It's on a completely different level of structure compared to any other live show that we have played. To be quite honest, it's not the most fun thing ever. It's a really beautiful opportunity and I'm glad that we get to do that but, creatively, it's not necessarily inspiring.
JONAS: It's super nerve racking. Any time we're in front of a camera, it makes it so much more scary. There can be any amount of people in the room, but if there's a camera, that gets to me.
KJ: I think I definitely looked at the camera.
JOSH: There were so many cameras.
KJ: It's hard not to get distracted by it.
What was the experience on Jimmy Kimmel Live! like?
JONAS: There was a group of people watching the show. Where Jimmy has his desk, it's a different room than the studio where bands play. I think he was taping most of the time we were there. We got to meet him for a quick second.
JOSH: The schedule is all wonky in the way that they have to pre-record certain things at certain times to make it all work. We got to talk to Jimmy before we went on and he's such a nice guy.
You've been together 5 years and have played talk shows and major festivals like Lollapalooza. That's very impressive. There's a lot of bands that will never have all the opportunities you've already had. Does it ever feel like a dream?
JONAS: It has been super crazy in how much we've packed into the last year-and-a-half of our lives. I'm constantly trying to process what has happened. I'm super grateful for it.
JOSH: The amount of thought I put towards processing big moments like that, it's trying to use that time to focus and realize how beautiful of an opportunity it is. I'm really grateful that I get to do this, say what I need to say to this many people in this environment. That's where I try to draw the line in my head and not think about the magnitude. When you're constantly thinking about the details of those kinds of things, when it comes down to it, until the moment when you get on the stage and you're doing it, any thoughts or stress you put towards it beforehand don't really do anything other than make you more stressed out. Because there is so much happening all the time and we have such a crazy schedule, we all try to focus on each day.
Not to add to the stress but do you ever think about the fact that a song you wrote for your first album, "Kilby Girl," may be the song that you have to include in a setlist for as long as the band exists because that's the song that people know?
JOSH: If you really look at it, it's pretty obvious that it's a song that will live very prominently, just as a progression of the band and who we are on paper. If people want to hear that song for however many years, hopefully we'll be around to play it. Sometimes that can be draining. Sometimes you're singing about things that you're not as passionate about anymore and that's just the nature of anybody who's singing songs and playing in front of people and continuing to write songs. Hopefully, it will live amongst a number of our songs that people want to hear, it won't be the only thing.
As the year comes to an end, what artists topped your Spotify Wrapped lists?
JOSH: I think Jonas and I have the same number one song. It's "Hannah Sun" by Lomelda. That band is just amazing.
JONAS: That song specifically, some of our other friends also had that as their number one song. I think Spotify was really pushing it. Every time we finished something, that song would come on next.
JOSH: I feel like my Spotify Wrapped is quite inaccurate because I listen when I sleep, almost every single night, and I always put on the same chill albums that are very quiet, tender sort of music. I think the number one album for sleeping is The Party by Andy Shauf. It's always been one that I never get tired of, no pun intended.
You did some touring in 2022. What was the most memorable show?
KJ: I think, for me, it was a festival. We played the Newport Folk Fest and that was a really magically experience with all the artists that were playing. Our set, we played a lot of the new album songs before the album was actually out and it felt really good to step into that and do something new.
JOSH: That will definitely be one of the most memorable shows ever. There have been so many though. Trying to find the balance between really appreciating how amazing a show is but not fixating on it and comparing to the future shows. On the road, we have the most amazing, beautiful shows and crazy nights that are beautiful experiences. You have a couple of those and then you'll have one that is horrible. It's probably only horrible to us. I feel bad when people ask, "Do you remember this show?" and it was only a year ago and I'm like, "I feel like I've lived 3 lives since then and I'm sorry but I can't think about that or I'll short circuit."
JONAS: 99% of the time, a show that's a bad show, it's something that's happening inside us. It's more of a personal thing. Our fans are some of the best people out there and they've always made our shows really special.
What about the most memorable meal on tour?
KJ: We've eaten a lot of really good food. The first thing that came to my head is one time we went to this Indian buffet in Niagara Falls. It was a day off in Niagara Falls and we went to this buffet that was so good.
JOSH: It was perfect, being able to pick exactly what you wanted and how much of it.
JONAS: I think they were charging you if you left any food on your plate.
KJ: They'd weigh it after to see if you left any food which I think is kind of cool so you don't waste any food.
Not my favorite question to ask and I'm sure you've answered it a lot, but, where did the band name come from?
JOSH: Juice and I were playing together for a number of months, just working out songs and trying to become a band. All that time, I was killing myself trying to think of a band name. I was on a prom date with a group of people and someone was driving their mom's minivan and everybody was piled in the back and somebody said, "Well, we're backseat lovers" and I was like, "Alright, that's it. Not searching any more, I'm done looking for band names."