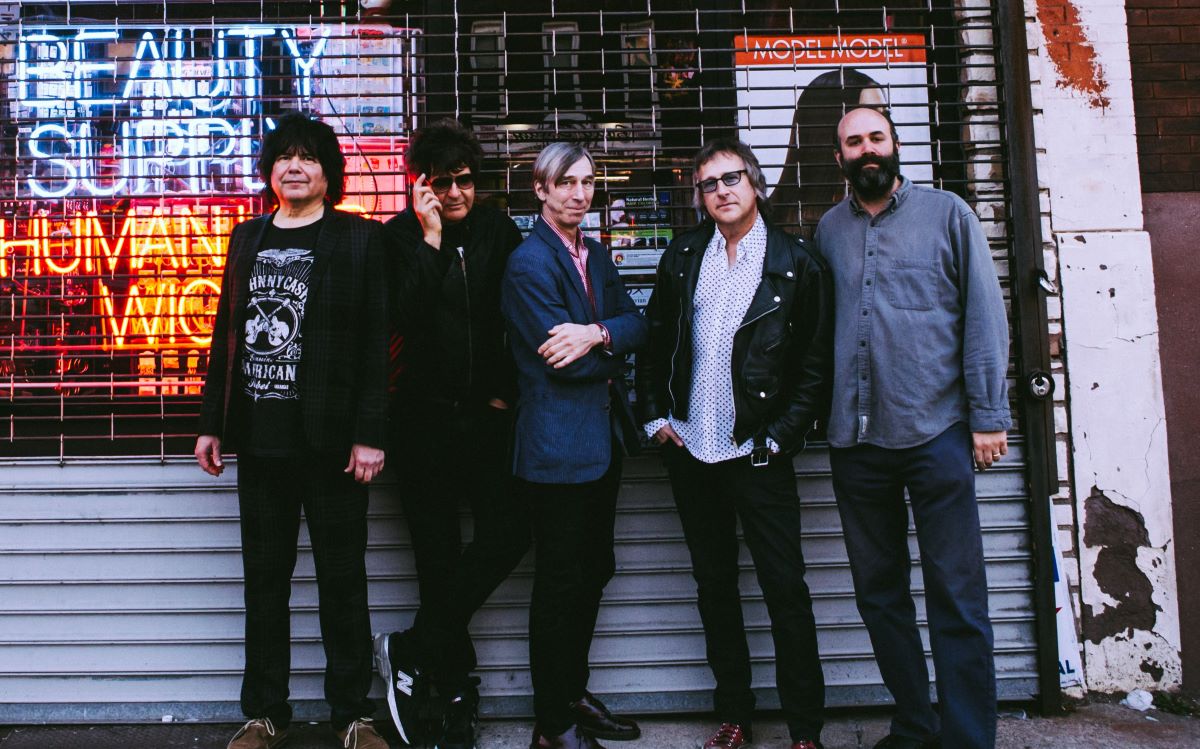 29 February 2020
Photo by Chris Sikich
"The day that I'm just too bothered to drive to New York and play a show is the day that I quit music," says Michael Giblin with a laugh as he surveys the boisterous Friday night scene at 2A, a legendary bar in New York City's East Village. He's made the three-hour drive from his home in central Pennsylvania to play bass at a show later that evening with The Cynz, a local post-punk band. But he's not always a sideman: he also fronts The Split Squad, a supergroup featuring Clem Burke (Blondie), Keith Streng (The Fleshtones), Eddie Munoz (The Plimsouls), and Josh Kantor (The Baseball Project). That band formed in 2014 and released a debut album, Now Hear This, that same year. Their songs range from raucous garage rock to heartfelt ballads, but thanks to the members' collective musical expertise, it all sounds cohesive. They play high-energy shows across America and Europe whenever their busy schedules permit, with the next ones happening in March in Pennsylvania, New Jersey, and New York (dates listed below), starting with a benefit concert for The Susan Giblin Foundation (http://susangiblinfoundation.net/) on March 8. As he nurses a beer, Giblin talks about how this stellar lineup first came together, what keeps the members interested in this band, and the plan for their next album.
How did this band come together in the first place?
MICHAEL GIBLIN: It wasn't any kind of calculated plan. We all crossed paths, and it just turned into, "Let's make a record together," and we had so much fun. We put no constraints on what the record was going to sound like. I wrote most of the songs. Keith wrote some. We play some covers. It sounds like a band playing through their record collection, because there's so many different styles of songs on there. It's this guiding principle that lets the members play in ways they don't get to do in their regular bands. A good example is Clem: Blondie got famous for basically bringing disco and dance music into New Wave and mixing all those styles. So we write songs that let Clem let his inner Keith Moon out instead.
It's impressive that Clem is a member of this band, because after Blondie, he certainly doesn't need to do anything else.
MICHAEL GIBLIN: There's a reason why he is an A-list rock star. He's very talented, but also, like anybody who is in that circle, every single one of them will tell you, "Oh, I was fortunate. I was lucky that what we did got known." But then, when you get to know them, you're like, "You are special." Clem, above everybody else, I've never seen anybody work so hard. Like when we did the record, everybody in the control room was like, "He is not phoning it in. He is committed." Our very first show we ever played was at SXSW, and when we got together a couple of days beforehand to rehearse, Clem worked the living shit out of us. The one guy who does not have to be here is the one who is the most concerned about how we sound. Clem, with everything he does, he's like, "I want it to be great – I have a reputation to uphold, I don't want anything that tarnishes that. So I'm going to work hard and you are going to work as hard as I am." He's incredible. It is super inspiring.
You have several shows coming up in March – that must be tricky to arrange, given who's in your band and their busy schedules.
MICHAEL GIBLIN: The nature of this band is, it's cat herding of the highest order. [laughs] We basically try to line up shows whenever our schedules align, and we do whatever we can in that short little window. So we're doing shows in March because we can. One of the reasons that we're doing shows now is because we're working on a new record.
Do you have a title for that album?
MICHAEL GIBLIN: Not yet. I just, over the last couple of weeks, assembled all of the demos. We'll see what it ends up being. There's a glammy song, there's a garage song, there's a couple of surf songs, there's a couple of power pop songs.
The songs you write are so diverse, so you must have had a wide range of influences.
MICHAEL GIBLIN: This is the night that changed my life: I was 14 years old, living in Pennsylvania – my family moved to Harrisburg from Boston when I was 12. This was before cable TV, like 1981. If we got the TV antenna just right, we would get WPHL from Philadelphia on a Friday night and they'd show this British TV show called Rock World. It came on at like midnight. I was already a weird kid night owl. My parents would be like, "At least he's not out stealing cars, just let him go." _Rock World would show videos, but this was before MTV happened, so they were promotional clips back then, they were called. And they'd show two songs from an artist back-to-back. And in one night, I saw, in this order, The Police, "Message in a Bottle" and "Walking on the Moon"; XTC, "Making Plans for Nigel" and "Life Begins at the Hop"; and then The Vapors, "Turning Japanese" and "Waiting for the Weekend." And I just sat there with my jaw on the floor going, "This is being beamed into from another universe. This is the coolest thing I've ever seen in my life." And naturally, I investigated all three of those bands. I was kind of born into music then. I had had a couple of things that I was really into – I liked Aerosmith and The Beach Boys – but that night was a big bang and I was born into punk and New Wave.
But what made you want to become a professional musician, not just a fan?
MICHAEL GIBLIN: I don't think my story is unique. Smart kid who didn't fit in. I played sports and I was on the team, but not the star player. So I gravitated toward music. I went to music school at Berklee College of Music. I graduated summa cum laude. But all that means is that I was a really good student. The prodigies didn't graduate. What they would do is, they would go there for five semesters and then Wynton Marsalis would hire them and they would leave. So the fact that I graduated means that I knew how to be a good student. But back to your original question – I'm not sure I can actually say what made me want to become a musician, but I know why I chose bass because that's what my personality is. Personality-wise, bass players tend to be very tactful and good politicians. I always say it's the bass player's job to make everybody else look good. Bass was my first instrument. I've always been a bass man. I'm not a frustrated guitarist. I take playing the bass very, very seriously. I play with a lot of other people as a sideman and I love doing it. It's a very cerebral instrument. And I've always been a frontman since I started playing as a teenager I was always singing.
Your March 8 show in Lancaster, Pennsylvania is a benefit concert – can you share more about who that will benefit?
MICHAEL GIBLIN: I run a charitable organization, The Susan Giblin Foundation, that was formed after the death of my wife in 2010. She was a well-known and well-loved animal advocate in central Pennsylvania. Like most animal people, she would rather hang around with animals than people. She was very quiet, she was very small. She looked like Annie Lennox if you left her in the dryer too long. When she died, we had like 350 people show up to her funeral. People who said to me, "You don't know me, but I adopted my first dog from your wife in the animal shelter." And it was person after person. Susan would send sympathy cards to everybody had to put an animal down. Her reach was quiet but incredibly large. So with this foundation, we carry her name forward. She's got rooms in animal shelters named after her because we donated, and helped build their surgical facility. So this foundation raises money for animal care organizations through concerts. We've given away probably close to $100,000 over 10 years. All of our [benefit] concerts are themes. Last year, we did The Clash's London Calling front to back with a full horn section. We've done David Bowie's Ziggy Stardust. This year, because of Ric Ocasek passing, we're doing The Cars, their first album from 1978, the debut.
Besides these March shows and recording the new album, do you have anything else coming up?
MICHAEL GIBLIN: I got to produce the new Fleshtones record, which is coming out in April and it's really good. Then there's a promoter in England that's like can [Split Squad] come back in October, November – which were probably going to do. The plan for this record is to get it out mid to late fall and then take advantage of the opportunity that we have to go and play around.
Upcoming shows:
March 8 – Lancaster, PA – Tellus 360 (benefit for The Susan Giblin Foundation)
March 12 – Bordertown, NJ – Randy Now's Man Cave
March 13 – New York, NY – The Parkside Lounge
March 14 – Kingston, NY – BSP Kingston
March 15 – Troy, NY – Hangar on the Hudson