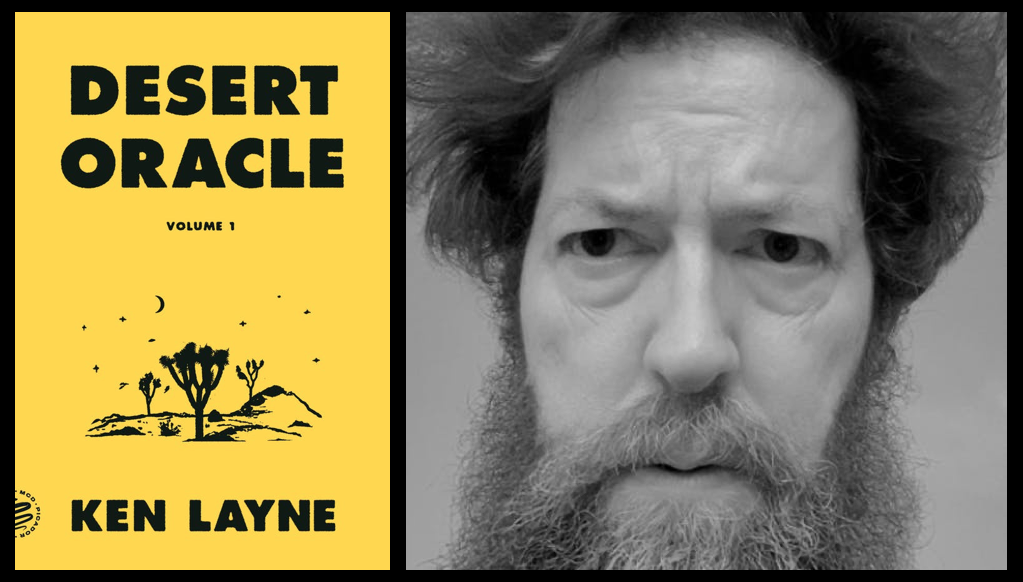 13 January 2022
Playing Favorites is an interview series where creative people pick a topic and tell us their five favorite things about it. Opinions expressed in this series are those of the interviewees and do not reflect the opinions of S.W. Lauden or The Big Takeover.
Ken Layne is the editor/publisher of Desert Oracle, the pocket-size quarterly field guide to the strange and intriguing American deserts. Five years of Desert Oracle writing about "myths and legends, outcasts and oddballs, flora, fauna, and UFOs" was recently published as a collection by MacMillan. Layne now hosts Desert Oracle radio, a weekly show broadcast/podcast from Joshua Tree, California. He is also an occasional singer/songwriter, and just finished a live Desert Oracle radio tour across the Southwestern U.S. So, I asked him what he listens to on long drives through the desert.

KEN

LAYNE

'S

MOOD

-

SETTING

RECORDS

FOR

THE

AMERICAN

DESERT
5. Stoned and Dethroned by the Jesus and Mary Chain
A Mojave two-lane requires a cruise-control trance and this record still does it. Maybe because of LA's
Hope Sandoval
on "Sometimes Always" or that song's accompanying desert promo video, this one always comes to mind when I'm driving solo through the yucca-studded mountains.
4. As Long As You Are by Future Islands
The song "For Sure" was the only thing I really noticed on SiriusXM's indie channel last year, so I bought the record and love it so much. All the way through, every time. Ideal for an empty interstate on a lonely afternoon. Their sense of space and nature is abundant, and I still have no idea what's going on with
Sam Herring
's sublime voice.
3. Los Angeles by X
That burning letter "X" on the cover was set up, doused with gasoline and photographed in the desert outside of Los Angeles—a good enough reason to keep this one at hand when the late-night highway hypnosis requires a blast of beautiful noise and poetry.
2. The Notorious Byrd Brothers by The Byrds
The band is down to
Chris Hillman
and
Roger McGuinn
by the end of 1967, so they complete this warm psychedelic-country dream-pop album with session players, and maybe it's the best Byrds album. Ideal for the drive from LA to Joshua Tree, and you've heard
Sweetheart of the Rodeo
too many times by now, anyways.
1. Swing From the Sean DeLear by Kid Congo & the Pink Monkey Birds
Side Two of this 4-song 12" has been playing on my long drives since its release in March 2021. "He Walked In," it's called, and it's a quarter-hour of . . . I have no idea. It's Kid Congo Powers, so there's Latino Rockabilly and a sort of southwest/Cuban jazz part and just a wonderful desert groove throughout. Known to reduce big-rig road rage and existential dread by 50%.
Previously on Playing Favorites:
Melanie Makaiwi's Top 5 Favorite Black Sabbath Songs
Peter Gill's Top 5 Favorite Power Pop Albums
Alison Braun's Top 5 Favorite Punk Bands To Photograph