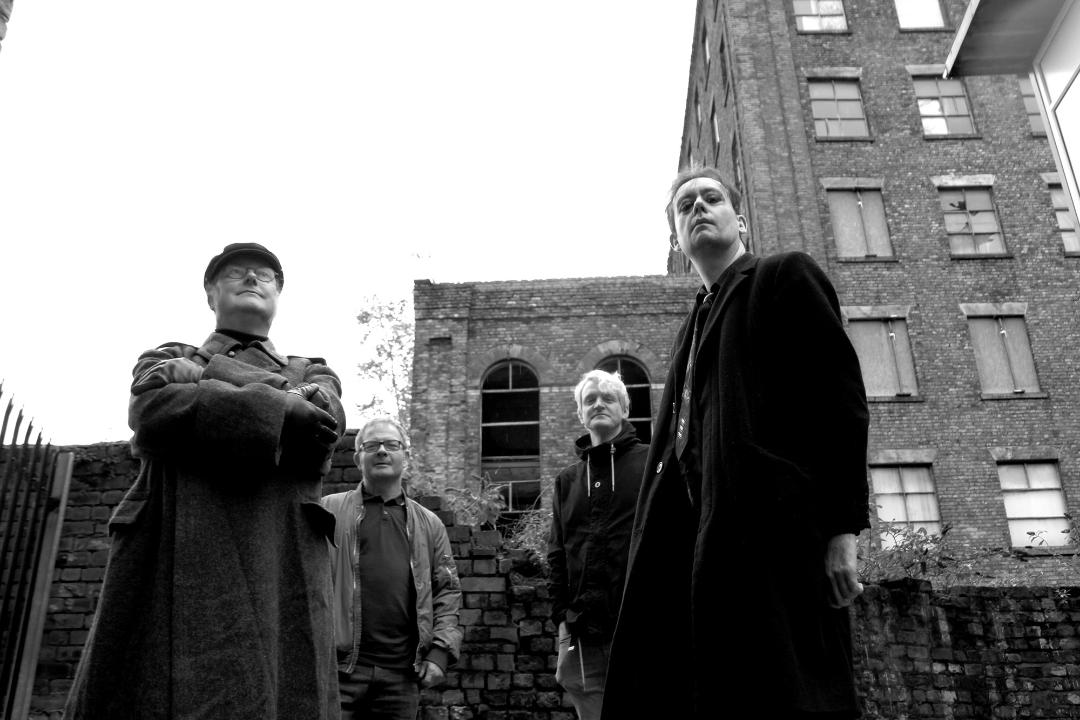 15 October 2022
Manchester -based art-rock quartet Weimar recently released their debut album Dancing On a Volcano via German Shepherd Records. Embracing a blend of post-punk, no-wave, cabaret, psychedelia, alternative folk and gothic rock, these 12 tracks (three years in the making) take the listener on an unpredictable excursion through the socio-political and personal challenges of our modern age. The album can be obtained directly from the label/artist at https://weimarband.bandcamp.com/music
Formed in 2016, Weimar is made up of vocalist-guitarist-songwriter Aidan Cross (The Bacillus, Black Light Mutants), bassist John Armstrong (The Speed Of Sound), drummer Anthony 'Eddy' Edwards (The Deceased) and guitarist Stephen Sarsen (Frank Is Dead, Playground). Let's learn more from the frontman himself.
The Girls of L.A. is already one of my favorite singles of the year; as a teaser for the album to come, what can we expect…more of the same or lots of surprises?
Thanks, I'm happy you enjoyed the single. The album will be very different from the single, which is why we kept the single separate from the album. It would not have worked in the context of the album. The album is much more baroque in feel, but there's a wide diversity of styles on there, and it should surprise a lot of listeners – it takes the listener on an unpredictable journey through the world of Weimar.
Art-rock, post-punk, angular indie, accessible garage rock…how would you describe your sound?
All of the above factor into our sound in some way. We usually describe ourselves as Art Rock as it works as a kind of umbrella term to encompass the diversity of our sound… but there's a lot in there, bits of avant-garde jazz, bits of cabaret, bits of prog rock, Gothic Rock, you name it… there's no single category that neatly sums up our sound, it's just the sound of Weimar.
Can you tell me a bit about how the band came together and the various musical paths the members took to get here?
The seeds of Weimar were sown in an experimental project I was part of called The Bus Pass, a psychedelic improvisational trio with Johann Kloos (Weimar's original guitarist) and local drum legend Brian Benson. The Bus Pass played a few live shows around 2013-14, after the dissolution of my previous band, The Bacillus. We were a fully improvisational act that played spontaneous jams, and after a while, we felt we wanted to form some more concrete songs from the jams, so Johann and I began developing new songs together.
In the meantime, I met John, our bassist, at a Manchester Music Industry Networking Event where he was representing his band, The Speed of Sound. We immediately got on well, and he offered his services on bass, so he came on board, and the songs that would become fixtures in Weimar's repertoire slowly began to take shape. Then Eddy, our drummer, came on board after answering an online ad for a drummer, and together we spent the best part of a year practicing together and forming our sound before venturing onto the live circuit. Stephen, our second guitarist, and I go back some years as he previously played bass in The Bacillus, my first band, and he came on board with Weimar when we needed a second guitarist on our album.
The ability to share stages with both Inspiral Carpets' Tom Hingley and goth legends Skeletal Family says a lot about the band. Do you think it means that you can fit in anywhere or that you are too eclectic to belong to any one scene?
I think it means both. We definitely don't aspire to be part of any 'scene', and our influences are from all over the place, so our sound is eclectic enough that we could fit well alongside a pretty diverse range of artists.
Is your tribute to the "girls" one that comes from first-hand experience?
Partly, on my last visit to LA, I got chatting with a few ladies who worked bottle-service shifts in the bars. Sometime later I read an article about the secret lives of the bottle-service girls and how they work to use the tips from punters to finance their wider career aspirations, so "The Girls Of LA" was written as an ode to them and a celebration of their business prestige.
Especially given the absence of a live scene for the duration of the lockdown waves, many bands have found it challenging to promote themselves and their music, but I see you've got a team to support you at this time. How is everything going in the lead-up to your album release?
It's not an easy time for the live performance circuit in general, as the pandemic is far from over, and we never have any idea what could be right around the corner, so live music events are risky right now and to be on the safe side, we've chosen to abstain from live performance for the time being. So it was very important to us that we got together a good PR team to support us with the release of our new material and get it heard worldwide. Shauna from Shameless Promotion PR has been absolutely amazing to work with; she has incredible reach within the music industry, she gives it her all, and has put in so much extra time to get the music out there; we owe a great deal to her hard work.
Likewise, German Shepherd Records have been a tremendous source of support since we started out, they have backed us and believed in us with their love for avant-garde music, and we're very thankful for all they've done in supporting us and pushing our music out there.
How important do you think it is that bands have something to say, or is it good enough just to entertain?
I've always liked songs to carry a deep meaning; the history of Rock and Pop Music is full of simple, catchy tunes that have surprisingly deep and thought-provoking lyrics when you really pay attention. That said, there's absolutely nothing wrong with bands and artists who just want to entertain, and as long as their music has a positive and enriching effect on their fans, that's all that's really necessary.
Where next for Weimar, both in support of the album and in the longer term?
As we won't be playing live for the foreseeable future, we'll be releasing a series of promo videos to accompany the album and treating it as a sort of Gesamtkunstwerk, enabling people to enjoy it in visual form as well as audio. There could well be a few more surprises on that front as well. Once the main PR has been done for this album, we'll be going back into the studio to lay the groundwork for a second album. I wrote a lot of new material during the Covid-19 lockdowns and have surprised even myself with the new directions a lot of it is going in – so it'll be an exciting process to begin work on the second album.