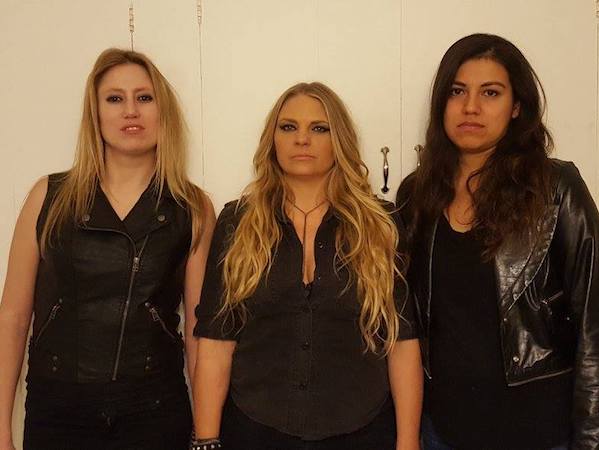 27 June 2019
Photo: Motorbabe
Pop quiz: What do you get when you combine loud rock and roll with copious amounts of booze, black leather and gambling?
If you answered "Motörhead," you are correct. If you answered "Psycho Las Vegas" … well, you are also correct.
Sadly, the band and music festival will never cross paths, with Motörhead leader and beloved heavy-rock icon Lemmy having passed away in 2015 at age 70. Regardless, the festival will celebrate the "Ace of Spades" auteur and his speed-metal trio when Psycho hits the Mandalay Bay Resort and Casino from August 16 to 18.
To the delight of Motörhead fans — and helping balance the gender scale at the male-dominated festival — the tribute band Motorbäbe will play August 15 at the lounge after the pre-party pool show. (The pre-party bill also includes other bands recently featured in the Big Takeover's Psycho preview series: Danava, ASG, Howling Giant and Yakuza.)
In anticipation of "America's Rock 'N' Roll Bacchanal," we recently chatted with all three members of Motorbäbe — guitarist Phillipa, vocalist/bassist Rachel and drummer Janna — about what made Lemmy great, whether go-go dancers will join them onstage and what other bands they'll be worshipping at the festival.
Why are you particularly excited to play Psycho? What makes the festival special, both from a performance perspective and as a personal experience?
RACHEL: Not only are some of my heroes are on the bill, but also some of my friends. Heavy-metal heaven. I can't imagine a better experience.
PHIL: It's a heavy-metal experience. No wimps! As a performer, hopefully I will get to meet some of the other bands I admire.

JANNA: What Phil said!
Have you played Psycho Fest before? If not, what are your expectations?
PHIL: Never played it. Lots of rad heavy stuff and hopefully pool hangs.

RACHEL: Haven't played it before. My expectations are to put on a killer show and to have the fucking time of my life.

JANNA: Just want to put on an amazing show and have a great time!
Do you have any surprises planned for your Psycho set, whether they be songs you wouldn't normally play, added stage elements, etc.?
RACHEL: We would very much like to add some hot, Lemmy-approved go-go dancers for a couple of songs. In particular, for "I'm So Bad (Baby I Don't Care)" and also "Killed by Death." Something similar to his videos for those songs. But we're still working out the details. And yes, we will be adding a few new Motörhead favorites to our set just for the occasion.
What did you admire most about Lemmy?

PHIL: He was real and kind and was all about the music.

RACHEL: He was, is and always will be, the epitome of rock 'n' roll. All hail!!!
Did you ever see Motörhead perform with Lemmy and/or meet him?

PHIL: I saw Motörhead perform in Sydney, Australia, (where I'm from) in 2010, I believe.
RACHEL: No, but he has visited me in a couple dreams to give me some sweet-tits advice.
JANNA: No.
Do you prefer playing in the heat or in the cold? Indoors or outdoors? What are the advantages and disadvantages of playing at the time and on the stage where you're scheduled to perform?
JANNA: Definitely in the heat versus the cold … as long as I have water handy! I like playing both indoors and outdoors.
Tell me something that happened to you in Vegas that was supposed to stay in Vegas.
PHIL: What goes on in Vegas stays in Vegas …
RACHEL: No gracias.

JANNA: I'll pass …
What other bands are you most excited to see perform at Psycho?

PHIL: Power Trip!!!

RACHEL: Clutch, High on Fire, the Crazy World of Arthur Brown, Graveyard, Goatwhore!!!
What friends of yours are also playing at the festival? Who are you planning or hoping to hang with in your downtime?
PHIL: Devil Master! They're from Philly. Hoping to kick it with them on Friday.
RACHEL: Electric Citizen. They are rad!

JANNA: Hoping to meet as many of the bands as possible!
What can fans and newcomers expect from your performance(s) at the festival?
PHIL: Performing Motörhead songs as true to style as possible.

JANNA: What Phil said. And also, our energy throughout the whole show.
Are you going to have a friendly rivalry at Psycho with Led Zeppelin 2, the Led Zeppelin cover band?
RACHEL: Haha, do you want us to?
For previous installments of the Big Takeover's Psycho Las Vegas preview series, check out our interviews with:
• Colin H. Van Eeckhout, vocalist of Belgian post-metal purveyors Amenra
• Jason Shi and Scott Key, singer/guitarist and drummer, respectively, for melodic hard-rock masters ASG
• Greg Meleney, vocalist/guitarist for Portland psych-rock mainstays Danava
• George Clarke, vocalist for shoegaze/black-metal powerhouses Deafheaven
• Victor Vicart of Scottish progressive-metal quintet Dvne
• Zack Simmons, drummer of blackened death-metal demigods Goatwhore
• Emil Amos, drummer of experimental post-rock band Grails
• Julien Chanut, guitarist of French sludge-doom band Hangman's Chair
• Tony Campos, guitarist and founder of thrash revivalists Hell Fire
• Nashville cosmic-riff connoisseurs Howling Giant
• Stuart Braithwaite, founding guitarist/vocalist of beloved post-rock legends Mogwai
• Thomas Eriksen, centrifugal force behind true Norwegian black-metallers Mork
• Tobias Grave, frontman of shimmering post-rock trio Soft Kill
• Derrick Vella, guitarist of death-metal arsonists Tomb Mold
• Niklas Källgren, guitarist of Swedish fuzz fanatics Truckfighters
• Los Angeles Satanic doo-wop duo Twin Temple
• Bruce Lamont, frontman of experimental heavy-jazz project Yakuza and Led Zeppelin tribute band Led Zeppelin 2
• Aaron Rieseberg, bassist of Oregon doom-metal dealers Yob
Also, don't miss our special feature in which Deafheaven's Clarke and Mogwai's Braithwaite discuss their mutual affection for each other's bands, whether Deafheaven should play their Mogwai cover at Psycho Las Vegas — and the possibility of a collaboration between the two projects.