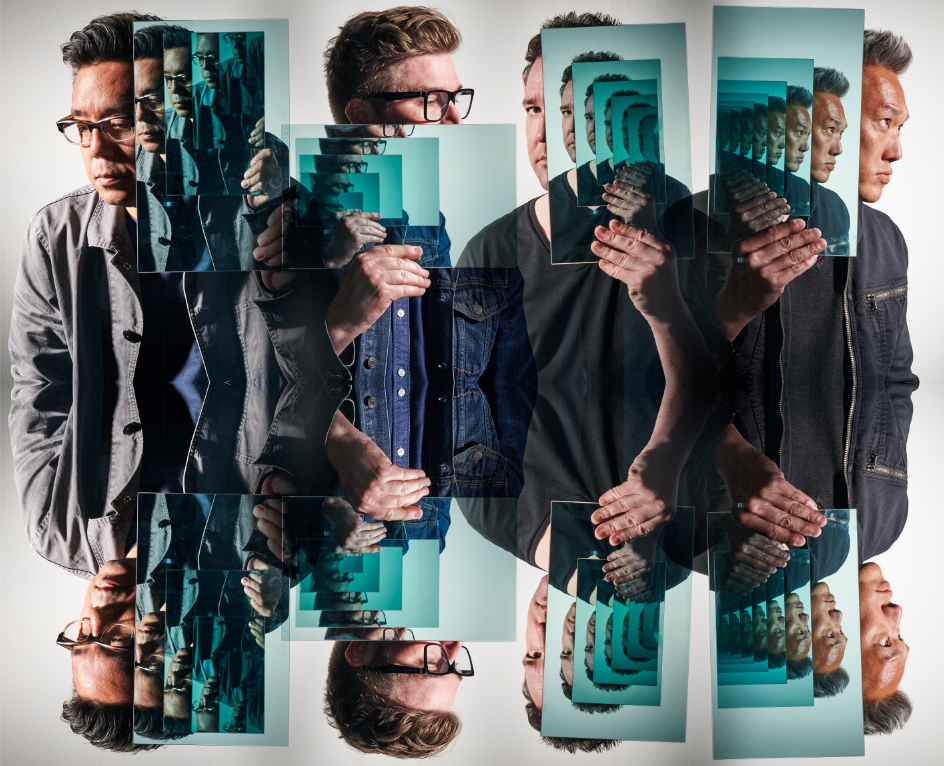 27 December 2019
Image courtesy of Saint Marie Records
The Meeting Places was founded in September 2001 in Los Angeles, California by four guitarists: Scott McDonald, Chase Harris, Dean Yoshihara, and Arthur Chan. McDonald and Chan had been friends since high school and met Harris at a Super Bowl party earlier that year at which they realized each was going to see a Mojave 3 show a couple of weeks later. Having a shared interest in music, the three guitarists later decided to rehearse and after a few practices they recruited Yoshihara, a college friend of Harris' at the University of Arizona, to play drums. Chan then switched to bass while singer and lyricist Harris remained on rhythm guitar. Original compositions started to develop immediately — "Wide Awake," "Where You Go," and "See Through You" were the first songs written by the group.
While McDonald became the architect of the quartet's signature reverberating washes, each member contributed to the songwriting process on their debut album for Words On Music (Dean and Arthur picking up the guitar again for passages in "Take to the Sun" and "On Our Own" respectively). In Autumn 2002 the band recorded their debut album at The Ship with Aaron Espinoza, the famed musician (Earlimart) and producer (The New Folk Implosion, Elliott Smith, The Breeders).
Find Yourself Along the Way (Words On Music, 2003) is a stream of ten peerless compositions that inconspicuously tours the best of the early 1990s dream pop scene. Due in large part to Harris' deliciously nonchalant voice, the band's songwriting progresses from that scene with momentum towards a sparkling style of noise-pop that is equally memorable and provocative. The album appeared on the Top Albums of 2003 lists of several publications around the world, with critics noting the record's crafty juxtaposition of ambience and tunefulness.
From late 2005 to early 2006 the quartet recorded their sophomore album with Jim Fairchild (Grandaddy, Earlimart) at The Ship. Numbered Days contains ten luminous songs that combine infectious, melodic indie-pop with the tremulous soundscapes the band first explored on their 2003 debut. The album was released worldwide by Words On Music in October 2006.
In late 2006, after a sold out 1-off show in Taipei, Taiwan, McDonald left the band on indefinite hiatus, until April 2008, when the band reformed. In Autumn 2008, the band added a fifth member to the group — keyboardist and vocalist Laura Llamas (Spirit Radio); in Spring 2009 the band returned to its original quartet lineup. The Meeting Places are currently writing new songs and playing live shows once again.
The Meeting Places has performed live extensively in California, including the 2003 San Francisco Noise-Pop Festival. They also played at South By Southwest in Austin, Texas in both 2003 and 2005. The quartet has performed with luminaries such as American Analog Set, Film School, The Autumns, Timonium, Chapterhouse, Ulrich Schnauss, Experimental Aircraft, Tennis System, Blushing, and Ringo Deathstarr.
In 2017, TMP began to play select shows across Los Angeles while working on brand new material which comprises the quartet's first new release in over a decade – the You and I EP was released digitally and on CD in the Spring of 2019 through Saint Marie Records. Huge thanks to Scott, Dean, Arthur and Chase for the interview!
James Broscheid: Welcome back – the new EP sounds fantastic! Has it really been since 2006's Numbered Days since TMP has released anything? Why such a long time away?
Dean Yoshihara: We definitely take our time when releasing new music! We actually recorded a few songs back maybe a few years after Numbered Days. Millions, which we still play live, will probably come out officially soon.
Scott McDonald: Family, marriage, kids, careers, getting older… all of these things consume so much time and energy. Music just didn't take priority as it once did, plus I took a long hiatus from the band. As far as making new music goes I'm probably the most motivated that I've ever been in the past 15 years! 
JB: One of my favorite memories was seeing TMP playing The Troubadour in West Hollywood with Ulrich Schnauss and Chapterhouse. How did the band land that support slot? Are there any plans to tour on the heels of the EP's release?
DY: Friends of ours that do the shoegaze club Violaine, were dj-ing the show and recommended us and also Ulrich Schnauss was a fan of ours and had played our stuff when he dj'ed.
SM: I believe it was Club AC30 who contacted us. It was an easy decision as we're big fans of both Chapterhouse and Ulrich. Still super bummed I really didn't get a chance to party with the bands as I would have liked to. 
Chase Harris: We'll definitely play some shows to support the release, but anything more than a San Diego to San Francisco run is very unlikely with our family and work obligations. We love playing live and connecting with people who are into our music!
JB: Was the band's approach towards writing/recording the new EP any different than your first two records? Any plans to record another full-length in the near future?
DY: We tend to write the same way most of the time. We get together and jam out some ideas and record them. After listening to them we pick out parts we like and expand the ideas. We probably have 50 or more ideas floating around.
SM: Nope, pretty much the same. We all come to the table with ideas about a chord progression or riff and it churns over the weeks into a full-fledged song. We keep it simple. Recording another full-length or any format in general is something we'd love to do.
JB: Scott has links to other bands such as (the great!) Alison's Halo and Amnesia. Are/have there been other projects TMP members have been working on/with over the years? 
DY: Chase and I met at the University of Arizona after he put out an ad looking for bandmates who were into Ride, Spritualized and Verve. Nobody was listening to that in '91-'92 in Tucson. We met up and got a shoegaze band going called Click. The two of us were the guitar players and we had friends play drums and bass with a girl singer.
CH: I met Dean after running the ad in The U of A Wildcat and despite putting in the ad that I was a beginning guitarist, I think Dean was a little taken back that I only knew one or two chords. We agreed to maybe meet up again in the future. I ran into Dean (I'm pretty sure I mistakenly called him Troy!), at a Verve show at Whisky a Go Go and told him I learned all the basic chords and that's when we started playing music together after we got back to Arizona.
SM: For me, the only thing looming is a possible reissue of my first band's (Closedown) debut album with live demos/outtakes and original demo cassette tracks. There's been interest but the circumstances haven't been right, yet.
JB: Has working in Los Angeles changed during your time as a band? Speaking to Smokescreens last year the guys had a pretty mixed reaction to L.A.
DY: Not much of a scene to speak of, at least for us. The Violaine guys have their scene and we tend to play to our crowd when we do shows with them. It's always fun. We play so infrequently we are kind of on our own island!
SM: It's changed dramatically but there are now loads of smaller scenes with more niche genres that have their own places and venues that support them. This could also be the fact that genres I grew up worshipping, such as shoegaze, goth, dark wave, are all very "in" now. Overall it's just better, reminds me of clubs I used to go to as a teenager (Jabberjaw, Club Lingerie, Hong Kong Cafe) to see a slew of different, weird, art rock/pop bands all supporting each other.
JB: The backstory of the band indicates Scott and Arthur met Chase at a Super Bowl party before rehearsing as a trio. Dean came into the fold from his U of A (my new hometown!), ties to Chase correct? Was the chemistry immediately apparent between the four of you? How did you settle on the name, The Meeting Places? Do you remember who played in the Super Bowl and what the score was?
Arthur Chan: Was it a Super Bowl Party? I think it was in the summer during a local event called the Surf Fest. Interestingly, Chase was just starting to date his now wife who I knew and she said, "I think my boyfriend likes the same type of music you do?" I immediately thought that was impossible figuring that Scott and I were the only people in the South Bay who had ever heard of shoegaze. The next thing we know, Chase and I talk all night about the scene and were surprised that we'd all been to the same shows over the years. We then thought it was a good idea to make some music!
CH: It was definitely summer as I met my wife in July of 2000 and I met Arthur within a month or less. Sorry to crush the Super Bowl story! The musical chemistry was pretty immediate. I had a couple of songs ("Where You Go" and "Wide Awake"), already written which gave us a jumping off point and before we knew it, we had "Freeze Our Stares" written as a band.
The name was a reaction to our first show and needing a name. We were throwing out ideas about the area in Hermosa Beach where we were rehearsing (in my garage), and something to the effect of "You know, the meeting place for us", was brought up. That quickly became The Meeting Places, a name none of us loved and thought would be fine for our first show which ended up sticking.
SM: Arthur and I grew up as athletes so we are very much into sports. I'd like to proudly state that TMP are official supporters of the Los Angeles Lakers and we WILL sort out this front office/coaching bullshit! Not sure how or why we agreed on the band name but it definitely involved too much alcohol at a Belle & Sebastian gig, (laughs). Don't remember who won the Super Bowl!
JB: L.A. Lakers huh? What needs to change in that organization to make them competitive again? Is LeBron still committed or is he going ease into retirement with constant injuries? I'm originally from Cleveland so to see what one athlete can do to a city (good/bad) is pretty fascinating!
DY: Ugh, they are a complete mess. Lebron is great no doubt, but you make a commitment like that it forces you to make decisions you wouldn't normally make. That and the front office has no basketball knowledge and letting friends and hanger-ons helping make the important decisions for a historic franchise. Sad.
JB: Sounds like the current White House! Did the band work with either producer in Aaron Espinoza or Jim Fairchild again for this EP or were there other contributors?
SM: No. We just decided it would be much easier to do everything ourselves and our good friend Micah Panzich (Paperplanes), has a great little studio in Long Beach. 
CH: We would have loved to record with Aaron again (I'm pretty sure Jim is pretty busy with Modest Mouse), but Aaron's studio is kind of a haul for all of us and Micah's Studio, Fat Cave, is really close to where we practice now at Dean's photography studio.
JB I understand the four of you were guitarists when the band formed. How was it decided who would play bass and drums?
DY: I just happened to own a drum set from trying to play with a friend's little indie pop band. 
SM: Well, it's pretty simple. Dean is the only one who can play drums. Chase is the only one who can sing. I came to the original rehearsals with a very particular guitar sound that I wanted to use and I did not want to play bass. We really should all be chipping in and buying Arthur a gold watch or something for handling the bass.
AC: I'm the tallest so I guess that meant I had to play bass to stick with stereotypes!
CH: I'm the worst at guitar out of the four of us. I literally know zero music theory and have no idea what chord I'm playing most of the time. I'll walk around (asking), "I'm playing this like this?" or ask someone to show me what they're playing. I still can't play and sing if I am playing individual notes unless it's out of a chord formation, so playing bass and singing would have been out of the question!
JB: The band's sound has been linked to everything from Slowdive to Spiritualized. Although complimentary, do such comparisons ultimately matter? What artists or bands would you cite as major influences on your work? 
DY: Well we definitely have a sound that is directly influenced by the big three (MBV, Ride, Slowdive). We all listen to very different stuff from each other that effects our music but we all understand the main starting points.
SM: They matter more than ever because streaming services "recommend" us to people in other countries or states that have no idea that we exist, and then those conversations happen. People who are into Slowdive or Spiritualized can tell their friends or write in their social media posts about us. All about being a part of the conversation. Influences: MBV, Medicine, Ride, Slowdive, Swirlies, Siouxsie & The Banshees, Devo, Depeche Mode, The Smiths …
AC:  Comparisons don't matter but it's great to be referenced alongside those you admire. I feel like what we do is a little more raw and live and from that I'd hope we've created our own sound.  Maybe one day a band will be told they sound like us!
CH: I'll throw a couple more in the ring; The Jesus and Mary Chain, Love and Rockets, Suede, Pavement, Guided By Voices and The Stone Roses. These bands' releases were all on heavy rotation for me throughout the time I was attempting to write songs.
JB: How has recording/releasing music changed for TMP from a then vs. now perspective? Is it difficult balancing TMP with work/life commitments? 
DY: Probably the biggest difference since we started is the family/work dynamic. We all have kids and jobs. It's harder to get together and definitely harder to go on the road to play. 
SM: Absolutely. It's more difficult to balance work/life now that we all have kids but it's also WAY easier to record and control how we record and release our music because of all the digital tools and social media that's at our fingertips.
JB: How do you stayed motivated to keep writing/recording? Were there ever tough or trying times that kept you away or gave you second thoughts?
DY: We take breaks which helps us recharge and get inspiration. We have nobody giving us deadlines which makes it nice! We have no pressure but, (it's) bad in that we take our time.
SM: Having good ideas or hearing good ideas from the band is motivating, and also getting great feedback from fans helps reinforce what you instinctively want to do. There was definitely a period of time after "Numbered Days" where it was like, "Meh, why did we record some of these songs?" But with this new EP, we've essentially hit the reset button and we're all very proud and excited about any conversation that exists around out latest work and what we're doing now.
AC:  There's so much great music being produced that it's hard not to be motivated by it all.  We're constantly thinking of new ideas and hopefully we can get them down for future releases.
JB: Speaking of new material, a track like "Stay the Same" really gives the EP an up tempo shot in the arm – the ending is riveting! Thinking through past releases, I cannot think of an equivalent to this track. Does it represent a possible stylistic change? Almost post-punk in a way vocally and certainly one of the band's best!
DY: We have some songs on Numbered Days that are sort of the same style as Stay the Same. Kind of a more driving, less floaty style song. We just try and change it up a little bit.
CH: Yeah, I'm stoked how that song came out. I grew up in the Phoenix area (Scottsdale/Paradise Valley), and was into the local punk scene 1982-1985; riding my bike to numerous all-ages shows. I still have some of the 11-year old me that wants to play faster songs!
SM: Thanks, we think so too. We mess around with up-tempo songs and shifts but that one just stuck. Love that ending, it's the closest we'll ever get to playing in Stereolab!
JB: Scott, you mentioned being more motivated now to create new music. How did you come to that realization and what is the motivation now vs. previous years? As a TMP fan, it is certainly encouraging to hear!
SM: With this new release we can now point to it as the latest reference for our band/sound. So it's exciting to be able to have conversations around recording and what we'll do next because we've created something that new or old fans can get into and talk about. We've essentially hit the reset button.
JB: Dean, I am curious to know what your recollections are of the town/scene when you were a student at U of A? As a current resident of Tucson, it reminds me of a mini- Austin as far as music and art. I remember when I first moved to Phoenix in the early 2000s and spending more time in Tucson seeing live bands!
DY: Yes! Funny, the first time we played SXSW I said to everyone that it kind of reminded me of a bigger Tucson.
I absolutely loved the music scene when we lived there. Besides for seeing so many amazing shows, (Stereolab with Unrest, Low and Elliott Smith in a coffee house, Beat Happening in the student union & tons more!). Just about every party had bands playing and almost every person we knew were in a band. Everyone really supported each other even if the music was different. The scene was very garage and lo fi indie rock at the time and we were this random shoegaze band!
JB: Chase, would also love to hear more about your experiences with the '82-'85 punk scene in Phoenix. Who were some of the bands you saw back then and how was punk received in the desert?
CH: Phoenix had a solid scene in the early to mid '80's and was a tour stop for most bands. There were quite a few all age venues and there were a decent number of local bands for support: JFA, Sun City Girls, Mighty Sphincter, The Zany Guys and Junior Achievement (who had to change their name to The Harvest). I would tell my mom that I was going to ride my BMX at the local YMCA that had night riding and would end up going to shows in pretty sketchy areas/venues through a combination of my bike and the city buses. The shows were usually shut down by 9:00 for either being over capacity or whatever the cops could trump up charges on.
I saw most of the Orange County bands that came through: TSOL, The Vandals, The Adolescents, Agent Orange and Social Distortion. The South Bay bands such as The Circle Jerks, Descendents and Black Flag came through pretty regularly. San Francisco's Dead Kennedys and Flipper always seemed to be playing there as well. I was able to see a few bands from England such as GBH, UK Subs and Discharge. I missed seeing The Misfits but, was able to see Samhain. The Misfits always seemed to come through on the weekends I was at my dad's. He was not a fan of the scene nor my appearance back in the day with random hair color, black nail polish and eyeliner. It was a gritty scene and pretty gnarly looking back on it for being 11-14 years old. My daughter is 12 and I can't imagine her seeing the things I saw at her age: overdoses, crazy fights (skinheads were always starting shit), police brutality, etc.
My daughter really liked Black Flag when she was little and they were playing a secret show at The Moose Lodge in Redondo where they played their first show in 1979. The Moose Lodge (Arthur and I were members for a while), is pretty close to my house, so my daughter and I parked in the back with the windows down listening in. It was cool to hear Keith Morris singing most of the songs (Dez Cadena sang a few), since I'd only seen/heard the Henry Rollins*-era band. This was 2013 and my daughter was six but, it was pretty cute watching her sing along to "Rise Above" which was the second to last song. *Stephen Egerton (Descendents) did a pretty good job of emulating Greg Ginn's guitar parts.
JB: I am really pissed about Pledge Music screwing Saint Marie Records over on their For Against campaign, (and Swervedriver while we're at it!). How has working with labels changed over the years? Are they easier/harder to work with now?
CH: I don't know the details of Saint Marie's dealings with Pledge Music, but I'm pretty sure they were screwed out of a decent sum which sucks. We've only had limited label experience and initially it wasn't too positive as we were shelved by the first label we signed to (Words On Music). We luckily found a better home for our first two albums. It's still early-days with Saint Marie and I hope we'll reach the vinyl threshold soon.