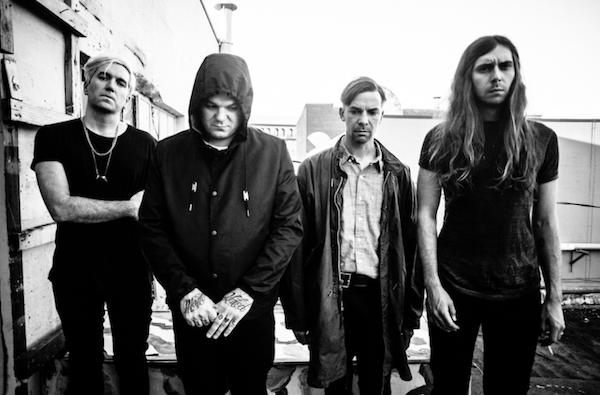 22 May 2019
Photo by Sam Gehrke
Music festivals are a dime a dozen in the U.S. these days, but for fans of quality heavy tunes, one stands tall and mighty above the rest: Psycho Las Vegas. Now in its fourth year in Sin City, the festival huddles together representatives of every metal genre, indie-rock icons, post-rock phenoms, punk-rock legends and even some electronic artists for the unholiest of annual bacchanals.
In the lead-up to the festival — which takes place at the Mandalay Bay Resort and Casino from August 16 to 18, with an all-day pool-party kickoff happening August 15 — we are speaking with a wide range of participants.
Our latest conversation is with Soft Kill, a self-described "sad rock" trio based in Portland. Their 2018 album, Savior, was an ensconcing foray into the realms of shimmering post-rock previously visited by the Gun Club and Stone Roses. Formed in 2010 and now signed to Profound Lore, Soft Kill may not resort to guitar tapping or blast beats, but they fit comfortably on a heavy Psycho lineup that also accommodates Mogwai, Beach House and the Black Angels.
We recently spoke with Soft Kill frontman Tobias Grave about the festival's allure, which song lyric he's most excited to hear Megadeth frontman Dave Mustaine sing, and why he's afraid to chill with fellow Psychos and tour mates Devil Master.
Why are you particularly excited to play Psycho? What makes the festival special — both from a performance perspective and as a personal experience?
TOBIAS GRAVE: I love shitty vacation destination vibes like cruises, water parks and Las Vegas. I'd be lying if I said that wasn't a small part of it, but it seems like [the Psycho organizers] are pushing the boundaries of what their festival is known for, and it's always cool to be part of something like that. I can't think of many opportunities one can have to see Carcass and Beach House. Sandwiched in the middle of that is where I think we sit, so it feels exciting.
If you've played the festival before, what memories do you have of it? If you haven't played it before, what are your expectations?
GRAVE: Nope, never been. I don't think I have any expectations besides getting a sunburn in a wave pool. I really have no idea what to expect.
Do you have any surprises planned for your Psycho set, whether they be songs you wouldn't normally play, added stage elements, etc.?
GRAVE: Gonna be dropping a couple new songs no one will have heard before, hinting at some things to come that we can't announce at this moment. We've been touring with a specific aesthetic for a couple years now and have planned to switch it up this fall, so that'll likely be the first time that happens too.
Do you prefer playing in the heat or in the cold? Indoors or outdoors? What are the advantages and disadvantages of playing at the time and on the stage where you're scheduled to perform?
GRAVE: Hahaha. I guess I prefer a moderate temperature. I really dislike playing outside, it doesn't sound good most of the time, but there's exceptions to that. We haven't been given a time slot or venue yet so I have no idea what we're up against … every festival we've played has been a bit of a challenge adapting to a setting outside the norm for us.
Tell me something that happened to you in Vegas that was supposed to stay in Vegas.
GRAVE: I got really stoned one year and watched Flogging Molly from a balcony 20 floors above the street they were playing on. Not my proudest moment.
What other bands are you most excited to see perform at Psycho?
GRAVE: The aforementioned Beach House and Carcass are both big ones. Nothing is gonna be dope. It would be funny to see Dave Mustaine sing that one line "acting like a robot" [from "Symphony of Destruction"] in that weird voice of his. Devil Master … there's so many bands.
What friends of yours are also playing at the festival? Who are you planning or hoping to hang with in your downtime?
GRAVE: Nothing and Devil Master are the only bands we have played with or will have played with by then. I'm actually scared to hang out with either of them in Las Vegas. I'm relatively tame based off using up eight of my nine lives already.
What can fans and newcomers expect from your performance(s) at the festival?
GRAVE: Loud, depressing alternative pop songs and fog.
For previous installments of our Psycho Las Vegas preview series, check out our recent interview with drummer Zack Simmons of blackened death-metal demigods Goatwhore.