25 August 2019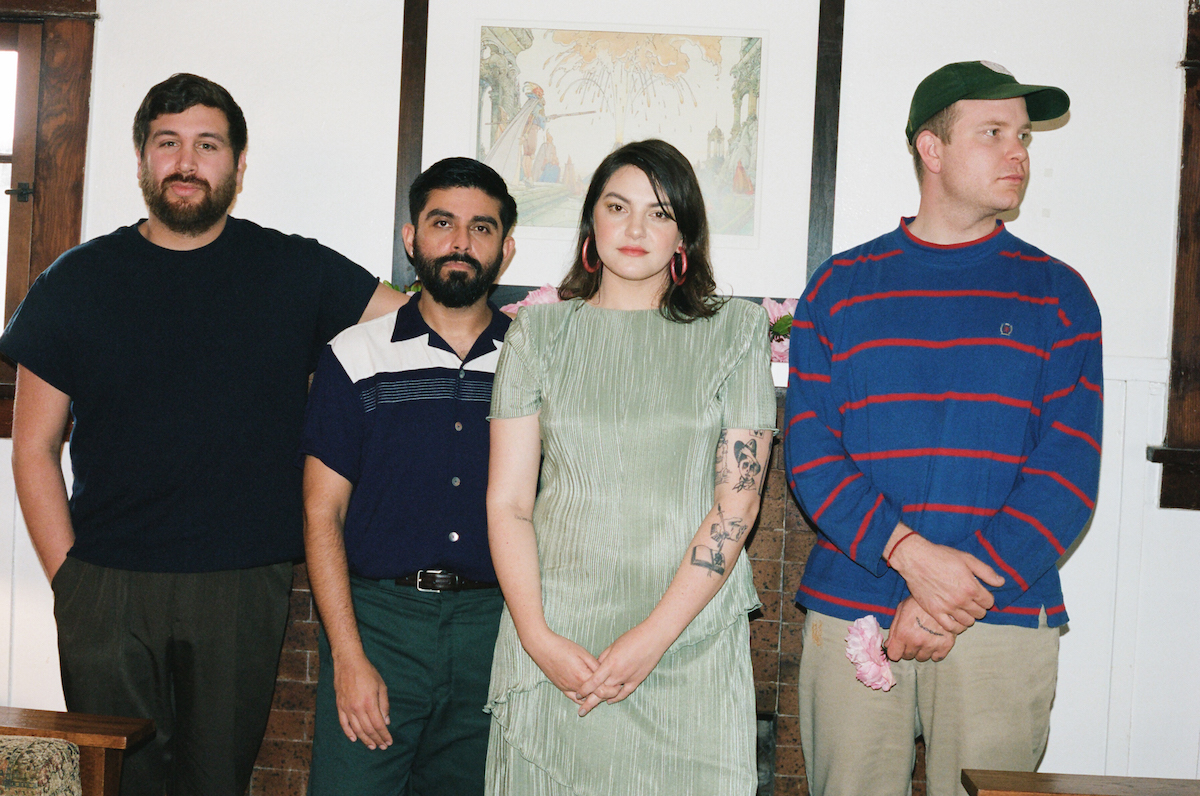 Photo by Dan Monick
Lunch Lady are a quartet from Los Angeles that intertwine the chorus-drenched chords of early '50s minimalism of surf/twang guitarists with themes of nostalgia and reconciliation. Comprised of Rachel Birke (vocals), Juan Velasquez (guitar), Victor Herrera (bass) and Robert Wolfe (drums), Lunch Lady started out in 2017 when Velasquez asked Birke if she'd like to collaborate on a new music project. Their respective other groups Abe Vigoda and Heller Keller having co-existed in LA's DIY orbit throughout the latter 2000s.
Lunch Lady combines the grit of punk while embracing country ballad territory while basked in sentiment, but it's the melancholy of guile that defines their song craft. Birke and Velasquez enlisted friends Herrera and Wolfe for their rhythm section and swiftly recorded a demo prior to honing their sound in live setting. The progress made from demo tape to full-length debut charts a growth into space exploration with crisper guitar notes and sharper rhythms framing, miniaturist character-studies. Birke's vocals are unhurried, sometimes hushed but always confident, her voice consistently pressing her characters' stories forward into the soundscapes produced by the band.
During the summer of 2018, Lunch Lady had assembled the tracks for their debut album, which they took into the studio towards the end of the year. Lunch Lady's debut album, 'Angel' was recorded at Gauchos Electronics, a storied studio in the history of Los Angeles punk and a place where many of their peers had recorded previously including Gun Outfit, Feels, Ty Segall and No Age.
'Angel' is an album of troubled tales, buried hearts and wandering homeward. Throughout, Birke's narrative-heavy lyrics keep things themed and theatrical with a focus on nostalgia and constant vibrations of unease. Having just been released by Upset The Rhythm this month, Juan and Rachel take some time out to explore the record and band further. Special thanks to Christopher Tipton at Upset The Rhythm and to Juan Velasquez for the coordination.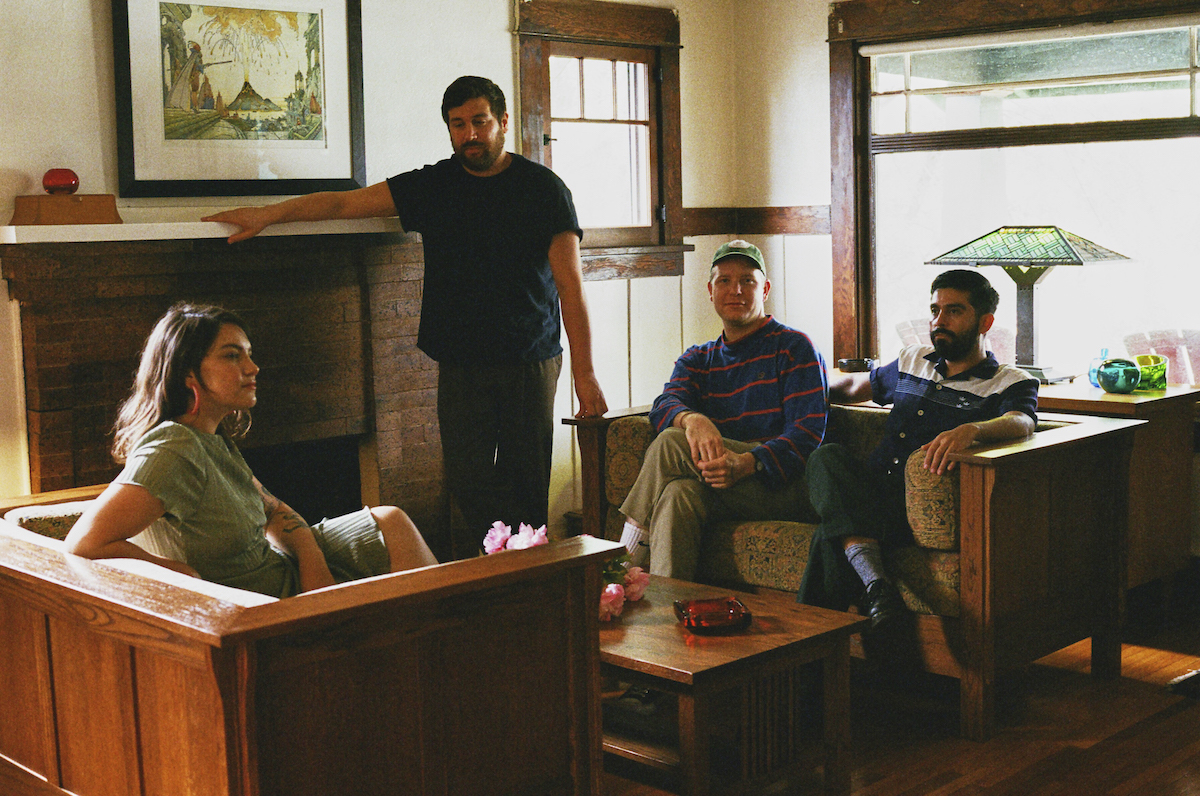 Photo by Dan Monick
James Broscheid: Congrats on the release of your debut LP! There's not much out there in cyberspace about the band. Could you share a little back story on how the band formed, its members? I remember seeing Abe Vigoda in a wonderful dive called Truck Space in Phoenix some 10-odd years ago!
Juan Velasquez: So Victor, Robert and myself have known each other for over 10 years. Robert I met through touring with Abe Vigoda and he sold merch for us and Talbot Tagora on some tours. I met Victor because I would see him at shows Abe Vigoda played and we became fast friends and were in Roses together. When that band dissolved (amicably by the way), we knew we still wanted to play music together and wanted to try something completely different and have a live drummer (Roses was a synth pop band.)
So we had talked to Robert about starting something up and we had a jam or two under the name Wild World. At the same time I hit up Rachel to see if she'd like to be in a band with me. I knew her through friends and I always thought she was really cool so what better way to get to hang out than be in a band together!I had seen her perform solo and with Heller Keller (where I got to see how intense she could be as a live performer!) It was pretty easy to be honest and it felt very organic. I think that being in a band with people you'd want to hang out with (because you will HAVE to hang out a lot!), is a good idea and makes everything way more fun!
JB: Juan, your guitar playing on this record is outstanding! Its subtleties and ability to combine with a superb rhythm section in Victor and Robert make this album full of surprises. There are some dark, post-punk elements but just enough Link Wray twang to keep it honest! Can you elaborate on the approach to writing/recording this record? Was it a collaborative effort between the four of you? I love the band's use of space too!
JV: Thanks! I really appreciate the compliment – for real. I think that this record and this band embodies my complete expression of how I want to play guitar. I'm really grateful for my bandmates who are patient with me since I think my approach to writing guitar lines is a little unconventional. Its complete trial and error for me and sometimes I just have a very abstract idea of what I want in my head and due to my restrictive knowledge and formal training it takes a bit to get there. I think that this record is really special to me because I was given total freedom to do whatever I wanted with my guitar playing (for better or for worse!). 
As far as the Link Wray comparison – I'm honored! I feel like Lunch Lady has been the most punk and classically rock&roll guitar I have ever played. My references I feel are more Billy Zoom, Clinic and Modest Mouse but who knows if that's even close to (what) it sounds like. It makes sense in my head!
That is not to say that it is not collaborative. Some of the songs are re-imaginings of songs previously written by Rachel. There was a lot of 'how do we "Lunch Lady" these songs?' It was really fun to have the freedom to adapt her songs into what they morphed into. 
Robert and Victor are the best! Sometimes I can get bossy when we are writing because I don't want to lose the image I have in my head for a song, they always understand what I mean and make it their own. I think we all have similar bass and drum idols; Eric Judy (of Modest Mouse) and Hannah Blilie (Shoplifting*/*The Gossip), respectively.
JB: I want to ask about Rachel's vocal style. For such a sometimes hushed vocal ("Snakes", "Preacher Man"), there is also a suspense or restrained power in her delivery, ("Sweet One", "Pardon Me Miss"). Are your vocals always a matter of refinement? I discovered a couple videos online that are more Americana/folk leaning. Is it important to keep a sense of versatility?
Rachel Birke: I think it's especially important to remain versatile when you really can't sing very well. And I don't just say that to appear humble. I've always been drawn to vocalists that emphasize style and theatrics and who maybe aren't classically trained or even capable singers.
So the story of the song and character I'm singing as is pretty much what guides my vocal decisions for each song. I want my voice to sound more melancholic when I sing songs like "Snakes" and "Preacher Man", and somewhat violent when I sing "Sweet One" and "Pardon Me Miss". So I really appreciate the restrained power comment!
JB: The video for "Deeper" is disturbing as hell but hilarious! Who came up with the video's concept and how much fun was that to shoot? Is the video format still a viable tool to promote the music? Has the multitude of internet platforms been a help or hinderance in getting word out about the band?
RB: That video was so fun to shoot! I have always been obsessed with horror movies and think that they must be so much fun to make. I got to live that out and it truly is really fun, messy, smelly and gross. 
I'm not sure what are viable tools to promote music anymore to be honest. I know that I personally love music videos as an art form and they are fun to make. It's amazing to use the band as an excuse to make/collaborate on visual art. I think we are still figuring out how to use social media to promote the band, it's a scary, brand new world out there!
JB: Upset the Rhythm is putting out some really great stuff this year, 'Angel' included! How did your relationship with that UK-based label come about? 
JV: I first met (co-founder/promoter) Chris (Tipton) back in the Abe Vigoda days! He had put out stuff by No Age and BARR and set up so many rad shows. UTR shows are the coolest and even before I got to go out to the UK and play one myself, I would check out bills online (like a total nerd!). Chris was always so sweet, nice and earnest and I did not forget that! When I was sending out demos to labels I was having tough luck and not really connecting with any label. Chris wrote me back so quickly and was excited (as excited as we are about the band!). It felt right immediately. It's been so easy going and productive and it's awesome that the label is based in the UK because hopefully that means we will go over there ASAP! 
JB: Can you discuss some of the record's concepts and how the cover art speaks to a listener before they put needle to groove? Troubled times and being buried back home ("Preacher Man" is brutal!), are some of the things I could pick up on lyrically! Pretty macabre subject matter, no?
RB: Angel is about nostalgia, particularly the painful, paradoxical, and morally ambivalent aspects of it. When I painted the cover art I wanted it to be something flashy from afar or at first, like "oh yeah, its a "retro" car on fire flying through the sky – cool." But then when you look closer I hope its a little unsettling. I hope the colors look a bit off, and that when you realize the car is falling and not flying, it makes you feel a little sad. My lyrical goals were similar; the songs on Angel are about your classic tropes of love and loss but, specifically loving and losing things that are fictional and that you never had.
JB: There are just comparisons out there to Girls At Our Best! amongst others describing the band's sound. Can you share some of the band's influences (music or not)? Was there anything in particular you were listening to or reading in the lead up to and recording of 'Angel'?
RB: Devo, Dolly Parton and Jean Beudrillard.
JB: I understand the record was recorded at Gauchos Electronics in LA and produced by Pascal Stevenson. How did the recording sessions go and what was it like to work with Pascal?
JV: Working with Pascal and Scott Cornish (he engineered the record), was a really great experience. Pascal has recorded all things Lunch Lady so he totally understands our sound and has great taste. We felt really comfortable working with Pascal as we've all known him for a pretty long time. He has great ideas on how to boost songs without overdoing it production-wise. Also it was relatively easy to get good takes on this session. 
Recording this album couldn't have been more DIY but, it was a pretty breezy experience. Pascal can do a lot with a little. I can't wait for our next album and fingers crossed we will have a larger budget and see where he can take us! The recording process and the finished product give all the songs their own personality and their own world, which we can then recreate live. I think it's the final process in fully realizing these songs. It helps us hear the dynamics in the songs and through production even create new dynamics that the songs didn't have before.
JB: I like to get your take on the local scene. What is it like being an LA-based band? Are any members of Lunch Lady part of other bands/projects still?
JV: I feel like I can't even comment in a useful way on what the local music scene is like because it is so sprawling, and made up of smaller communities that do intersect but are so diverse and sometimes isolated that most of them are unknown to us in Lunch Lady. I mean I guess it mirrors the landscape of LA itself; kind of isolated, kind of not.
That being said we all feel very enmeshed in our own little pocket of the scene and it's been a place of great comfort and inspiration to us in its own strange way. This is the first time all of us have only been in one band which is pretty crazy. That's probably a symptom of a combination of aging, working, and wanting Lunch Lady to be the absolute best it can be.
JB: Any plans to tour the West/U.S. upon the record's release? What do you like about playing live? I for one, cannot wait to hear how these tracks translate to a live setting!
JV: We don't have a set plan yet but definitely want to do some touring not just in the US but the UK/EU as well! We have toured once before last year and it was great. Nice to know that we can tour together and have fun and not kill each other in the process!! 
RB: Playing live is the best! For me it's a great moment to be completely present in the moment. I often feel super-focused and forget about anything else that is bothering me in my life. It's oddly meditative even though I'm moving and jumping around like an idiot!
Upcoming live dates:
10/12/2019 – Lodge Room Highland Park – Los Angeles, CA w/ Bleached
Facebook
Upset the Rhythm
Bandcamp
Demo Tape