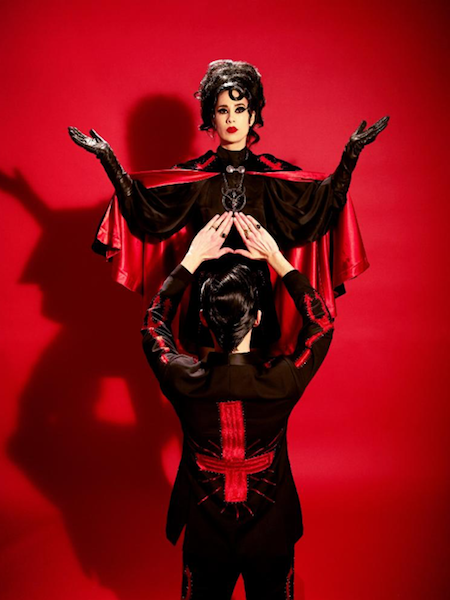 20 June 2019
Photo: Twin Temple
For better or worse, in jest or for real, heavy metal is the music genre most commonly associated with the devil — we have Black Sabbath, Alice Cooper and the entire black-metal genre to thank for that. But at this year's installment of Psycho Las Vegas, a new band from L.A. will invoke Beelzebub to the masses through a different, unlikely musical conduit: doo-wop.
Twin Temple consists of singer/priestess Alexandra James and guitarist/ romantic partner Zachary James, and they conjured their finger-snappin', retro-sounding project on Halloween 2016. The duo claim to be as sincerely devoted to the black arts as the musical arts, actually practicing Satanism unlike many of the metal bands that only riff about it tongue-in-cheek.
Twin Temple recently preached their gospel alongside fellow Psycho participants Uncle Acid & the Deadbeats and Graveyard while on tour, and will be playing their first U.S. festival come August 18 at the Mandalay Bay Resort and Casino. (Check back soon for the Big Takeover's interview with Uncle Acid.) They also issued their self-explanatorily titled debut, Twin Temple Bring You Their Signature Sound … Satanic Doo-Wop, on Rise Above Records in March.
The serious and succinct Jameses recently swapped emails with us to talk about what they have in store for their Sunday show at Psycho and their "connection" to none other than Sammy Davis Jr.
Why are you particularly excited to play Psycho? What makes the festival special — both from a performance perspective and as a personal experience?
TWIN TEMPLE: This is our first-ever festival date in the United States! The lineup is insane, and we're excited to be alongside so many diabolical groups.
What are your expectations for Psycho?
TWIN TEMPLE: Hellfire and brimstone.
Do you have any surprises planned for your Psycho set, whether they be songs you wouldn't normally play, added stage elements, etc?
TWIN TEMPLE: We will have a unique ritual to initiate the audience members into a new Satanic era.
Do you prefer playing in the heat or in the cold? Indoors or outdoors? What are the advantages and disadvantages of playing at the time and on the stage where you're scheduled to perform?
TWIN TEMPLE: We're from Hell, so we like it hot. Except when Hell freezes over. We actually don't know what time/stage we're scheduled to perform yet, but when Satan's on your side, there are no disadvantages.
Tell me something that happened to you in Vegas that was supposed to stay in Vegas.
TWIN TEMPLE: We performed with the Rat Pack at the Copa in 1966, back when Sammy Davis Jr. was a member of the Church of Satan, and gambled away $66,666.66 at the poker tables.
What other bands are you most excited to see perform at Psycho?
TWIN TEMPLE: We can't wait to see Uncle Acid & the Deadbeats and Graveyard again. We got to tour with them last spring, and we really miss hearing them play live! We also want to see Arthur Brown. FIRE!
What friends of yours are also playing at the festival? Who are you planning or hoping to hang with in your downtime?
TWIN TEMPLE: Tons of bands we know are playing, we hope to see as many of them as we can.
What can fans and newcomers expect from your performance(s) at the festival?
TWIN TEMPLE: Blood, Satanic rituals and oldies.
For previous installments of the Big Takeover's Psycho Las Vegas preview series, check out our interviews with:
• Colin H. Van Eeckhout, vocalist of Belgian post-metal purveyors Amenra
• Jason Shi and Scott Key, singer/guitarist and drummer, respectively, for melodic hard-rock masters ASG
• Victor Vicart of Scottish progressive-metal quintet Dvne
• Zack Simmons, drummer of blackened death-metal demigods Goatwhore
• Emil Amos, drummer of experimental post-rock band Grails
• Julien Chanut, guitarist of French sludge-doom band Hangman's Chair
• Tony Campos, guitarist and founder of thrash revivalists Hell Fire
• Nashville cosmic-riff connoisseurs Howling Giant
• Thomas Eriksen, centrifugal force behind true Norwegian black-metallers Mork
• Tobias Grave, frontman of shimmering post-rock trio Soft Kill
• Derrick Vella, guitarist of death-metal arsonists Tomb Mold
• Niklas Källgren, guitarist of Swedish fuzz fanatics Truckfighters
• Bruce Lamont, frontman of experimental heavy-jazz project Yakuza and Led Zeppelin tribute band Led Zeppelin 2
• Aaron Rieseberg, bassist of Oregon doom-metal dealers Yob