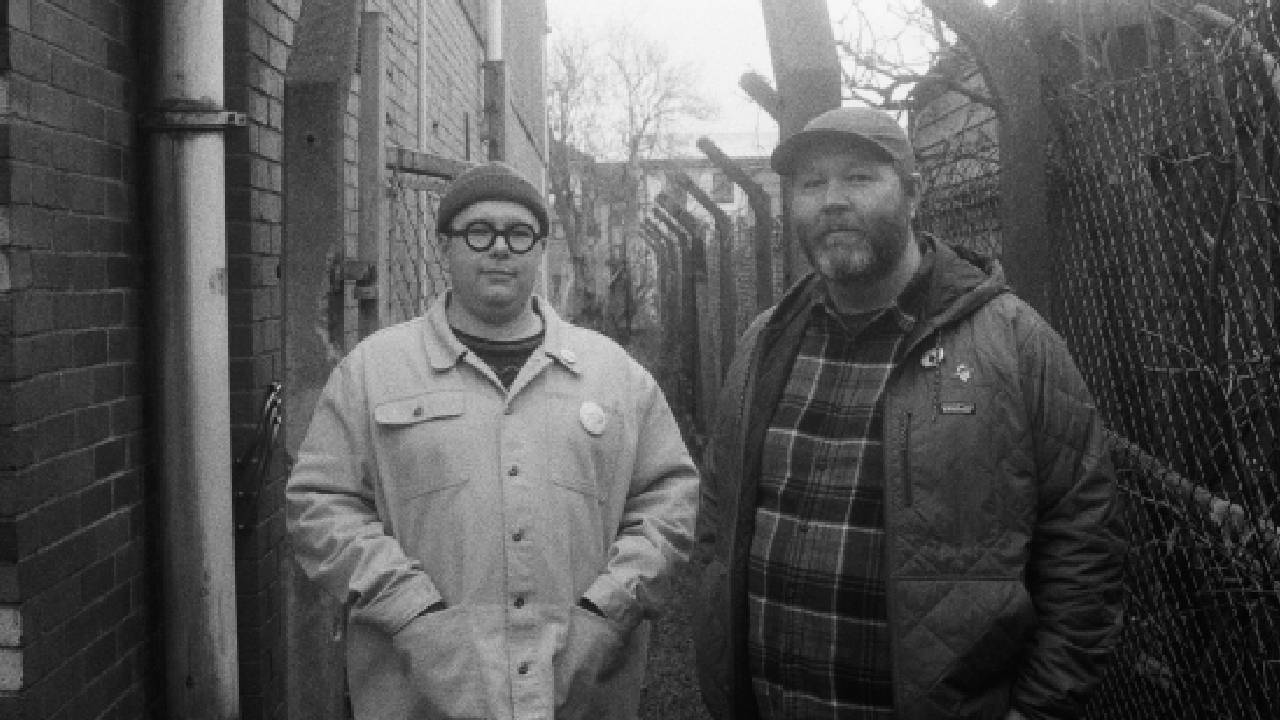 24 March 2022
(Calvin Halliday, left; James Hindle, right. Photo by Eliot Humphreys.)
Playing Favorites is an interview series where creative people pick a topic and tell us their five favorite things about it. Opinions expressed in this series are those of the interviewees and do not reflect the opinions of S.W. Lauden or The Big Takeover.
U.S. Highball is the result of a 17-year friendship and evolving musical collaboration between Calvin Halliday and James Hindle. After the break up of their previous group The Pooches, the prolific duo teamed up as U.S. Highball, releasing Great Record in 2019 and Up To High Doh in 2020. Their third album, A Parkhead Cross of the Mind (March 25, Lame-O Records), is "rooted in the chiming guitars of '80s indie pop and college rock" with influences ranging from Fountains of Wayne to They Might Be Giants, among many others. This new album has a real sense of place, with many of the songs documenting the duo's home base in Scotland. So, I asked Hailday and Hindle to share their five favorite Glasgow albums.

U.S.

HIGHBALL

'S

TOP

5

FAVORITE

GLASGOW

ALBUMS
5. Star Wars by

BMX

Bandits
James:
When I was a teenager and first starting to get into indie music, I would go to Jumbo Records in Leeds every weekend to spend the money from my part-time Co-Op job on records. I became friendly with Ian, one of the guys who worked there, who turned me on to so much great music. He was the first to tip me off to future favourites like
Jonathan Richman
and
All About Chad
, amongst countless others, and used to save posters for me, placing a sticker on the corner of anything hanging on the wall that caught my eye, so he'd know to keep them aside for me.
One Saturday, I was in the shop picking up two posters,
Velvet Crush
and
18 Wheeler
. I noticed that there was another guy standing next to me at the counter—a little older than me, dressed very much like an indie-kid—waiting for Ian to bring posters out from the back office. He handed us our posters at the same time, and it turned out we were both collecting the same two. Ian asked if I knew Steve, I answered "No" and Ian told me he thought we'd get along. Steve and I shook hands, he complimented me on my
Smudge
t-shirt and asked me what bands I liked. When he asked about
The Pastels
and
BMX
Bandits, I confessed I had not heard either, so he offered to make me a tape. I gave him my address, we said our farewells, I left the shop and caught my train back home.
To be honest, I never thought a tape would appear, but sure enough, two or three days later, not one, but two tapes arrived for me, along with a letter from Steve listing all his favourite music and suggesting I make him a tape in return. Tape one was The Pastels and tape two was the Bandits. I skipped off school that morning to listen to them both. The Pastels I liked, but it wasn't as immediate as the
BMX
Bandits one, which included their 1991 album
Star Wars
and a few singles and B-sides from around that time. Safe to say, it blew me away. While it wasn't anything radical, nor was it a million miles away from other bands I was a fan of at the time, there was something so charming, catchy and inviting about these songs that I immediately fell in love. I later learned that the line-up for
Star Wars
included members of
Teenage Fanclub
and
The Vaselines
, both of whom I loved. The songs were jangly, with
Byrds
-like harmonies and lyrics that were on just the right side of cute. I played that tape to death, and for Christmas that same year, I asked my parents to track down a copy of the album on vinyl, which, amazingly, they did.
I learned to love The Pastels just as much, and managed to see both bands live over the next couple of years. The tapes that Steve made me solidified my love for Glaswegian indie-pop, and I used to dream about one day living up north and being in a band like either The Pastels or
BMX
Bandits. As for Steve, I sent him a tape back—I can't for the life of me remember what was on it—and we started hanging out. Me, him, and his future wife Sue went to dozens of gigs together, and they are now amongst my oldest and dearest friends. I even covered a Pastels song at their 25th wedding anniversary party.
I still have that treasured vinyl copy of
Star Wars
, have lived in Glasgow for nearly 17 years and I play in an indie-pop band. Who says dreams can't come true?
4. Tigermilk by Belle & Sebastian
James:
Perhaps an obvious choice, but
Tigermilk
is more than worthy of its cult classic status. I was in university in Sheffield when word got out that there was this mysterious band from Glasgow who had made an amazing record as part of a college project. I was desperate to hear it, but it was near-impossible to find a way in those pre-file sharing days. The minimal press there was about the band, as well as their enigmatic publicity photos, made them seem all the more alluring. Eventually, a flatmate of mine from Edinburgh managed to get a dubbed copy, but with three of the songs missing. This would have to do! So, I first fell in love with two-thirds of the album. We listened to it constantly. I don't think I managed to hear the whole album until after their follow-up came out, but by that time I was hooked.
I narrowly missed seeing them in Glasgow in Summer of 1996 while on a visit to see a friend who was studying there, but I did get to see them at Manchester Town Hall, just after Christmas that same year. It was a shambolic mess, but I loved every minute of it. Incidentally, guitarist
Stevie Jackson
has gone on record as saying it was the worst gig they ever played!
Anyway, I am sure that everyone reading this is already familiar with the songs on
Tigermilk
. Every one's a winner, with
Stuart Murdoch
's incredible lyrics and gentle voice marrying perfectly with the
Felt
-like guitars and organ. You could almost picture the cast of misfit eccentrics Stuart sang about, and it served to further nurture my obsession with Glasgow and my desire to move there. "The State I Am In" kicks things off; a mini-masterpiece, and still perhaps the greatest song of their entire career. Other favourites are the beautiful "We Rule the School" and relatively epic "My Wandering Days Are Over." The whole album feels as though it captures a special moment in time, and whilst there are other brilliant albums scattered throughout their 25 year-plus career, none feel quite as concise and immaculately crafted as
Tigermilk
does. The perfect Glasgow album? Quite possibly!
3. Jack Orion by Bert Jansch
James:
In my early twenties, I got heavily into British folk music. I had picked up a 50p charity shop copy of
Fairport Convention
's
Liege & Lief
simply because the cover looked cool. A
Nick Drake
tape—given to me by the aforementioned Steve—also piqued my interest. I was already playing guitar by this point, but it wasn't until I heard the likes of
Nic Jones
,
Davy Graham
and Bert Jansch's mostly-solo takes on traditional music that I started learning to finger-pick myself, admittedly with limited success!
Jack Orion
was the first of these artist's LP's that I bought, another charity shop find.
Whilst it's not my all-time favourite Jansch LP—that award would probably go to
L.A. Turnaround
or
A Rare Conundrum
—it holds a special place in my heart, and feels somehow more Scottish than those other two. The cover is one of the greatest of all time—that font, the stark design, and that monochrome photo of Jansch looking effortlessly cool. The 9-minute title track is perhaps the stand-out, but the whole record is so impeccably played. I love his take on
Ewan Macoll
's "First Time I Ever I Saw Your Face"—maybe the definitive version—and of course, "Black Water Side" is a stone-cold classic. You can't go too far wrong with any Bert LP, but if you aren't overly familiar with his music,
Jack Orion
is the perfect record to start with.
2. The New Transistor Heroes by Bis
Calvin:
The importance of this record in my life can't be overstated. I still remember pleading with my mum for the money to buy it the week it came out. The flawless run of singles and EPs that Bis released in the preceding couple of years had blown a hole in my world, and I was beside myself with excitement for their first full-length. It was the band's sleeve artwork that immediately caught my eye one afternoon while perusing the old Oswald Street branch of Missing Records with my gran. I was flipping rapidly through the racks when my eye was drawn to a 7-inch single with garish cut-and-paste artwork and, most intriguing of all, a Glasgow mailing address on the back.
At ten years of age, I had no idea that any music had ever come from Glasgow, and I certainly wasn't aware of the vibrant scene that was buzzing around me. From the moment the needle dropped on
The Secret Vampire Soundtrack
, nothing was ever the same. I couldn't fully wrap my head around it, but whatever it was, this was the kind of music I liked. Bis were my band. I wanted to be them, and it felt like I could be. This was the first music I'd heard where I felt as though I understood how it had been made. The drum machines they used sounded like the preset rhythms on the Casio keyboard under my bed, and they would go on to proudly proclaim "If you buy a guitar for over £40, you're mad." This was true
DIY
music, the first of its kind that I had encountered. The musicians I had idolized until now felt like untouchable deities, but knowing Bis were from Glasgow and that they were all teenagers, not much older than I was, made me feel like I might run into them wandering around town, which I sometimes did.
Clutching my copy of
The New Transistor Heroes
in the car on the way back from town, I had pored over every inch of the eye-popping liner notes before I even got home. This sounds like a lie, but I can still vividly remember lying on my bed listening to it for the very first time. "Tell It to the Kids" remains one of the greatest album openers of all time, its spoken-word roll call intro giving way to a scene-setting rallying cry that barrels along at an unstoppable clip. The caustic lyrics to "Popstar Kill" had me in stitches, and
Sci-Fi Steven
's declaration of "We are Bis from Glasgow, Scotland" at the start of "Sweet Shop Avengerz" made me beam with hometown pride. It still does.
The New Transistor Heroes
is the sound of three intelligent, insurrectionist teenagers cramming everything that they love onto one record, sprinting deftly between Riot grrrl, new wave, ska, post-punk, and hip-hop, often within the span of one song. It was a crash course for me, and shone a dazzling spotlight on worlds, musical and otherwise, that I knew very little about—the biting character studies of "Mr. Important" and "Skinny Tie Sensurround," the body politics of "Monstarr," and the bratty adolescent rebellion of "Popyura." This incredible record, bursting with humour, anger and a schoolbag's worth of hooks, was at once relatable and mystifying in equal measure. What does "homophobe" mean? Who is
Ferris Bueller
? Is hate really negative? Is love really positive? I had no idea what Bis were singing about half the time, but I was determined to find out. Despite having already been a huge fan of artists like
Erasure
and
Pet Shop Boys
, had never encountered such overtly queer lyrics before. If I had, it had flown right over my head. The gender-swapped lyrics of "Poster Parent" and "Photo Shop" must have been the first time I had ever heard a guy singing explicitly about having a "boyfriend". It seems pretty tame now, but was genuinely shocking and subversive at the time—to me, at least—and I can't stress enough the influence it had on my nascent queerness.
Frantically seeking to find out as much as I could about Bis and the world that they inhabited sent me down a rabbit hole of discovery that continues to this day. They inspired me to start my own zine, plunging me into a postal network of like-minded people all over the UK and further afield. Studiously leafing through dozens of zines each week and trading mixtapes with fellow writers introduced me to so many bands that would become perennial favourites—Glasgow cohorts like
Pink Kross
,
The Yummy Fur
and
Lung Leg
, K Records legends like
Beat Happening
,
The Make-Up
and
Heavenly
, Riot grrrl luminaries like
Bratmobile
,
Huggy Bear
and
Bikini Kill
. The list goes on, and hopefully always will. I shudder to speculate on the dismal path I might have wandered down if, instead of Bis, it had been a record by, say,
Shed Seven
that I picked up that fateful Sunday afternoon. It doesn't bear thinking about.
1. Trapped and Unwrapped by Friends Again
Calvin:
The early '80s was a boom time for Glaswegian independent music. Of course, everyone knows about
Orange Juice
,
Aztec Camera
and the legendary Postcard Records, but there were plenty of other groups bubbling under the scene's surface. Once such group was Friends Again, who recorded only one full-length and imploded before it was even released. Had they been able to stick it out, Friends Again could easily have flirted with mainstream success in the same way that a handful of their peers did.
Though their earlier work had been rough around the edges,
Trapped and Unwrapped
arrived gussied up in major label gloss, all gated snares and glorious saxophone solos. This was no po-faced post-punk record, but an odyssey through slick new wave,
Bowie
-indebted funk, and pure, uncut jangle-pop with choruses to die for. The band even enlisted
Television
's
Tom Verlaine
to produce "Swallows in the Rain," an impeccably arranged slice of plastic soul.
Vocalist
Chris Thomson
went on to front critical darlings
The Bathers,
whose
Kelvingrove Baby
would, without doubt, be on this list if it were a little longer, while
James Grant
found modest chart success with
Love and Money
. In my opinion, neither ever quite topped the magic of
Trapped and Unwrapped
, a perfect example of the sound of young Scotland if ever there was one.
Previously on Playing Favorites:
Mo Troper's Top 5 Favorite Portland Albums
Peter Gill's Top 5 Favorite Power Pop Albums
Carolina Hidalgo's Top 5 Favorite Funny Punk Musicians