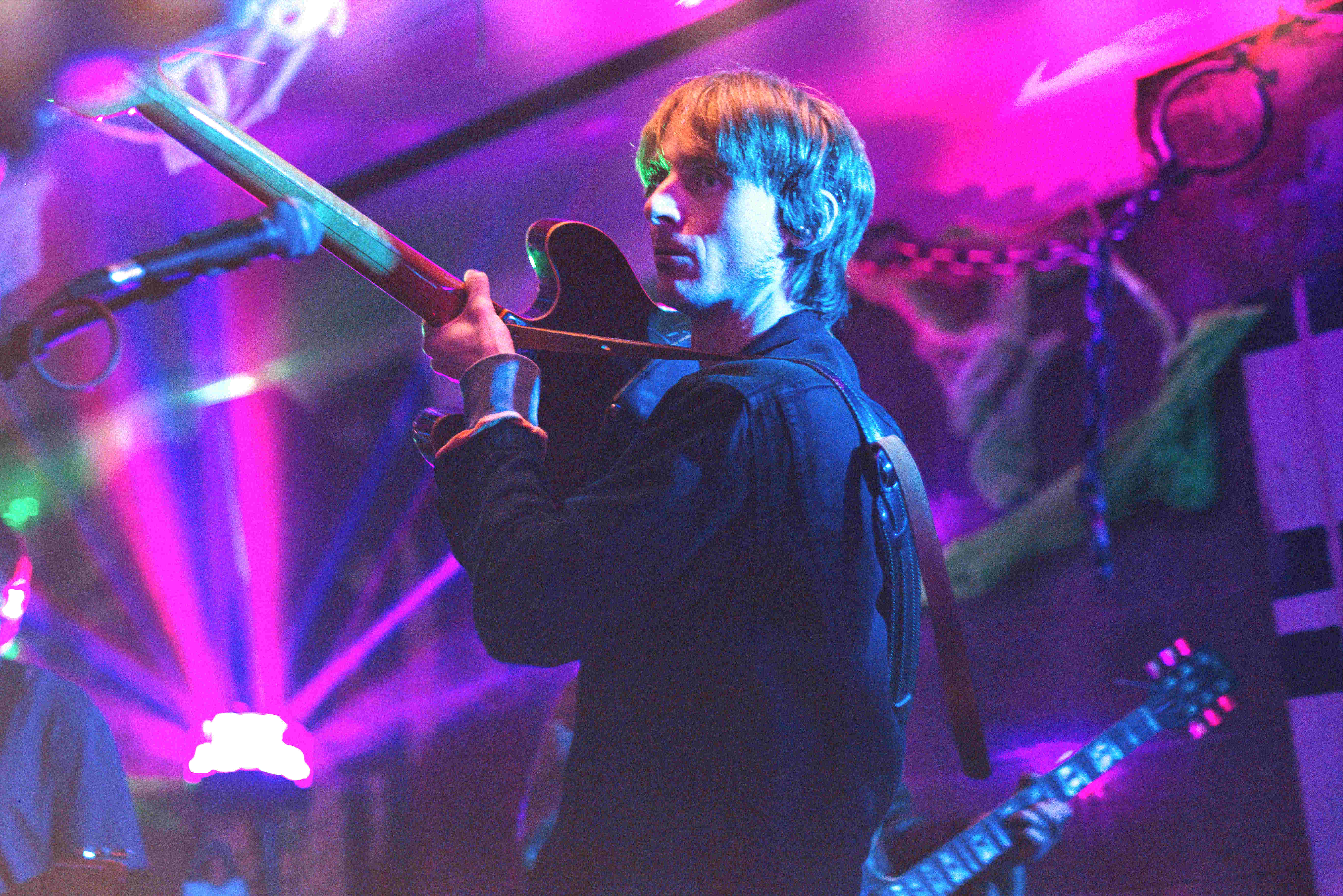 6 April 2023
Let's start with a bit of background. How did Black Market Karma come about, and what musical pathway brought you to it?
Stanley Belton: It was born out of my obsession with music. I needed a vehicle as a creative outlet, and I wasn't really interested in it being the Stan experience so I came up with a band name. I guess BMK is a moniker for me and my ideas, as I write and record the music mostly by myself.
Friends In Noise will be your eleventh album to date. What has changed over the years regarding being in the band, recording, and playing live? And what has stayed the same?
SB: The live band has had multiple members over the years; I'm the only person that's been involved since the beginning, so there's a lot of change there, and will likely be more down the road. Recording has stayed mostly the same, though, in so far as it is a solitary process. I've written and produced all of our albums since the very beginning, performing all of the instruments and recording / mixing it myself, bar the odd co-written song here and there.
It's always worked well for me; I'm able to be really productive this way. I think I've recorded something like 16 albums of material, some of which is yet to be unveiled. I kind of hear the music finished in my head as far as arrangements and production go, and it's just a case of getting it down as close to that as I can.
Friends in Noise is a collaborative album. How did you choose the material? Was it easy to select or hard to decide what makes the cut?
SB: I didn't really get in my head about it too much or try and get on top of it in any kind of way. It's just something that gradually came together over the years through playing and becoming friends with so many good musicians. Collaborations naturally occur when you're spending time with people who are musically minded, especially when we would hang out at my studio.
The songs started to build up over time, and I thought, man, these should all be gathered together on one release, so here we are.
Staying with this forthcoming album, please tell me a bit about who you worked with and what we can expect from it sonically.
SB: So it features collaborations with Tess Parks, The Underground Youth, Les Big Byrd / Joakim Ahlund, The Confederate Dead, and Ruari Meehan.
I'm involved with all of the tracks so our signature technicolor fuzz jangle sound is very much present but it's melded with flavors from all of these different artists throughout, including remixes of each other's band's songs by myself and Joakim Ahlund from Les Big Byrd.
I think trying to describe sound with words is kind of akin to trying to cut steel with a ribbon, but if you know us and any of these guys involved, I'm sure you can imagine some idea of it. Two of the songs are already out in the world for those who want to get a taste. "The Sky Was All Diseased" with Tess Parks and "Aping Flair" with Ruari Meehan.
Casting your mind back a bit further, Aped Flair and Hijacked Ideas feels like the sound of a sixties of your own making. (Meant in the most positive of ways.) Where has that sound come from, and what are some of your influences?
SB: That's a big compliment, mate. I'll take that. Well, I guess, like anyone, it's somewhat of a mashup of all the things I love but presented through the lens of me and whatever uniqueness I can bring to it, intentional or otherwise.
I'm pretty into the idea of maximum effect with minimal ingredients. I'm drawn to bold simplicity sonically, and as you mentioned before, I like to go a little more abstract and poetic with the lyrical side. It's very much inspired by 60's guitar pop and folk through to neo-psychedelia and stuff like soul and hip hop here and there. Our album The Technicolour Liquid Audio Machine had some kind of trip-hop elements, for example.
But yeah, to stay on point, the last album is very much inspired by '60s pop and other later bands that were also inspired by it. You know, sugary melodies and jangle but dished out with some real dirt. Loose, baggy beats, overdriven bass, crunchy guitars, and drunken keyboards, etc
If I'm gonna throw some band names around, I'd say The Velvet Underground, The Beatles, The Troggs, Jesus And Mary Chain, Spacemen 3, and Brian Jonestown Massacre. That kind of thing.
That album also had many deep and meaningful lyrical trains of thought. Are lyrics always important to you?
SB: Of course, man, there's an absolutely colossal amount of piss-poor lyrics in the world, I don't want to be another contributor.
Also, nailing a good line is easily as satisfying as churning out a sweet riff or what have you. I love the art form of lyric writing.
Are there any common themes that run through your music?
SB: There's a thread of sincerity running through it all. Staying true to what you feel is right, even in the face of adversity and doubt. I see a lot of sycophantic behavior in this business and I enjoy calling it out in song too. They're like jangly, poetic diss tracks or something, haha, you know, kinda like that Positively 4th Street energy?
There are plenty of love songs, songs about loss, whether it be man or beast. Songs about getting your head around the fact that you're alive and the barminess of that reality. Lyrics attempting to give form to the formless. Making a pass at crystallizing the nostalgic intangible. Things like that.
I see you're working with Flower Power Records and Shameless Promotion PR to bring your music to the masses. What is it like working with each of them, and how have folks been reacting to your new music?
SB: It's been good, man; Shauna's on the ball, and we've got a lot of new tunes on the way via FPR, so I'm feeling good about what's to come.
I had a lot of kind words written about the new records, and people reached out often on social media and the like. It's humbling. I don't take any of it for granted, and everyone's welcome aboard the technicolor liquid audio machine.
Q9. And what do your plans for the next year or so hold for you personally and Black Market Karma creatively?
SB: Well, Friends In Noise is now out, and then we'll be going on the road around Europe after that throughout the early part of the year supporting that. We've also got a collaboration with Sonic Boom coming out, AKA Pete Kember of Spacemen 3 & Spectrum. Got some other pretty swell news to announce, but I won't say too much just yet. Keep your eyes wet and your nose sassy.