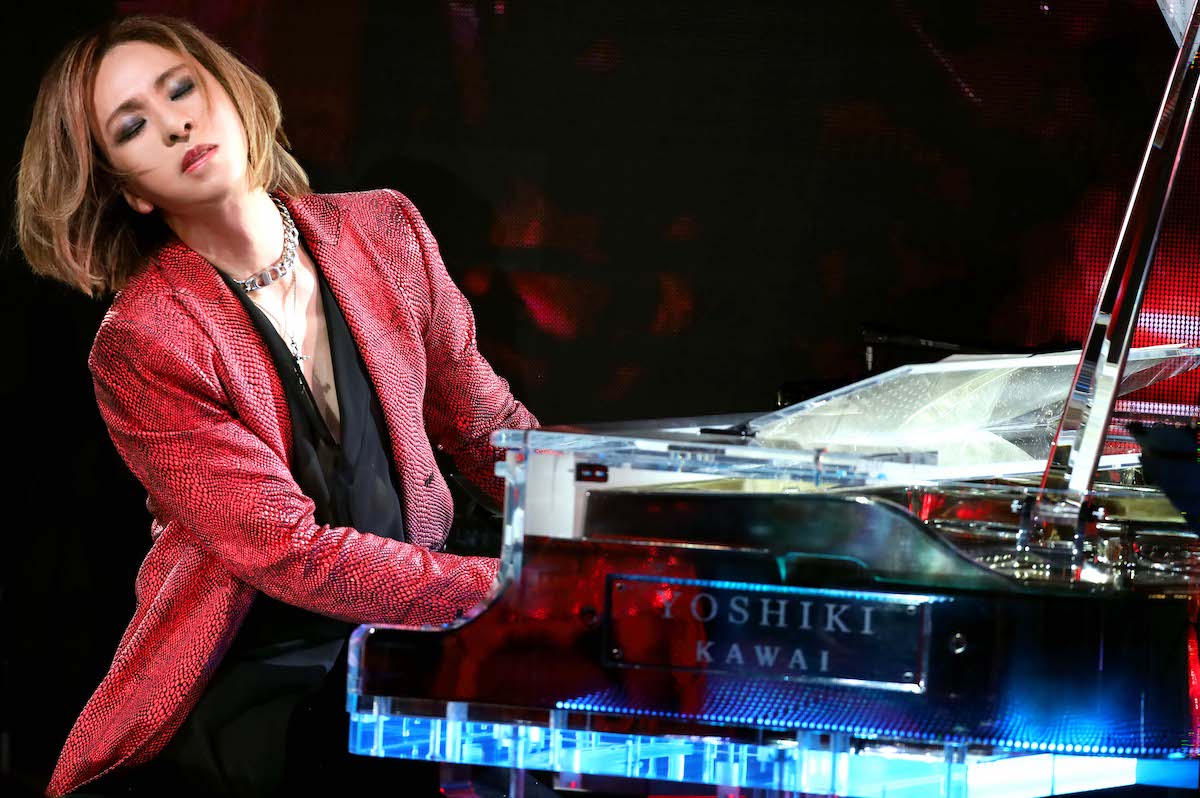 5 October 2023
Although many music fans in the U.S. are just now finding out about Yoshiki, he has long been a superstar in his native Japan and beyond. Since 1982, he has been the leader/drummer/pianist for the rock band X Japan, who have sold more than thirty million albums, headlined the massive Tokyo Dome a record eighteen times, and are considered pioneers of the influential glam-infused "visual kei" movement.
He is also a highly accomplished classical composer and performer: he wrote and performed a concerto for the Emperor of Japan, released three acclaimed solo albums so far, and composed the theme song for the 2012 Golden Globe Awards. In this classical capacity, Yoshiki has performed at some of the world's most prestigious venues – and he will soon undertake this aspect of his career again for his concerts at Tokyo's Garden Theater on October 7 and 9, followed by dates through the rest of the month in London, Los Angeles, and New York City (see the tour poster below for details).
As if that weren't enough, Yoshiki has also recently premiered Yoshiki: Under the Sky, a sonically and visually stunning concert film that marks his directorial debut. The film features impressive performances by Yoshiki himself alongside a diverse array of artists, including The Chainsmokers, St. Vincent, Sarah Brightman, The Scorpions, HYDE, and many more.
During a recent call from Tokyo, Yoshiki tells The Big Takeover about these aspects of his career, the emotional and physical strength he has continually demonstrated throughout his life, and how he uses music to help himself – and his fans – cope with pain.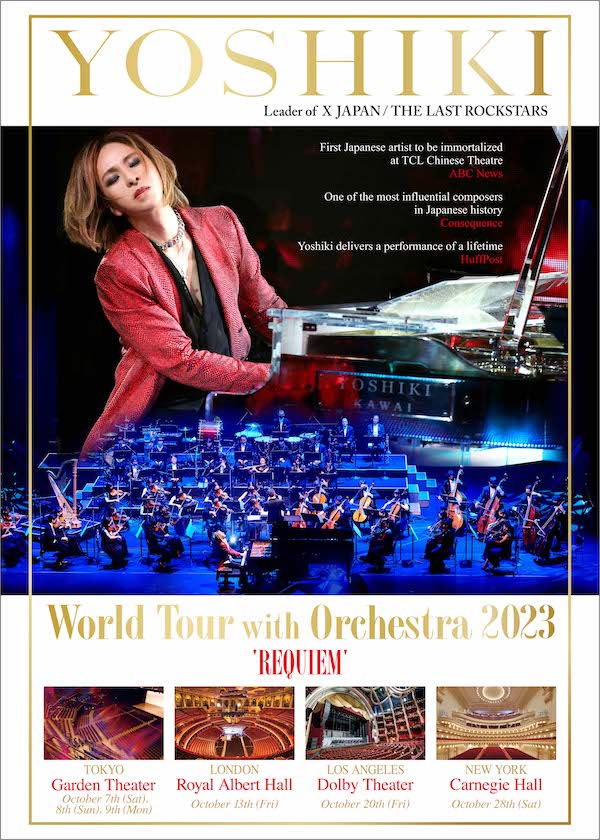 You're playing some legendary venues for your upcoming classical tour, such as Royal Albert Hall in London and Carnegie Hall in New York. How do you feel about performing at places like that?
YOSHIKI: I'm very grateful. I tried to prepare as much as I can. To be honest, I'm a little bit, I don't know, not nervous, but very excited at the same time. It's like I'm trying to figure out what's the best way to do this kind of upcoming tour. But one thing I'm trying to do is, I'm going to do something nobody ever has done!
Well, that's intriguing!
YOSHIKI: [laughs] Yeah, because I'm going to be mainly playing piano with the orchestra, but I may do something very shocking midway.
You're calling this your "Requiem" tour – can you tell us why?
YOSHIKI: Yes. So last year, I lost my mother. I started crying, then could not stop. I couldn't do anything. Several days later I just went to see doctor: "Can you stop my tears?" Literally, I could not believe how I got. I kept crying and crying. There were several doctors there [who said], "There's no prescription that can stop your tears." So then I was like, "You know what? I'm an artist, I'm a composer." So I started composing a song: I'm going to compose the saddest song I've ever composed. This song called "Requiem." Then eventually, the melody started helping me. I think I composed a really beautiful melody. Also, at the same time, my agent [was] asking me, "Do you want to do this world tour next year?" I was like, "Wow, I just composed an amazing song. If that melody can help me, maybe it will help people around the world." I said, "Why not? Let do it." So I decided to do the show, and that's the story behind this song "Requiem." Very sad, though. Super sad song.
How do you know when a song should be used for your classical career, or become a rock song?
YOSHIKI: For some reason, my melody, same melody, can be a rock music or a classical [song]. It's kind of strange. I mean, it can be even EDM or pop, anything – it's the same melody. I compose melody first, usually. I put my chord progression on top of it. Also, when I compose music, I do not use a musical instrument. I just write on a score. I compose in my head. Kind of like old style.
You also have been busy creating "Yoshiki: Under the Sky," which is so beautiful, both sonically and visually. Where did you get the idea to do a concert film like this?
YOSHIKI: That project started during the pandemic. I just wanted to cheer people up. So I think the project started organically – I think it's just that I always wanted to do this kind of thing, because my fans are pretty much my life. They are the ones supporting me throughout my life, so I just wanted to do something [for them]. Then the film became a sort of surprise ending.
The part at the end where you're in L.A. on a video chat with one of your Japanese fans whose wife passed away. That was so emotional, hearing how your music helped both of them cope with such a sad situation. How did that meeting come about?
YOSHIKI: It's kind of coincidence. I saw [the widower's] message through social media. I mean, there are a lot of fake accounts, but for some reason I responded. So then the next shooting [for the film] was one week [later] or something like this, so I also sent my Japanese team and then several cameras to my fan's place, saying, "My staff want to interview you." I didn't tell my fan I was going to show up or anything. He didn't know I was going to show up.
In this film, it's also moving to see all the videos you included of your fans singing the X Japan song "Endless Rain." How did you get everyone to give you those videos?
YOSHIKI: I was collaborating with a lot of amazing artists around the world. I started thinking, "Well, my inspiration, again, has been coming from my fans. Why don't I collaborate with my fans?" I used social media, [but] I didn't tell them which project: "You want to send me you singing "Endless Rain"?" Then I got thousands of videos. Some of them they sent me, they're like a dog singing, something very funny. I ended up watching every single one of them.
Wow, how long did it take to watch them all?
YOSHIKI: Maybe six months or something. Yeah, I mean, it was such a big deal. I watched them all, actually.
You included a very diverse group of guest musicians in this film. How did you decide who to ask to do it?
YOSHIKI: A lot of my staff were working for this project, as well. I knew some of the artists, but I think my staff and my team reached out to those amazing artists. I'm very grateful.
What was it like being a director for the first time?
YOSHIKI: Well, I have worked with a lot of film projects before, but I didn't put my name on it. This was the first time because I pretty much did it – not everything, but I directed. I was kind of hesitant to put my name on it for some reason, but everybody convinced me: "Yoshiki, you've been directing, why don't you put your name?" "Okay."
Why did you title this film "Under the Sky"?
YOSHIKI: We are still living, breathing, under the sky – which means we are not dead yet. So why don't we live as much as we can? That's kind of the message. Because during this process, one of my fan's wife died. Before I finished the film, my mother passed away, too. It's a very touchy subject. But yeah, "Under the Sky," it's like, we have to live in this world.
This is more than a concert film – you also included interviews between songs where you talked about some very personal and painful things, such as your father and your bandmates dying from suicide. How did you know to include those parts alongside the musical performances?
YOSHIKI: It was not easy. It's never easy to talk about my father's death or my mother's death. But at the same time, if me talking about this is going to help someone, I was like, "Why not?" Because maybe twenty years ago or something like this, maybe I couldn't share. But [now], for me to share thoughts may be helping someone around the world.
This film isn't the first time you've discussed these things – you also talked openly like this in the documentary about your band X Japan ["We Are X," released in 2016]. It's clear you've had to be very strong as you've overcome difficulties in your life.
YOSHIKI: During that process of filming I was kind of cornered. [laughs] Not in a bad way. Because people think, "How did Yoshiki become Yoshiki?" It's weird for me to say, but kind of mysterious, right? So people couldn't figure it out. I kind of start talking about my background, like why you became so aggressive onstage. It's kind of very strange. Then I started talking about my father's death and all those things. People started understanding my music even more then. Again, the same reason: me opening up is going to start helping people.
Have you found a way to ease the pain for yourself?
YOSHIKI: Well, I'm still feeling pain. I'm still struggling every day. It's like, if you have some kind of pain, like if you feel bleeding, physically, eventually that bleeding's going to stop, right? But if your heart is bleeding, I think it's going to bleed forever. So I have to deal with that fact. Because before, I was trying to stop that blood, and I tried again and again and again, but nothing worked, so I was like, "You know what? I'm still bleeding. OK, let's deal with it. I'll compose some art or create something from that pain." [But] I'm still bleeding, I'm still going through a hard time.
You've talked about having actual physical pain, too…
YOSHIKI: Yeah, I mean, I have [had] neck surgery twice. I have an artificial disc in my neck. I put my entire self into the stage, so sometimes physically, it's very hard – but, I mean, rock and roll, too. [laughs]
What is it about your music overall that has connected so strongly with fans?
YOSHIKI: I think I'm just being super honest, in terms of dealing with art. I put myself, everything, into the art.
You always have so much going on – where do you get the energy to do it all?
YOSHIKI: I'm kind of like, not in a dark way, but I've been kind of suicidal. So worst comes to worst, I die, right? For some reason, I'm a pretty positive-thinking person, but I'm not really afraid to…I don't know. I'm just going for it, everything. So if you think about it that way, you never run out of energy.
Do you ever feel under pressure to live up to the high expectations people seem to have for your work at this point?
YOSHIKI: Yes – and no. I was under pressure because I want to give my fans back 100%. At the same time, somehow, part of me is very confident.
Anything else you'd like people to know?
YOSHIKI: I just want to thank my fans for always supporting me. That's why I exist.
For more information about Yoshiki, visit https://www.yoshiki.net/