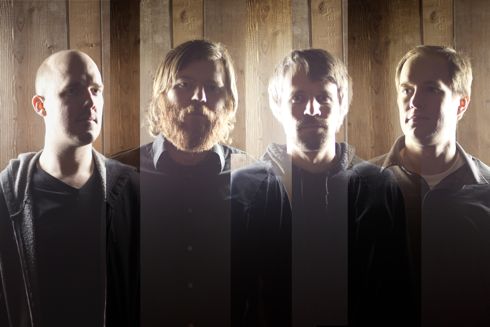 20 March 2011
Harbors, the debut album from musical collective All Tiny Creatures, is as much a "springtime" record as one can find. Bright, sunny melodies that are not too poppy, yet not too drone-y, and belie the more experimental side of Thomas Wincek, who has for years made music as part of the experimental group Collections of Colonies of Bees. Following a few years after a formative EP, Segni, what emerges on the album is a concise collection of songs built on gorgeous harmonies, lush instrumentals, and rhythms that are relaxing. Also along for the ride is Bon Iver's Justin Vernon, who provides vocal accompaniment, as well as members of The Caribbean, Megafaun, and Heldago Negro. I had a chance to sit down briefly with vocalists Wincek and Andrew Fitzpatrick to talk about their music. Harbors will be released on March 29th via Hometapes.
One of the things I liked about your Segni EP was the unrestrained nature of your music, especially the title track. Harbors, on the other hand, feels a bit more refined.  Was that record a document of the new band's finding direction?
THOMAS WINCEK: Segni was a result of putting really restrictive rules on the process of writing the music.  The songs were longer I suppose, but there were rules like "this song is based on 5 chords, and you can only play the notes in this order," and so on.  I also had very specific ideas for all of the sounds and drum parts as well.  With Harbors the songs have a more recognizable verse-chorus sort of structure, but things were much more wide open in terms of how those sections came about, and what people added.  Everyone in the band—and the guest vocalists—were pretty much free to play what they wanted, so long as it worked,  as opposed to having a really rigid script to stick to.
Do the songs on Harbors all have unedited "parent" songs that are much, much longer than their finished versions?
THOMAS WINCEK: It actually worked the opposite of that in much of the writing phase.  Many of the songs are actually built from small, 4-5 second multi-layered guitar loops that either Andy or I would record.  Then I would chop them up into less than one second chunks, and use different overlapping bits of those micro-edits to form the different sections.  
Were most of these songs composed in one or two takes, or were they built upon meticulous studio work?
ANDREW FITZPATRICK: We built the songs gradually at a few different houses and one actual studio. Some of the songs took six months or so to put together; a few of them took four or five years.
What I find interesting is your use of vocal manipulation—you have them, but yet you don't. Was this a conscious idea when you started out working on the record, or was it an element added later?
ANDREW FITZPATRICK: We began working on adding vocals to our music before the Segni EP was released. We wanted to use the human voice the same way we use the guitar or synthesizer — it's another instrument that creates sounds. But I think people make a deeper connection when they hear vocals in music because the voice is such an important aspect of humanity.
THOMAS WINCEK: A lot of that is also probably due to the way we prefer to hear vocals mixed and treated.  Like Andy said, the way we use them—even live—is to treat them as another instrument, and add effects and mix them appropriately. I find most rock and pop music puts the vocals abnormally high in the mix, so if you compare the two ours may sound quiet, but it sounds perfectly natural to my ear.
You worked with Justin Vernon—and considering the cache he has, does he look to do something that doesn't automatically make the listener think, "Oh, that's the dude from Bon Iver singing!"
ANDREW FITZPATRICK: I think Justin approached his song pretty much the same way the other guest vocalists approached their songs. Everyone brought their own unique sound / style / characteristics to the table, but they made it work within the context of our music. 
THOMAS WINCEK: Yes, I think everyone did a great job thinking first and foremost about the song, and how to enhance what was already there, instead of using it as a platform to do what they feel most comfortable with.  It was a really fun and exciting process getting the vocal tracks back from our friends, and then massaging it into the song in a way that seemed to work the best.  
In the live setting, do you guys simply let slip the conventions of boundaries, going for improvisation on the basic theme, or do you let the muses take you where they want the music to go?
ANDREW FITZPATRICK: We figure out how to play a song in a live setting after it's been recorded. There are always some new ideas that pop up during the song-learning process, and we usually try to make room for improvisation on some level, so we like to keep the boundaries flexible. 
THOMAS WINCEK:: We also have to sing all of the vocal parts live, instead of just the ones we did on the album.  This means learning and adapting the parts, staying true to the song, but being careful to not just imitate the person who sang it on the record if it wasn't us.  
What are your plans?
THOMAS WINCEK: The record comes out March 29th. Before that we have another mixtape coming out that we're really excited about, and a handful of midwest dates.  Then we're plotting out our touring schedule, with a lot of dates in the spring and summer, SXSW, and the Hopscotch music festival, which we're very excited about.  Throughout we're going to try to keep writing and recording. We're really pumped…