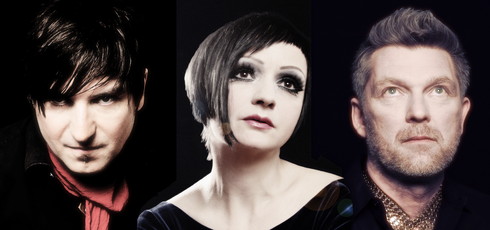 5 July 2014
Hamburg's Seasurfer first came to my attention on the Saint Marie Records compilation, StaticWaves 2. It was a standout track on a collection of also great tunes, and is the centerpiece for Seasurfer's brilliant debut album, Dive In. That seems to be an entirely appropriate name, as its elegant swirls of dreamy shoegaze draw you down deep, never letting up until the last note fades out. Dirk (guitarist/songwriter) and Dorian E. (vocals) are refreshingly honest and I thank them for taking the time to do this interview. Also thank you to SMR label head, Wyatt Parkins, for setting this up.
How did your band come together?
DIRK: I had been looking specifically for people with whom I could spin on my music dreams. Dorian fit perfectly with her great tunes.
For someone not familiar with your music, how would you describe your sound?
DIRK: For me, a mix of my musical life. A touch of punk, a dash of pop, plus the dreamy stuff, but better check it out yourself!
How do you achieve that towering wall of sound? What equipment do you employ to get such spectacular layers?
DIRK: I love to play with all of these effects pedals and to create sounds. A lot of that stuff is from your country… the whole room flashes like a pinball game. I actually use an old 19-inch Boss GX 700 plus lots of extra pedals and of course the Jazzmaster and the Jazz Chorus. I have my own little studio in my 100-year old house …often glasses clink on the shelves and bricks seem to fall down when I play (haha).
Could you please describe the recording and writing process for Dive In?
DIRK: I write all the songs first, think about song titles, and sometimes even sing a melody with the Dark Orange-backing singer, Jade, who is my wife. Dorian then gets these demos and grabs her tunes on the instruments. It makes me so happy to experience the whole process of formation, and it is always a trip, like a drug.
What has most informed your work? Music, art, literature, and film?
DIRK: Hmmm. I don't know. It has more to do with an inner attitude and my own spirituality. Since my youth, I have defined myself by music; my own reality, which is just one of billions, is shaped by it and I can't live without it. In that regard, my music is somehow the mirror of my ego. I know that my bandmates know my ego very well and are not that easy on me at this point. ;-)
Dirk, how would you say Seasurfer's music differs from your other band, Dark Orange?
DIRK: Seasurfer has been my very own project from the beginning, where I alone also determine the sound. It's certainly been a dictatorship. Dark Orange was always influenced by all bandmates. If the Dark Orange sound is dreampop, then Seasurfer is dreampunk. In Seasurfer, noise and a little bit of chaos is allowed, and I don't care about how you normally should make music. Make the drums louder. Less echoes, please. Too much distortion. Bass too heavy. I don't care.
Dorian, do you have vocal training? I just love your alto tones.
DORIAN: Thanks! No, i don't. It's natural, and I smoke a lot!
Has the music press been supportive of your debut album? Is the UK your biggest market, or has there been a lot of interest from the States as well?
DIRK: Honestly, I do not know and do not care. I know that Seasurfer is not mainstream music, and we will not become rich and famous. I am a little bit bored with the music scene here in Germany, and as a German band with a sound like ours, almost nobody cares about you. You have to be electronic, or dark/heavy, or a real pop band. Or from outside of Germany. Yes, we get the best and most feedback from the USA, UK and South America. Frankly, I find most of my favorite bands in these countries and not here in Germany, except for bands like Einstürzende Neubauten, XMal Deutschland, or Pink Turns Blue.
I first heard your song "We Run" on the Static Waves 2 compilation, and its majesty just floored me. Some of your other songs come close to that feeling, but there is something very special about this song that I cannot quite put a finger on. What is your take on it?
DIRK: Yes, it is also one of my favorite songs. It was one of our first songs when I started Seasurfer. At that time, my line of text was still called "We Run and we have the world in our eyes …". Seasurfer songs always hold a moment, and that's the advantage of a personal recording studio. Maybe I had just had good sex; hmm, i am sorry. I just mean to say that the best riffs fly to you if you are in a special mood. Great moments sometimes give a way for something great to develop.
Any other favorite songs on the album you'd like to comment on?
DIRK: "Under Water" is another favorite one. The song still sends shivers down my spine, and it's the first time I am singing along a little bit.
What was it like to work with Karl Skivington of Spotlight Kid? How about your label, Saint Marie Records?
DIRK: Karl is cool and knew immediately what kind of sound I wanted in the end. At first, our old pal, Robin Guthrie, had mastered the album, but it was not as dirty sounding as we had in mind. I think Karl likes the album very much, but Robin told me that he likes it a lot, also. Maybe we will release Robin's idea sometime later. SMR, that is the greatest gift for Seasurfer. I'm a long time fan of the label and like their clear identity, reminds me of the 4AD of the past. I like many of the bands there like Sway, Spotlight Kid or The History of Colour TV. And Wyatt Parkins reminds
me of myself; live your dreams and pull things by. I hope I will meet him sometime and have some beers together!
Does the band plan to tour to support the album?
DIRK: We'd like to, but playing live is almost impossible for a newcomer like Seasurfer, without a major label with a lot of money backing you. Who pays for our hotel, a sound mixer and a van? Who pays for flights to the U.S. or England? In the nineties with Dark Orange, it was no problem, but today it is so much harder.
Any future plans you could share with us?
DIRK: I'm already working on new songs. I think they will be a little faster. Otherwise, I'm curious about how to proceed with Seasurfer… sometimes it's also nice to let yourself go. By the way, is The Big Takeover name taken from a song of one of my favorite bands from the U.S., Bad Brains?
Indeed it is.