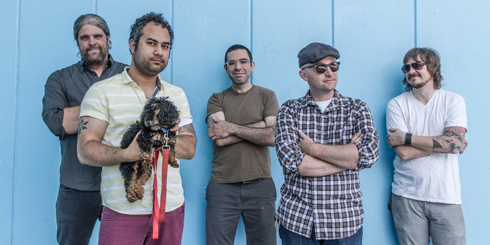 21 July 2014
Motel Beds is a Dayton, OH band with a sharp, post punk sound that aren't afraid to throw down sweet melodies if the song calls for it. They've worked alongside indie rock luminaries such as Kelley Deal (Breeders) and the ever prolific Robert Pollard. Their new release is a retrospective called These Are the Days Gone By (out 8/26 on Misra Records), which features remastered versions of older songs. The album also includes two previously unreleased tracks: a poppier version of 2011's "Sunfried Dreams" and an acoustic cover of Matthew Sweet's "I've Been Waiting."
The Motel Beds are Tommy Cooper (guitar), Ian Kaplan (drums), PJ Paslosky (vocals), Derl Robbins (guitar) and Tod Weidner (bass).
Let's talk about your upcoming collection of songs. How did this idea come about?
TOD: Since we've now hitched our wagon to Misra, we suddenly find ourselves more accessible to the world at large. Up until now, we've been a much more regional, "local to Dayton" concern. Now, with better distribution, we have a chance to reach a lot more ears, and we thought those ears might want to hear some little tidbits from our past; kind of a quick introductory course in what we're about, sonically speaking. We own all of the rights to our back catalog, so we asked ourselves for permission to use some older tunes, and we generously told ourselves that we would be happy to let ourselves use them (we have a very good relationship with ourselves in that respect). So, essentially, TATDGB is basically the Motel Beds saying to the new listener, "Hi there, I know we just met, but can we crash in your record collection? Here are our credentials, we promise we won't trash the place."
What was it like to work with Kelley Deal and Robert Pollard?
DERL: Great, of course. Kelley is a little like our den mother. She's very concerned that I quit smoking, rightfully so. But, that voice, you know? She can sing anything whatsoever and it'll sound fantastic. I'm eventually going to ask her to sing the dictionary for me. "Tropics of the Sand" is one of my favorite things we've ever done, and her input was obviously a huge part of that. Her approach to it was almost character driven. It was perfect.
There's not much you can say about Bob that hasn't already been said. Watching him in creative action is, pardon the cliche, genuinely inspiring. His brain runs circles around people less than half his age. You gotta have your shit together to keep up. I think he's very trustful of his own creative impulses and that's an incredibly good thing because we all probably second guess ourselves far more than we should. And the work ethic is amazing. He doesn't just throw up random stuff, he works very hard at what he does every day. That, and he's just a good dude with impeccable musical taste who digs Budgie.
You've gotten good press from some well respected sources. Has that helped sales in any way, or is that too hard to measure?
IAN: Honestly, it's a bit hard to measure as we've been self-releasing for so long that when we run out of stock on something, unless we can raise the money, that's the end of the run for that particular release. With Misra in our corner, though, I think it'll be much easier to associate press mentions with album sales and hopefully they'll be a nice upward-trending graph we can point at. I imagine a whiteboard and a Powerpoint presentation in this situation also… maybe some laser pointers… then lunch, and finally, near the end of the seminar, trust-falls.
Can you talk a little about your Record Store Day release and the charity that benefited from its sales?
IAN: Our 2014 Record Store Day release is a split 7" with Brooklyn's Torres, who you should definitely hunt down and listen to if you haven't already. Our track on the split is called "Tropics of the Sand," which is a song we thought would sound great with Kelley Deal's vocals on it. We hemmed and hawed about asking her to do it, and finally I said "the worst that will happen is she'll say no," so we did and she agreed and it's beautiful. I can't think of anyone else whose voice could express the mood and tenor of that song better than her.
These Are the Days Gone By is like Their Greatest Hits by The Eagles, only instead of hearing songs by The Eagles you'll hear Motel Beds and when you're expecting "Takin' It Easy" to play, it won't. Outside of it not being an Eagles best-of, it is a collection of songs that we felt best represented what we've been doing musically for the past 11 years.
We did a soft-release of this one with a charitable organization called We Care Arts, which provides art therapy for people with disabilities. The artists there made 500 unique, hand-painted record covers and they're all amazing in their own way. Those record sales helped raise money for the organization so they can pay their bills and keep doing the admirable work they're doing. The record covers are really impressive and there are still some for sale, I believe, so try and get one while you still can.
On that Matthew Sweet cover, I hear Big Star more than I hear Matthew as an influence. Is there any credence to that?
PJ: Well, we love us some Big Star something fierce, so definitely some credence (Clearwater Revival) to that. More subconscious than premeditated though. Maybe it's the "I've Been Waiting" cover treatment in the vain of Mr. Big/Big Star that the world has been patiently waiting for? Mr. Big Star? I really feel like I should apologize to anyone reading this response for taking precious time out of their lives that they'll never get back, but I'm not going to.
And what a cool song "Smoke Your Homework" is. I can't really play spot the influence on this one, but that driving rhythm and guitar is so great. What inspired that song?
TOMMY: Thanks! I remember this one coming together really quickly, and we didn't really talk about it too much. Pretty sure the chords progression and general idea for the song came from listening to Ted Leo and for the ending we asked ourselves "what would The Pixies do?"
Will you play out to support this retrospective?
IAN: Definitely. We have a bunch of shows booked for late summer and fall and we hope to see you and everyone you know at them.
What new projects can fans look forward to?
IAN: Right now, we're writing and recording a new album, our first release of new material on Misra, which will be coming out very soon. I don't want to spoil it for you guys, but we feel it's going to be what Led Zeppelin VII would've sounded like, or maybe "Thomas" by The Whom.