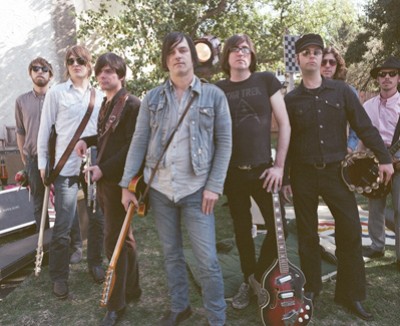 9 April 2012
I love the music of Anton Newcombe and Brian Jonestown Massacre.. Over the past two decades, Anton's put out some really mind-blowing, thought-provoking, interesting, enjoyable records. In a few weeks, he shall release his latest album, Aufheben, a wonderful album of cohesive, beautiful songs, and is possibly his most experimental work to date. With excursions into ambient music and instrumental some might call "techno," as well as further trips into Eastern music, and the old standby of straight-up psych-rock, it's both everything you like about Brian Jonestown Massacre, and yet a fearless exploration into sound that is a rewarding experience for the listener.
And though Aufheben has been a long-time-coming, it should also be noted that it was, perhaps, the first album Anton made in a fully-public setting. Never one to be less than transparent in his thoughts and his actions—he was, after all, one of the first (if not THE first)—to offer ALL of his music to the world in digital form—for Aufheben, Anton took to the internet. First he created DeadTV, where he would broadcast live from his home and studio in Berlin. He then would post demos and rough tracks to his Youtube account, for full review to anyone who would listen. Maybe it slowed things up. Maybe it didn't. Who's to say? More importantly, why does it matter? The process certainly didn't hurt the final result, which is easily his best record to date.
So it was in this spirit that I sent Anton several questions, which I've listed below. But I think his response says a lot more, and am posting it, verbatim, as he posted on his website.
You want mind-blowing? Just check out that list of what the number ones were for 1967. I bet you never actually thought about it, did you? I know I didn't. It sort of destroys that whole "commerce vs art" argument that the underground and "indie" musicians take oh-so-seriously.
Here is the exchange:
JOSEPH KYLE writes….
Hey Anton—
Anyway, here's my questions…I did 'em in a dialogue style because that's so much more interesting than straight up things..
hope all's well.
thanks!
1. Hey, Anton, how's it goin'?
2. Listening to Aufheben in its entirety, the one thing that struck me is that there's a wonderful connection between past and present. On one hand, it reminds me of your earliest work, which is more shoegaze-y and fuzzy, and yet, it's also your most progressive record as well, with a wonderful blend of beats and more electronic moment. It's very much a part of what came before it, but yet, it's not like other bands who have been around for the same length of time who feel it necessary to rehash their familiar sounds. You give your audience credit, Anton, for wanting something new and for being alongside you in your experimentation, instead of givin' 'em "Servo" part two or whatever—and that's so awesome.
3. How does the title and the concept of Aufheben fit into what you're doing musically?
4. You've always been an early adopter of the Internet—first to utilize the use of file sharing, one of the first people on Myspace, one of the first bands to actually be on Myspace, too. What really makes this record different is that it seems like your first entirely public album, wherein it was made with an audience actually able to come into the creative process and into the studio via DeadTV and Youtube. As a listener, I know that the finished product was something I was eagerly awaiting. What was the experience like from your side of the experience? Liberating? Frustrating? Did the audience feedback and input help you? After all, it seems as if Aufheben has taken the most time to make out of your previous records.
5. Glenn Gould (you know how I love the man's work) once said that the artist/audience relationship would eventually become one with the performance arena becoming obsolete in favor of a technological relationship wherein the artist would and could create while either the audience watched, or, on the other end of the spectrum, music is issued from down on high and performed in the studio, with no concern or thought of audience or live appearance. Ustream = the ultimate livin' his dream, baby? More importantly, do you feel that DeadTV is as much a studio tool for you now, to be utilized and used, in the same way as any other instrument in your toolbox?
6. Speaking of DeadTV, your loyal fans might want to know: will you be DeadTV-ing on your upcoming world tour?
7. Thank you, Anton, for making Aufheben. It was a joy to listen. Any other words for our readers?
ANTON'S RESPONSE:
listen joseph, i've tried several times to answer these questions or follow your lead,and it's not working for me. i think i should make some sort of statement instead:
i honestly feel that people like simon cowell and his ilk have succeeded in lowering the bar for artistic merit so far that i have to thank him and the major media outlets for it. lets get real for a second and use the example of say the charts for the year i was born, 1967:
These are the Billboard Magazine Hot 100 number one hits of 1967:
January 7-February 11: "I'm a Believer" – The Monkees
February 18-25: "Kind of a Drag" – The Buckinghams
March 4: "Ruby Tuesday" – The Rolling Stones
March 11: "Love Is Here And Now You're Gone" – The Supremes
March 18: "Penny Lane" – The Beatles
March 25-April 8: "Happy Together" – The Turtles
April 15-May 6: "Somethin' Stupid" – Nancy and Frank Sinatra
May 13: "The Happening" – The Supremes
May 20-27: "Groovin'" – The Young Rascals
June 3-10: "Respect" – Aretha Franklin
June 17-24: "Groovin – The Young Rascals
July 1-22: "Windy" – The Association
July 29-August 12: "Light My Fire" – The Doors
August 19: "All You Need Is Love" – The Beatles
August 26 – September 16: "Ode to Billy Joe" – Bobby Gentry
September 23-October 14: "The Letter" – The Box Tops
October 21-November 18: "To Sir With Love" – Lulu
November 25: "Incense and Peppermints" – Strawberry Alarm Clock
December 2-23: "Daydream Believer" – The Monkees
December 30: "Hello Goodbye" – The Beatles
(shit,that doesn't even scratch the surface of how many great songs came out that year)
think about it. i could be angry that radio, television and cinema are not only shallow and perhaps even toxic in their banality ,maybe even feel pains of sadness for young people knowing that they will never have a chance to grow in an open minded stimulating environment full of exploration,and examples personal freedom…but you know what? the way it is is the way it is wanted…it's not like 10 year olds are demanding lady gaga and justin beiber…no, this is by design.you can not want for others what they do not want for themselves.
i'm not going to let it get me down any more then it ever has.i am going to carry on just like jack rabid did when he set out to create this publication…i am going to share new and old music,art and information first of all to help create the environment i need myself,and to share new discoveries while being part of the grand tradition…and that is its own reward…because look, i really get it…the big picture…and i give credit where credit is due…so here goes nothing: thanks simon cowell and the rest of you players for making me a hero with your disposable culture. and thank you humanity for providing numerous examples of fake heroes and distractions, false truths and offenses as a sign post for me on this road i walk forever showing me paths not to travel.and most of all thank you jack rabid and joseph kyle for your love of what you like and your pursuit of sharing the same.
Aufheben
we should all be very proud to be a part of something so beautiful in such a ugly place in time.
thank you tibo,rike,will,matthew,hakon,dino,fab,stuart,ted and everyone who is against the machine and thus for humanity.
much love,
a