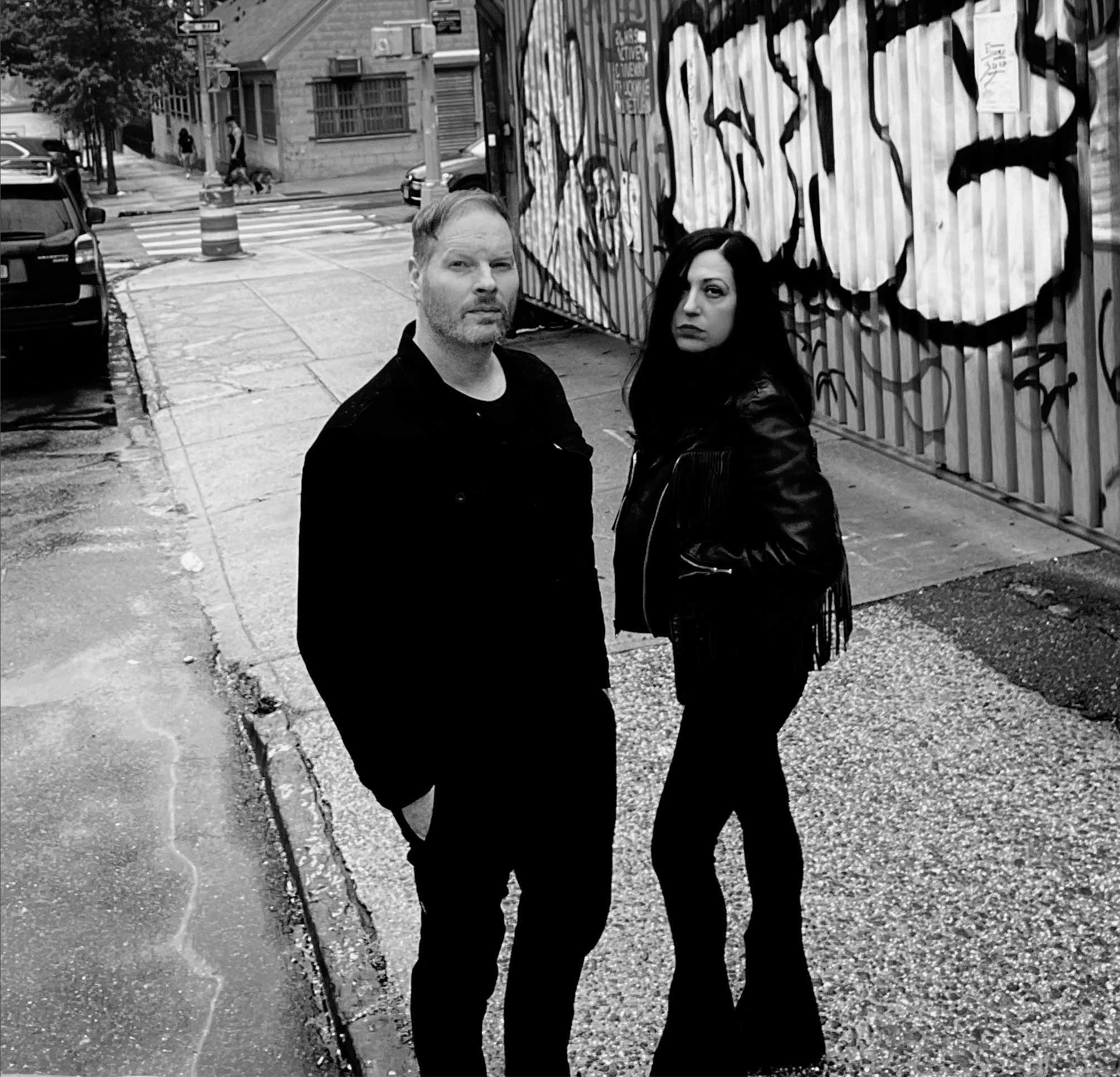 3 April 2023
Having only come to your music recently, can you tell me about your musical history and how A Cloud of Ravens came about?
Matt: Hi Dave, like probably most people who end up in bands, I grew up in a musical household. My mom always played records at home and the radio in the car. She sang opera professionally in the'90s and played several instruments. I gravitated towards Punk and Hardcore when I was about 13-14, which, coming from a home of modest means, was the first thing I'd really ever identified with as a kid, and is still the lens through which I view the world. I got my first guitar at about 15 and started a death rock band as soon as I figured out a barre chord. Since then, I've been in many bands of varying degrees of success and longevity— mainly styles that fall under the punk banner: deathrock, hardcore, post-hardcore, post-punk, etc. In 2018 I was tinkering around with some demos that became the first 'Ravens release. Beth and I met at a bar in Brooklyn shortly thereafter, and we had tons in common as it relates to musical tastes and our upbringing, and she'd played bass in a band when she was a teenager. Eventually, I played her the 'Ravens stuff and she dug it, so we decided we'd do it together. It really wasn't a band until that moment.
Beth: Music has always played a huge part in my life. I've always been immersed in the live music scene and have lived in some great music cities, New Orleans, Austin, Chicago, and NYC for many years now. I've mostly been on the music industry side as a career, with roles in A & R/Management/Marketing/Consulting. I never considered putting myself out there on the creative front until I met Matt. Our tastes are very aligned, with the only variance in our timeline/tastes being when Matt was leaning into death rock/hardcore, I was coming from the industrial scene and starting to work with and sign indie/alternative artists.
I described your sound as tipping a hat to the past while striding into the future. Is that fair? And to what degree does the past shape where you are headed musically?
Matt: Totally fair, and thank you. I think a creative misstep I've made in past projects was trying to emulate sounds or trends within a scene or genre that was popular in the moment to the extent that kept it indistinguishable from everything else happening contemporaneously. It seems like the most interesting things happen when you're drawing from all of your creative influences of any genre or era and channeling it into a singular expression. Beth and I talk a lot about music, our favorite songs, and what makes them so memorable and/or moving to us like at a granular level. We're both really intrigued by the idea of combining disparate components, the challenge of making them work together, and the potential therein. Even something really subtle can shift the dynamic of your sound to something all its own. As far as how the past shapes where we're headed musically, there are things we'll always be attracted to, like a cool break, dramatic crescendo, or a huge chorus, but I'll say the music we grew up on will always figure into what we're doing to some measure.
A new album, Lost Hymns, is planned for spring 2023. Is the recent single, "Nature of Artifice", a good representation of what to expect or just one flavor amongst many?
Matt: Honestly, "Nature of Artifice" was not a track we'd considered as a single when we were putting together the sequence. It turned out to be a favorite of the label, which was a pleasant surprise. It's a good representation of Lost Hymns in that it's part of the creative timeframe in which we wrote it, but it's less indicative of the album as a whole. There are other tracks with a similar dance-friendly cadence, but this collection of songs is more varied than anything we've done before. The next single the label is releasing is the first track on the album; "Requiem for the Sun". I don't know if I could pick a favorite track on the record, but for me, it sets the tone, and it inspired the album's title. The main idea going into writing was likely what any band would want, which is to make something as good as or better than the previous effort without repeating ourselves, but mostly we were focused on making songs that'd be fun to play live.
Your latest album, Another Kind of Midnight, was followed by a remix featuring some well-known names. Who was involved and what was it like to put your music in the hands of others, and are there any plans to do the same this time around?
Matt: It's a really cool thing to have artists you respect and admire reinterpret your songs.
Beth: The remix EP was something I pushed for in the sense of suggesting to Matt, let's send some songs around and see if anyone would be interested. The first one to come in was the first one we asked for, which was from Clan of Xymox. We were so blown away by it that we just kept on going, so to speak. It was super exciting to hear the different interpretations. Others we just wrote to to introduce ourselves and were pleasantly surprised as to who was up for it and their song choices. Some of the names, like Chris Vrenna and John Fryer, stemmed from back in my industrial days, which was an important element to me. We love them all, to be honest. Such an honor, and I'm sure we will solicit more in the future. We really enjoy doing remixes as well and have done ones for Curse Mackey and Black Rose Burning.
"Nature of Artifice" is about turning a blind eye while the world decays and becomes a less beautiful place. Are these the concerns and messages common to your writing, and are there any other common themes and warnings to be found?
Matt: With "Nature of Artifice" specifically, you don't want to sound sanctimonious, and you try to ride this precarious creative line between wanting to shine a light on something you feel is important and risking alienating some by being perceived as scolding or shaming people, which we have no interest in doing. We're all guilty of turning a blind eye to some extent, not excluding myself. We get caught up in life, responsibility, our families, and our jobs. It's the human condition. More broadly, I think a lot of our lyrics may come off as dense in metaphor, but there are common themes— some very 3D Earth reality-based, some of a much more metaphysical nature, and I think we try to examine how both those realities interact, relate to, and sometimes contradict one another. We've heard some amazing interpretations of our lyrics, sometimes things I'd never considered when writing them. I think they hold more weight when someone finds their own meaning in a song and its ostensible message. At the end of the day, music should be empowering to the listener.
I see you've got Nexilis Records and Shameless Promotion PR on your team to bring your music to the masses. How have folks been reacting to your new music?
Beth: It's wonderful to work with all of them. I consider Eric and Gero from Nexilis Records and Shauna from Shameless Promotion PR to be pioneering industry veterans. There is a deep knowledge that only comes from being passionate and having a history within such a niche but rapidly expanding genre. We have built a very personalized list of contacts, blogs, radio, etc. It's been amazing to add their collective reach and have them on our side, expanding our fanbase on an international level. Every radio play, mention, and conversation on our behalf is very much appreciated.
Next year, you have a tour planned with Clan of Xymox and Curse Mackey. How did this come about, and how excited are you to be in such great company?
Beth: This tour feels personal to me, and we've been excited about it for many months; maybe it's even closer to a year at this point? Clan of Xymox is a band I saw as a teenager, and Curse Mackey is someone I've known for many years but haven't been able to spend time with since I moved to NYC.. Shortly after Clan of Xymox did our remix, we started working with Rocky Road Touring. They really connected the dots and put ACoR forth for this package. It feels like it's been a long time coming since the tour dates have shifted. It moved from some harsh winter months to spring. Our album also got pushed due to vinyl production issues, so for us it works out perfectly! No 12-hour drives in the snow and a lovely run of dates on the west coast.
Beyond that, what are the plans for your band?
Matt: We started writing Lost Hymns before our previous album was even released. Maybe that was a symptom of the Covid lockdown, but I do tend to get ahead of myself creatively. In the past, when we've reached a goal or milestone, I've been like, 'ok- what's next?', without really taking the time to sit in a sense of accomplishment. With Lost Hymns, our heads and hearts are locked into the moment. You can never really see everything that's coming down the road, but I can imagine touring on this for the foreseeable future. In addition to the Xymox/Mackey run, we've got things in the works for getting to Europe. I'd love to go to South America, the UK. Travel is a big part of why I started playing music in the first place.
Bandcamp
Spotify
Order the single
Nature of Artifice
The Blackest Mantra
Lost Hymns album order
Album order
Bandcamp