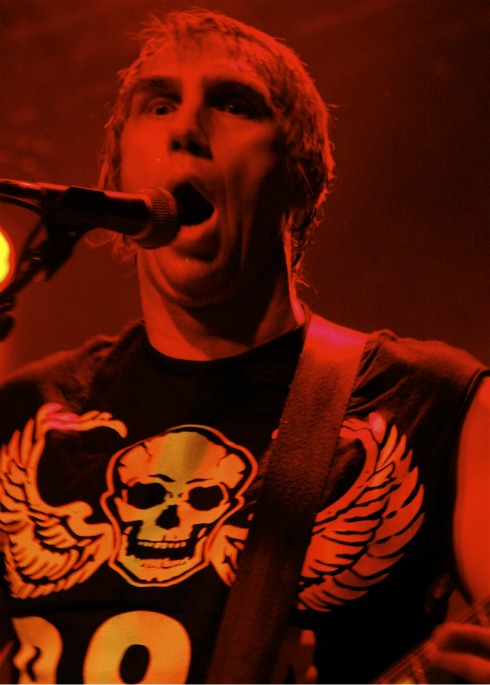 6 December 2011
Photo: Joey Shithead at Vancouver's Richards on Richards, by Cindy Metherel
For Big Takeover #69, I spoke to Bloodied But Unbowed filmmaker Susanne Tabata about her movie, a documentary about the early years of Vancouver punk. I also checked in with DOA's Joe Keithley about the film, and ended up getting a bit more of him on tape than I could use in the article, most of which revolves around his new "punk rock coffee table book," Talk-Action=0, available through Vancouver's Arsenal Pulp Press or Joe's own site, Sudden Death Records. That's included below; the interview is self-explanatory – but also check out the print component, and see more about Bloodied But Unbowed – an exuberant, music-rich chronicle of the early Vancouver scene, also featuring footage of the Subhumans, the Young Canadians, the Pointed Sticks, the Dishrags, the Modernettes, and many, many more great bands, at www.thepunkmovie.com.
AM: The book is fuckin' beautiful, man. I was skeptical when I heard about it – "Joe's doin' a book of his memorabilia, yeah right." But it's fantastic.
Joe: When I saw it, honestly, I was blown away. I knew what it was going to look like, kinda, because I'd done the editing online when I was in Australia. But when I saw it – "holy shit, it's the real thing," right?
AM: Other punk bands are going to be jealous.
Joe: Well, I gave one to Greg Hetson when I was in LA, and Mike from Agent Orange came up at the same show and bought one. I said, "Here's your path, you guys both got great bands, you should be doing your own book!" I'm sure they've got endless amounts of stories to tell, too, and tons of great graphics. Anyway, yeah, I was really happy with how it came out. The only thing we couldn't find was stuff from when DOA played with the Clash and a couple of things with the Ramones. But everything else I have in this endless amount of boxes of crap!
AM: I guess the punks of the future will be talking about playing with DOA, but that's pretty cool that you played with the Ramones.
Joe: Yeah, we got most of the greats in there. We didn't play with the Sex Pistols, but we played with PiL.
AM: Oh, shit, yeah – but everybody hated PiL at that show, as I heard it. They were all chanting "DOA, DOA…"
Joe: Yeah, but that wouldn't bother a guy like Johnny Rotten. He's got a thick skin – he's a pretty smart guy. "Fuck off," he would tell them. You know what, he threw his PiL shirt out into the audience at that show, and about six guys grabbed it, and it became like the Tasmanian Devil, and they all came up with a piece of the shirt. The only other time I seen that happen was when we were kids, it was me, Dimwit [one-time drummer for DOA, the Subhumans, the Pointed Sticks and many, many other bands, now deceased], Gerry Hannah and Brian Goble were at Emerson Lake and Palmer – because it was before punk rock, so we were into these kind of bands – and Carl Palmer threw his tambourine out, at the end of the show, right into where Dimwit was, and I don't know if you remember, but Dimwit was a pretty big and strong guy. So six guys tried to grab the tambourine and Dimwit elbowed every one of 'em and pushed'em away and he came up and said "look what I got." And it wasn't wrecked – once he got hold of it, the other guys were smart enough to back off!