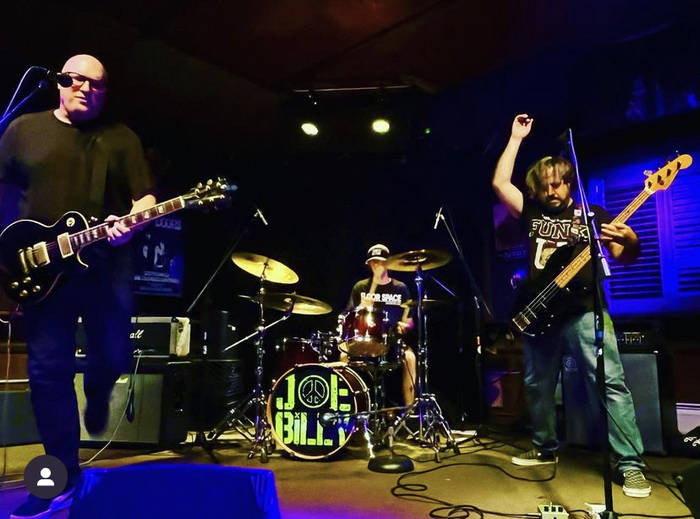 31 August 2023
Hey Chris – thanks for taking the time to chat today. Fast forward from your days with Shudder To Think. Can you bring us up to speed on your new band Quiz Show?
The original Quiz Show lineup was Kevin March, Frank Gibbons, and me. Even though I kept my instruments, I did not play much music after departing Shudder to Think in 1992. My plan was to graduate from school and have a career in archaeology and academics. This I did, but I was also very lucky to end up teaching in Montclair, NJ, a NYC suburb where a lot of other musicians also settled. Kevin and I bumped into each other at a music event and started playing together in a cover band. We soon shifted to writing songs together and then started playing with Frank, who lives around the corner from me.
Kevin is an amazing source of inspiration, and I owe him heaps of credit for getting me back into making music. Kevin is also friends with another Montclair musician, Ray Ketchem, who had a recording studio in his home where we recorded the first Quiz Show tunes like "Sound of Kissing" and "Pom Pom Boy." Now, we record our music at Ray's Magic Door studio and release our music on the Magic Door record label, which Ray, along with Kevin and Renée Lo Bue, runs. Go, team, and go, Montclair!
The Quiz Show lineup evolved in 2021 after the pandemic with Jesse Krakow on bass and Joe Billy on drums, along with me still playing guitar and singing. This trio recorded and released two three-song EPs through Magic Door and will have more new music to come soon.
It's fair to say that this band has a wealth of experience, but what opportunities does Quiz Show offer you all that haven't been open to you before?
Since I left music for 25 years, the opportunities for me are all new. That said, I feel like this situation is opening up new parts of my musical capacities. Not only am I singing for the first time, but the songs I am coming up with are more musical and whole than most of what I created in Shudder to Think.
Sonically, it isn't hard to see the dots that join you with the likes of Husker Du, The Pixies, and Sonic Youth. Was there a conscious effort to make that sound, or was this what evolved when you played together?
No conscious effort on our part. These comparisons come from our fans and occasionally in the way we sensed the songs are working (hey, that sounds like that Pixie's tune!) Add to that, Frank Gibbons is not really a punk musician, so his bass parts come from an entirely different place that is really about melody versus driving the beat.
There have been some amazing three-piece bands in music history; what do you like most about playing in such a direct and unburdened format?
The best part of a three-piece is that each instrument has a space of its own. We certainly layer guitars on the recordings, but even there, I have tried to make the instrument work in ways that the layers work with each other so they are all heard. Playing live as a three-piece makes this easier and also more challenging since sometimes the space is intimidating. That said, my current mates (Joe and Jesse) are so solid that I usually feel free to work my way and at the pace I need to be to play with heart and confidence.
The eponymous debut album is a great collection of songs; why did it take so long for you to get a long player out, and does some of its strength lie in the fact that these songs have been thoroughly road-tested?
All of the songs except for "Mannequin Sun" were previously released as singles between 2017 and 2020. We were in a pattern where we would record one or two songs at a time and then put them out on our own. Last year, Ray and I talked about packaging these together to release them as an album on Magic Door. It's been a great way to refresh and give these tunes a new life. The result has been fantastic.
In recent years, there has been a slew of great music from Ray Ketchem's Magic Door Record Label. Tell me a bit about your experiences working with this team.
I told the story of meeting Ray above, but I will add here that Ray and Magic Door are amazing! The studio is state of the art, and Ray has been both a technical expert at recording the songs but also a wonderful producer. He has a great ear for what we are trying to do, and I know the other bands on the label feel the same way. Something magical is happening at Magic Door, and I am thrilled to be a part of it!
Is there a set writing process, or do songs emerge in various ways?
Our Songs almost always start as riffs or parts that come to me on my acoustic guitar. If the idea feels like it has something to it, I rush to make a quick recording on my voice memo app. I have dozens of ideas sitting on my phone right now. If I really like something, I'll share the voice memo with the band; we'll work on it to see if it has legs. If so, we'll make a new vice memo recording that I use to develop vocal melodies. Eventually, a song comes together, and then I worry about the lyrics!
And where next for Quiz Show and anything else you're involved with?
We continue to write new songs and plan to record a new batch for an EP or a future LP later this year.
Also, folks can visit us anytime and spend some time with the music below