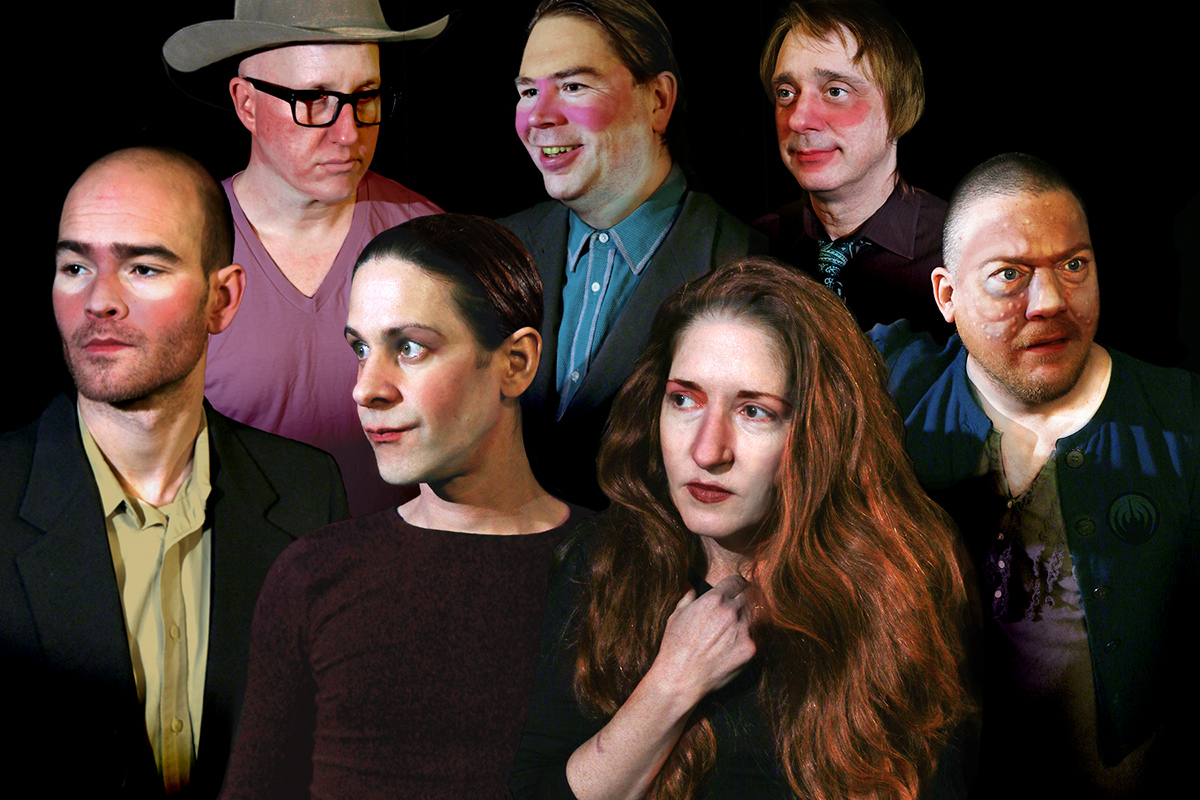 15 August 2023
Firstly, for the uninitiated, can you tell me about Lovely Little Girls and how the outfit came together?
Lovely Little Girls started as a performance art project that was loosely based around music. It was more of a platform for my performance and spoken word and to create a dissonant chaotic atmosphere. The performances included masks, dancers, bicycle horns, bright red tempera paint for blood, etc. Reading about Johanna Went's performances in RE:Search was a big inspiration.
Putting on these big productions at DIY venues and coming up with something new for every performance was not sustainable, and the group evolved into a proper band. Alex Perkolup came on board a couple of years later and brought his songwriting and playing genius into the fold. Alex and I make a good creative duo. He is great at translating my non-musical ideas.
Alex and I went through a few different lineups until this current incarnation. It has been stable for about ten years. It is the lineup that has produced the last three records.
Your sound is an ornate blend of styles and sounds. Could you describe the sort of thing going on in your music?
All of us have different influences, reference points, and musical ability/history. We work hard at combining all of these elements without it being genre-hopping. A lot of material gets left on the cutting room floor. I act as a sort of director, forming a loose abstract narrative for a song and an album. We have been playing together for quite a while and have developed our own musical language. We actively look for styles that will morph into something odd through our "LLG filter".
Wit and wisdom, the profound and the profane, and flashes of musical inspiration all tumble through your songs. Where do you find inspiration regarding themes, lyrics, and messaging?
The themes come from my paintings which revolve around body horror and the abject. I like to juggle dualities. Beauty and disgust, lust and repulsion. It's how I feel about myself. I think most people think this way. It's important to not only hit on one note but to have a resonant emotional dissonance that sometimes resolves and sometimes doesn't.
I don't approach words/lyrics in a literal way but rather how they hit you emotionally. I use a cut-up method. I cut out various phrases and words from old encyclopedias, pulp novels, cookbooks, etc. I lay all these little word strips down and stare at them for hours, trying to piece them together in novel and emotional ways that actually make sense, unlike some William Burroughs cut-up stuff. I combine different modes of language- the dry observational, the ridiculously maudlin, the overly descriptive, and the crassly exclamative. Some of the lyrics are very successful, but I'm still baffled at how I spun such a weird turn of phrase. Some of the lyrics I'm a little ambivalent about all these years later.
Sometimes the lyrics are shoehorned into a crazy melodic phrase Alex came up with. His musical phrasing is so different from what I default to, so it's always a challenge but always rewarding, producing excellent results.
Lately, I have been trying to incorporate a personal point of view into the lyrics. It feels very naked and vulnerable.
I have to ask how the music comes together. It is so wild and eclectic; what would be the typical musical point of departure for a song?
In the past, Alex and I would demo songs. He is influenced by prog and death metal. I veer towards more primitive no-wave and post-punk. It's an interesting push-and-pull of how we manage space in our songs.
With the current lineup, we have been developing songs as an ensemble. It has opened our palette. One idea leads to another. It usually starts with a little seed, something quickly tapped out on the keyboard or a bass line that has been rattling around in Alex's head for a while.
Would such a band come together in a city other than Chicago? Or, put another way, what is it about Chicago that produces such off-the-wall culture?
I always like to use the Chicago Imagists or "Hairy Who" painters as a good representation of Chicago. They were a group of painters in the 60s that worked off of pop art but brought it to a stranger place than what was happening in New York at the time. The city is an ugly, forgotten step-child. For better or for worse, the mindset is built into the psyche of the city. It gives a lot of artists the freedom to not give a shit.
This would be a long list, but can you briefly tell me about some of your inspirations, musical and otherwise?
For me, my main musical inspiration comes from punk and experimental rock circa 76-84. There was an immense explosion of different sounds and approaches within the music. I appreciate a more conceptual approach to music, sound, and performance combined with raw, unpretentious emotion and aggression.
I don't think they factor much into our music, but The Fall is the group that I listen to obsessively, specifically the 79-83 Grotesque/Hex/Perverted by Language era. That band had such a unique interplay. They had their own groove that always seemed one step away from collapse. Mark E Smith's lyrics at that time were unmatched. I have always been attracted to bands that have a singular, idiosyncratic, unpredictable front person.
For Alex, Magma is an everlasting influence. You can hear it in his bass playing; you can hear it in his songwriting. Other inspirations we have in common range from Henry Cow, The Residents, Carla Bley, Fred Frith, Arrigo Barnabe, Ennio Morricone, Lalo Schifrin, and This Heat. Alex and I also share a love of 80s thrash, when things were a little chaotic and weird choices were made. I love the vocals of Bobby Blitz from Overkill.
L. Wyatt comes from a gospel and choral group background; she brings a lot of that into the group. Cory Bengtsen brings a bit of hip-hop and Aphex Twin influence to the group. Jeff Goulet absorbs everything from free-improv to neo-soul. Mike Hagedorn and Heath Chappell are musical encyclopedias.
Do you gig the usual band circuit or find that theatre and comedy clubs are more your environment? Or you are equally at home in both places.
In the early days, when it was more of an "event", we would occasionally play performance art spaces. Ha, I don't think we would go over well in comedy clubs. So, yeah, usual band circuit.
And what does the future look like for the band? Are any big plans on the horizon?
Tour behind our new LP Effusive Supreme, and then get back to writing.
Thanks for taking the time to talk to me, and best of luck with all your endeavours.
Album pre-order link
Facebook
Website