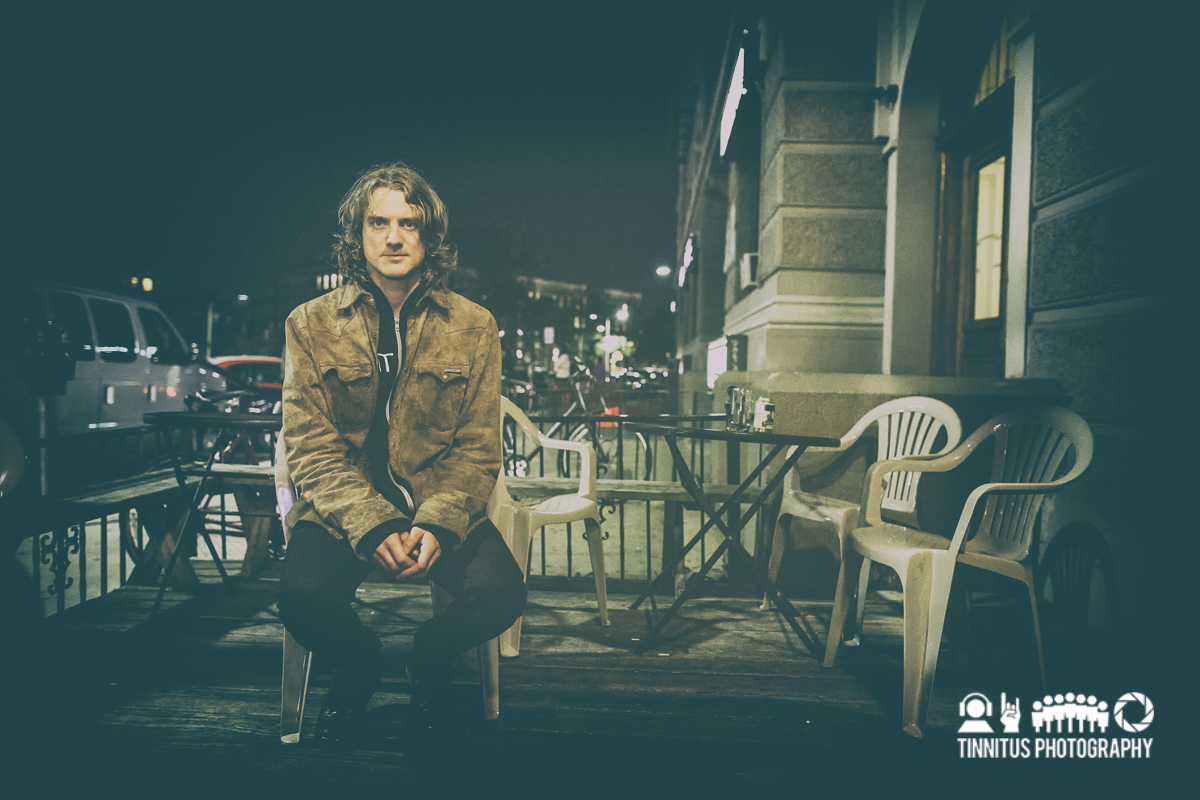 26 October 2015
Dungen is a band in the present, but one that feels very much of the past, echoing the fuzzed out (in tone and consciousness) days of hippie bliss and communal jams without any of the pitfalls associated with those scenes. I'm hard pressed to think of any true contemporaries who approach music in the same manner. They're like a beautiful, unique creature that you can get an occasional glimpse of before it dashes into the cover of the deep forest. The long stretch without a sighting was broken by the release of their seventh record, the excellent Allas Sak, and a subsequent short but targeted tour of the United States. Before they played, I got a chance to chat with band leader Gustav Ejstes:
Big Takeover: You played Chicago for the first date?
Gustav Ejstes: Yes, that was last night
So why did you choose Chicago to start the tour?
GE: I don't know!? (laughs) I guess it's the strategy around booking and routing and whatever… it's surrealistic, wherever we start.
You're heading back West or just doing the East Coast?
GE: We are doing the East and then we fly to Seattle and do the West Coast.
Sounds good. So you don't have to do all that driving.
GE: Yes, exactly. Long drives anyway. On the way from Chicago we stopped in Syracuse.
The first obvious question is, what have you been doing the last five years?
GE: There's been a lot of things going, and the break was not on purpose. From the beginning, maybe, let's take a break. It got pretty intense with touring and the last record. Then, I don't know? It's a small country and there's a lot of music going on in Sweden and we all got involved in different projects. I don't know how many bands these guys are in (laughs).
I know Reine plays in The Amazing and Elephant 9.
GE: Yes, Motorpsycho.
Oh he's in Motorpsycho too?!
GE: Yes and Mattias the bass player is in a couple of bands, and also organizes festivals in Sweden. Busy people!
How about Johan (Holmegard, the drummer)?
GE: He's been very busy working with several other artists and bands well. In the meantime I've been writing, and collecting this pile of songs, Dungen songs. Some time last year, Mattias Glavå, our producer in Sweden (he's a friend of mine and I've done other projects with him), he said "let's do another Dungen album. And let's do it my way. Let's go to my studio and put up your stuff, and record you as the great band you are."
The earlier records I'd been doing by myself. Producing and recording. But this time I gave the responsibility over to the producer, Mattias.
You've had this live band together for some time now, 8 or 9 years. Has that changed your approach to recording in the studio?
GE: This time, it definitely did. Because Mattias came in as a producer, as a fifth set of ears. Otherwise I have this control need over these Dungen songs which I have recorded and produced over the years. The thing that we capture when we meet, when we play live, that's something that I can't get in other constellations. Nor can the other guys. We have something unique together.
Has that shaped how the songs come together in the studio?
GE: No. I have pretty defined arrangements in mind when I introduce the songs to the guys. But I'm so humbled by the fact that we are still together, since everyone else has their other projects. When we play together, it's something special.
Have you put out any solo material from Dungen?
GE: No, but I am a member of a new band called Amason, and we have been here in the States as well. That's a true collective in regard to songwriting, where everyone puts in ideas. But with Dungen, these are still my songs.
Aside from the first record which had long songs, they tend to be a bit a short even though they've got a loose, jammy feel to a lot of them. Is that a conscious decision to be concise?
GE: No, there is nothing conscious with that. I think there are elements, in my life and my heart and the way I play music, I think there is a part of everything in there.
Well, when you think of jam bands, you think of 8, 10 minute songs and you are still in that pocket of four minute songs.
GE: I know what you mean, but especially live, we have those elements
So you stretch out a bit more?
GE: Definitely.
The last song on the new record, "Sova," is bit unusual as it is rather long, but understated. What was the choice for having that close the record?
GE: That song is very important in the sequence of the album. I listen to albums from the beginning to the end, and I felt like that that's the kind of world that I want to leave the record with.
The saxophone was a new twist too.
GE: Yeah definitely, he's a friend of ours. He's incredible. I've always wanted saxophone in our music but have never had any good reason, any good situation so far. But he really wanted to play, so we hung out and made it work.
It brought some really nice warmth to the songs.
GE: Yeah I agree. I wish we could bring him on tour, but… next record!
What was the decision to release Skit I Allt as an all-instrumental record?
GE: It was just a funny thing to do. I love it. I love vinyl, and special editions, and I like instrumental versions of songs. I like a cappella versions of songs as well, but that would be funny to listen to!
You've been over to tour in the US a bunch of times now. when you first came over, were there anything that was surprising or unusual that you weren't expecting?
GE: It is such an unnatural way of living. You never get used to touring, I've been sitting in these vans so many times, and it's not something that you do on a routine day to day basis.
The rigor of touring?
GE: You get into it after 5 or 6 days and it gets easier. you record, you play live – that's the way we live.
Are there stark differences between touring in Europe and touring in the States?
GE: Of course, because we mostly play Scandinavia. So you play for a couple of days, and then you come home, and then repeat. It's not like touring for six weeks straight.
If you had to choose one song to someone unfamiliar with your band, as one that encapsulates your band, what would it be and why?
GE: I would pick a song from our new record, "En Gang Om Aret," which is the last one on the A side. That is one song I would like to play for someone who hasn't heard us. Why? I don't know! I just love the song and I think it has a portion of everything we do.