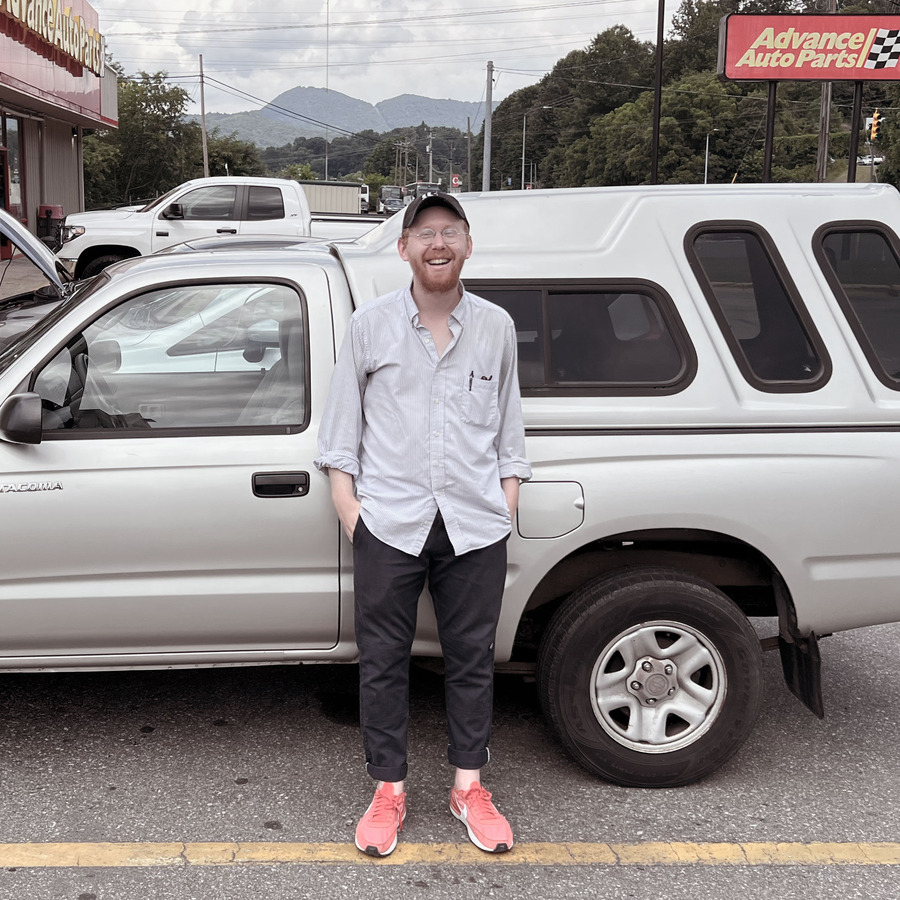 11 July 2023
Photo by Sasha Popovici
Scrolling through Fust's Bandcamp site, you'll find a number of home-recorded, self-released EPs dating back to 2017 though founding member Aaron Dowdy's been writing and recording since his pre-teen years. When it came time to commit his latest batch of songs to tape, for the first time in his career, Dowdy took the songs to a proper recording studio. Producer/engineers Adam McDaniel and Alex Farrar of Drop of Sun Studios in Asheville, North Carolina have developed quite a reputation the last few years having worked on releases by Wednesday, Snail Mail, Angel Olsen, Archers of Loaf, Kevin Morby, and Animal Collective to just skim the surface and they helped Dowdy bring his vision to life.
With
Dear Life Records
out of Philadelphia putting out
Genevieve
in June, Fust has graduated from Dowdy's bedroom to a place where important tastemakers are starting to pay attention. And while it may be premature to slap a name on this new scene made up of artists who blend indie guitar rock with Americana songwriting styles, there is something special happening down South that's worth keeping an eye on.
Fust has received some glowing press on Paste and Stereogum, among others. I imagine that has already had a big effect.
AARON: Yeah, that's sort of a big change for me. I've been making music since I was 11. I'm 31 now. I'm about to hit my 20th anniversary of writing my first song and that's all just been sort of music I've made in my bedroom, bringing people in when I can. I think there are a lot of us, in my generation especially, who grew up with home recording and made a lot of music. I never saw it as something that I could actually promote. I kind of think of myself as a little bit unmarketable.
It wasn't until I got up with Dear Life, this record label out of Philly, that things started to happen. They've had a few artists kind of blow up a little bit. I feel like I'm riding a little bit of a wave here, which is really exciting. It makes me feel like I'm part of something a little bigger happening. For the first time in my life, it's been very nice to have a little bit of attention. It's nice to have people respond to your music and want to talk about it.
I want to know about the song you wrote when you were 11.
AARON: I grew up in Bristol, Virginia which, besides having a NASCAR track that is known for having the fastest half mile, is the birthplace of country music because it's where the Bristol Sessions took place. This is where the Carter Family first recorded, and technically, I think I'm actually part of Carter blood. I'm not a Carter, but we have Carter blood in the Dowdy family. They have this festival to celebrate being the birthplace of country music called Rhythm and Roots.
That year, when I was 11, would have been 2003 and I was just getting into music. My dad had always played music. Mom, you know, always had music around, mostly '70s folk rock stuff, a lot of Neil Young. I was listening to pop-rock as well. I was at Rhythm and Roots and Old Crow Medicine Show had just played with Gillian Welch and Dave Rawlings and they did a performance of The Bands' "The Weight". It was a really incredible kind of experience for me, being around music. I had been listening to music independently and learning guitar for like a year at that point.
After watching that performance, It just hit me, like, "Oh, I've got to write a song. Dad, take me home." It was a calling. I didn't know what it was going to be about. I didn't know what kind of music it was going to be, but I saw people playing songs and they were right in front of me and I was like, "You just strum a couple of chords and you start singing over it and maybe that'll be a song."
Do you remember what that first song was?
AARON: I was trying to think about that the other day since we are on the 20th anniversary of that song, I was going to go back and try to find it but haven't yet. I hit the ground running. It was like a kind of joke. My dad was always probably a little annoyed with me because I never sat still with the song enough to bring it to completion. It was just like, "That's a song. Record it." File it away. "That's a song. Record it." File it away. I started to accumulate a bunch of songs, but they were never good enough. They were just these attempts. I don't exactly remember what the first song was about, but it was definitely what I still write about today. It was about heartbreak, that's for sure.
Something that, as an 11-year-old, I'm sure you had a lot of experience with (laughs).
AARON: Come on, hormones are raging at that age. You're feeling frustrated and you put it to work.
Did you ever play those songs for other people? Did the object of your heartbreak ever hear those songs?
AARON: Definitely. I got made fun of a lot for those songs, but I put them on the internet. My dad kind of knew how to make a bare minimum website. This was before any kind of makeshift sharing platform, so we had to make a website and upload low quality versions and you could click and stream. We made one of those websites, I don't know why. It was just dad and I having fun, I guess. I'm sure they were heard by the kids at school.
It was kind of funny, my first experience of sharing music and being taunted a little bit because it made me want to think about it differently. "Oh, well, maybe I should structure it differently." It was more inspiring than it was humiliating.
I don't think you sound exactly like Son Volt but when I first listened to the song "Genevieve," that's the band I thought of. Is that a band you're familiar with? Did they have any influence on you?
AARON: That was a band from early on in my life. One of the first bands I got into. I grew up Jewish, I don't know what the point of that statement is, but in Southwest Virginia, in the Bible Belt, I was the only Jewish kid in my high school and in the area there was another kid who was also Jewish. We went to synagogue together and we started playing music together. James Gibian. He's an awesome dude. When we were probably 12, we would get together and play bar mitzvahs. That's how we made money back then. All the kids had bar mitzvahs. They'd hire us as the bar mitzvah party band and we would cover Jay Farrar. He had a song we played called "Feed Kill Chain" and that was a 12-year-old trying to sound like Jay Farrar, trying really hard to figure out why that music was so impressive. I mean, I wasn't really thinking in those terms back then. But something about Jay Farrar early on was very impressive. He's melodically adept, which I really like, and I tend to lean towards melody, but his voice is so strained. The music sounds really good but it's kind of freeing and loose.
What probably drew me to Son Volt is that the music felt makeable. It felt like if me and my buddy got together and played, we could probably get kind of close. We probably didn't sound that great, but we felt like we were getting close. So music like that, that when you listen to it, you feel like you can go and either emulate it or cover it and get kind of close, makes you feel like you're part of it pretty early on as an impressionable young kid.
I feel fairly adventurous and try to listen to new music but Son Volt is something that I have gone back to in recent years. Certain songs, like "Drown," are actually kind of small songs but they're just enormous when they're played by the band. That's how a lot of this stuff that I do with Fust is. They start as these tiny songs, and now with the band, we take them in and they turn out to be these huge songs. So there's a kind of tension in the music. Neil Young has that too, where he can play his songs very quietly and they are amazing acoustic songs but then Crazy Horse jumps in and they get to be these massive, sort of expansive, sounding things. I admire that tension.
Is that something you were interested in specifically trying to do with the new record?
AARON: Yeah. I've never recorded music in a recording studio, it's all been home recording. We hooked up with old buddy, Alex Farrar. He recorded a bunch of things recently that our buddies have been in. We recorded in Asheville, North Carolina with Alex. I had known him back in the day. He's been recording, for example, our friend Jake (MJ Lenderman). We have a mutual friend, Indigo (De Souza), who is also in Asheville, and Alex recorded that record. I knew the guy, he was a really good friend a long time ago. We had lost touch and I was thinking, "Damn, I've never done this studio thing. I should really try to do that if it's an option. I don't have much money. I don't have a label backing me." So I just reached out and asked if it would be possible, let him know what my meager budget was, and he was like, "Let's do this."
I truly didn't know what to expect. I was a little embarrassed with my songs, taking them to a studio and letting someone else touch them. I didn't have a lot of confidence. But he kind of works as he goes, as a producer. The first song we recorded was the opening track, "Genevieve," and we all went into the studio booth to listen back and it basically sounded like it sounds now. He had run things through outboard gear and had things sounding right. That little tiny song turned into something kind of massive and we immediately felt pretty proud.
It's a great song to open the record as I was hooked within the first 30 seconds.
AARON: It was never going to be the first song, it was going to be a weird little palate cleanser of a song but it was the first thing I'd heard from the record. It's the song I kept coming back to. So, yeah, I think that was the best way to introduce other people to the music.
Did you come out of the experience with more confidence and thinking that you'll make your next record there?
AARON: Yeah. I've had a buddy since high school who's in the band with me named John (Wallace). He's the other guitarist and he runs a band called Colamo. It's a really good band and I'm in that band, too, and we've always done just home recording. Even when we tried to be rock bands inside of that home recording setting, it always sounded very like music that was struggling to hold itself together. We'd gotten used to that sound and we were advocating for that kind of lo-fi sound and we've been kind of advocating for it our whole lives, each kind of competing in a certain way to make it differently. I think we did a really good job throughout our lives trying to figure out how to do that sound. The moment we sat down, me and John, listening to it in the studio, what we had just done, it's like, not that we were wrong in any way, but maybe we've been converted. I think we were converted then and there.
Under the Fust name, you've released another album, Evil Joy, and a few EPs. Having had the experience in the studio, is there any consideration given to going back to the studio and rerecording some of that earlier stuff?
AARON: Yeah, there's some hidden gems in there. I would love to do even older songs that aren't even on Bandcamp right now. There's that great Bonnie Prince Billy thing, Bonnie Prince Billy Sings Greatest Palace Music, where the new persona plays the old persona's songs and updates it. It's kind of like that in a way. We've been dreaming of that for the past couple of years. It's like, "Maybe when we catch a break, let's update some of these songs."
We've also talked to people who have said, "I didn't really get Fust's music too much until this record. Your voice was always processed or muddy in a way that I didn't really get what you were doing or saying. And the melodies didn't come through. But everything has a kind of crystalline quality now that makes it make sense." I'm like, "All right, well, I really like those old demos." In fact, I'm an advocate of demos, and when people release demos in general, I tend to want to listen to them. There's something precious about demos over final versions. There's something unfinished about demos that makes it feel possible to make music. You don't need the big budget and the big studio to do it. But, yeah, people saying that kind of stuff to me makes me want to go back and hear them differently or let people hear them differently.
You're throwing out some names of friends who, in the bigger world, are pretty well known and respected. And, it seems like maybe the Drop of Sun Studio is the epicenter of this stuff. Does it feel like a scene or a movement or something?
AARON: I wonder about that. First and foremost, I think everyone has a kind of shared sensibility, maybe similar to what I've been describing. We all love music, love listening to and finding new music or old music. We're all people who have recorded at home, people who have then recorded in the studio. Wednesday started that way. Jake (MJ Lenderman) started that way. We all like the same kinds of music, and we're all making music that, if it doesn't sound similar, it's got the same heart. It's hard to overlook those things. I don't want to claim that anything is happening. I think they're all really good people and they're all really down to hang out and we're all in North Carolina. It makes it really easy. But I also think there's something going on, a return to a certain kind of music or sound, maybe country music if you want to call it that.
There's a band on Dear Life, which I'm on now, called Florry, out of Philly. They're so good and they have this sort of sound. I don't know if it's a group of people or if it's just a kind of general tendency in culture right now, a kind of cultural tendency that people have latched on to. I can't really say either/or. But I do love hanging out and talking with the people that are here in North Carolina that have gotten a little bit bigger. They're great. All my buddies are great. It seems like there's something going on, but I don't want to be the person to name it or something.
North Carolina is a pretty small state. We can get over to Asheville pretty easily. I want to say that when you get people doing similar things, there's a kind of gravitational pull that starts happening, whether that's with playing shows or playing on each other's records or just talking about music and hanging out. There's a level of friendship that's more important or more foundational than the release of music.
I think people in Asheville, that's a more tight crew. This dude, Colin Miller, who plays with them, also makes incredible music. That crew over there in Asheville is wild. I feel somewhat adjacent to it being over here in Durham. We have this great band, Sluice, whose members are in Fust, and they've had some good success recently. We're friends first and foremost. I don't really know how to express it, and I'm probably ranting a little bit, but there's something about the necessity of hanging out and having companionship and music coming second because when music comes first, it does feel like following each other's footsteps or riding each other's tails. There's something that can get a little weird about it.
Durham is kind of older, it's a college town, but there's a lot of people here. There's some pretty big musicians like Brad Cooks and Hiss Golden Messenger who are based here.
When you're writing, what comes first, the music or the lyrics?
AARON: I'm not a lyrics-first kind of person at all. I think it comes across in this record, lyrics are kind of important to the music. But for me, it's always acapella melodies that get stuck in my head, phrasings, usually not even sentences or phrases that are actually legible in any way. And then I sit down with a guitar or something and try to find the chords for it. Find the next line. If there is a good line that's attached to it, try to write down that line and then find the next line lyrically, that would make sense. Sometimes it works in other ways. A classic way for me that I really love to do is to assume that the song already exists and to sit down at a computer, lay down without even really realizing what I'm doing or without any kind of plan, just recording guitar, recording chords and then start singing on top of it and seeing where that leads. And then other times, I do keep a notebook of phrases and stuff and when I'm sort of reaching, I turn to that and see if anything aligns.
So it does happen in different ways. But I would say mostly I'm just trying to latch on to a melody or a phrase, a kind of figure that maybe has lyrical shape to it even if the lyrics aren't right yet, and then just try to develop it, sing along with it, try to find the next line. Eventually that leads to a verse phrase or a chorus phrase and you just work it out until it's done.
Each song on Genevieve sounds like a story but, I think thematically, there's a bigger story that pulls all the songs together. It's almost like they are chapters rather than individual stories that are part of some compilation.
AARON: That's very nice of you to say. I think that's ideally the way it could be received, That's the other side of it. Once I have nice bones for the songs, I want the lyrics to actually say something. I tend to have a Fust character who seems to be somebody just dealing with everyday life and domestic life in America, wherever it may be. So I'm always trying to think through simple kinds of American problems whether it's financial, relationship, any kind of an American theme that I can inhabit and find the point of view. That's ideal for me. And it really worked on this one, where there's a kind of intimacy.
I tend to use people's names and places. It makes it feel like there's a situated knowledge that I have access to as the lyricist. It's kind of a documentary of this imaginary kind of engagement with American problems or American sensibilities. I really love to do that. So each song is a little scene of that imaginary America.
Is there any song that you think needs attention, that maybe has some lyrics that you feel particularly proud of, that are award worthy, and tell a story that people need to hear but that you haven't had a chance to talk about yet?
AARON: I do think the one song that has been latched onto is "Violent Jubilee." I think a lot of people, for whatever reason, have really latched on to that, the crescendo of that song, but also the lyrics, and they have meanings beyond what people are giving them.
I'm always interested, even with that one, which people talk about a lot, seeing what the interpretation is. It's not that no one talks about these songs or talks about one more than another, I'm just excited because I think they're kind of rich, lyrically. I'm not trying to toot my own horn at all, but there's a lot of stuff in there and a lot of imagery, and I'm always curious to see what people say.
But the one that people have not mentioned on this record, which I don't think is award worthy (laughs), is a song called "Oil Leak." It's a fiddle tune courtesy of a really awesome fiddle player here in Durham, Courtney Werner, who plays with The Magic Tuber Stringband. I really like that song because it kind of is a love song. I tried to write these love songs that maybe on first listen you're just like, "Wait, what side is this guy on? What point is he making?" It's a love story from the point of view of, I think, severe anxiety, social anxiety. And I think that's really special because I experience immense social anxiety and it's really hard if you're in a social situation.
I started with this idea of the guy, the character, kind of hanging out in the garage as opposed to hanging out with the people inside at the party, but he's trying to have this kind of lovely time. You're in this really exciting, maybe drunken environment. It could be the kind of place in which you could spark a romance – and maybe it could be a more evil version of this – but I think it could be a place where you meet someone or maybe you know someone but social anxiety comes in and prevents you from having the kind of time you want to have. I try to think through that very deeply in that song. No one's really talked about that. But a song about social anxiety as a love song is something I've tried to write before. I felt like I did a pretty good job this time.
I love Richard Linklater films. I'm always romanticizing about a network of random people hanging out. There's something about that image, even as a socially anxious person, there's a kind of tension. I want to be in this situation. It's just that when I'm in that situation, something happens. And I really wanted to embody in that song not that it would be good to leave this party. No, I'm totally committed to being at the party. There's a part in it when there's this character, Jimmy, who's like, "You're kind of acting like an asshole. We're totally here to understand you but you're kind of taking it to the point where we would all be more understanding of your position if your defensiveness wasn't coming off in a way that's making people upset."
I just love that kind of complex psychological drama of something so simple as hanging out at a party.
I was watching the "Violent Jubilee" video on YouTube and I loved that somebody left a comment that said, "This is thunderstorm music." I'm invested in music for the experience of how and when I listen to it. I was on a road trip recently and I listened to Genevieve as I drove through rural towns where you see signs that the next big city is 65 miles away. The record totally made sense in that situation whereas I'm not sure if it would make as much sense to me if I listened to it while lounging by the pool. Do you listen to music that way?
AARON: I do. I'm also a compulsive list maker, somebody who can bring together things which maybe don't seem to touch on the same genre or even the same sound quality or approach to music. But, for whatever reason, they both become associated with some kind of feeling. The classic ones are "These are road songs," "This is road music," "This is moody music," "This is sad music."
I love listening to music and finding music that sounds like a kind of occurrence that I've lived with. "Thunderstorm music" is a great version of that. There's a lot of talk of heat and coldness in that song. There's a kind of battle going on. There's a distant thunder that's like a storm rising. That song, to me, was always about having a child and the kind of looming fear of fatherhood or something like that. When I saw that YouTube comment, it became attached to this idea of a thunderstorm. Those two things become compatible in a way. The figure of the thunderstorm and the figure of fatherhood become associated in my mind, and they have been ever since I read that.
Are there songs that bring you back to a specific place or time in your life when you hear them?
AARON: I think I was maybe not a bad kid, but I had a rough few years. It's like being young, not really caring about school or whatever it is, and being more interested in friends and music and drinking and whatever drugs.
At around 16, that lifestyle started to affect me in a way that it would overcome me and my anxiety would be so strong. I knew that it couldn't last, that I couldn't maintain this or that there was something unnatural about where I was going or where my body wanted to take me and what the kind of activities I was doing. I was going through a really kind of anxious period, at a turning point, where I was like, "I'm actually kind of slowing down, calming down."
I came home after a night of going a little too hard, but also really feeling like it was reaching a breaking point, and my dad was in the basement. I would come in through the basement. I had a little side door in the basement, and I didn't expect him to be awake. My dad's there and I'm like, "Oh shit." Instead he's just set up the speakers and put on Veedon Fleece by Van Morrison. The opening song is called "Fair Play" – strumming open E chords, upright bass. It was truly angelic for me. My dad could just tell. I think he's had similar experiences.
We've talked about it since then. He kind of knew. It felt kind of cosmic. He was like, "I'm going to sit you down. We're going to listen to a record together, we're going to practice mindfulness." He didn't say any of that. That's the way I interpreted it. And I remember this anxiety just going away and this need to be a certain kind of way, a certain kind of funny person, a certain kind of my ego trying to be impressive when I knew I wasn't that impressive. It was coming to terms and all of that feeling of social anxiety just falling away, sitting on the couch with him, listening to Veedon Fleece and specifically "Fair Play," that first song, I was like, "Oh, man, you were waiting for me. You knew I needed this." And every time I listen to that now, I feel that kind of falling away feeling. It was a real turning point in my life.
I've always gone back to that record as a kind of staple, not only as a turning point in my life, but as indicative of somebody who kind of let go of a lot of his bullshit. I think Van Morrison had a lot of industry issues and whatnot and sort of went home. Just knowing that and also feeling like I went home that night, that comes back to me.
What separates every day Aaron from Fust Aaron? What does daily life look like and are the hopes and dreams to make Fust something that sustains you?
AARON: It's a great question. I mean, that sort of hit me where it hurts. I have to think about that so much right now. I'm married. I'm a PhD student right now. I'm here at Duke.
But the job market for professorships and teaching and whatnot is so bad, it's pretty bleak. So it's a weird thing where it's like I'm doing this one thing where I'm not a great academic by any means. I like to do it. It's like I get paid money by the university to pursue some interests, but I'm not very good at it. I love it and I'm committed to it for now. And it's the same thing with music where I can't bank on music being a big future for me. I'd love to commit to that too. So it's like I'm doing two things that I really love, but both of which have these kinds of unstable futures. Really I'm trying to figure out the best way to do both now.
I feel like people are loving Fust. I feel like I have work to do at the university, so I'm sort of just doing both. For example, I have to teach in the fall, so I can't really do Fust in the fall. I don't have anything to do in the spring, so it's going to be a Fusty spring. If people really like Fust and I can make a life out of Fust, I mean, I've been committed to that since the very beginning, since I was like 11-years-old. I just never felt confident enough to do it.
People coming out and being interested in it now, maybe I feel a little more confident. I don't know how far that will take me, but it seems like a future I'm willing to commit to. It's a balance.
I'm like, "If a band wants to take us out on tour, we'll go, we'll make time for it." I do feel like I'm a little late to the party, but I'm also feeling ready for it in a certain way. So I'm just hopeful that people continue to respond well.
What can you tell me about Dear Life Records? I recognize Jon Samuels name because he played in a band I love called Yowler. He's one of the co-owners, right?
AARON: Jon is a serious player. He also plays with 2nd Grade. The other guy who runs it, Michael Cormier, they both run Dear Life, and they both play in this band, Friendship, which is a Philly-based band. They just signed to Merge. Really impressive, sharp music. One of the best bands out there. I knew Friendship before I even met Michael and before I met John. We played a show with them back in 2019. We were playing in a bit louder rock band, and Michael got up and played a kind of quiet country set. And I was like, "Man, that's what I'm trying to do with my music. I really love these tiny songs that reverberate out."
I think I had demos for the record before this, Evil Joy, and he got a hold of them somehow. And he got in contact and he was like, "I love these demos. We want to put out your music on Dear Life." No one has ever put out music of mine before so I was like, "Yeah, let's go for it. I love your music. I love Friendship. I love everything that you guys are part of."
Michael had just got engaged to his now wife, Meggy, and apparently they listened to those demos throughout their entire engagement. I only met him at that show briefly, and at that point, he'd never heard my music. He was like, "I want Fust to come play our wedding, because this music had been a soundtrack to our engagement." We've really been best buds since then. It's really cool to be a part not of just a label, but a part of a supportive community that actually really loves your music, that wants the best for it. It's been a good marriage, Dear Life and Fust.