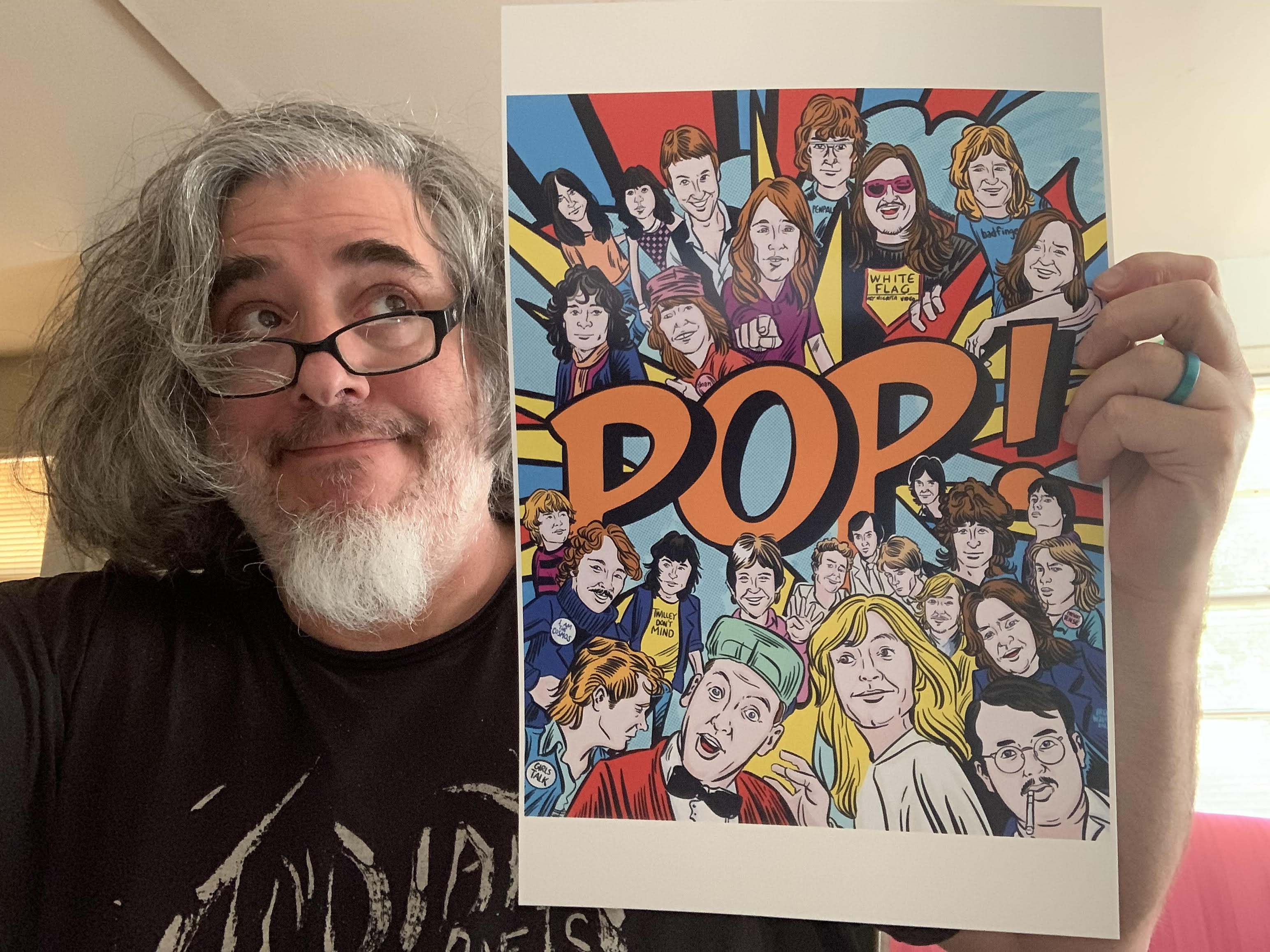 9 November 2023
Brian Walsby is an artist and musician who got his start in the thriving punk fanzine culture of the '80s. He has contributed artwork and interviews to many legendary zines over the years including Flipside, Maximumrocknroll, Razorcake and The Hitlist, among many others.
"The punk aesthetic is really just a 'do it yourself' aesthetic. It was cool to just do stuff and not worry about how good or bad it was. Back then I was just happy to be able to contribute to things. So it was perfect. And just a lot of fun," Walsby told me for the email interview below.
Walsby has also played drums with many bands including Scared Straight, Wwax, Snake Nation and Polvo. He is currently the drummer for the heavy North Carolina-based trio The Magpie.
Walsby has published several books of his artwork in the Manchild series as well as Self Empunishment, a collection of interviews with "self-reliant, self-employed, and otherwise self-motivated musicians, technicians, and artists."
"(Music and art) fuel each other because they are both creative acts. It goes hand in hand, for me at least," Walsby said.
Starting with an opening reception on Dec. 9 and running throughout January 2024, a selection of his original artwork and limited-edition signed prints will be on display at The Punk Rock Museum in Las Vegas.
I chatted with Walsby by email to discuss his artistic origin story, how his style developed, and to find out the inspiration behind his recent series of power pop-themed drawings.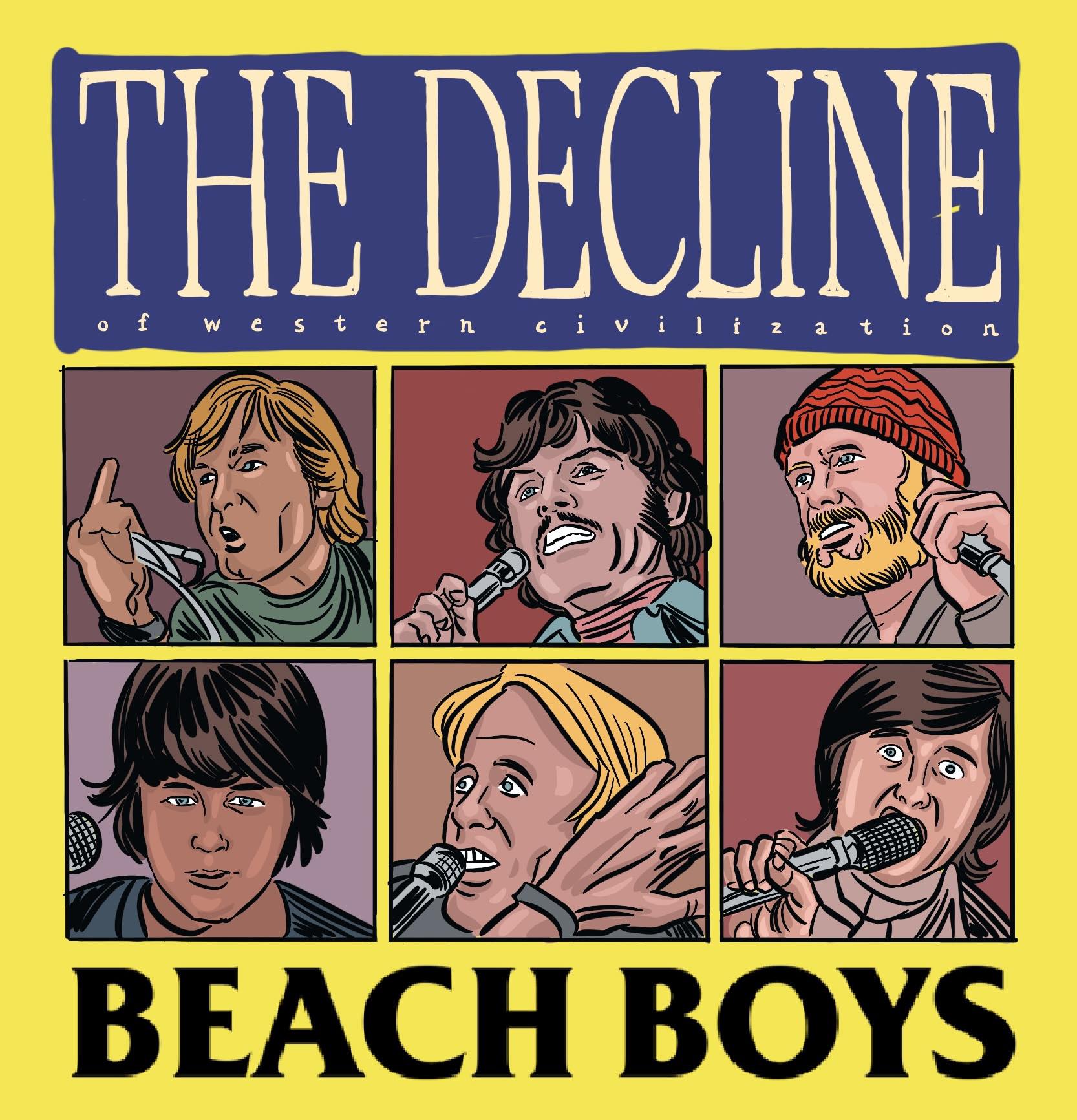 What came first for you, drawing or punk rock?
Brian Walsby: Drawing before music. And certainly music before punk rock. I gravitated towards both at an early age. I was drawing before I can even remember, according to my mother…but music came quickly afterwards. KISS was my gateway band into rock music and I knew of The Beatles and The Rolling Stones. My uncle gave me Out Of Our Heads and Aftermath by the Stones when I was in sixth grade and then the floodgates opened.
When punk rock eventually came around I liked that too, it was more accessible and local and seemed easier to contribute. I wouldn't be able to hang out with Aerosmith and give them artwork, but I could write letters to fanzines like Flipside and get some interest, which happened before I was ever able to go to an actual punk rock show. It was really thrilling.
But I saw punk as just more cool music to enjoy. You can always tell people who just like music in general. They tend to stick around after "punk" goes away I guess.
Do you think your style would be different if you hadn't come up in the 80s zine culture?
Brian Walsby: I don't think so. The music always seemed to go hand in hand with drawing stuff. In my mind, that's how I saw it. The music inspired the art. Just the activity of listening to music while drawing…I still do this activity to this very day. I wasn't a great artist or anything, but I liked to draw all of the time.
Looking back, I think the enthusiasm carried me through. I didn't exactly spend a lot of time on anything I drew back then, but it didn't seem to matter. Later on, it did matter. It took a long time to improve. Just learning how to ink with brushes was a challenging effort. I was a late bloomer for sure. Now these days I mostly draw on a tablet with a Procreate program, which I love.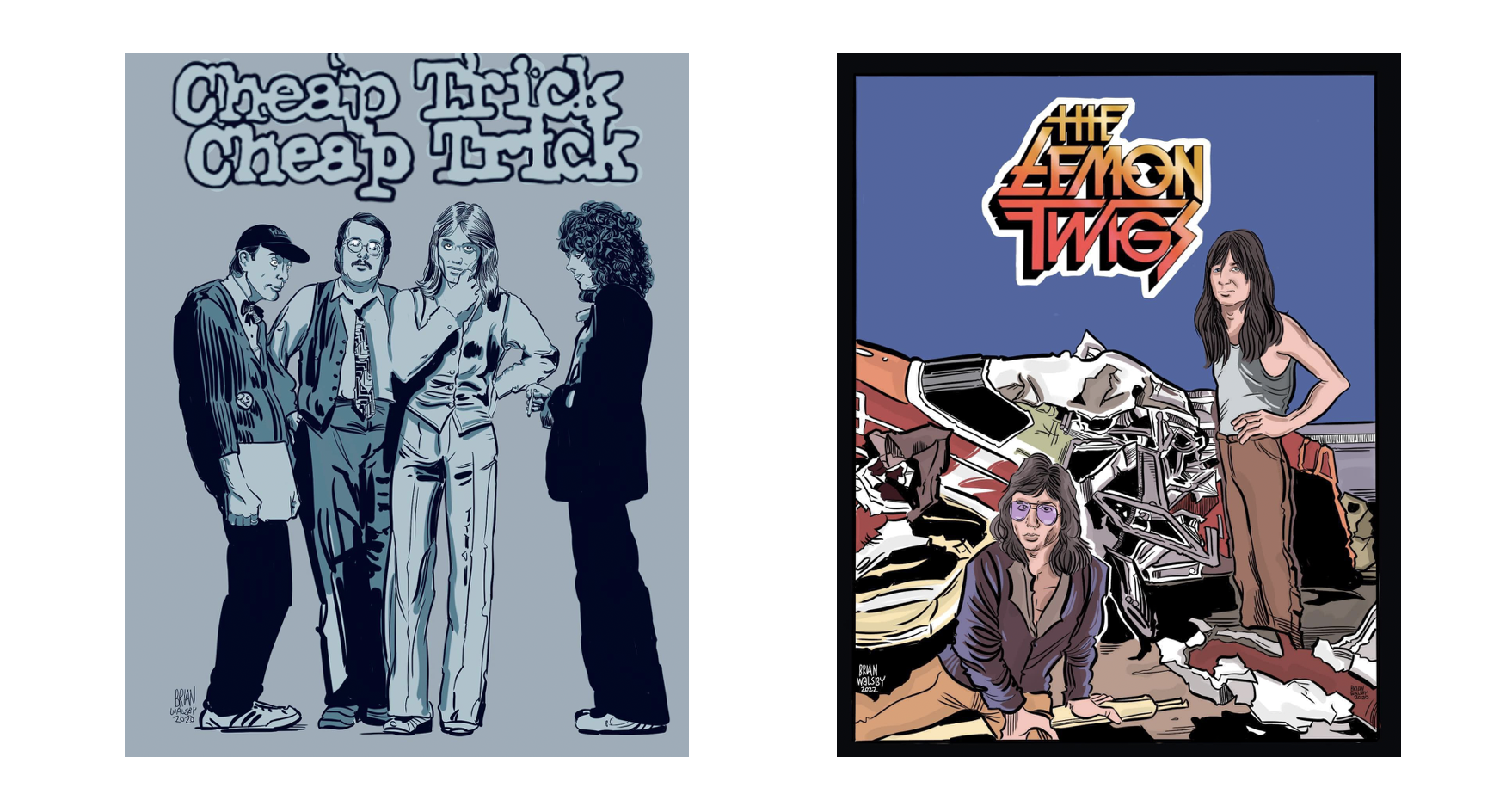 How has your style evolved over the years?
I think doing something over and over and practicing at it is what is going to make you improve. It's how you can make one little swish with a pen, and something looks the way it does because you had spent thirty plus years beforehand. It's that simple!
Who are some of your biggest artistic influences?
Brian Walsby: Charles Schultz and Mad Magazine were my biggest influences growing up. The humor of the Canadian show SCTV was a big influence on me too. Those three are the biggest influences on me. I wish I could say I have lots of "artistic" influences. I don't think I have a lot, but I certainly like people ranging from Nick Blinko to Francis Bacon. I am less of an artsy kind of person, more of a Dr. Demento and Mad Magazine kind of person. Ha!
You and I first connected when I commissioned you to create the cover art for my essay collection Forbidden Beat: Perspectives on Punk Drumming. How much of your artwork is done on a commission basis these days?
Brian Walsby: These days, all of it. I am a freelance artist that's always looking for commissions. Luckily, there continues to be enough interest in me and my artwork to keep going. For that, I am very grateful. Occasionally there will be a big project that will sustain me financially for a little while.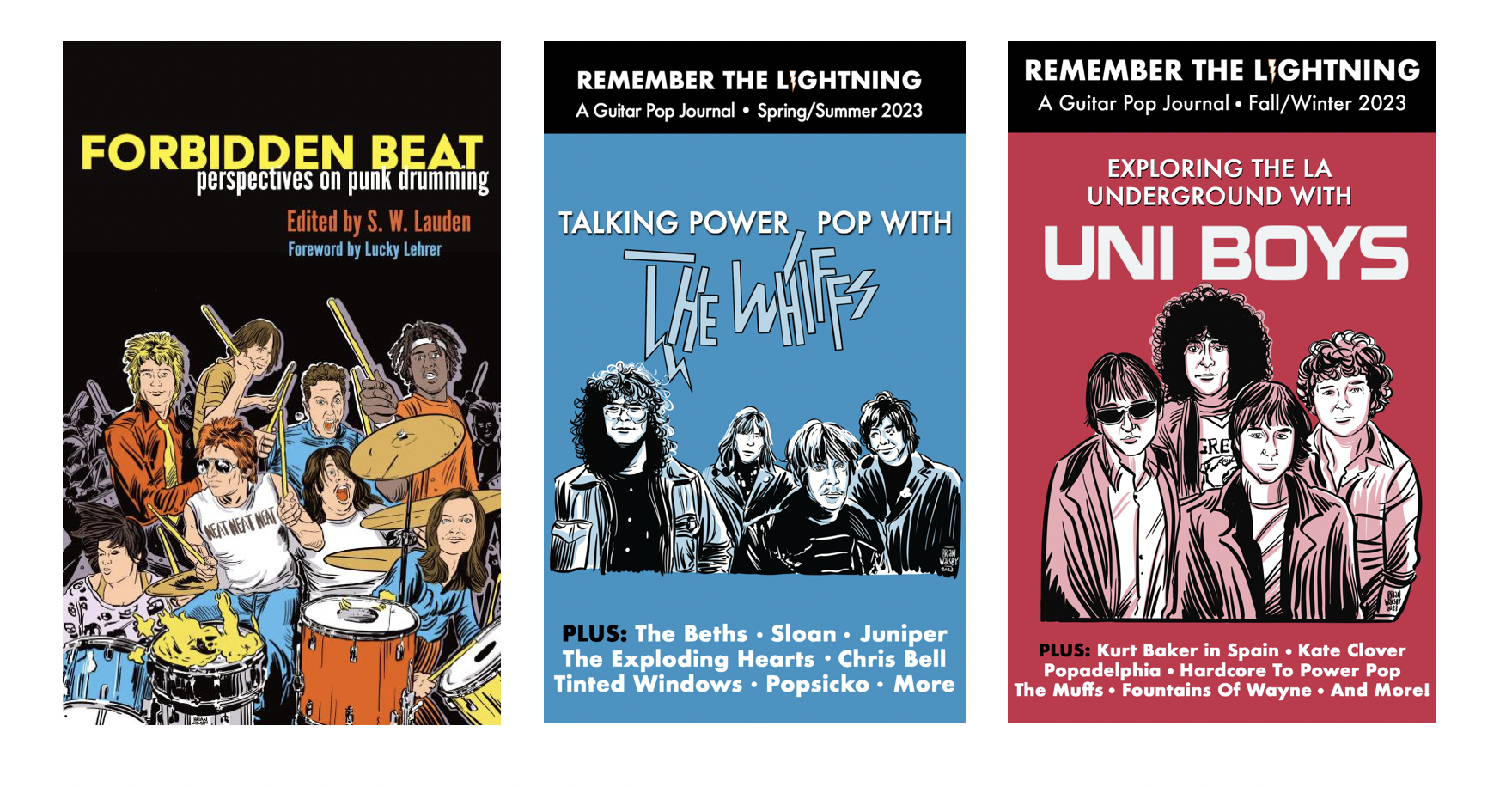 I also commissioned you to do the covers for my semi-annual guitar pop journal, Remember The Lightning, which is meant to be a zine combined with a literary journal. Are there any zines that you still enjoy these days?
Brian Walsby: Sadly enough, I haven't kept up with fanzines…or I am just not aware of some good recent ones. Fanzines were the lifeblood of several different musical scenes throughout the years, so I am sure on some level it's the same—but it seems since the internet age there is less of those sorts of things maybe? I am sure I am wrong. Ugly Things, Mike Stax's ongoing magazine, is always worth picking up. So I will say that. I am thrilled to be in some version of The Big Takeover though!
I was really happy to see your recent power pop series. What inspired you to create drawings of bands like Sloan, Cheap Trick and The Lemon Twigs?
Brian Walsby: Thanks! As I probably already said, listening to music goes hand in hand with the creation of art. So, I guess last week it was time to go through another short lived musical obsession and for whatever reason, the pop punk umbrella came into my brain. Of course, Cheap Trick are one of the greatest bands of all time, so they were a shoe in. I only discovered Sloan at the start of the pandemic because of Steven McDonald (Redd Kross, The Melvins) telling me how good they were and wearing a Sloan shirt all of the time during the last couple of Melvins tours I went on.
I was BOWLED OVER by how amazing Sloan are, and also scratching my head at not being aware of this long-standing Canadian band. This led to a little friendship with Sloan's Chris Murphy, a really personable and great guy. The Lemon Twigs are an amazing band of young guys centered around two brothers. These guys are really young which easily dispels the notion that guys my age occasionally fall into—the idea that there's no good music anymore. Look and you will find.
Next week it will probably be Scott Walker or Opeth ha ha.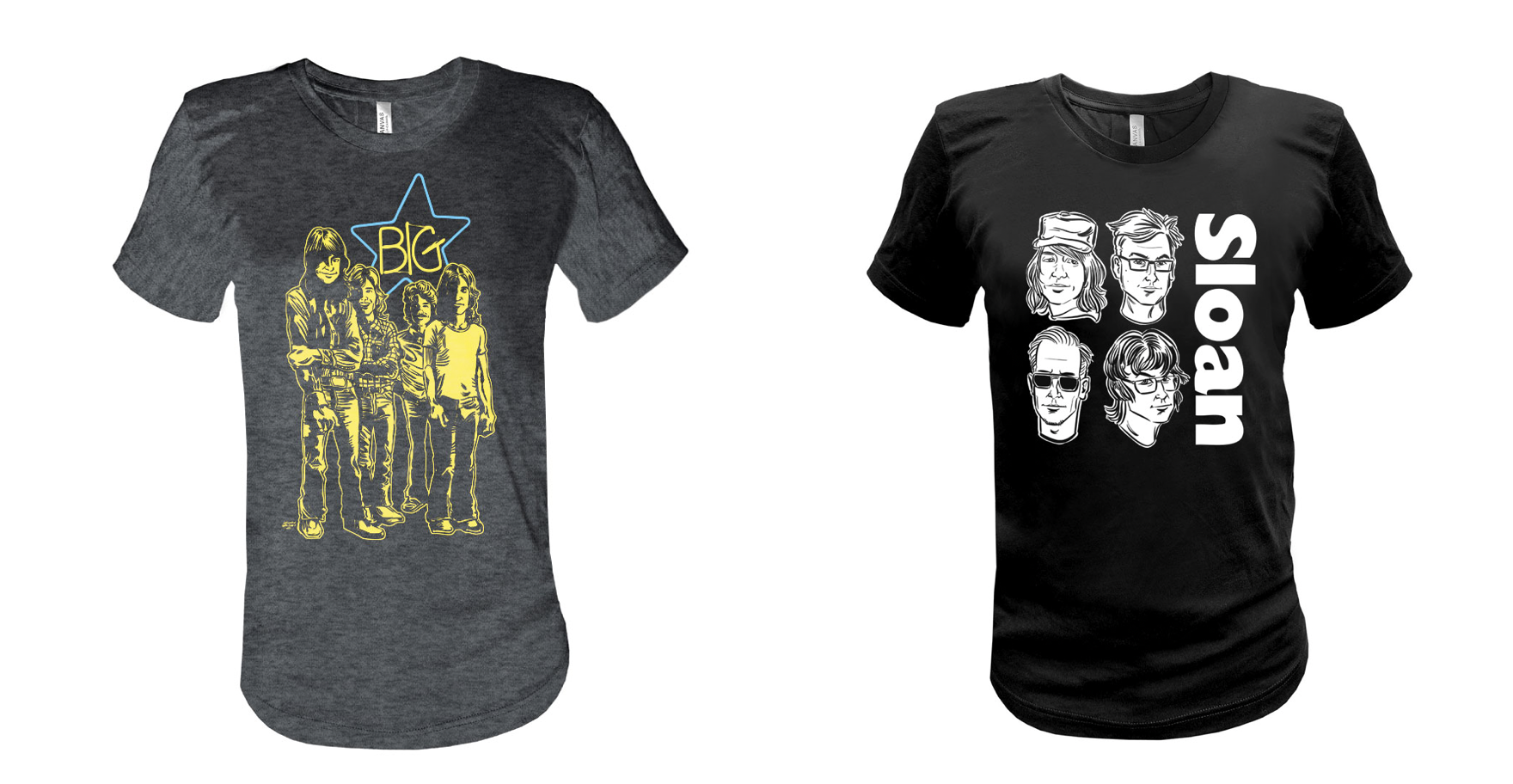 You also do a lot of band T-shirts that are for sale on your website. What are a few of your favorites?
Brian Walsby: Getting to meet Jody Stephens and doing a Big Star shirt was a big deal. Writing to Mick Harvey and having him wave through an idea of mine was nice…weird, but nice. The T-shirts are mostly a result of my friendship with Charles Cardello and his Bifocal Media business. We have done a lot of shirts together, and it keeps going. I have been able to work with a lot of people that I never thought I could, so it's a nice thing to be able to do.
What's next for you?
I also play drums in a band out of Raleigh, North Carolina called The Magpie. It's a trio of mostly short heavy music with a guy who sounds sort of like Roky Erickson singing over it. That aspect of it makes it stand out a little bit. It's a lot of fun and I am grateful to still have a little taste of playing music these days.
The other guys are Erik Sugg (guitar/vocals) and Mike Deloatch (bass/vocals). We get along and are friends. We have a nice ten song recording produced by Mike Dean from Corrosion of Conformity. My wife Kristin, who is also a freelance artist type, made some incredible artwork for the album.
Aside from that, just living. More work. Life. I am a husband and a father and I try to do a good job with all of that, and most of the time I pull it off! Ha ha. Contact me for anything at manchildwalsby@gmail.com.
Thanks for the interview! It's appreciated.