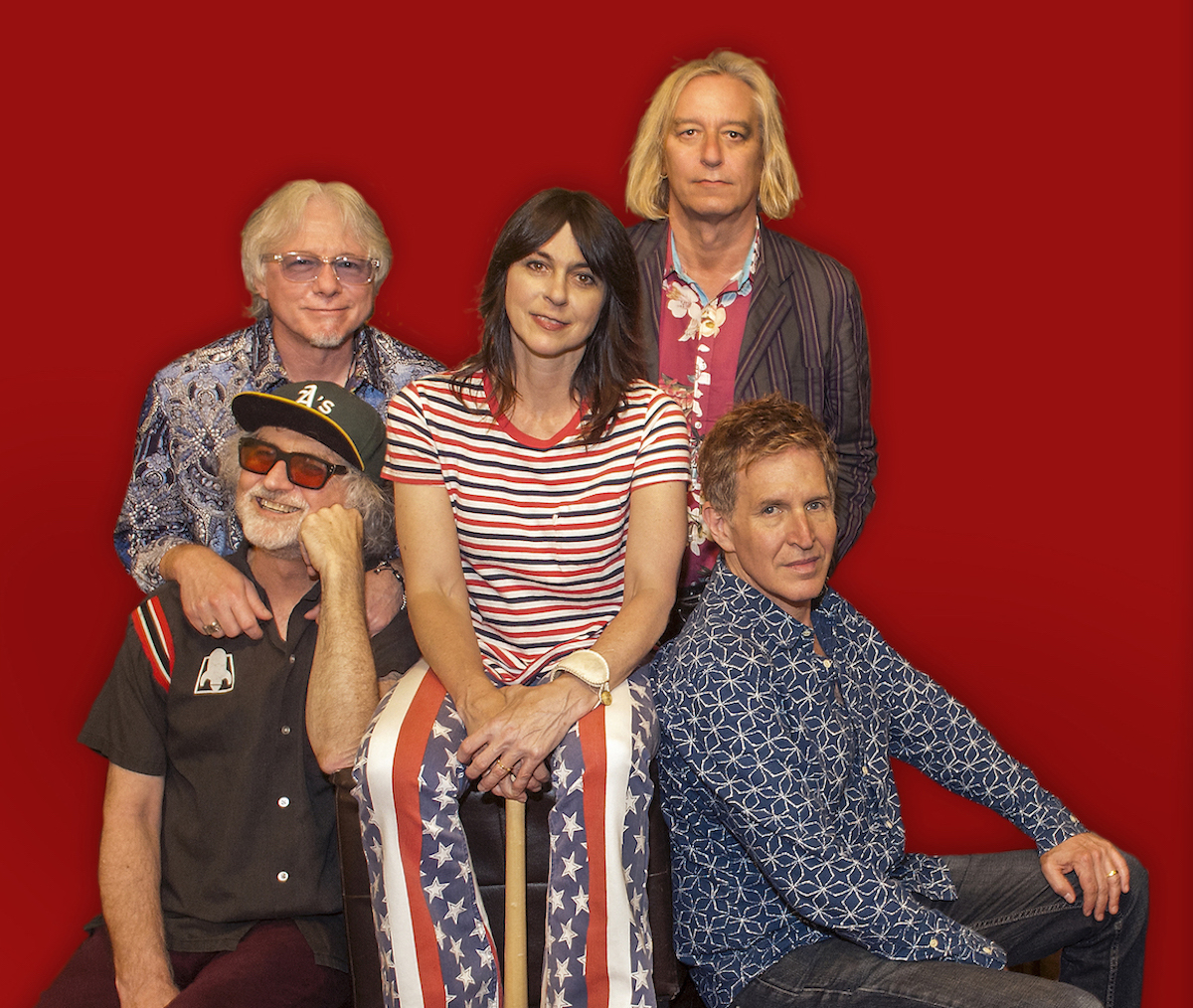 21 July 2023
Photo by Marty Perez
The term "supergroup" is thrown around a lot these days – it's seemingly applied anytime a band consists of members drawn from other bands – but The Baseball Project really does fit that lofty label: its members are some of the most renowned and respected musicians in the history of alternative rock. The lineup consists of former R.E.M guitarist Peter Buck and bassist Mike Mills, Steve Wynn (The Dream Syndicate), Scott McCaughey (The Minus 5 and Young Fresh Fellows), and Linda Pitmon (Filthy Friends and Steve Wynn and the Miracle 3). But given their various legacies, this group's music might not be what you expect: as their band name suggests, their material is focused on America's Favorite Pastime. Writing primarily about baseball-related topics would probably be a disastrous approach for many artists, but in the hands of such talented ones as these, the material is enchantingly quirky – as they continue to prove with their fourth studio album, Grand Salami Time (just released on June 30 via Omnivore Recordings). During a recent call from his Georgia home, Mike Mills discusses why this band is such a joy for its members, their creative process, how he become a musician in the first place, and what he thinks of his musical legacy overall.
How did you know it was time to do another album with this band?
MIKE MILLS: It's really mostly up to Scott and Steve because it's more their band. I'm a participant and the bass player and occasional songwriter, but it's really kind of their project. It came together at my birthday party [in 2007], but it was those two who birthed it. But really, it's a question of working around everybody's schedule and deciding whether we have enough songs – those two things are the prime movers.
How did you know you should form this band in the first place?
MIKE MILLS: We're all old and dear friends, so we love working together. Scott and Steve are two of the great contemporary rock and roll songwriters in the world today, so their stuff is always going to be top notch. And we're just bonded by the fact that we are friends, we love rock and roll, we love baseball, we love to not only play together but to hang out together. It's the sort of thing we really look forward to doing for all different kinds of reasons.
With so many good songwriters in this band, how do you avoid conflict or competition with each other so everyone will have the space to contribute?
MIKE MILLS: Well, I've made a career out of avoiding internal band conflict, so that part comes easy! But as I say, it's Scott and Steve's band. They created it, they're the principal songwriters, and they've also been in bands for a long, long time. I had one song on the last record. I have one song on this record, and I'm perfectly happy to have that. It's a nice change of pace to have a different style of songwriting in there at least once. The last record [2014's 3rd], I had a song that was a really fast pop song ["To the Veterans Committee"], and then this one is kind of a slow, spooky song ["Stuff"]. So it just gives it a little bit of a change of pace. Or in baseball terms, a changeup, if you will!
When they bring a song to you, how do you put your mark on it and make it your own?
MIKE MILLS: I write the bassline, unless one of them has a great bass idea, which I'm happy to incorporate. And then if it needs vocals, I'll sing. I love to do harmonies. But everybody in this band sings. Linda's great. And Scott and Steve are longtime professional singers. And I just put my trademark background action in there, so sometimes a little counter melody or an answer line, or sometimes just a straight harmony.
This release is significant for a couple of reasons, the first being that you collaborated again with producer Mitch Easter, who worked so memorably with R.E.M. How did you know you should work with him again for this?
MIKE MILLS: I always want to work with Mitch Easter whenever possible. He can work with any style of music, but he's great with rock and roll and pop music, and that's one of the things that we like to do as individuals and as a band. And we love Mitch as a person, as a collaborator, as a producer. He's excellent for all those things, and he's great to be around. So it's a no brainer. If Mitch has time and we can coordinate our schedules, then there's no reason not to work with Mitch.
Also, of course, this marks you returning to work with Peter Buck for the first time in a long time. What was that like for you?
MIKE MILLS: It's like putting on a coat that you love, in a way. He brings his incredible guitar style to it, which adds a depth and complexity to the songs.
With everybody at such a high caliber in this band, you've set the bar pretty high for yourselves. Do you ever feel any pressure to live up to high expectations?
MIKE MILLS: No, I think at this point in our careers, we know who we are. We know what we're capable of. We have our own standards. It's not so much that we set the bar for the band, it's that we have long ago set the bar for ourselves individually. And as long as we rise to that level – and frankly, I don't think we'd settle for anything less – the band is certainly going to be there, as well.
What made you want to be a musician in the first place?
MIKE MILLS: I grew up around music. My parents were very musical. It was around me all the time and I had a natural inclination for it. That's something you discover pretty quickly. There are two ways you get into it: you can either have a love for it, or you can have a natural inclination for it. And I had both.
Do you remember the first song you ever wrote?
MIKE MILLS: I do. On guitar. I still play it once in a while. It doesn't have any words, but every once in a while I just play it to make sure I remember it.
You should record that.
MIKE MILLS: You know, I think about it. Someday, I might just see if I come up with some words for it. That could be interesting.
What do you think it is about your music overall that's enabled you to have such a long and successful career?
MIKE MILLS: That's a good question. You know, it's not necessarily going to be known to anyone why their music connects. You write the music that makes you happy, or you write the music that has to come out of you, and either it connects with people or it doesn't. There's just no way to be sure of how or when that will ever happen. I like really melodic music, and I love working with melody. So that is one of the things that connects with people on a visceral level. So if you can write good melodies, you're kind of ahead of the game at that point.
What do you think as you look back on the career that you've had overall at this point?
MIKE MILLS: I'll say this: The desire to be good every night starts at day one. In my previous band, we never had any desire to be less than super great every single night. Certainly later on, you always want to look out for your legacy. That's part of the motivation. But really, you have professional pride, and you have personal pride. And not only have you been given a gift of being talented in music, but you've been given the opportunity to play it and to make a living at it, and you don't want to squander that. Part of the way of showing your gratitude for that gift is to go out and do your best as often as possible.