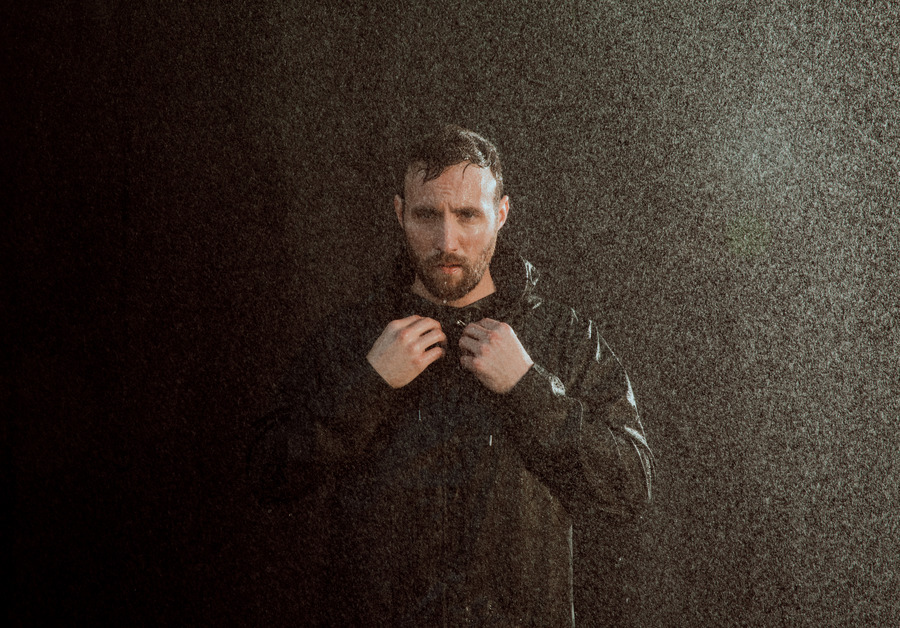 13 April 2023
Photo by Alysse Gafkjen
Ruston Kelly's always been candid when it comes to lyrics. 2018's Dying Star detailed the singer's drug addiction and recovery. 2020's Shape & Destroy was a relationship album with songs written during Kelly's marriage to Kacey Musgraves. Following a very public divorce that found Kelly in the tabloids, the singer got to work on songs that document self-examination in a time of change and the process of healing. Working with an outside collaboration (Nate Mercereau) for the first time in his career, Kelly's openness and honesty continues to be on full display on The Weakness, the artist's most accessible album to date.
The new album seemed to be a bit of a surprise. Was I missing signs on social media or were you a little quiet leading up to this?
RUSTON: From a social media perspective, the year 2021 I purposely stayed off social media. I had to reassess what my relationship with social media is and was and I still am reassessing. At the same time, I was working on this record. This record is the longest record that I've worked on before. Because of the pandemic, I had to do the Shape & Destroy tour in the middle of working on this record.
I flew out to L.A. to start working on this record, at least writing songs for it, in May 2021. From May until February, I was in L.A. off and on, off and on, and then I did the two-month tour and got home in November for a week and then went straight to the studio in December. I got home on Christmas Eve and then flew out February 1 to finish the record. During that process, I was purposefully staying off social media so I could focus on the art of it without thinking about those things that kind of come around sometimes that don't matter.
The one thing I do remember seeing is that you were hinting about releasing a live record.
RUSTON: That was in the works and we had started mixing it. That's the one frustrating thing about being an artist with a label, there is budgetary red tape at times and the pandemic really affected that. There is still a plan to release a live record, I'd love to be the type of artist that has a lot of live records but it wasn't the right timing then. We'll see where that goes.
You've been playing "Hellfire" live for a while. Was that an obvious song to make this album?
RUSTON: In the Shape & Destroy studio session, we had attempted "Hellfire." We just couldn't quite nail it. It didn't feel like it was the time. The impetuous for this record, thematically and creatively, was to take some of the energy of a live show and put it on this record. I was like, "Why don't we try giving 'Hellfire' a new shot?" I felt like it could rock and roll on this one. It ended up doing just that. It was just a change of production and producer and a new sense of energy to bring to it is how it made it on the record.
You've never shied away from honest lyrics. Is there ever a temptation to not be so honest?
RUSTON: Oh yeah. I just can't do it. I've tried. Even when I'm writing songs for someone else, I've tried to do that thing that a lot of people seem to be able to do. I just can't quite do it. That's not my bag. It can be a heavy thing when that's where you go creatively all the time but when it's right, I remember why I do it that way.
It sounds like the themes for your songs find you rather than you trying to find themes.
RUSTON: Definitely. I can't help it but 99.9999% of what it is I write is what I've lived. We have some metaphors and stuff thrown in and stuff but it's all coming from a place of having lived it.
Is it difficult to go back and revisit some of the themes you wrote about when you were at a different place in your life when you're playing live?
RUSTON: It's all part of the story. Some of those songs that were harder to write, like "Brave" was a very difficult song to write, but I don't think there will ever be a show where I don't play it. That comes from what my devotion is to people who come see me play. I know they want to hear that song. It's the same as being a listener. Maybe that song made you cry or maybe it cut to the level that's hard to feel but we still want to hear those songs because we had the connection. The song "Faceplant," I sing "Took too many pills." I don't take pills any more. It's nice to be able to sing about those things and be away from it because then I feel I have power over it.
I listened to an interview with Colin Hay from Men at Work. Do you know him?
RUSTON: I had lunch with him one time. His solo work is a huge inspiration to me.
He said something about how when he's recording, songs sound different depending on the time of day. Like, if he's recording something in the morning, he's had his coffee and is full of energy for what lays ahead. If he records the same song at the end of the night, the tone changes. He's tired, a little more subdued, and the song reflects that. Do you find that same thing in your work?
RUSTON: Yeah. Sometimes the faucet turns on and you just have to fill the cup up. There are songs like that where it happens immediately. And then there are songs that really take work for you to pull it out. Part of that work is that I don't ever want to lose that initial inspiration for why I sat down to write. Not even thematically, but just the way I feel when I play it. If that seems to change or dissipates to any degree after that faucet turns on, I wait until it's time to reapproach it and see where that faucet is again.
I've played a lot of songs that were half-finished live. That's something I used to do when I was playing in bars, just test things out and make up a second verse, freestyle it or something. Sometimes if you just wait on a song, like it wasn't supposed to be written right then, you take it into a different context or backstage while on tour and it has new life to it. I always try to add to the initial feeling of it rather than hitting my head against the wall. I'm not going to sacrifice the initial vibe that I had.
Do you a preference around the time of day that you record?
RUSTON: On Shape & Destroy, we segmented it into morning recordings and evening recordings. Something like "Rubber" and "Brave" were recorded at night whereas "In the Blue" and "Radio Cloud" were recorded in the morning. "In the Blue" was the first song we recorded and we did it in the third take. On The Weakness, it was just me and Nate, he played a majority of the instruments and it was his studio in his house. There's like one skylight but there wasn't really much indication of what time it was. We were really holed up in there. There were a couple of days where we probably went 14 or 15 hours just going.
Did you do much collaborating on Dying Star or Shape & Destroy?
RUSTON: I co-produced the last the last two records with Jarrad K who is also one of my best friends and played in my band for a while. We'd hobnob around East Nashville together, just being crazy 25-year-olds. We grew up a little bit and turned 27, 28, we started working seriously together. Dying Star was the first result of that. We continued that thread together with Shape & Destroy. For the third record, I intentionally wanted a different atmosphere around these songs whereas Dying Star and Shape were hyper focused on the songwriting and had really beautiful production around it to support it. This time around, I didn't want to change the way that I wrote but I also wanted to have as equally emotional atmosphere and production around it so that I could take it into a different area than I had gone to before. Choosing a new producer was a way for me to test myself.
Was Nate someone you knew before you worked with him?
RUSTON: This is the first record where I've had true A&R support. Being at Concord, a guy named Mark Williams, who's a veteran in the industry, head of A&R at Columbia, he came in and started running the ship. When I found out he wanted to take my project on, management was like, "This guy is the real deal. He's what an A&R should be." He had a lot of input. At first, I was like, "Hold up. I know what I want. I know what songs I'm going to do. Slow down." I realized that I want to win. I want to be successful as a team. Winning together is so much better than winning by yourself. I decided that I would take counsel. I have veto power at the end of the day creatively.
I was going to do the record with Jarrad and he was like, "I know you want to step into a new direction, would you be interested in meeting a couple producers?" Nate was one of them. It was a total industry meet up and just instantly loved the guy. He was just familiar people to me heart wise. His pedigree was in the pop world – Shawn Mendes and Lizzo and Leon Bridges and Sharon Van Etten. Sharon was closer to my vibe but some of those people, I was like, "That's not really my thing." But Mark was so insistent about it. We went to the studio and Nate was like, "Here's some stuff I'm going to play you that I just recorded at night that I like." He played it and it was some of the most amazing production I'd ever heard but really sounded like Justin Vernon or Manchester Orchestra and stuff like that. So, immediately I was like, "He's got a great personality. I'm going to vibe with him. His music is amazing."
Are the guys who play live with you understanding that you're going to work on all the recording without them?
RUSTON: That was a little tricky because I wanted to be able to translate the live energy onto the recording. From the get go, I was like, "I want to use my band. They know how to take me there and vice versa." I didn't know how incredibly instrumental Nate was and so proficient at so many instruments. Once we started doing demos and he would play it, there was this vibe. Being able to try and orchestra everyone's calendars and budget to be able to fly everyone out to L.A., it started to slip away in that the game plan was very obvious that it was going to be me and Nate. I called each of them. We're really close. We're like a family on the road. I was like, "I know we talked about this when we were on tour but I think this is the way it's shaping out." Everyone was super cool about it. Yeah, they were bummed that they didn't play on it but I think there will be a time where we do do a record together. We make up songs at soundcheck all the time.
I also noticed in the credits the name John Feldmann. Is that the same John Feldmann from the band Goldfinger?
RUSTON: Yep. I didn't know that he produced pretty much every record that I listened to as a kid, from The Used to All-Time Low to Avril Lavigne. It's pretty nuts how much he was involved in that sound. We linked up and wrote "Holy Shit" and had a great time. He's been sober for 20 years. We talked for a couple of hours and wrote a song. We still stay in touch. I've been to his studio when I want back to L.A. just to hang and say "What's up?" He's a good guy.
Your sobriety story has been well documented. What are things you do to fill your time and stay away from temptations?
RUSTON: Spending time with friends, spending time with myself and trying to be okay with boredom. It's not like there's many dull moments. I'm the type of person, which is part of addiction, that feels like they require excitement 24/7. That's just not reality. Social media is tricky with that too. You put out a song and you get on there for a minute and get all these people telling you, "We love you, you're amazing." And then as cycles go, it dies down after a couple of days and then you're like, "Okay, what's the next dopamine hit?" I go the gym five times a week lately just to sweat. That's my anti-depressant. That's what keeps me grounded. I can tell when I don't go, I get a little squirely. So, I'm just trying to fill my time with things that fulfill me.
When you released "The Weakness" as a single, there was a lot of buzz about the song on social media. People really noticed and loved the song. Does it feel like more people have taken notice of this single than any other you've previously released?
RUSTON: I don't know if I have the greatest perspective given that I was off social media for a while but I will say that releasing it, I think some people were like, "Oh, where did he go?" Then there were some people who were still following who were like, "Whoa!" I wasn't sure how people were going to react because it is a different direction. Other than "Mending Song," it was the largest response I've gotten in a long time. I feel that there's a bit of a buzz about it which is good for me to even feel that.
"Michael Keaton" is a great song on the new album. Have you had the chance to meet him?
RUSTON: No, I haven't. It's on my bucket list. We wanted him to be in the video but he had some scheduling conflicts. Maybe I'll see him on a red carpet some time in my life.
Since the release of Shape & Destroy, outside of the big personal changes in your life, some pretty cool things happened. Your dad released his first album that you helped with and you opened for your hero, Dave Matthews.
RUSTON: Dude. I met two of my heroes within a month of each other, opening for Dave and then I hung out with Jackson Browne for 3 hours at his studio in L.A. I didn't know he was a fan, which blew my mind. Dad introduced me to Jackson Browne's music and we would play his songs growing up. He gave me tickets to go see his show in Bridgestone Arena with James Taylor. It was during Covid so I couldn't go back and see him. I sent him a text and was like, "Bro, that show was so fire." He responded and said, "Ruston, thank you. It was so fun to do it. Hope everything's well." I was like, "God damn, I'm talking to Jackson Browne right now!"
Dad knew how important Dave was to me. I have a picture of Dave and Dad talking before they went on stage. It was amazing. It kind of made me feel like I was getting prepped into entering this new phase in my career, meeting these people right then as I was finishing making this record.
Was Dave familiar with your stuff?
RUSTON: I think so. We didn't have a long convo but we did hang out for a second on the ramp up to the stage. He was super cool, he said we sounded awesome. He came to soundcheck and then introduced us. He went up on stage and was like, "Hey everybody, this is Ruston Kelly, my new friend. They sounded beautiful in soundcheck. I hope you dig it." I just couldn't believe it. Meeting Dave, that's how I want to run my ship. Everybody in his entire crew was so kind. They run a huge operation, from catering to the stage manager, everyone was so kind. You don't really run into that often. There's a reason why some people in his crew have stayed for 25 years.
Is there anything else we might hear from you this year, whether it be songs that you helped write for other artists or projects that you might be working on?
RUSTON: I think so. There's always an open conversation with either bands or artists that you kind of want to work with. All-Time Low, we're big fans of each other and we go to each other's shows. We've talked for a long time about doing something together. We'll see. Right now, I purposefully geared my life into being prepared to release this record, taking a whole year off of promoting myself. All of my energy is going towards this record and this tour. We're looking at being on the road for the rest of the year so there's going to be quite a bit of stuff to do.
Something I'm sure I'm not the only person thinking about. Is there an Dirt Emo Volume 2 in the works?
RUSTON: Working on it. I've love to do a live record, a Dirt Emo Volume 2, there's a couple side projects with friends that I want to get going. I think what I'm doing is seeing how this record will shape out for the rest of the year and see if I need some new creativity happening.