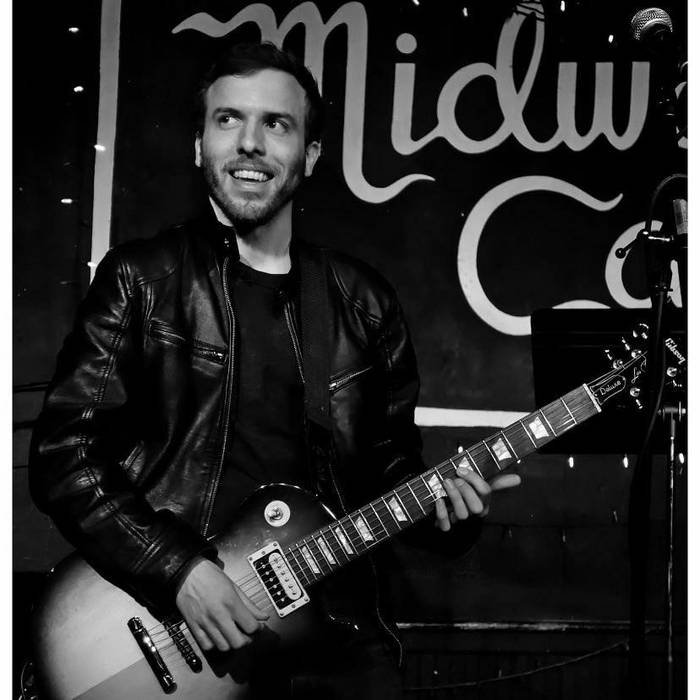 8 April 2023
Tom Maroon is an indie singer-songwriter and producer based in Albany, NY. As a solo artist, he has been performing professionally throughout the east coast and midwest since 2010. His high-energy music combines rock, punk, and musical theater influences into a uniquely cinematic and lyric-focused style. He has produced and self-released two solo albums, playing every instrument on both records.
Tom's third album, 'Lowflyers' (his first release via Mint 400 Records), features his most colorful production and storytelling yet. Over its 10 tracks, he pulls more from 70s glam rock and soundtrack music than the lo-fi folk of his past work, delivering soaring choruses over dynamic song structures. But his love of sunny, carefree pop rock still shines through on singles like "Minnesota." Throughout the album, the propulsive rock instrumentation hits as hard as the detailed and theatrical character portraits in Tom's lyrics.
Q: In your opinion, what are the essential qualities that make a "good songwriter"?
A: I think it's important to consider how your music will make other people feel and not get trapped in your own head. If a total stranger hears your song, what are THEY going to take away from it? Is it going to make their day better? When you release art to the public, you're basically asking random people to take precious time out of their day and devote it to you. So you better make sure you've got something to say!
Q: What is the basis for writing attention-grabbing music in the year 2023?
That's the million-dollar question! I guess you've got to find what makes you different, and then lean into it as hard as you can. It helps to familiarize yourself with the current pop music landscape and think about what's missing from it. Not hearing any thought-provoking lyrics? Write some thought-provoking lyrics. Trust yourself and your instincts.
Q: What has it been like working with an indie record label as opposed to working on your own?
A: I've always dreamed of going on tour, and working with Mint 400 has finally made that possible. The Philadelphia/New Jersey area has started to feel like a home away from home, thanks to the people and venues I've connected with over the past year.
Q: Can you pinpoint some specific songs and songwriters that changed the way you write music?
A: When I listened to Dan Bern for the first time, everything about the way I write music changed. I was 17 and had never heard such an unfiltered, stream-of-consciousness approach to lyricism. He's hilarious in one song, deadly serious in the next, and somehow makes it all work. I wrote three new songs during my first listen to his album Fifty Eggs. John Darnielle (The Mountain Goats) is another big influence. I feel like I'm constantly trying to replicate whatever magic he laced into his songs "Old College Try" and "Oceanographer's Choice." My songs became more theatrical when I dove into the music of Tom Waits and Regina Spektor. I love that they can convey the drama of musical theater while still maintaining an experimental edge.
Q: Do you find it hard to be inspired by artists that are younger than you, or are you motivated by their energy? Can you name any new artists you find inspiring?
A: I'm inspired by most artists who experiment, blend genres, and push boundaries. And you can find countless young people doing that – especially if you're willing to sift through the deep, dark corners of the internet. I love the way that PinkPantheress is bringing back classic UK drum and bass, but putting her own modern spin on it. And Tierra Whack is one of the most creative artists out there. Period. Lucy Dacus also comes to mind, not necessarily for blending genres, but for her fantastic writing. If we're not listening to the kids, how are we ever going to create anything fresh ourselves?
Q: For your new album, what inspired the lyrical content, album title, and overall vibe?
A: 'Lowflyers' is about learning to take accountability for your actions through a series of mistakes, disasters, and attempts to run away from your problems. The first half of the album is from the perspective of a young, naive person who only looks outward and blames everyone else for their problems. That attitude sends their life downhill, and they become a struggling, lonely "lowflyer" who can't seem to get their act together.
Eventually, they're forced to take a hard look inward and learn to take control of their own life and happiness. That catharsis of breaking free from self-sabotaging cycles really inspires me.
Q: Do you find that you deliberate over writing songs and hold on to them for a long time before including them on a record? Or do you prefer to write them, release them, and be done with them? Do you ever re-visit old material to do a re-write or once it's done it's done?
A: As a chronic overthinker, I hold onto songs for years before they see the light of day! But once I finally convince myself that a song is "done," it's done. No re-writes.
Q: Were there any lessons you learned in the writing and recording process for Lowflyers that you will take with you into your next project?
A: Absolutely. Lowflyers was a very lyric-focused endeavor, and it's all about internal and interpersonal struggles. I never want to make the same album twice. I plan to focus more on experimenting with sound, production techniques, and unique arrangements next time around. And I'd like to write more about the state of the world on a large scale, instead of just the trials and tribulations of one person.