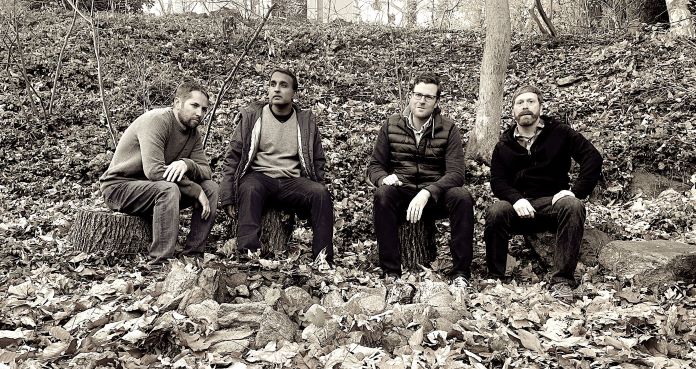 15 May 2023
The Big Takeover recently had the pleasure of interviewing Gandhar Savur, frontman of NJ rock band Scoville Unit. Scoville Unit recently released the music video for "Reasons" from their upcoming album See What Can Be.
Tell us about the music video for "Reasons." How did that happen?
That's actually a funny story- we had secured a location for the video, a giant barn that had beautiful lighting and high ceilings etc. And it was basically going to just be three minutes of us playing with no storyline, a very "professional" rock band video. A couple days before the scheduled shoot day, the location fell through for some reason. So, we were scrambling to figure out where to film, and we decided on our drummer Rob's basement. It initially seemed like a huge downgrade, but then Drew had the idea that if we're going to be filming a video in the house, lets own it and work other parts of the house into the video as well. This led to us quickly brainstorming ideas of doing house chores, etc., around the house, and in the last minute, Drew was able to convince his wife Valentina to act in the video, and that really tied the whole thing together. Valentina was a champion, she showed up and just rolled with it – we were making each scene up on the spot and she was acting as if she had been rehearsing the parts for weeks. I think the end result feels very spontaneous and captures our sense of humor as a band. We had a lot of fun making it.
Can you describe the experience working with director Tarana Parekh and HIP Video Productions?
They were amazing. Andy from HIP has been a big supporter of ours. And Tarana was really professional and rolled with all of the last-minute changes- she even came up with some great ideas of her own for some of the scenes. I think they really understand our band and our music, and trusted us enough to let us pursue some ridiculous ideas. Ultimately, they were successful in turning a couple hours of us goofing around into a legitimate music video.
What was the production process like amongst the group when creating the "Reasons" song?
Most of this album was produced while I was living in Costa Rica and the rest of the band was back here in NJ and Philly. It was our first time doing a record like that, and there was certainly a lot of trial and error involved- but it worked out really well- in large part due to the patience of our mixer Dave Bondy, who worked on the album with us for just shy of a year. When we finished the album, it was clear that "Reasons" was the catchiest song on there- so we decided to make it the first single and come right out the gate showing people that we're here to have fun.
What is one of the most important lessons Scoville Unit has learned as a group, and how has it influenced the band's career?
I think too many people play in bands with the expectation that they are going to have a lot of fans and make money and all that, and that can lead to frustration and heartache when things don't go as planned. We know better than to have any expectations. We are just really passionate about making music and making records together; our main motivation is to make great music and put it out there into the world, to us that is a privilege. The fact that some people out there have caught onto our band in the last few years, that's really rewarding. But whether anybody notices or not, we'll still be down in that basement writing the best songs we can.
What does Scoville Unit envision for the future of the group? What kind of music and music videos do you all hope to create?
Historically, Scoville Unit has always been a band that came out of hiding with a new record when we felt like it. But this is probably the first time in the history of the band that we are releasing a new album and are anxious about getting into the studio and doing a follow-up. So right now, our sights are set on getting through the shows we have booked for this album cycle and then starting work on our next record. One thing about our band is that we are not trying to reinvent the wheel. So many artists out there are releasing groundbreaking music these days, but that's not us. We just want to release simple well written pop songs that make people happy. Regarding videos- it's weird because we have no particular interest in making videos specifically but for whatever reason, that seems the be the medium that does the best for us. So, we'll definitely be continuing making videos as well.
Follow Scoville Unit:
website
twitter
instagram