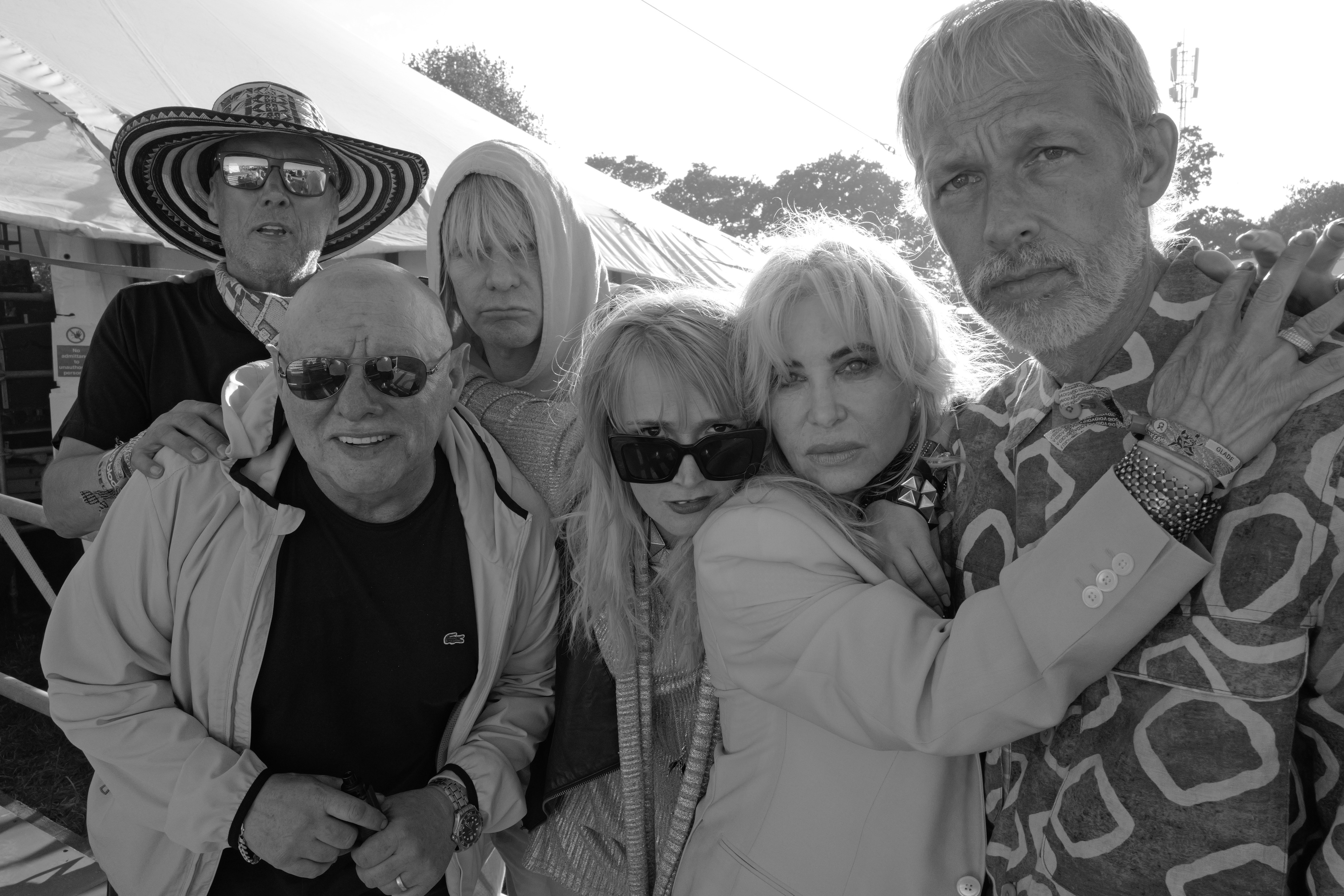 16 August 2023
Photo by Greg Williams
On the other end of the video call is rock royalty. And, while it appears as if the easiest place for Zak Starkey and his wife/band mate Sshh to take a call is in their bedroom while laying on the bed, it's not done in a Rod Stewart, "I can't be bothered to get clothed and get out of bed," extravagant rock-star sort of way. Even if he wasn't the offspring of one of the most renowned musicians of our lifetime, Starkey would still earn the rock royalty honors having played drums in arguably the biggest UK band in the '90s, Oasis, from 2004 to 2009, and manning the kit for The Who since 1996. But, of course, music runs in the blood when your father is Ringo Starr and your uncle is Joe Walsh.
Shortly before the pandemic, Starkey was approached with an idea about putting together a new group centered around his songwriting and production. Some ideas were tossed around but put on hold as Starkey and Ssshh spent time in Jamaica running their record label (Trojan Jamaica), having a child together (Luna was born in 2021), and getting married in 2022 with Eddie Vedder and Johnny Marr serving as Starkey's best men.
When Starkey and Sshh were able to dedicate time to the project, the pieces seemed to naturally fall into place. First to join was guitarist Andy Bell (Ride, Oasis) and was followed shortly thereafter by singer Shaun Ryder (Happy Mondays, Black Grape) and percussionist/DJ Bez (Happy Mondays, Black Grape). Bassist Brix Smith (The Fall) was the last to join the project dubbed Mantra of the Cosmos.
With so many different influences playing a role in Mantra of the Cosmos' sound, the end result is something altogether new and exciting, weaving its way through a danceable and groovy psychedelic exploration into the outer realms of the atmosphere. The collective (don't call them a supergroup – read on to find out why) has just released their second single, "X (Wot You Sayin'?)" with plans to drop more singles in the (hopefully) near future.
Can you give me the timeline of Mantra of the Cosmos?
ZAK: Two year ago, someone suggested, it was before the pandemic, that I put together a Brit-pop super group and my reaction was, "All my friends are far too cool to do that." And the person who suggested it, I think, expected it to be like Liam Gallagher and Johnny Marr, you know what I mean? The greatest people from the greatest bands in a room together is not necessarily going to sound any good. It's chemistry. The Stone Roses have more chemistry than I've seen of any band in my generation but there's no guarantee that you could just put a band together and it work out, especially personality wise. That's the hardest bit.
I said I'd do it if it could be Kraut Rock Brit Pop and I tried to contact Karl Bartos of Kraftwerk to be the producer and the lyricist. I really liked his solo work since he left Kraftwerk and I bought his book. When it arrived, it was in German. I did take some German classes but by the time I learned a few words, the book came out in English. Basically, we put the group on the shelf for two years. Karl said he couldn't do it. He said, "I'm too old, you should have called me 10 years ago. I love this idea but I'm too old and there's a pandemic, I'm not leaving my studio and my work catalog is very full." So, I shelved it and I didn't think any more about it. I kind of thought that a super group is pretty stupid. It should be called a stupid group. It's so passe, isn't it? You just think of all the boys and girls wanking on their instruments. I mean, there's Cream, isn't there? Cream have some good songs actually. Jack Bruce wrote some good songs.
SSHH: Your dad's got the best super group going. He's had John Entwistle, Joe Walsh …
ZAK: The first Ringo Starr's All-Star Band had Rick Danko, Levon Helm, Billy Preston, Joe Walsh, Dr. John, Jim Keltner and Nils Lofgren. That was a classy thing.
So, anyway, I shelved it, didn't think about it no more and then we were in Jamaica, because we had a Jamaican record label, and I started to think, "What if it was a fantastic group and it had nothing to do with showing how great you are and it was more to do with how spontaneous you were and how you could freestyle the lyrics?"
I couldn't think of any singer for a long, long time. The most important thing in any group is the singer and the words. For two Who tours, I have a little warm up room with an electric drum kit and it's not switched on. I can put my phone up on the case, pull up some music, and I can hear it as I play. If you play quietly, it's very good for your technique. For two tours, I played to the Happy Mondays music and I didn't know why. We have a little girl called Luna and we were walking around singing "Halle-luna" to the Happy Mondays' "Hallelujah" for about 8 months and we're still trying to think of who's going to be the singer in this band.
SSHH: It was like it was subliminal messages coming through. We were in Jamaica and the idea of the group got resurfaced.
ZAK: If it could be like psychedelic, beat poet, Hawkwind, but not …
SSHH: Electronica, futuristic while having some great great roots and having some originality.
ZAK: But not showing off. We both had been into Happy Mondays and I think they turned things around, musically.
SSHH: What we wanted to do with Mantra of the Cosmos was have members of the band be the type who would not change the course of music, but who were kind of really influential. The Happy Mondays and Shaun Ryder really took music in a different direction.
ZAK: And Andy (Bell) invented looking at your shoes.
SSHH: It was the same with Ride and Andy Bell. They were quite responsible for the start of another genre.
ZAK: Andy Bell was signed to Creation Records when he was 18 years old.
SSHH: We got a number for Shaun first.
ZAK: I called Alan McGee (Creation Records), who I don't really know and he went, "You've sure got the passion. Here's Shaun's number." I called Shaun and explained the concept of how I was looking for the new Ginsburg or Linton Kwesi Johnson, a psychedelic beat poet who could freestyle and I'd produce it into something amazing because it's so spontaneous. Shaun goes, "Yes, I'm in. I'm definitely in." And I said, "Well, you know, your friend, Bez, will he do it?" And he said, "He's not here right now but he's doing it!"
And then, we were sitting on the bed, and we're both thinking about guitar players because we only had one bass player in mind and he was not available due to a family thing. We both looked at each other and went …
ZAK and SSHH: (in unison) Andy Bell
ZAK: We know him so well from Oasis because Sshh came on that tour with us.
SSHH: And I've written some stuff with Andy as well.
ZAK: So we had those three and my friend, who I wanted to play bass, he did have the credentials to be in a fantastic group, not a super group.
SSHH: At some point we're just going to have to accept the fact that it's a super group. We can call it whatever we want but it's a supergroup.
ZAK: I hope we're changing people's views of supergroups. One producer, who we were going to get, was a bit like, "If we do your ideas, we can't be Led Zeppelin." I said, "Exactly. That's the whole fucking point dude. It's the whole point to avoid that."
SSHH: Create some new and different and shake up the scene. We seem to kind of be hitting that one on the head. The response has just been so impressive.
ZAK: Even Bez thinks it's the most original thing going.
SSHH: From what I can see, people have really been waiting for something like this for a long time. Kind of this really weird, kind of psychedelic, original, just unexpected music.
The songs I've heard sound great in headphones. The louder I turn it up, the more stuff I hear in it. There's so much depth to the music.
ZAK: Sshh wrote "Gorilla Guerilla." I did all the music myself and we did play that in our band's set, at the end of our band before we went to Jamaica and had the most amazing trip.
You said chemistry is super important. Was there a trial period when you all got together because everyone comes from different backgrounds? Were you at all nervous that it might not work out?
ZAK: That didn't happen. We did it in little stages. Me, Andy and Ssshh got together first. We cut some tracks and hung out. Andy and I and one other soul brother from Oasis share a mantra which we are not allowed to speak. We got it when we went for meditation lessons in Los Angeles while recording Don't Believe the Truth. We were given meditation lessons that you wouldn't believe, actually. It was Bungalow Bill's mother. "He always takes his mum." "He's going to kill a tiger." It was her! She's a very good teacher. We never told her who I was because it's more fun. And she said, "Whatever you do, don't come out of your meditation too quickly or you'll always be in a bad mood like John Lennon." We're killing ourselves laughing but we never would say anything to her.
SSHH: That's where the mantra part of the name came from.
ZAK: And then cosmos because Shaun, Sshh and Bez are from outer space. And now, also, Brix Smith has joined us from The Fall on bass and a bit of noise generation.
So, a fantastic group, not a super group.
ZAK: Super people wear capes.
SSHH: When Shaun came down and we started going into the studio with the tracks that we'd cut, it was just the three of us and the engineer. We wanted to keep it tight and personal.
ZAK: Andy was on tour. Ride was on tour with The Charlatans.
SSHH: He's a busy man, that Andy Bell. It was great because we developed our relationship with Shaun. I think it'll be Shaun's second sexless marriage, with Bez being his first. I think by taking the time to get to know each other on a personal level, that's what really solidified then being able to make this music that is so upbeat and powerful.
So it wasn't like you brought Shaun in on day one and said, "Let's go"?
SSHH: The best place to get to know someone is in the studio and a love of being in the studio is hanging around and chatting.
ZAK: I did have to say to Shaun a few times, "I'm going to go in the other room because if I don't leave this room, you're never going to get any work done. We're just going to talk." But Shaun is a meticulous, hardworking man with the lyrics but a lot of the time we encourage him to just freestyle it because after he left and we started to look at it and listen to the three or four takes of just him freestyling, everything had a complete theme. It's whatever is affecting Shaun in his head at that moment, it doesn't matter what it is, it going to come out. So I'm producing this record, and Sssh co-produced, but, I'm not joking, if we just kept doing it forever, I wouldn't mind because Shaun Ryder is good and his voice is so good and the lyrics are so good. Man, I can work on it forever. He's an inspiration in a lot of ways, more than musically. He's a big man. He's taught me a lot about stuff that you think it's not cool to do and what he's saying is, "Do you want people at your gigs or not?"
A couple of weeks ago, me and him went on breakfast TV at like 7 or 8 in the morning. I've never been very good on TV in the past, but with Shaun, he was great. We're talking like we talk in the studio. There's some other people there asking us questions. We're not really that bothered about them. We're just having a great time. It's really good.
Both of you have written lyrics before. When you hear some of the stuff Shaun comes up with, does it just blow your mind? Do you think he's from another world?
SSHH: He just did a thing recently where one of his song is about Putin. And he had to change some of the lyrics because he was a little bit concerned about what the reaction might be.
ZAK: (holds up his phone to play a video of said song that he posed on Instagram. Ryder is heard repeating over and over, "He's an evil motherfucker.") He is. He fucking well is. That's the chorus.
You've released two songs so far. Is there a full album worth of stuff recorded?
ZAK: We've got 11 songs that came very quickly. That's where we're at. The Happy Mondays are touring at the moment. I'm touring with The Who. We have a bay. Sshh is building a house next door so we can have another baby. As soon as everyone gets free, we'll be playing.
I've talked with some bands who have said they'd rather release a new song every month than drop a 12-song album all at once as if they release monthly singles, listeners only have that to listen to and the single isn't competing against the rest of the songs. Do you think you'll keep releasing singles or will you hold onto the songs until the album is released?
SSHH: It's all killer, no filler, isn't it?
ZAK: That's kind of the concept. If you do it all in one go, you've spunked your load. Then you haven't got anything else to talk to the press about so it is a better way (releasing singles).
SSHH: We have to see where it goes. I think the new way of doing things, single by single, one by one, is kind of a throwback to the '60s and '70s.
ZAK: There's still a place for an album as an art form.
SSHH: That's 100% where I was coming from because there's a relationship between the songs. There's cohesiveness and you don't lose that by people putting songs in a different order (if they are released as singles and added to a playlist).
ZAK: You know what's even more important than that? The gap between the songs – it's got a time of it's own.
SSHH: When you're mastering a record, are you paying attention to the space between the sound?
ZAK: We drive people crazy. Even if it's got a different tempo, it's got to have space.
SSHH: It would be great to have physical copies of our music on cassettes and stuff. I don't know how much cassettes are to make in comparison to vinyl which is quite expensive to produce. Whereas cassettes, they might be a more economical way of having a physical product.
ZAK: (holds up his phone to play an unreleased track with a chorus of "Let's talk about this and that")
SSHH: We were driving to The Who show with Luna in the car and we had that song on and she started singing along, going, "Let's talk about this and that." She's only two! Right from The Who gig, we edited it into 3 minutes and 40 seconds. It was 11 minutes.
SSHH: Luna has an unbiased opinion and she's usually pretty bang on the money.
I know you've played Glastonbury and you've done another show or a couple of shows?
ZAK: We did an amazing club show in a place called The Box, which is a burlesque strip club kind of place.
With this being the type of world where everyone has a phone, I didn't see any live clips from any of your performances on YouTube which surprised me.
SSHH: What happened with Glastonbury was we played at the same time as Elton John. He started just after we started. I think there's some stuff on social media. If you go onto the Mantra of the Cosmos' Instagram, at the top, in the highlights, there's a few on there. I'm super gutted because I really want to see more videos as well.
ZAK: I just want to play the next one.
SSHH: I know you do, darling. The way that the crowd responded at Glastonbury was really phenomenal, because as I said, Elton John was on too. He didn't steal our crowd because the crowd who came there came to see us and there was about 1,500 people who stayed for the duration. They were there, they were dancing. The diggers were digging hard. All of my friends who were in the audience said it was incredible. That's the same thing that happened at The Box. I think there's stuff that people posted on their social media. We had people recording but there was a glitch in their system and it became unusable, which I'm absolutely fine with, I don't have an issue with whatsoever.
ZAK: I think it makes us a bit more mysterious.
And the live chemistry is as strong as the studio chemistry?
SSHH: I went a little bit Jamaican. (In a Jamaican accent) "Mantra of the Cosmos!"
ZAK: With Shaun performing, you never know what's going to happen.
SSHH: You're all bloody unpredictable is what I'm saying.