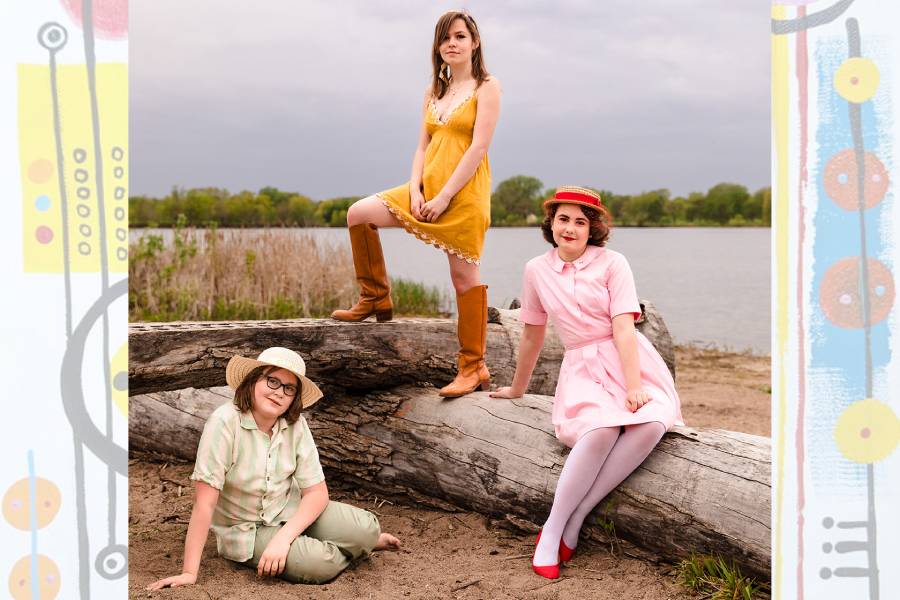 21 February 2023
(Photo by Mika Larson)
Minneapolis has a long, proud indie music legacy that appears to be alive and well in 2023 thanks to a new generation of boundary-pushing bands like Loki's Folly.
Comprised of the three Kuchenmeister siblings—
Annie
(guitar/vocals, 21),
Nissa
(drums/vocals, 16) and
Oskar
(bass, 12)— Loki's Folly counts many Twin Cities' legends among their main influences, even featuring
Soul Asylum
frontman
Dave Pirner
on the song "Appease The Girl" from their debut album
Sisu
(Kitten Robot Records, Feb. 21).

"We feel pretty lucky to be a part of the Minneapolis music scene because it is such a supportive and nice place to be. Plus there is lots of history here, with so many amazing and legendary bands and venues," Annie Kuchenmeister said. "Bands like Hüsker Dü, The Replacements, Soul Asylum and Babes in Toyland all had a really strong influence which I think has a lot to do with being from the same place and feeling like there is something here to try and live up to."
"For favorites of all time though, we would probably have to add Prince, Lizzo, and probably The Suburbs, even if the stylistic influence is less obvious! As far as current bands go there are a lot of really awesome ones out there! We really like The Shackletons, Gully Boys, Ryan Smith, Tragic Hands, Porcupine, Doomchild, and Gramma's Boyfriend."
With such wide ranging influences, it's no surprise that the trio's angular, energetic sound is hard to pin down, but it's all driven by pure punk angst, stylish indie abandon, and a flare for unconventional song structure. When asked for a list of songs they're listening to on repeat these days the three Kuchenmeisters spread their wings even further, listing tracks by artists ranging from Marlene Dietrich, Jefferson Airplane and The Beach Boys to Gang of Four, The Sugarcubes and AJR.
Lyrically, the band unflinchingly tackles pressing and personal topics including Annie's autism ("Appease The Girl"), bullying ("The Love Song"), casual sexism ("No Right"), and fear of an uncertain future ("Beaches and Peaches"). It's a compelling combination that makes Loki's Folly one of the most unexpected and inspiring releases so far in 2023.
I connected with Annie Kuchenmeister by email as they prepare for the album's release.
Annie Kuchenmeister Interview
Congrats on the great new album. How would you describe your music to somebody who hasn't heard it before?
AK: Thank you! I think a lot of words that come up a lot when we talk about how our music sounds are loud, fun, weird, and passionate! Thematically speaking, a lot of our songs are coming from a very personal and heavy place, so there are a lot of emotions involved in this record! That being said, I think that getting to play together and put these songs into the world is something that fills us all with joy and is one of our favorite things. So there is also a lot of joy and fun and silliness that is mixed in and coexists with the heavier themes and sounds.
Your lead single "Beaches and Peaches" reminds me of The Slits and Tom Tom Club. Who would you consider some of your major influences?
AK: Those are some very good bands to start off with and have definitely influenced us. To add to that I think that Yeah Yeah Yeahs, Björk, Hüsker Dü, The Replacements, Soul Asylum, Babes in Toyland, Shellac, David Bowie, and Blondie are some that immediately come to mind.
Though we also really like mixing and mashing lots of influences from across the many styles we like to listen to. I believe it was while we were writing "No Right" that we had started off saying we wanted to write a song that was like a mash of The Boomtown Rats, The Jesus and Mary Chain, Wizard Women of the North, with our own punky style thrown in. Whether or not we achieved it is anyone's guess! But it is really fun trying to find what about different songs and styles really inspires us and then use it in our own music.
You cover a lot of stylistic ground on Sisu —punk, post-punk, riot grrrl, indie rock and beyond. Do you think Loki's Folly fits into any specific genre(s)?
AK: It is definitely hard to fit into one specific genre considering that we do cover all those genres and more! I think maybe the best we could come up with to try and span all of those would be art punk or indie punk, but maybe there is a more accurate name somewhere out there!
What are the challenges and/or advantages to playing in an all-sibling band?
AK: In our case getting to play with each other in the band is pretty much an all-advantages situation! We all really like each other and get along well so it is kind of like being in a band with your bestest friends. It is especially nice since we all live together so we can work on and discuss band stuff at any point in the day! It's a bit like living an episode of The Monkees!
Can you tell me about the songwriting process? What role does each of you play in bringing the songs to life?
AK: Yes! We definitely like to take a very collaborative approach to songwriting. A number of the songs on the album were written during songwriting sleepovers where we would stay up all night playing each other songs we liked and working on new material. Even songs that weren't written like this were worked on together during rehearsals and everybody really tries to work together to make the songs exactly how we want them.
How did Soul Asylum's Dave Pirner get involved with Loki's Folly?
AK: Back in 2018 we opened for Gramma's Boyfriend for their Halloween show and our teacher Ryan Smith had told us beforehand that he had invited a VIP. We didn't know who he meant, but as we were playing we spotted Dave Pirner in the crowd and even though we kept our composure and made it through the set, internally we were freaking out. We went up to talk to him after the set and he offered us the opening slot at their yearly holiday show at First Ave which was the most exciting thing in the world! It is a really amazing experience to get to work with your heroes and to have them be so supportive and kind, we feel so lucky.
How does your live show differ from the recorded material? Any plans to tour in support of Sisu?
AK: With the recording process for Sisu we tried really hard to capture the essence of our live performances as much as possible so if we succeeded in that then they should sound pretty similar to each other! That being said, nothing really beats a live performance and we really like to put on a show and really bring the energy to live performances.
We don't have touring plans as of right now, but it would be really nice to tour in support of the album and share it with as many people as possible!
What are five songs you're listening to on repeat right now?
Annie
"Crucify" — Tori Amos
"Heroes and Villains" — The Beach Boys
"Plastic Fantastic Lover" — Jefferson Airplane
"To Hell With Poverty!" — Gang of Four
"Sorry Somehow" — Hüsker Dü
Nissa
"Rocket's Tail" — Kate Bush
"Katariina" — Värttinä
"Flower Lady" — Phil Ochs
"Lili Marleen" — Marlene Dietrich
"Birthday" — The Sugarcubes
Oskar
"Blunt the Knives" — The Dwarf Cast, The Hobbit
"Lonely King" — CG5
"Superstitious Foundation" — CG5
"World's Smallest Violin" —

AJR

"fairy tales" — Gabby Sofia

Recent Interviews
'Real Romancer' — Paint Fumes Interview
'Bleed Your Heart Out' — Kate Clover Interview
'Stay Teenage' — Billy Tibbals Interview