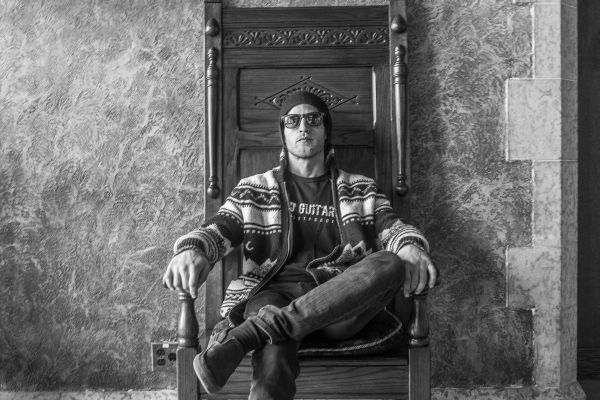 21 April 2017
Nate Jespersen of Ultrviolence; Photo Credit: Jared Jespersen
Canadian post-punk/darkwave band Ultrviolence is riding high on a moodily brooding musical surge that crests with restless, noir sonics, magnetic male vocals, and starkly bleak to bittersweetly hopeful lyrics. At the collective's core is Nate Jespersen, a constant presence whose emotionally resonant, richly deep to sky-bound vocals are in as much turmoil as the music. Jespersen has kindly taken some time to delve into the details of Ultrviolence, as a band and as an extension of himself, and the upcoming Forty Knives EP arriving May 12th via Northern Light Records.
Hello Nate! I was swept away by Ultrviolence's dark and restless sound (and your vocals!) upon first hearing "Better Learn How to Swim" from your previous EP. What's in store for the listener on your upcoming Forty Knives EP?
NATE: Thanks so much! I love The Big Takeover, and have a stack at my house! I'm very excited to share this EP, and for me writing music is a lifestyle and life-long obsession. I tried to turn myself inside out with this and lay all my cards out and show the listener my soul, and I think people are going to resonate with that.
Most people are keen on categorizing what they listen to, and of course on the PR end of it, it makes it easier to promote. If you had to do so, what tags would you use to describe Ultrviolence?
NATE: Of course, they would have to be… #art, #darkwave, #postpunk, and #postpunkrevival, and I would also tag #jacknifesound because the producer Jason Corbett is a huge part of our success.
Speaking of marketing music, was the missing 'a' in your band name meant to help in online searches? Even without the 'a', when I type in Ultrviolence, I still get info about Lana Del Rey first!
NATE: At first, we wanted to differentiate ourselves from a hardcore band with the same name in 2009. It did help for a while with online searches, but lately Lana Del Ray fans adopted our way of spelling, making it pretty cluttered. It is flattering and frustrating at the same time. It doesn't seem to effect in any negative way, so we just laugh and keep rocking.
What are some of the main themes that you face lyrics-wise in your music? Is your song writing a way to come to grips with experiences/challenges you've had in the past?
NATE: Absolutely. It's magic and therapy to me in a way. Those times that I sit by myself and think for lonely hours and I'm able to convert a lot of hardness and darkness into art. At the end of the day all we have is ourselves in our mind, and I don't want to let horrible situations/people rule my life. Ultrviolence is almost a concept band about mental/physical/emotional abuse. For me, it's my therapist; it makes all that hardness bearable. I want my fans to see my struggles and know they aren't alone in theirs. I hope my music can do that.
Why have you decided to release EPs instead of a whole album (so far)? Are you planning on creating an LP in the (near) future?
NATE: I think it was both in the way I wrote the songs, and the way we release music nowadays. At some point in the past, music gravitated from albums to singles. My aim was to write an EP of singles and release them one by one, but at the same time I was dedicated to making every song we ever did a great single, so anyone who discovers and backtracks us to be surprised and rewarded. That's funny you asked, because I chase the dream of making the perfect LP one day, or making 'the record.'
You just dropped a cool live action video for lead single "Guillotine" off of the Forty Knives EP where you feature as a hitchhiker in the one long tracking clip. How difficult was it to walk backwards for all that time? And why did no vehicles drive by you? LOL
NATE: Let's just say I've been getting PRETTY good at hitchhiking with the car I drive… Haha. The hardest part was moving the lyric cards on time to the song. They kept sticking to each other, but I tried to pull through like a champ. We actually were hitchhiking where I live outside of Calgary, and for some reason nobody drove by, which was okay because even goths need exercise.
But seriously, that track is killer, especially lyrics-wise. Once you've written about the tough experiences you've been through and set them in song, are you set free from the memories or do they continue to haunt you, but maybe in a less potent form?
NATE: Thanks so much. I try to write almost therapeutically, but in a way that I can believe every night for the rest of my life. I find that some things never let you go, so it's great I can get it out in a way that can always settle me temporarily. My flaw is that I can't get away singing something I don't believe in, which makes it hard to write lyrics. I end up really mining myself to the core, and what it is that's really on my mind.
When did you realize you have a "lovely singing voice" (as Morrissey puts it in "Sing Your Life") and was that the spark that started Ultrviolence? If not, what triggered its formation?
NATE: I was lucky enough to have grown up in a very musical family. My grandfather played, and hung out with Stompin Tom Connors, and my mother would always sing her beautiful songs to me. Ultrviolence started around 2002 when I met a drummer that was into the same things. We would play everything from Danzig songs to Death.
At that time, I had begun to write songs obsessively, and I was brought to a studio with Aerosmith's 24 track, studio manager, and Loverboy's guitarist. They told me I'd never make it anywhere with my "digital music" and something seemed to click, and from then on I was on a mission to destroy and push back. Drugs and suicide later would postpone our first release, Imitation Of Life, until 2009, after I had gotten my head together. It was going to happen no matter what – Sing your life!
While you are the core of the Ultrviolence, it's also known as a collective. Who else is currently involved in the band?
NATE: At this current moment Jason Corbett (ACTORS, Leathers) Jahmeel Russell (ACTORS, Red Vienna, Art D'Ecco), and Adam Fink (ACTORS, Gang Signs, Art D'Ecco, Jay Arner).
I've read that for this EP you delved into your vinyl collection for sonic inspiration. What treasures did you dig up that manifest in some way on the EP?
NATE: I might sound old fashioned, but I couldn't stop listening to Kraftwerk's Computer World and The Sound's Shock Of Daylight for months straight. I also had David Bowie's Black Star album, Art D'Ecco's Day Fevers, Dead Guitars' Shelter, and ACTORS' PTL (Post Traumatic Love) that I was spinning A LOT. There were also a lot of records I was craving, but didn't have.
Which bands and/or artists in general inspire you musically?
NATE: I've been very lucky to share this planet with so many talented people that inspire me. I'd have to say there are many layers of influence, but a core influence of some artists include Adrian Borland & The Sound, Carlo Van Putten & The Convent, Henry Rollins & Black Flag, Jim Morrison & The Doors, Oasis (believe it or not, it's my guilty pleasure; love those lads), and Vancouver darkwave band ACTORS.
Your music at times swirls with a dense and dynamic guitar sound. Looking at the specific genre of shoegaze, what bands/songs have influenced this style of guitar-playing?
NATE: That's a good question. I'd have to say it started early with bands like Catherine Wheel, Ride, and Slowdive; later on, Blond Redhead and more specifically Slowdive's Souvlaki. There was almost a bit of a natural shoegaze element to my riffs as well. I really love trying to make my own sort of signature noise, or attempting it.
What is the live Ultrviolence experience like?
NATE: I'm going off of my foggy memory of our last mini -our in 2016, and it's amazing for me at least. These songs translate almost too well in a live setting, and it's wonderful to see people's reactions.
I noticed that you have a lot of one-off tracks up at your SoundCloud site, including covers of Oasis and The Sound). If you could record an EP of cover songs, which tunes would be first-pick?
NATE: 1. Nick Cave & The Bad Seeds – "Papa Won't Leave You Henry"
2. Danzig – "13"
3. Tom Waits – "Clap Hands"
4. Adrian Borland – "Hallucinating You"
5. ACTORS – "Like U Want 2"
It would be a battle for 6th between Frank Black – "Old Black Dawning" and The Smiths – "Big Mouth Strikes Again."
Bandcamp
Facebook
Twitter
Instagram
SoundCloud