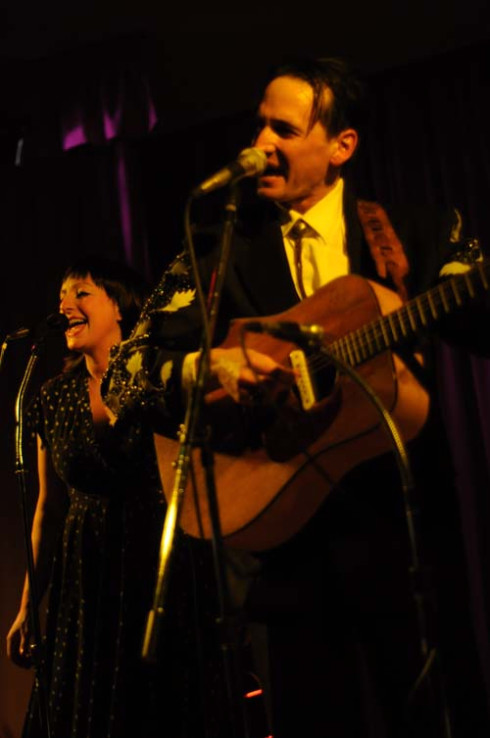 3 May 2012
On the fringes of the punk community in Vancouver, there has long existed a vital roots music and rockabilly scene. For all their differences, both scenes share stages (like the Railway Club or the WISE Hall) and musicians, like Personality Crisis/ SNFU/ DOA/ Subhumans drummer Jon Card, who, when not drumming for punk bands, fronts a Jerry Lee Lewis -inflected project called The Trespassers, with Subhumans vocalist Brian "Wimpy Roy" Goble on bass. Even punks here who almost never go to roots music shows (like me!) know of names like Ray Condo or The Hard Rock Miners or The Bughouse 5 or Swank or The Deadcats or The Nervous Fellas or… well, there's quite a list.
One of the more unusual names on that list – in more ways than one – is Petunia. He's not actually a native Vancouverite, but plays the city more often than many musicians who are from here, so it's natural to feel a bit possessive of him. Petunia so fits a traditional image of a "singin' cowboy" that I've often said he looks like he's stepped out of a David Lynch movie (tho' part of my thinking might have been informed by first seeing him perform in front of a red curtain). I've elsewhere described his solo performances as offering "a stripped-down take on roots music, dark and lonely as a telephone pole on a stretch of highway with no streetlights, with the obvious musical references being Jimmie Rodgers and Hank Williams;" having seen several shows in this mode – with Petunia alone onstage (a man, his guitar, and his kazoo), or else trading off songs with eccentric slam poet and self-accompanying washtub bassist Al Mader (AKA The Minimalist Jug Band), I was thinkin' I'd pretty much gotten to know what Petunia was about. I was unprepared for the richness of his 2011 shift to vinyl (he's released a 7" single and a full-length LP, both of which are highly recommended); either these albums are a big step up, in terms of production values, arrangements, and musical ambitions, or I never really knew Petunia at all. His backup band The Vipers has its own punk(ish) crossover musician in guitarist Steve Nikleva, formerly of neglected-but-brilliant 1980's band Red Herring (check out Red Herring's "Taste Tests" video on Youtube for a sample of that band). The Vipers also claim as members Jimmy Roy – Ray Condo's erstwhile lap steel player – as well as drummer (and photographer) Marc L'Esperance and a variety of bassists (including Ray Condo sideman Sam Shoichet, James Lillico, and Patrick Metzger). Other musicians are drawn into Petunia's fold on a regular basis; however they're constituted, The Vipers do much to take the loneliness out of Petunia's music and turn his shows into vibrantly social occasions. What follows is an email interview with Petunia; you can find out more about his music at www.petuniamusic.com, or maybe even catch him live. His tours have drawn him further and further afield in recent years, playing with the likes of Phil Alvin and Exene Cervenka in Los Angeles (also findable on Youtube) and criss-crossing Canada countless times. As I write, he has just departed for a tour with Al Mader, with several shows in Ontario, Quebec and the Maritimes – you can keep abreast of his travellin's on his website.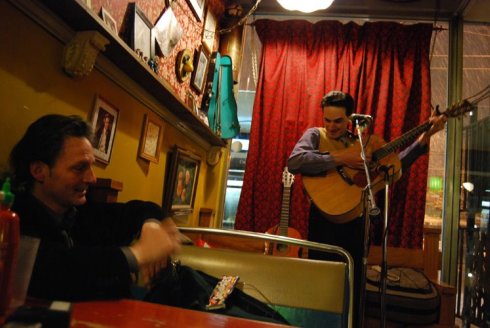 How did you come to roots music?
A lot of people – like me – come to roots music by a circuitous route. My parents brought me up listening to Connie Francis on the odd occasion that my Dad was feeling nostalgic. At Xmas the one Elvis record that we owned came out, plus all the regular cheesy Xmas albums by the relatively unknowns and soon-to-be-forgottens. I'm not doing my parents' musical tastes justice by this short account, but there was also the Help album from The Beatles, which at 10 I thought was the coolest; there were a few Neil Sedaka and Paul Anka LPs; and how could I forget, the record that most left its imprint on my youth – the K-Tel Loony Tunes album. Hooray for my youth!!! Replete with Jerry Samuels' (aka Napoleon XIV's) "They're Coming to Take Me Away," The Coasters' "Along Came Jones", The Rivingtons' "The Bird's the Word," David Seville's "The Witch Doctor", Charlie Drake's "My Boomerang Won't Come Back," The Hustlers' "Shaving Cream," and Nervous Norvus' "Ape Call" and "Transfusion" (the latter still runs through my mind to this day on highway trips with the band)…This album's effect on me musically far outweighs all the other records we had piled together.
As an early appreciater of music, I listened to whatever I could from whatever sources, mainly my older cousin though, who lived up the street a few houses. He went to see bands like Black Sabbath and Queen and he rode a dirt bike. I heard Led Zeppelin through him (although all the older kids in school were already listening to "Stairway to Heaven" in grade school), David Bowie…from there I went out and actually bought myself my own records, starting with Dirty Deeds Done Dirt Cheap by AC/DC, then over ten Bowie albums and Boney M. Then, as a bonafide teenager, I was drawn in by the dramatic and socio-political appeal of hardcore punk rock. I knew that we lived in a very fucked up society and I couldn't believe that everyone else was blinded to this fact. Not much has changed for the better to me, since then, except possibly my outlook. I'm still just an angry teenager.
What punk did you listen to?
I liked a lot of the UK bands, The Exploited, The UK Subs, The Subhumans, Crass (they had that really cool logo plus all the lyrics), Charged GBH, all the well known acts from over there… I grew up in Montreal, so S.C.U.M. (the Montreal police force's initials were S.P.V.M) and The Asexuals (wholater became The Doughboys) were local bands that often played at Foufounes Electric and The Rising Sun. I think I saw My Dog Popper there too. It's funny, Ray Condo and His Hard Rock Goners used to play there too around the same time on some of the same sort of bills, but as a teen, I was looking for harder hitting music. I had a chance to see The Dead Kennedys at the Rising Sun one night. I remember walking up to the top of the stairs where the doorman said, "Five bucks" – $2 more than all the other bands we saw. That was enough for us to turn around and walk back out into the winter night, oblivious to what we were passing up. It didn't matter, really; the city night outside was a lot more fun most of the time…
Around that time, I moved into a cinema that was run out of the front of this guy's house right across from the beer store – Reg Hartt. Very famous Toronto film person and one of my two or three mentors in life. He scored the music to most of his silent film era collection and the scores that he created far surpassed the often mediocre score that came with the reel. I met the lady who gave me the name "Petunia" at his cinema, I moved out with her into a string of one and two night couch surfing 'stays' (we'd come for dinner, then just stay), before we got our own place. En route, on someone's couch, we sat in front of a Reader's Digest Country Music Songbook, and she inspired me to play some of the songs. I could never sing AND play when I put down the guitar a few years before this, after six months of disappointment. I'd learned how to fingerpick "Greensleeves," then quit. That night she showed me how easy it was to play and sing country music. Of course it was not easy, but she made it seem like what I wanted to do with my life. She left Toronto to play the Vancouver Folk Festival (as an MC) only three days after we got our own place. That's when she showed me her suitcase full of great home-made country music tapes! It became my own personal library for the next 5 years. I played and sang for 12 hours plus per day for the first year or so, it felt that great to be learning this stuff and not doing a bad job of it!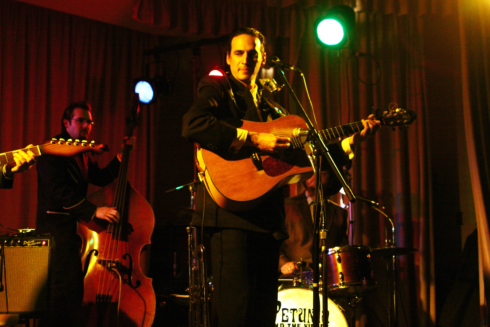 It's an unusual name, Petunia. It fits, but it's rather odd!
A given name like that is a gift. If someone you love or who loves you offers what they esteem highly in their heart, then why deny it? That the stars shine brightest on those whose destiny is their own no matter what may come — this is what keeps me from changing my name of my own accord.
What happened to that relationship, anyhow? (Are there any songs of yours particularly inspired by it?).
Went south. More precisely, I've agreed to owe her a percentage of the take when the big money starts rolling in, seeing as she is the inspiration behind half or more of my early material and certainly a good portion of the starting blocks that made up a Petunia. Kind of the same as Frankenstein, who would have owed a great deal to the mad scientist for bringing him (back) to life. Anyhow, when I'm touring worldwide, you'll hear more about her.
When did you start to yodel?
I think about the same time I opened the magic suitcase and heard someone yodelling – it was really quite natural, and happened before I understood what yodelling really was, or how difficult it was to most people. I know there are a lot of angry readers at this point of my telling this – it was that easy though. It might not have had the polish that it needed, but it was easy to yodel after I heard some guy on a tape doing it in a very cool old-fashioned way. I mean, the style, the history, the nostalgia for a time different than the present, there was so much romance in the music that I was now hearing for the first time (I had never heard Hank Williams, Jimmy Rodgers, Leadbelly or the Carter Family), that learning anything musical from that era came charged with all these other feelings and sentiments. Plus being wildly in love.
When did you start performing as a country musician?
Almost from the get go. I had hitched around on my travels with a guitar that I had bought in London, UK for $50 (25 pounds). "Greensleeves" came out of that. What inspired me to get the guitar in the first place: I was in Tel Aviv hanging around some expatriates. One of them was a musician and decided to take me out busking with him one day. We did three songs (I sang). "Gonna Walk That Line" (?), "Apathy"(?)…(maybe there were only two songs) in a pedestrian underground walkway close to downtown. I think we made 10 shekels.
You spent a long time based in Vancouver, but I'm actually not sure what "home base" is for you – where are you located now?
I've only recently been stationed here in the West. I was on the road for a full rent-free year before that, and before that I was in Fredericton for four years and before that…
How much time are you spending on the road?
Feels like a lot at times. It's only maybe 150 days out of the year that I'm playing on a stage (as opposed to rehearsing or at home or busking, or at a church or funeral home playing…etc.). Most of those 150 dates are out of town.
An early song of yours that really caught my attention was "City of Life," off Hayride to Hell. What's the story behind that song?
I really like that song but it has a thousand musical chord changes in it that are tricky to teach a band. Would take awhile anyways. The story goes like this – I was staying at my friend Reg Hartt's place where I slept on the floor of the cinema that he runs out of his own house. I was hanging out in the cinema itself in the middle of the day, with the gorgeous afternoon sunlight pouring in over the floor through the front door window. It was Toronto, on tour, in the middle of the summer on a really hot day. NO one was going outside unless they had pressing business. It was that hot and the air quality was deadly to some. Incidentally, it gets worse every year in Toronto. As a matter of fact, I've been to Los Angeles and Mexico City a few times each and I can attest that Toronto ranks somewhere in the middle of the two for air pollution. Worse than LA! It was in that sort of atmosphere and that frame of mind that I wrote it. My friend Dennis called it a nice little "post apocalyptic ditty".
Gambling is sort of a motif in your song "Mercy." Are you a gambler?
I would like to reply "No". That wouldn't be true. I suppose I would not be in this business leading life this way if I were not at least part gambler. I'd say I'm close to full gambler. I have a couple poker games we can play on various evenings of the week.
Do you have any favourite "gambling songs?"
I'm not a fan of gambling songs in particular if that's what you mean. I do like the "Gambling Bar-Room Blues" and "Gambling Polka Dot Blues", by Jimmie Rodgers. There are a ton of non gambling songs per se, that make reference to gambling and/or gamblers that I like too.
How did "Mercy" get written, anyhow? The lyrics are a bit opaque… I'm not sure what some of it means.
Living in Fredericton, N.B. I had been thinking on those themes in the song for a few years. Finally they came out in a spew one day, like what occurs in most of my song writing. It often feels accidental. Maybe a five hour trial. Some of it is poetry – to me at least – and perhaps better left unexplained as far as poetry goes, unless I'm giving a seminar.
Another favourite off the new album (which has also been in your set for awhile, I gather) is "The Ballad of Handsome Ned." Tell me a bit about that? Who is Handsome Ned?
Handsome Ned's first name was Robin. He was a rockabilly legend in Toronto in the 1980's. People like the Canadian band Blue Rodeo regularly went to see him play at the Cameron House where he lived and held a musical residency for awhile. I never met Ned. The tales from people who did are monumental. He affected many peoples' lives and carried them to other heights and was a fixture on the scene. If you listen to his recordings, it's obvious that he would have gone on to greater things given that he was just getting started. The woman who gave me my name was a good friend of his. We visited his graveside semi-regularly, so I began to get a first hand understanding of Ned. It was inspiring. One day, years later, I was attempting to learn Ned's song "Steel Rail Blues." I was messing around with it for an hour or so and came up with a part of the song, musically, that was not in his version. That became the center of the song in a way and the song took on a life of its own. Again, it was written in a very organic way, as though it had been in the Petunia workshop in my mind for years before stepping out of the barn into the daylight. As though the basis and framework for improvisation was now built and ready for action. I swear that I do not plan like this consciously although I am very comfortable and appreciative of the process. It also means that sometimes there are years that go by with no new songs that are gems to speak of. Some years there are many.
On the whole album, I'm proudest of that song, and musically speaking, it's the intro and outro that I'm proudest of producing, which also came about through experimentation and "accidentuation" in the studio…
I recently received a communique from Ned's brother. He said that it was by far the best song he'd ever heard about his brother and that his Mom really liked it. That counts for me a lot more than most accolades that one is apt to receive for writing a song.
The Vipers are made up of some great Vancouver musicians (in particular, I remember Steve Nikleva from his time in Red Herring, and one of Marc L'Esperance's photos of the Pointed Sticks' Tony Bardach has illustrated an article of mine). Tell me about forming this band?
I had been touring out to Vancouver regularly. My first sideman was Sam Shoichet (bass). I was dating a lady who set me up opening for Ray Condo on New Year's Eve to get me back to town. I had requested that if she could swing it, then I could come back and settle in a little more. Sam played with Ray on that night and I got his number. My dumb luck led me to my first guitarists who already were or became giants – Paul Rigby and Paul Pigat for a spell each. Eventually, those guys got busier, and could not devote any more time to wandering minstrels who only hit the coast a few times/year. Sam suggested Stephen and Stephen suggested Jimmy (Roy, of Ray Condo's band). I had seen Ray Condo play in Toronto on a couple occasions before New Year's Eve and I never dreamed that I would one day be playing with his bandmates. I was thrilled. We later added Marc as drummer who did a fantastic job mixing our new record partly due to his intimacy with the sounds.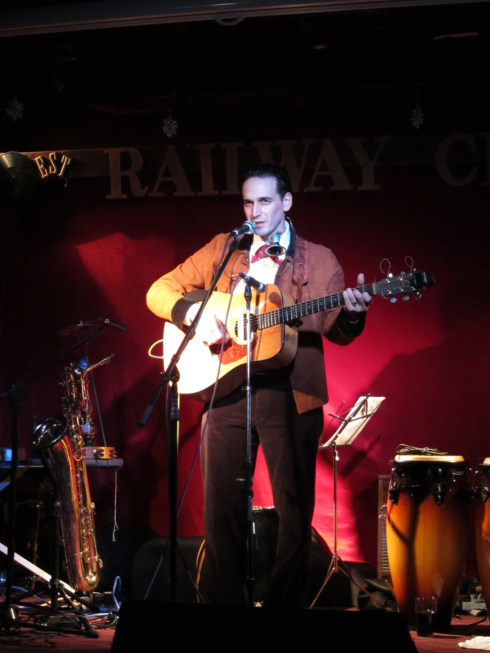 The new album seems to be extending your reach, with harder rockabilly songs, the Hoagy Charmichael cover… is that a conscious thing, or have the Vipers always been moving in this direction? (The album, by the way, sounds GREAT).
(Thanks!) I started out as "The Singing Statue" – so nervous there was not even a wink of an eye on stage. That was all country and bluegrass, with some Petunia weirdness mixed in. That is just natural though. Then it became mixed with jazz and ragtime, then jugband music, then swing, rockabilly and the blues, although strains of what is known officially as "the blues" run through all the other styles I just mentioned. All the while I've had my own songs that did not fit in to those categories. Some of them went on the album. There are more, I'm still writing them. Wrote three good pretty ones recently. Might take a couple years to get a version that I like, sounding the way I like it. It might take one rehearsal. For instance, "Broken Down Love" was never played by the band and still has not. The saw player that I recorded with had never played it. I had only written it a few months before it was recorded. It's one of my favorites.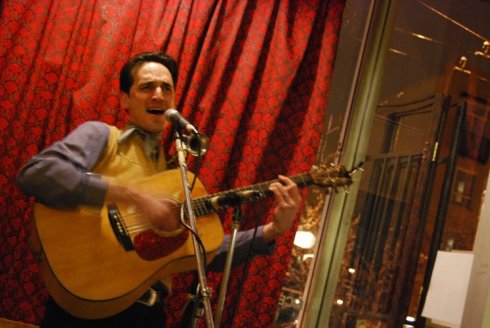 Are you happy you made the shift onto vinyl?
Absolutely! I've heard it on a few sound systems. The vinyl always sounds better. With the crack recording that we made and the people involved, it has a chance to sound really like one of the better recordings in anyone's vinyl record collection. It was recorded by a three time Grammy award winner in a studio in L.A. where Tom Waits' gold record hangs on a wall, and it was mastered by Bernie Grundman who mastered Tom Waits' latest record. Bernie heard Marc's mixes and barely touched them, he said, they were that good. So all performances aside, from a technical standpoint, this album really is topnotch.
I agree! Seems like a good time to be a Viper.
I'm pretty happy with where we're headed and the success we've had both in the studio and on the road. The super-charged ultra-enthusiastic response that we've been receiving from the Roots/Americana/Western Swing/Rockabilly crowd in the US bodes really well in these times of economic depression. Feels like we'll be a household name one day to a lot of people.