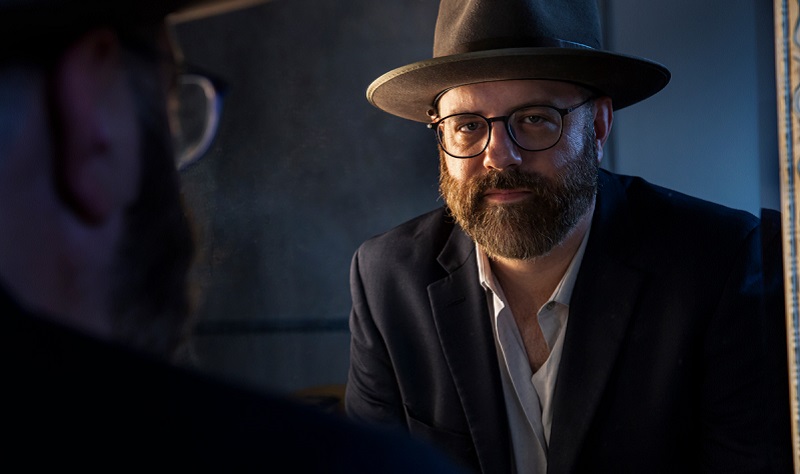 12 September 2023
The new album, The Harvest, is made up of songs written by L.H. Halliburton. Could you tell me about the artist and why you recorded these songs rather than your own self-penned numbers?
Afton Wolfe – Well, first of all, LH has a very distinct songwriting style that I've admired since I've known him, which has been about six years now. His writing style is sincere, poetic, and melodic in a timeless way. It differs from mine in a lot of ways, and that presented a challenge, which I enjoy. Secondly, it was likely that LH was not going to put a band together and record these songs in any way other than the way he plays them – usually just him and a guitar.
The songs are powerful that way, but with the challenge of playing them in my own style was baked in the idea of recording them in a way distinct from how I'd heard them. Finally, LH is my father-in-law, and we've become close over Music, so I wanted to record these songs as a way to include my family in a project because, ultimately, family is the most important thing in this world.
How much did the songs change from the initial demos to the versions we hear on the album?
AW: Both not very much and a whole lot. LH sent me demos of these songs I selected of his (he has volumes on volumes of songs and is truly one of the most prolific songsmiths I've ever known), and they were all him singing with a guitar. So, adding any other instruments already drastically changed the feeling of some of them. I made a couple of de minimus lyrical changes to say things more in the way I would naturally say them and to aid in remembering the lines, but nothing that drastically changed the songs. I sped up "Harvest" a little bit and changed one chord to match what I heard in my head. Otherwise, I maintained most of the structure and lyrics of the songs.
As with your songs, there is a strong sense of the landscape and locations of the part of the US that you call home, Mississippi, and the South in general. How important is it for you to sing about this region?
AW: It is certainly easier to access the emotions of the Music when I sing about this part of the planet because it is a part of me. Like any of us, it is complicated, beautiful, and tragically flawed. Since Music and songs are really about how they make you feel – to perform or to hear – the fact that I have such mixed but strong feelings about myself, my nature, and my home makes it very much adjacent to my Music a lot of the time.
As the song Mississippi reminds us, you come from an area that gave us blues and rock 'n' roll. Is this heritage something that you feel is important to keep alive? Do you see yourself as a torchbearer for these sounds?
AW: There are much better examples of torchbearers for keeping the sounds of Mississippi and the Blues alive, and I certainly root for those people to be successful. For me, I hope it stays alive, and I am confident that it will live on how it needs to, one way or the other. But Music and art, in general, for me, are about discovery, and the places I look are often the places I know, just a little further down or on the side of the paths traveled by those who went there before. I don't think of myself as a curator or custodian of the heritage, but I appreciate it and try to share it when I find it.
The theme of "Harvest," the track, is about having the patience to reap the seeds you planted as a younger person. Do you feel that this is a place where you find yourself now?
AW: Yes. Absolutely. That song was the inspiration for this project, really. When I heard LH play that at The Bowery Vault one night, I thought he had written it specifically about me; maybe he did. He's not the type to interpret the art for others because it's known that whatever the meaning, he meant it. But yes. I've made sacrifices like everyone else, and I've bet on myself and lost plenty of times, but I definitely feel like the ethic and good faith that I've tried to operate with has been rewarded more later in my life.
Are these songs that have evolved on the road, or are they very much studio creations?
AW: Both. Doc Sarlo and I have been working at his home studio, Portland Playhouse in Portland, Tennessee, since around March of 2023, shortly after the release of my last EP (Twenty-Three), because I have to move on to the next project as soon as possible. So, we started by demoing LH's demos, some of which we used as guide tracks later. We studied the songs together and independently, and we worked up some plans and rough blueprints of the ones we could.
Then, I went on tour with Seth Fox, Madison George, and Erik Mendez, who are all three brilliant young Musicians. We included a few of the songs in the setlist, including "Harvest," "New Orleans Going Down," "Til the River No Longer Flows," and "Lost Prayers". After the first few shows, "Harvest" and "New Orleans Going Down" had been given new identities by the way the four of us played them, and the other two were slowly getting there. That's the beauty of working on songs on the road before you record them – even when they don't work, the process is working.
And what does the future hold for Afton Wolfe?
AW I am going to finish out the year with some fun shows in Nashville at Jaan's House for No Depression and Eighth Room for AmericanaFest, and a few down in Mississippi, including an appearance on Thacker Mountain Radio in Oxford on October 19 and a set at Other Fest in Cleveland, MS on October 21. And we're going to have a big fun day on November 10, when the record comes out, that will include a set at WMOT's Finally Friday here in Nashville and the release party at LH's favorite stage – The Bowery Vault.
Then I'll, of course, be doing my annual Tom Waits impersonation (and further deteriorating my vocal chords for a good cause) at the Get Behind the Mule Benefit for Second Harvest Food Bank of Middle Tennessee in December, which promises to be extra special this time, and not just because the event turns 18 years old this year and can officially buy smokes and fight in wars.
Then, I will be back in Todos Santos for the Tropic of Cancer Festival in January, and after that, the pre-production for the next album should be well on its way. I have a couple of dates lined up for the month of March that I'm going to turn into an East Coast run, and I hope to use those shows to workshop some new tunes for a new project that will be out sometime in 2024. Then we'll start all over again, until the River No Longer Flows.
Glad to hear that you are keeping busy; best of luck with everything, and take care until we talk again.
Facebook
Website
Instagram
Linktree